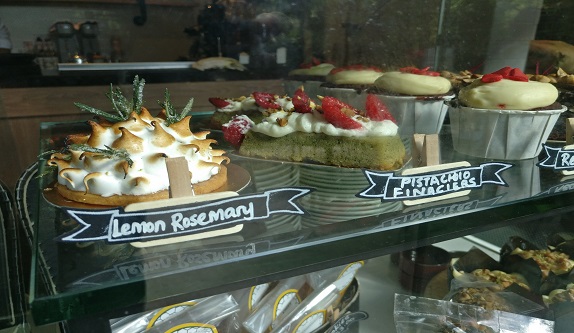 Bee's Knees
50 Cluny Park Road, 257488
9831 1106
thegarage.sg/bees-knees
Popping up in the middle of a UNESCO Hertiage Site, two new venues have quietly appeared without much noise – though having my usual jogging path go past this particular space weekly, it was hard to miss.
The building itself is a protected site, having previously been home to a school, an office and even a car garage, the black-and-white now stands as the Botanico restaurant and bar on the second floor, and a more laidback café underneath called Bee's Knees.
The pet-friendly al fresco area, with big fans and umbrellas for those wanting the gorgeous outdoor view of greenery and sweaty passers-by, holds more than the cool interior. Menus sit on tables, though it's self-service, with windows accessible from the outside to make your order.
As a café the dishes available focus around sandwiches, pastas and pizzas, with some desserts, cocktails and hot drinks.
The Pinche chicken ($14) focaccia, with chicken breast, avocado, baby corn, watercress and a jalapeño mayonnaise, is served hot, and the bread not toasted. On the side are a few potato chips.
The Pesto Genovese ($17) using gnocchetti pasta, comes with basil, mozzarella and parmesan, with a half-cut bone with hot marrow inside.
The blackboard lists various desserts offer, from cakes to tarts – as well as ice-creams. The tarts sound appetising, but the cappuccino panna cotta ($6) dessert – sitting in a jar on display – caught the eye. The Italian dessert tastes like a light, boozeless tiramisu, and surprisingly satisfying given the heat.
While the peanut butter Nutella milkshake ($8) was tempting, I instead opt for the calamansi juice ($7), which is refreshing and not too sweet – a habit that most hawker stalls would go for, considering calamansi limes are miniscule, and would need hundreds to make a pure cup of the stuff – with mint leaves.
The drinks menu has half a dozen cocktails, some house wines and local brewery Archipelago on tap – all sitting around $12 to $16 for a glass. Slowly sinking into the late afternoon, a cold pint of Summer IPA beer ($12) finished off the meal just fine.
While its 6pm closing time does remove the possibility of a lovely cup of coffee underneath the towering glory of trees, this is your best way to get a decent cuppa inside the botanic gardens.