The artists of Tjungu Palya in South Australia will be showcasing eight large scale canvasses for their exhibition Walkatjunanyi Inmaku – meaning 'Painting Songs' – at ReDot Fine Art Gallery.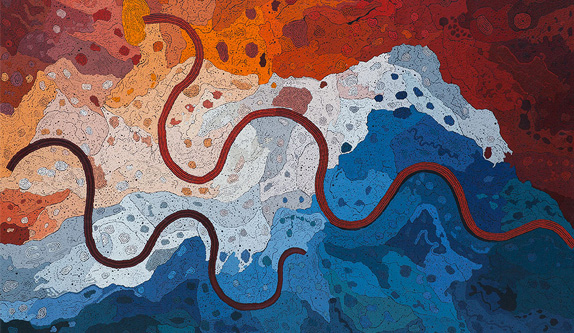 Interview with Keith Stevens translated by Art Manager, Benji Bradley.
How long has Tjungu Palya been around for, and how did the name come about?
The name Tjungu Palya was conceived by Anangu artists when the art centre was opened in 2006. It translates literally as 'good together' and is centred around the idea of three remote indigenous communities Kanpi, Nyapari and Watarru forming a shared fine art studio and business as artists and storytellers. The communities help each other prosper by sharing the art centre resource and working collaboratively.
Tjungu Palya is a small art centre with a very talented pool of artists. On an average day we will have around eight to fifteen people working in the studio but we service around 35 artists from three communities.
Having a small group with strong cultural integrity is great because it allows the artists time, space and silence to focus on their work.
Could you talk a little bit about the paintings that we'll see at this exhibition?
In our Singapore show titled 'Walkatjunanyi Inmaku', which translates as 'Painting Songs', viewers will encounter eight stunning large-scale canvasses made by high profile senior artists of Tjungu Palya Art Centre. Each painting tells the story of an artist's relationship to their landscape and the powerful traditional tjurkupa (narratives) embedded within its land formations.
The tightly curated exhibition represents the pinnacle of each artist's ability and a high point in their careers. The nuanced mark making of each individual artist sets a unique and sophisticated tone within the canvas, and represents a strong spiritual connection to both the act of painting and the process of narrating ones mythological and physical environment.
Visitors will have the privilege of visually absorbing these very distinctive indigenous viewpoints, which represent a strong present moment bond with country as well as memories of pre-colonial life in one of Australia's most remote environments.
The Tjungu Palya artists are contributing to contemporary painting discourse whilst representing a strong traditional and political standpoint – that of living on their country as traditional and current owners, while partaking in regular ceremony and teaching young people how to do the same. This is a special standpoint matched by few other groups anywhere in the world.
What are some of the reactions you usually come across when you tell artists their works have travelled as far as Europe?
These artists are used to showing work all around the globe. They are proud and humbled to see their paintings admired within other cultures but they are not surprised. Artists regularly travel to openings both in Australia and overseas, in fact a group will be traveling to Singapore for the show in April.
They love the opportunity to see new places, but ultimately their hearts lie with the desert.
Walkatjunanyi Inmaku (Painting Songs) is at ReDot Fine Art Gallery from 7 April until 27 May.