A little-known tour inside one of Orchard's biggest malls shows Singapore's culinary heritage, Lena Dobreci says.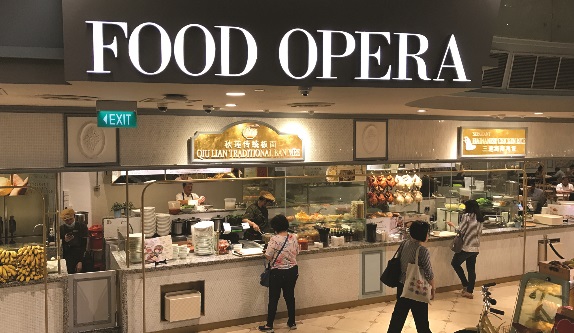 There's a little known gem of a tour that I've just discovered: the ION Food & Heritage Trail. This free 60-90 minute tour at ION Orchard Mall is held every Monday to Friday.
Operated by the Singapore Tourism Board in conjunction with ION Orchard Mall, the guides are studiously trained and smartly attired. When the tour first started two years ago, it was only available to tourist groups. These days, anyone can join in on the heritage information and sampling of local foods.
I have to admit, I had joined the tour primarily for the food, as I had presumptively assumed the heritage was referring to the food itself. However, I was delighted to learn about the heritage part of this tour – ah yes, this is the food and heritage trail after all.
We started off with the heritage part of the trail. From the concierge meeting point, our group was guided outside past the entrance way of the mall where we then stood facing Orchard Road and the various art and structural edifices – while commentary was given on the history of the area, and the meaning behind the architectural designs of the mall and nearby artwork. Then up we went to the 56th floor of the mall to an impressive floor-to-ceiling glass panelling observation deck called ION Sky. There I stood with a bird's-eye view of surrounding Singapore, with the guide, Nicolas, explaining various iconic heritage buildings, landmarks and districts. I had been to the ION Sky before, but only self-guided.
Then it was off to the Basement level 2 for some food sampling. First we started with the Ya Kun food stall for kaya toast – using the much-loved kaya (coconut jam) spread. Then we went to Bengawan Solo to sample a variety of their sweet and savoury treats, such as pineapple tarts, cheese cookies, mini shrimp rolls, kueh lapis (1000-layer cake), fouram cookies, pandan cake, love letter cookies and more. We could sample nearly any of the products available. Delicacy heaven. I had never tried any of their products before, and it was instantly clear why they allow all the sampling – I'm now a converted customer.
After this assortment of treats, we went into the 5-star hawker food court called the Food Opera. There we went to four different stalls to learn about their signature dishes. I was then seated at a table, and a dish from each of these stalls was brought to me – a bit of VIP treatment. I quickly ate up the sample portions of chicken rice with chili and ginger sauces, Bak Kut Teh soup (famous broth with local spices), biryani rice with chicken curry, and a dessert called chendol.
The different types of food samples may vary occasionally. Some of the items listed on their website were not included in my tour, such as bak kwa barbeque pork and Chinese herbs. Perhaps I'll have to try the tour again when I next have guests visiting.
ION Food & Heritage Trail runs every Monday to Friday, starting at 10am (Except eve of PH & PH). To join, register at least three days prior by calling 6238 8228 or email customercare@ionorchard.com.sg.