Australian designer and host of The Apartment: Rising Stars Edition Jamie Durie talks all things 'transterior'.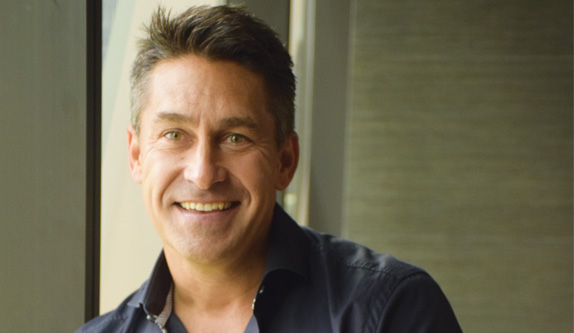 Were there any environmentally focused challenges in this season of The Apartment you judged that you put to the contestants?
Well certainly that's a big one in my area. I have no tolerance for people who call themselves designers and don't understand sustainability. In terms of the choice of materials, the footprint on the planet, their method of construction and manufacturing, all things need to be considered if we're going to develop a future for our children. I come down on [the contestants] very hard when it comes to impact on the environment.
A couple of them were quite shocked because while [fellow judges] Genevieve Gorder and Laurence-Llewelyn Bowen were judging them quite high on certain items, I would fail them immediately for using rainforest timbers – the contestants had no idea where it came from, and they're trying to say that it's recycled, but it's not. Anything bigger than this [signals roughly two feet length] is orangutan habitat, so it should be absolutely not allowed to be used. That's something very high on my agenda.
Is there anything in the last year trend-wise in terms of interior design or something people lean more towards?
Yeah, I think there's a definite push towards more natural materials and what I call the 'transterior' movement. I released a book just a couple of months ago called Living Design on this very subject. I think the environmental movement over the last fifteen years has certainly put the planet back on the agenda. We are falling in love with our own planet again, and we're yearning to reconnect with nature because we've kind of turned our back on it for the last 100 years.
Another 1.8 degrees and we could lose the Great Barrier Reef. We've got signs of rising waters all over the world. We're degrading 38 football fields of rainforest every second around the world. In a way I think this kind of hugging nature again in this industry is…well you could call it driven by guilt. I think the Millennials of today are making up for what their past generations have done. And that's coming forth in the design industry.
I read that your design firm created the Fullerton Bay Hotel rooftop pool garden.
Yeah, the Lantern. We did that twelve years ago. That's the good thing with some of the gardens we work on, they can get better like a good bottle of wine over the years – but if they're not maintained well, they don't. That's probably why I moved over to furniture design fifteen years ago, because for me, to design one piece of furniture, I could touch a million people and nobody has to worry about watering it or clipping the hedges and maintaining it. We've also done plenty of work on Sentosa, so I've had a long career here in Asia. I could live in Singapore, easily.
Are there any small-scale things people could do to adopt this 'transterior' mentality?
Certainly there's a lot of vertical gardening going on, and they're simple things people can do. We developed a vertical garden blanket a few years ago – we sell so many through our website that we can't make them quick enough. They're made out of recycled plastic bottles, and you simply plant into them.
I think we're starting to get a little better at getting some more sophisticated materials into our homes. Like bamboo flooring, and that's something very simple that people can do at home now. Most of the apartments here are on concrete slab, and so when you pull up the carpet and you get this concrete slab, you lay down a liner and just put the tongue-in-groove bamboo flooring down and 'bang', you've got this beautiful bamboo floor.
The Apartment: Rising Stars Edition is currently airing on the Sony Channel.