The ANZA Mahjong group that focuses on fun first has caught the attention of local news, Gerard Ward finds.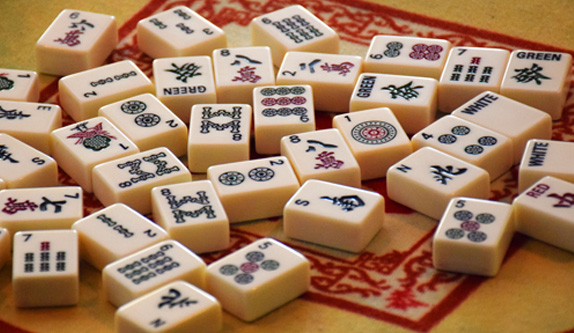 A few months after landing in Singapore back in 2005, Sue Chamberlain went to her first Casual Coffee, and was invited to the ANZA Mahjong group the following day. Unsure of whether she should go or not – 'I was kind of a shy person when I first came to Singapore, if you can believe that,' Sue says – she bit the bullet and went down for her first game of Mahjong. Situated in a condo's function room along Nassim Road that a previous ANZA Mahjong group coordinator lived in, she sat and learned to play a game that 12 years later she'd still be playing – and also coordinates.
The group has called many different venues home – at least since Sue started – from condominium game rooms and the defunct Hog's Breath Café at CHIJMES to Boomarang at Robertson Quay where they play now.
Difficulties lie in the legality of Mahjong, whereas it is not illegal to play it, but illegal for there to be any gambling involved. While ANZA Mahjong's style doesn't even take score – it makes socialising a lot easier – it could be seen by passers-by as gambling, and a lot of community centres in the past wouldn't take the risk. To this day, the group needs to carry an affidavit from ANZA stating that there is no gambling involved. 'It's just for fun,' Sue says, highlighting the social aspect of the game that makes the mornings so special. 'Sometimes it can get pretty loud in here,' not referring to the game pieces on the table, but the players.
On a Thursday morning you'll find five tables in the air-conditioned part of Boomarang with Mahjong tiles, trays and mats. With a round of coffees ordered, the five tables begin to play. Those who know the game can just jump right in, and new players can get the rundown by Sue and the other Mahjong regulars. Each player gives a dollar donation that goes towards replacing the equipment. Any excess funds get donated to charity.
By each table are copies of the Western/International version of the game rules, including all of the possible moves in the game. 'I have mostly stuck with the same moves, but I force myself to learn these new ones,' Sue says, flipping through the various plays one can wield in the game. She refers to the names of some special moves, and how these link to historical moments in Chinese, British and Japanese history.

Sue Chamberlain (left) teaches new players the basics.
ANZA Mahjong has made news here in Singapore during the years, from The Straits Times to local Chinese-language newspaper Lianhe Zaobao – the latter of which was last year, talking about the amazement that non-Chinese players were loving Mahjong, a game stereotypically seen as more of a game played around Chinese New Year. The medical benefits of a mind-challenging game like Mahjong have been said to stave off things like Alzheimer's, 'so it's for medical reasons too,' Sue laughs.
Having the ability to play a version of Mahjong is incredibly impressive in the right circumstances, though Sue recalls playing with some Singaporean ladies on a cruise once, and how quick they played – and in silence, too.
While not there for the score, members are here for much more. The openness to newcomers and conversational atmosphere makes it a great way to meet new people here in Singapore.