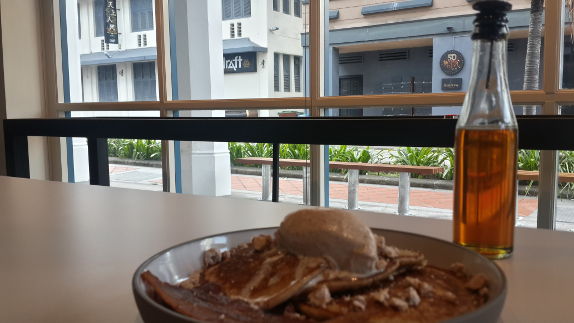 Crackerjack
43 Tanjong Pagar Road, 088464
8121 1462
crackerjack.sg
Sitting on the corner of Tanjong Pagar Road and Cook Street is a new, modern restaurant and bar – with beehive shelves behind the bar, big long white tables and an island table by the entrance for whipping up lattes quick. It's a great addition for breakfast with slow pressed juices and filtered coffee, and a mix of cocktails for dinner.
The horchata pancakes ($12) with almond praline, cinnamon whipped cream, agave nectar and a side order of bacon ($4) – mainly because she asked and I'm weak against the allure of bacon – was a filling choice. The whipped cream is thicker like an ice-cream, and light on the cinnamon. The American-style bacon a little thin and a little tough – and salty.
The pancake batter has a decent amount of cinnamon, lessening the sweetness of your usual mix. The agave syrup on the side a different replacement to maple – almost like a honey. To finish, the latte ($5), served in a ceramic pot-like mug, was a velvety treat.