It only took the uniform to inspire the future Scouts role model to join its ranks, Gerard Ward says.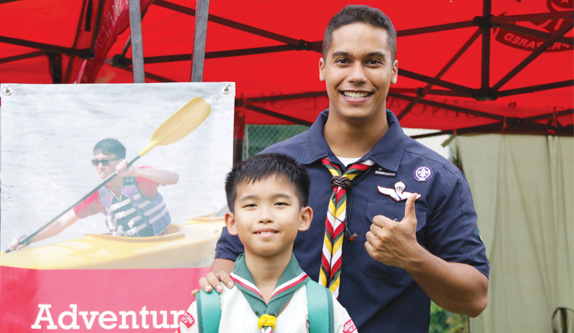 Working at the indoor skydiving attraction iFly on Sentosa, you wouldn't guess that James Mansfield-Page had an interest in skydiving but a fear of heights. 'I always wanted to do it, but I never got the chance to during the army,' James says of skydiving. 'Somehow through contacts I managed to get on to the course. But being afraid of heights, it was something that I had to do to get over a fear I had.'
James' dad – who was in Scouts as a kid – ran a boarding house here in Singapore, and was well acquainted with the international schools. At an event run at school, James saw a table with pictures of Scouts in their iconic uniform. 'I knew Scouts existed, but I didn't know what they did,' James says. 'I loved uniforms ever since I was a kid, so I asked my dad if I could join ANZA Scouts. My dad later became a leader with Cubs, because we had Cubs back then.'
Joining the Cubs at eight years old, then moving up to Scouts at age 10, James was enamoured by the activities, quickly climbing the ranks within. While he also played drums and the violin – as well as being a part of a lion dancing troupe – it was Scouts that stood out.
When his parents divorced, James had to leave Scouts, eventually moving away from Singapore during his formative years. It wasn't until James returned to Singapore and completed his compulsory National Service duty that he realised that there was something awfully familiar between the army and Scouts.
'I didn't take it too seriously at the time,' James recalls of ANZA Scouts. 'I think at that age I wouldn't expect anyone to anyway. I moved up quite quickly within Cubs, so unbeknownst to me, what I had learnt in Cubs came in really useful. Someone wouldn't know how to do something and I would help out, and that pushed me into a leadership role.'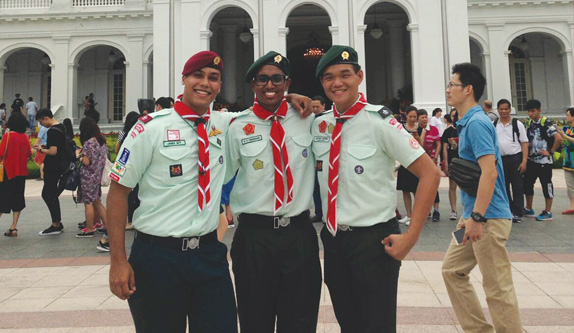 James (left) with two of his fellow Scouts.
The fundamentals, field craft and leadership interactions with others that James had learned in Scouts became second-nature almost. 'I understood the concept of the interaction and leadership roles even though I didn't know I was learning them at that age,' he recalls. 'You don't think "This is going to make me a General one day!" right?' he laughs.
After finishing his service, James did a bit of soul searching. 'I realised I was doing activities because I wanted to be perceived in a different way,' James begins. 'I was going to the gym because I wanted to look good, not because I wanted to. I thought "Hell, I want to do something I love", and [Scouts] was one of the first things I remember loving for what it is.'
Reaching out to ANZA Scouts, James explained his experience and wondered whether the group had any way for him to get involved. 'I thought if it did me good in the military, what I've always believed is whatever you learn in life you have to give back,' James says. 'There's no point of gaining knowledge and then holding onto it. It doesn't make sense.'
Over the years James has become an integral part of ANZA Scouts, building upon the group's strengths in offering a supportive environment for kids to make friendships and work together. The kids have looked up to James as a role model – something he appreciates as another learning curve. 'I'm always exhausted after Scouts camps,' he reflects. 'Always running around, last one to bed, first one to rise…that's what it's like to be a dad though, right?' he laughs.
James' hard work has even earned him the highest of awards, the Baden-Powell Scout Award. The award has different components to it, from training, physical (continuous physical sport or activity showing improvement over six months), time dedicated to service (six months working either within Scouts or outside of). One of the elements of the Baden-Powell Award was Personal Skill, learning a new skill or improving on an existing one. James chose to take on making a flag. 'Handmade sewn and embroidered,' he says. 'It took me 50 hours. I learnt how to use a sewing machine, spent countless hours on YouTube just figuring out all the things that can go wrong with a sewing machine.'
Another component of the Award, called Community Development, is an initiative to have Scouts work on an event that positively impacts society or the community. This formed into a project working with Singaporean charity Melrose Home – one of ANZA's adopted charities – to give a fun-filled day out for the kids and ANZA Scouts – an event that for the past two years have been huge successes. 'The mentality was if I could teach at least one skill to one child, that's plenty,' James says. 'More than that, if I can convince or at least keep the interest of one child to maybe want to join Scouts, brilliant, because I know a lifetime of change will come from that.'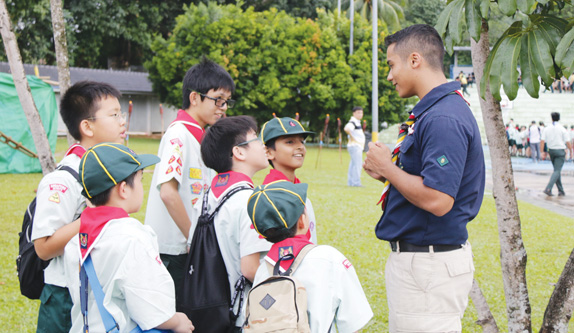 James having a chat with some of the younger recruits.
James talks about the personal benefits being involved with Scouts. 'It keeps me grounded,' he says. 'I think we've always got to think about ourselves every once in a while. As much as I'm giving back, I'm learning so much as well. From a mentoring point of view, I've gained tremendously, but from an organisational point of view, it's made me more of an all-rounder.' His work also led to winning the ANZA President's Award last year.
Working in sales in his full-time job, some of the work habits have crossed over. 'KPIs are part of my job, so when I look at Scouts I go "Are there KPIs (Key Performance Indicators) there?" James says. Looking at a Scout group's progress on earning badges were a little erratic, mainly due to the short time families may spend in Singapore, be it job turnovers or moving away. 'They are just not here long enough,' James explains.
This led to reorganising how sessions were laid out, so that if you turned up to a certain amount of sessions and followed the protocol laid out, then 'in theory, you will get to this badge by this date, and so on'. 'Hopefully that changes my KPI that I've set for myself, James adds. 'Nobody is saying "James you need to get Scouts through this badge or else we'll shut you down", but I like to think it's a good reflection on us.'
With the recent addition of Venturer Scouts (from ages 15-17), there's the new goal of getting someone the Queen's Scout Award, 'which is the same calibre as the Baden-Powell Award to the point where in certain universities you can get college credits for it'.
Because of the incredible amount of work required to earn a Queen's Scout Award – or the Singaporean equivalent, the President's Scout Award – 'universities are more willing to accept you because it's like a degree where you've learnt how to manage your time'. James hopes to get at least one Venturer this prestigious award. Given his determination to go above and beyond, it seems a given.