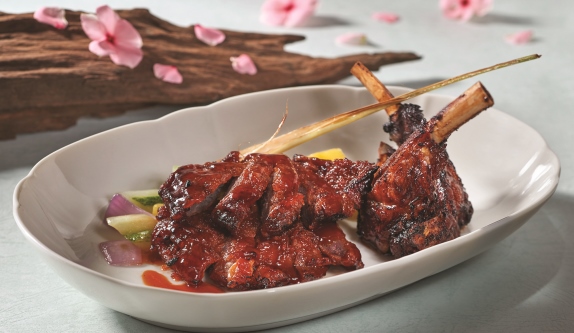 1 Fullerton Square, 049178
6877 8188
fullertonhotels.com
The newly reopened JADE at The Fullerton Hotel's lobby, not only boasts a pretty and welcoming interior, but also a menu with popular favourites as well as new creations.
The light green lustre of precious jade gemstones is reflected in the exclusive wallpaper, Chinese artefacts, plants and staff uniforms, creating a sense of calm. Chinese executive chef Leong is also a skilled craftsman and some of his works are displayed in the restaurant, including sculpture, pottery and calligraphy.
Cantonese cuisine is the mainstay, acclaimed for its variety of stir-fried dishes. I particularly enjoyed crispy roasted pork belly with its 'noisy' crackling leaving a pleasant feel in the mouth. Baked lemongrass char siew lamb rib loin, using New Zealand lamb, is basted with honey during cooking, complementing the aroma of zesty lemongrass, while the accompanying sauce entices with hints of rose wine. Other signature items encompass barbecued osmanthus-flavoured char siew bun with its floral scent and fruity taste. Also, simmered egg-noodles with Boston lobster and XO chilli sauce, as well as sautéed beef tenderloin with crispy garlic in black pepper sauce.
Finish with delightfully smooth hot almond cream with egg white accompanied by pistachio muah chee.
Located at 1 Fullerton Square in the heart of the city, the hotel is a national monument, yet another reason to visit and absorb the historical vibes still in evidence.