Wandering Yogi, Lee Carsley, takes a trip of extremes.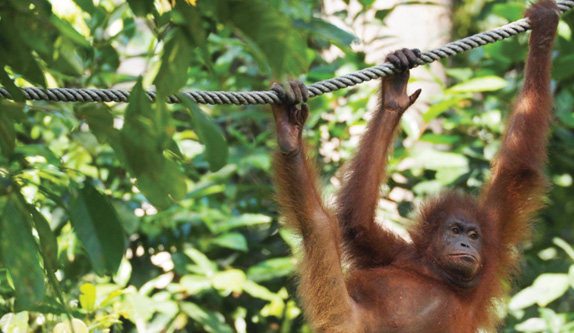 Borneo is known for its beautiful beaches and ancient rainforest, home to so many of the world's plant and animal species, including the most famous of them all, the orangutan.
Sabah, one of the Malaysian States to make up Borneo, has another unenviable reason to earn a reputation. It produces 12% of the world's total palm oil supply.  With over a fifth of its land under palm oil plantation, Sabah contributes 30% to Malaysia's total palm oil production. Malaysia and Indonesia combined, supply 85% of global demand.
I wonder as we make the three hour flight from Singapore into Kota Kinabalu, how Sabah manages to balance its amazing biodiversity with the rampaging global thirst for palm oil.
Singapore to SABAH
The choices on what to do in Sabah are adventure based. You can hike the 4,095m-high Mount Kinabalu, or dive the famous Sipadan Island. Spend some time at the beach, visit the orangutan, and of course go rainforest wild. We opted for a five-day light adventure designed by myself, traversing Borneo from the rainforest to the sea.
The best time to travel is between March and October when it is driest.  We were there in February. It was incredibly hot and the mosquitoes were persistent. Something also to note, because Mount Kinabalu is considered an extreme hike and Sipadan Island is ISIS territory with kidnappings of tourists a weekly occurrence (so much so that they are no longer reported), neither place is covered by travel insurance. Just bear it in mind.
To reach the rainforest, it was one short plane ride from Kota Kinabalu (KK) to Sandakan and a depressing 30-minute drive through palm oil plantations to Sepilok. The digs were cheap, as are all digs in Sepilok – but ours was a mere 10-minutes walk to the orangutan reserve. Our room was small, dark and smelt of mould. Food was MSG central, and breakfast was for carb-otarians.  However, we were there for the orangutan and were incredibly excited for the next morning to come around.

The Rainforest
In Sabah, you have two conservation centres to visit the orangutan. One is a public/private partnership in Kota Kinabalu, the Shangri La Rasa Ria Nature Reserve. Here they foster young orangutan from infancy until they are old enough to be transferred to the Sepilok Orangutan Rehabilitation Centre further north. The latter, opened in 1964 by an English woman named Barbara Harrison, has been rescuing orangutan from logging sites, plantations, illegal hunting or those kept as pets ever since. The orphans learn living skills with humans and others of their kind and once they reach a certain age, they either stay near the centre or move into Kabili-Sepilok Forest Reserve which is about 4,294 ha of mostly virgin rainforest. Today around 60 to 80 orangutan live freely in the reserve.
It also has a nursery area where younger orangutan first learn to be outside and play on a large climbing frame. The viewing area consists of two large indoor seating areas with a large window that overlooks the play area. Great for the kids and kids at heart.
Borneo is not iPhone camera territory – you need a 400mm lens and a good camera to get the best nature shots. Sepilok's viewing area is some distance away from the orangutan, and you can pay about US$300 a day to rent a 600mm lens inside the Centre, but I would not recommend it. The cameras have a tendency to look like guns – the orangutan have long memories, even longer arms, and are very strong. There have been a few stories about tourists losing their cameras to a seriously pissed orangutan.
There are two open feedings every day; 10am and 3pm. The morning feed is jam-packed with tourists, but they depart for other adventures soon after. Your ticket is for the whole day so I would suggest the 3 o'clock session – we were able to quietly enjoy the orangutan, whom without a large audience, became braver.
Across the road is the Sun Bear Conservation Centre, home to about 44 rescued sun bears. They are the smallest bears in the world, found only in South East Asia and their biggest threat is down to illegal hunting (either for their body parts, or as pets).
They are darned cute-looking but they are extremely territorial. Their long claws are used for hunting for ants, and to inflict nasty wounds on other bears that wander too close. We saw two involved in a nasty fight over a tree stump. I have a picture of a woman from a Lao conservation centre with one arm, thanks to a sun bear. But don't worry; you never, ever get that close to them here. Hence the camera lens.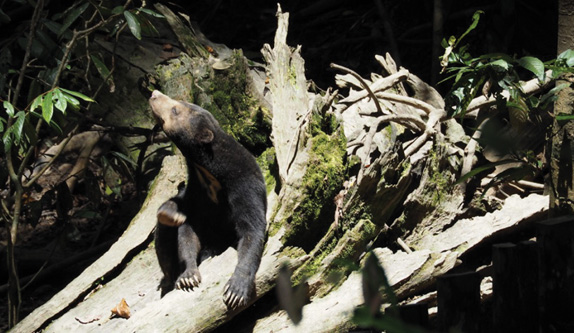 Kinabatangan River
The river starts high in Sabah's Crocker Range and winds 560km down to its mangrove swamp estuary into the Sulu Sea. We took a two-hour drive north from Sepilok through those damn palm oil plantations, hopped on a short boat ride before arriving at our river 'resort'.
The World Wildlife Fund states Kinabatangan is one of only two known places on Earth where 10 primate species can be found including the Bornean Orangutan, the Proboscis Monkey, Macaques, Caped Langurs (called the Beckham monkey by locals due to their punk hair cut) and Bornean Gibbon.
You can also expect to see crocodiles, hawks, eagles, at least three varieties of hornbills, kingfishers, and so much more. If you're very lucky, you may catch a glimpse of the Pygmy Elephant feeding on the edge of the riverbank as we did. We spotted a mother and her baby, swimming across one of the river tributaries.
Evening river cruises are busy and you will be competing for photo angles but that is when you will see the most orangutan, gibbon and monkeys. Morning cruises are less touristy, and the time for eagles, egrets and reptiles.  Just don't forget that big lens!
One Sunday night, we took a night walk with no real idea of where we were going but it appeared to be around our resort.  Listening to the sounds of 'Nearer my God to Thee' coming from a nearby community chapel, we spotted a mouse deer, a rare marbled cat that looked a little like an Aussie possum dressed in cat clothes, and any number of sleeping baby kingfishers and parrots. We also took home some leeches, so bring matches
and salt with you.
The Sea
Heading back to KK took the better part of a day, but we arrived in our island resort in time for a sunset tipple. There are two resorts quite close to KK; Gaya and Bunga Raya. The former is home to a marine ecology centre and pluses include morning fish feeding of giant trevally; 5* for both food and location; as well as ocean stilt villas and on-beach accommodation. We stayed there but visited Bunga Raya, a short private boat ride away, for its beautiful beach and its great 'sandy toes' bar and dining area – although it let itself down on lack of choice for the plant-based eaters among us.
We also took a three-hour hike across Gaya Island, where we lost 2.5kgs and 4.5litres of water from our bodies. We went diving and saw turtles, loads of fish and the amazing coral diversity (83 staghorn corals have been recorded in Sabah Borneo), – but also experienced the uncomfortable underwater sensation of reef dynamiting, despite its prohibition in national parks.
When it came time to leave, it was a short 15-minute private boat ride back to KK, then to the airport, before arriving back in Singapore the same day. We are fortunate to literally have one of the most unique eco systems on our doorstep. Go visit it, come back, and together let's commit to keeping it for our children's children.
Top Tips
Sunscreen & mosquito repellent – loads of it.
Decent camera & lens – hire a 400mm lens http://sg.camerarental.biz – ANZA discount applies.
Cover your shoulders & knees when out in public, particularly in the north.
Stay in the rainforest, rather than just visit it.