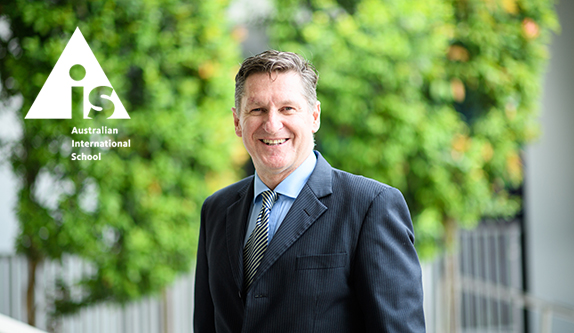 Dr Eddie Groughan has taken on the role of Principal at the Australian International School(AIS). Eddie takes over from Andre Casson, who will be moving into the role of Head of School following Simon Leslie's departure at the end of this academic year.
Eddie is no stranger to the world of international education, having been a Principal at four well-regarded schools across Australia and Asia (Pulteney Grammar School and Pedare Christian College in South Australia; Matthew Flinders Anglican College in Queensland and Dulwich College in Shanghai). He has also been a Deputy Headmaster at Aquinas College, and a Head of Sport at the Hale School in Perth, Western Australia. Eddie's teaching began at the Sydney Grammar School where he taught Science and Physical Education from K-12.
In his academic endeavours, Eddie holds a Doctoral degree in educational history with a thesis on the social effects of the Great War. His university association includes a year as an Associate Professor, teaching and devising units of study in a Master's of Educational Leadership program at the Australian Catholic University.
Eddie believes that learning is a means to self-fulfilment. As an insight to this belief, Eddie was a late starter to study beyond school, gaining a Diploma of Physical Education at the age of thirty before progressing to a Doctorate over the subsequent fourteen years.
Beyond schools and formal education, Eddie has been a Hawaiian Ironman, a first-grade rugby player for the Gordon club in Sydney, and has competed in a number of endurance events. He remains keen on his fitness and guitar.
Eddie says of his new role at AIS "I'm extremely excited to be joining the school and I have already been made to feel so welcome by every member of the AIS community – parents, staff and of course our wonderful students. I believe what really sets this school apart from others is its' friendly, inclusive community which values each and every child and helps them to follow their dreams – whether these be academic, sporting or in the Arts. There is a place for every child here and it's great to see so many happy, smiling faces as I walk around the campus."
If you'll like a chance to meet Dr Eddie Groughan visit our Open House on 9 November. Book your place now!