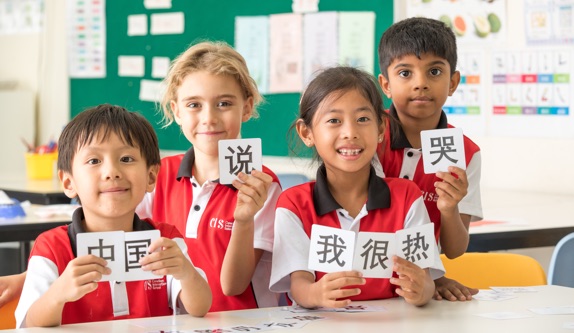 Chinese-English bilingual programmes offer children many benefits, yet deciding which one is best for your child can be challenging. Huali Xiong, Head of Chinese at Canadian International School (CIS) and author of the best selling Big Apple Chinese Programme, shares why CIS has been a popular choice for so many families.
Substantial experience
CIS' Chinese-English bilingual programme was one of the first to be offered in Singapore by an international school. Our extensive experience makes us one of the most trusted international schools in the region to educate students in becoming fluent communicators in both languages.
Outstanding student progress
After just one year in the programme, kindergarten students with no prior knowledge of Chinese can accurately understand and follow their teacher's instructions. Many are also capable of communicating clearly with their Chinese teacher. By the end of Grade 1, after two years in the programme, all our students can communicate confidently and read simple books in Chinese without the help of pinyin (romanization of Chinese characters).
Available from Kindergarten to grade 6
Our programme is available to students in junior kindergarten through to grade 6 and offered at both our Lakeside and Tanjong Katong campuses. It is fully aligned to the International Baccalaureate PYP and there are no limits on the number of classes available per grade (we currently have over 30 bilingual classes). We also have a specific pathway in place once the programme ends for students to maintain their high level of Chinese during Secondary School.
Experienced, native speaking teachers
All subjects are taught in each language by native speaking teachers. Students attend lessons in English one day and Chinese the next. One of the key benefits of this two-teacher model is that it compels students to communicate with their teachers in both languages, not just the one they feel most comfortable with.
Strong focus on learning Chinese culture
For all classes taught in Chinese, we try to integrate the Chinese culture into students' learning where possible. This ensures our students are not just learning empty, meaningless symbols but also the correct forms of address, etiquette and behaviour.
Unique reading programme
CIS has one of the most extensive guided reading programmes amongst international schools in Singapore. Our programme covers 36 levels and includes three native speaking Chinese literacy coaches responsible for providing students with tailored, individual reading support. We also have a well stocked library with over 1,000 Chinese fiction books and every student enrolled in the programme has an account to the leading Wawayaya Joy Reader App.
To learn more about CIS' Chinese-English bilingual programme and what factors to think about when choosing a bilingual programme for your child, register here for a coffee morning with Huali on November 22. After the talk, you will also have the chance to visit classrooms and observe first hand what learning looks like in their popular bilingual programme.