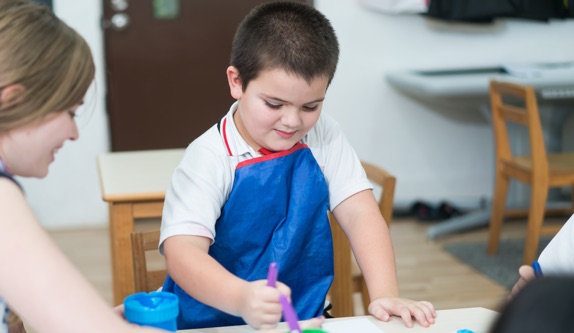 Art therapy has proven to be a successful form of treatment for special education students and kids with other behavioural, emotional or psychological issues. It allows children to express themselves in non-verbal ways through the use of art tools and supplies. This form of expression can tell a therapist many things. In fact, it provides a way for the child to communicate things they simply cannot say in words.
Children are encouraged to express their feelings through the art that they create in their session. In addition, they have the chance to learn social skills, gain cognitive growth, obtain coping mechanisms through the resolution of frustration and practice sensorimotor skills such as sensory stimulation and hand-eye coordination. In addition, practical skills are learned such as how to locate the art supplies, ways in which to utilize certain tools and the importance of putting away their supplies and cleaning themselves up.
The kinds of artwork done by students are quite varied. They may include making collages, drawing pictures, painting murals, crafting puppets and creating sculptures, among a myriad of other activities. All of these are ways for the child to express their feelings and to provide information indirectly to the therapist. This approach to therapeutic intervention is a very useful tool in dealing with various disabilities and behavioural issues. Of course an art therapist can also work with students with emerging talents to help grow and hone their skill; which is very beneficial for their self-esteem as well as their future employability.
Melbourne Specialist International School (MSIS) located in the Dempsey area of Singapore offers a unique and innovative model for teaching students aged 3 – 21 years with intellectual and multiple disabilities. The current curriculum follows a visual and performing art Programme in collaboration with the Victorian Education Board, Australia. Teachers, specialists and therapists work together to address the specific needs of each student tailoring a unique educational programme for that individual.
Chloé Dunn-Lee has recently been appointed as the new Art Therapist at MSIS. She is a trained Art Therapist and has Masters in Art Therapy from LASALLE College of the Arts Singapore, BA in Education and Training from University of Geneva and is a registered art therapist with the Australian and New Zealand Arts Therapy Association (ANZATA). She truly believes every child is able to grow to be a fulfilled, happy and successful individual with the appropriate support.
At MSIS, Chloe has been engaged in providing sensorial experiences to the children to help them experience the joys of making marks and develop a keen interest in creating art using different mediums to express themselves.
Melbourne Specialist International School has a team of in house specialist including an Educational Psychologist, Speech Therapist and Behaviour Therapist as well as Art Therapist, Chloe. Additionally there is the support of Physiotherapy, Occupational therapy, Speech and Art therapy as well as Dance, Music and Drama specialists each week who attend the school at set times when required. These specialists and therapists share their expertise with the classroom teachers who utilize that knowledge to enrich their own daily lessons. MSIS provides one-on-one therapy sessions that can all be done within school premises. This alleviates the need for the child to travel to various appointments in multiple locations which makes the school a highly beneficial option to parents and children.
MSIS is a unique school that offers all students the opportunity to become independent, access the school curriculum, gain social interaction opportunities and have an Individual Learning Plan (ILP) that is based on each individual need and goal.
Melbourne Specialist International School
75C Loewen Road
Singapore
248853
+65 6634 8891