Sullivan + Strumpf Gallery owner, Ursula Sullivan offers words of wisdom to Charley Larcombe on buying art for your home.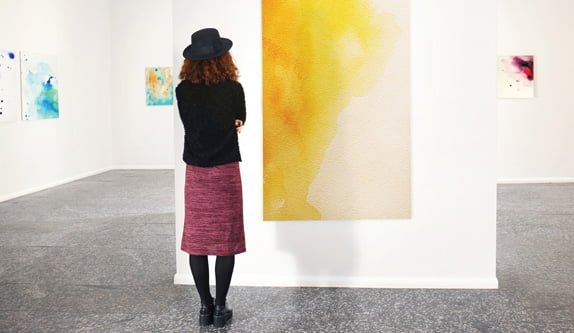 Humans are incredibly motivated by the visual as well as by stories, so it's no wonder that art is one of the oldest professions in the world (closely tied with prostitution!). It has become a serious asset class in its own right; at the very least, art is something that most homes have in order to look beautiful. There are those that are voracious collectors with deep desires and deeper pockets to have the greatest works on their walls. But, you don't have to be a multi-millionaire with a degree in Art History to appreciate, purchase, collect and/or love art; it really is for everyone.
Firstly, you need to understand your motivation for collecting. Are you just trying to get something pretty and affordable to match the sofa? If so, the world is your oyster, simply buy what grabs you from whomever you like. Punch in 'Affordable Art Singapore' into Google and go for it.
But if you are motivated by the visual, intellectual, cultural and potential financial rewards, then you do need to research. Good news is that researching art and artists is often fun and social!
BEST WAY TO START?
Go to the museums. Museums take a long-term view and if they have bought a particular artist, they have already ticked many important boxes regarding cultural relevance, longevity, commitment as an artist etc. Biennales are held in many countries and offer a broad cross section of highly regarded artists in one hit. If you approach it with an open mind, you will be surprised how quickly your 'eye' will develop. An important element of this research is to understand why something may repel you – asking this can often change your mind and you end up loving it for the visual and intellectual challenge it offers!
WHERE TO BUY?
The second stop is to connect with the gallerists – in Singapore, go to Gillman Barracks which is a cluster of mostly good galleries. Make contact with the gallery staff/owners as they will give you insights into the artist that you would not normally have access to; and if you are enthusiastic, they will be too! Meeting the artists is a fascinating experience as well, and most contemporary galleries will stage artists' talks, openings where the artist is present, and there's usually wine and a snack, so mingle and learn.
ART FAIRS
Another avenue to meet multiple gallerists is at art fairs. Some important fairs in the region are Art Basel Hong Kong, Art Stage Singapore, Art Stage Jakarta and Art021 Shanghai. Get into the VIP programme – a gallery will be able to get you a ticket – and get involved. There are a host of talks, studio visits and parties for you to enjoy.
DO IT!
Get a taste of parting with your hard-earned money with something small and something you really like. You'll soon realise the fun of the experience is one that you want to repeat; but you have to dive in! You can up the budget as you see fit next time.
OR WAIT?
Generally speaking, the more emerging an artist is, the lesser priced they will be. But they are also higher risk, as they have achieved less institutional support (e.g. been acquired by museums), and have not proven their long-term commitment to their career. (Having said that, some galleries will put high prices on an artist's work regardless of this, so high prices are not insurance for quality.) So you need to be aware of your attitude toward this risk. The more emerging, the less reliance on investment potential you should have.
AUCTION MARKET
The auction market is a great avenue for selling artwork. And as such, it is always worth a look to see if the artist you are considering has an auction record. Bear in mind that not having this, or having under-market value sales, can be for many reasons. For example, a lot of damaged artwork is sold through auction (so get a condition report), and sometimes an artist's work is very tightly held, so nothing comes up.
Sadly though, I cannot give you all the answers. They will be the results of your own investigation, and will also be the greatest reward. Collecting art is not just for your home, it is for the pleasure of your mind and eyes and also your family legacy. If you understand this, it will be one of the greatest investments you will ever make.