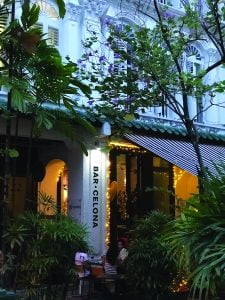 I have found a charming little corner of Spain in the very European-esque cobbled street of Duxton Hill that you must add to your foodie list: the aptly named, Bar.Celona. A great cava
and tapas bar sitting prettily under the striped awnings and leafy trees of this idyllic area, a friend organised a Friday night table here for The Girls just before Christmas.
It was a rare and perfect evening in Singapore where a breeze swept the humidity out of the city and, with the top-note smells of garlic and white wine hanging in the air, we really could've been in the back streets of Barca.
The bar imports all its cava directly from Can Paixano in Spain so expect to find a fairly reasonably priced glass of fizz. For some fun, order a cava tasting set of all eight kinds on the menu from the rose to the gran reserve ($22, or a normal glass starts at just $6) or peruse the cocktail menu. A zesty Aperol spritz – just ask for it in a wine glass with ice as the Marie Antoinette glass they originally serve it in makes it a little strong – or a refreshing cucumber gin spritz (both $15) were firm favourites amongst my crowd. For those not drinking or designated drivers for the eve', then go for jugs of the homemade lemonade where the smell will transport you to the craggy orchard hills of the Mediterranean.
Barely had we said our 'hellos' to each other and cheers-ed for being together, and we were salivating over the menu – and like all young ladies watching our figures pre the festive onslaught, we decided on the full list of tapas. All the plates we saw emerging from the kitchen looked delicious but I'll just share our particular favourites. Definitely order one plate, if not two, of the roast beef with onion marmalade on focaccia and the white anchovy bruschetta which tasted off-the-boat fresh. Also grab a plate of the grilled baby octopus perfectly cooked and not at all rubbery, with some piping hot Spanish croquettes which were particularly addictive. The charred ribeye steak cubes with veal jus were melt-in-your-mouth tasty so save some room for a plate of those too.
I also heard rave reviews about the albondigas meatballs and the chorizo patatas with egg – but give the truffle fries a miss. All the tapas dishes are between $10 and $20 and around five plates kept a group of four ravenous girls extremely happy.
Every Tuesday Bar.Celona has an oyster night ($20++ for 12) and there are mains such as risotto on the menu too but the tapas concept is the real winner here. A great early evening spot.
BAR.CELONA
21, Duxton Hill, 089604
bar.celona.sg