This heritage area is perfect for a sunday stroll in the city says Charley Larcombe. With the perfect mix of gym classes to work off the excess of the night before, and delicous cafes and bistros to tempt you with delicacies to put it all back on again, Tiong Bahru is your weekend sorted.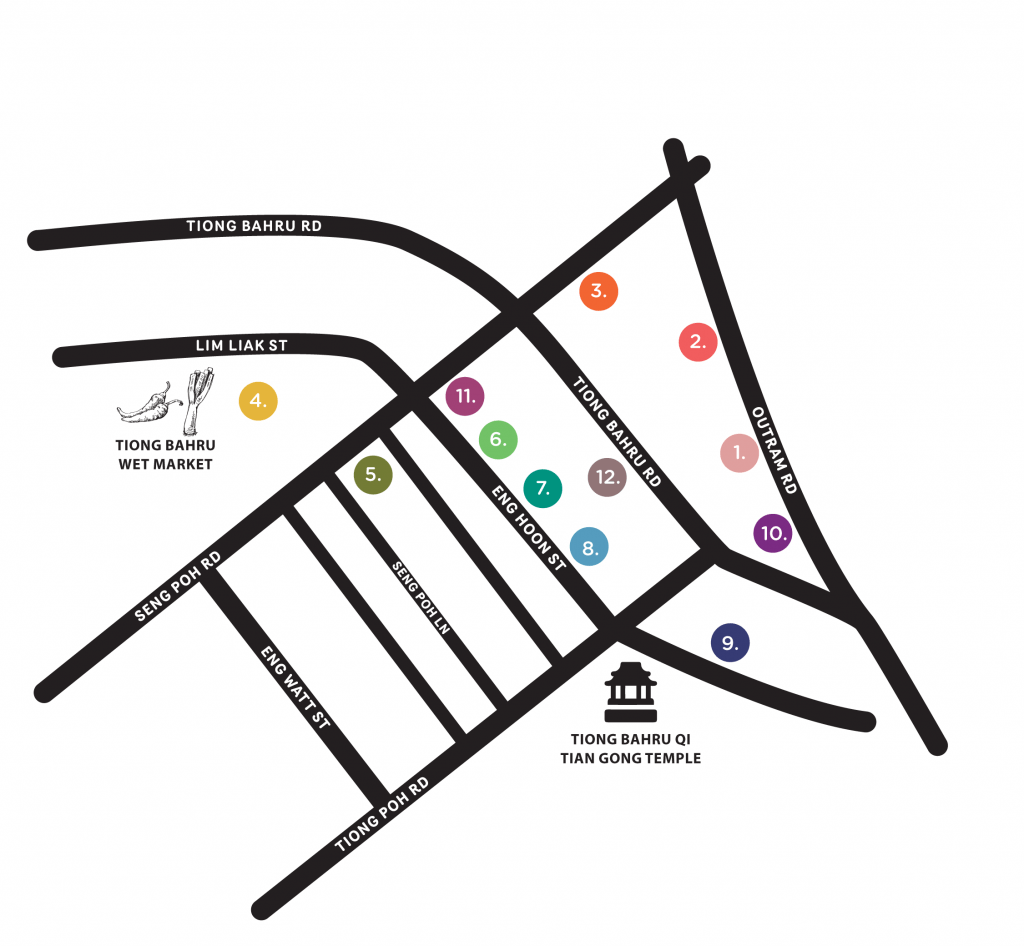 Tiong Bahru Pau & Snack
237 Outram Rd., 169041
One of the well-known pau shops in Singapore, it still does not disappoint. You can call ahead (6222 7656) to order your selection of char siew pau, drive up 15 mins later and just call out from your car – as I saw one switched-on Singaporean do whilst I was chatting to the staff. Everything is steamed in huge steamer baskets and then wrapped in paper for takeaway – perfect for a quick bite.
 F45 Training
261 Outram Rd., 169057
f45training.sg/tiongbahru/
F45 – the HIIT training regime that just keeps growing – isn't a new phenomenon, so you've probably already given an All Stars class a try; and paid dearly for it the following day. But not only is this fantastic less-than-an-hour class perfect for fitting in your day – there's currently an ANZA offer available for members (click here)! High five!
Bakalaki
3 Seng Poh Rd., 168891
bakalaki.com
Named after the Greek word Bakaliko (μπακάλικο), the traditional neighbourhood store full of all the delicious Hellenic goods you can imagine, this restaurant is a great find for lunch or supper. Imagine you're embarking on your own Cretan food odyssey with plates of dolmades, feta saganaki and keftedes.
Tiong Bahru Food Market
30 Poh Seng Rd., 168898
Peruse the wet market and numerous flower stalls on the ground floor early doors on a Saturday; pop across the road to Whisk café for a recovery coffee and an opportunity to look at the market's 50s-style architecture, and then amble back to grab a plate of char kway teow from the upstairs hawker stalls.
One Olive
61 Seng Poh Ln., 01-01, 160061
oneolive.net
This florist looks like a scene from Miss Havisham's house in Great Expectations; plants tumbling everywhere, mosses creeping historically over surfaces, a cacophony of vials and vases teetering on shelves. The shop is as creative as the au natural bouquets (from $100) – and watch out for Sunday the cat, named after the day she was adopted.
We Need a Hero
57 Eng Hoon St., 160057
weneedahero.sg
This men's grooming parlour is as cool as you can get – even the styling of the website is as slick as a wet shave. From haircuts and beard trims, to the, er…more intimate areas, this is a one-stop-hangout for the guys – and they have a host of products to choose from to perfect that pomade.
DGA Threads
01-82 Eng Hoon Rd., 160057
degiosart.com/
This tiny little gallery has beautiful objects d' art, Buddhist sculptures and carefully curated pieces from its director originally from Puglia, via Tibet – Giuseppe De Giosa. Pay particular attention to the textiles neatly hanging on a rail; Giuseppe sources original Japanese silks and has them reworked either into kimono by a local 70-year-old Auntie or into contemporary cropped jackets by a LASALLE professor.
Merci Marcel
56 Eng Hoon St., 160056
facebook.com/mercimarcelsg
Marcel says bon appeitit – and indeed you shall at the gorgeous café and bistro on Eng Hoon Street. I loved the red snapper ceviche ($24) but all the plates rushing out from the kitchen on a busy Tuesday lunch-service looked delicious. Take a moment to chat to the staff who are totally clued up on the wine and cheese you can buy to take a little slice of France home with you. Merci!
Maissone
38 Eng Hoon St., 169783
maissone.com
What didn't I love about this interiors and homewares store? From distinctive photography prints, to Moroccan poofs and Australian bed linens, I could have very easily pulled out the credit card and started spending. It was January though, and I was trying to be good, but this month, not so much…
Upper Place
231 Outram Rd., 169040
facebook.com/pg/upperplace.wangz
Found on the roof of the Wangz Hotel, this spot is a perfect place to wind down after a long week with a great view to check out when you're just happy to sit 'n' watch in a conversation lull. It also has an eclectic European menu that won't break the bank.
The Tiong Bahru Club
57 Eng Hoon St., 267208
facebook.com/thesingapuraclub
Heritage style, easy service and a popular place that embodies the ethos that "it's a members club for all", this bistro and taproom is an easy sell. A particularly varied menu (Asian-influenced Devil's Chicken Curry lines up with dum biryanis and okra fries) means if you can't really decide on what you fancy that evening, this place prevents arguments. Everyone is happy.
Curated Records
55 Tiong Bahru Rd., 160055
facebook.com/curatedrecords/
All the best things come in small packages – which is particularly true about this musical Aladdin's cave of vinyl treasures on Tiong Bahru Road. From mainstream Mariah to obscure indie, you can easily lose track of time sifting through the albums and reliving musical memories.