TRAVEL: Rafael Dalmau explores current travel hotspot, Portugal, discovering a country of great food, spell-binding architecture and welcoming people.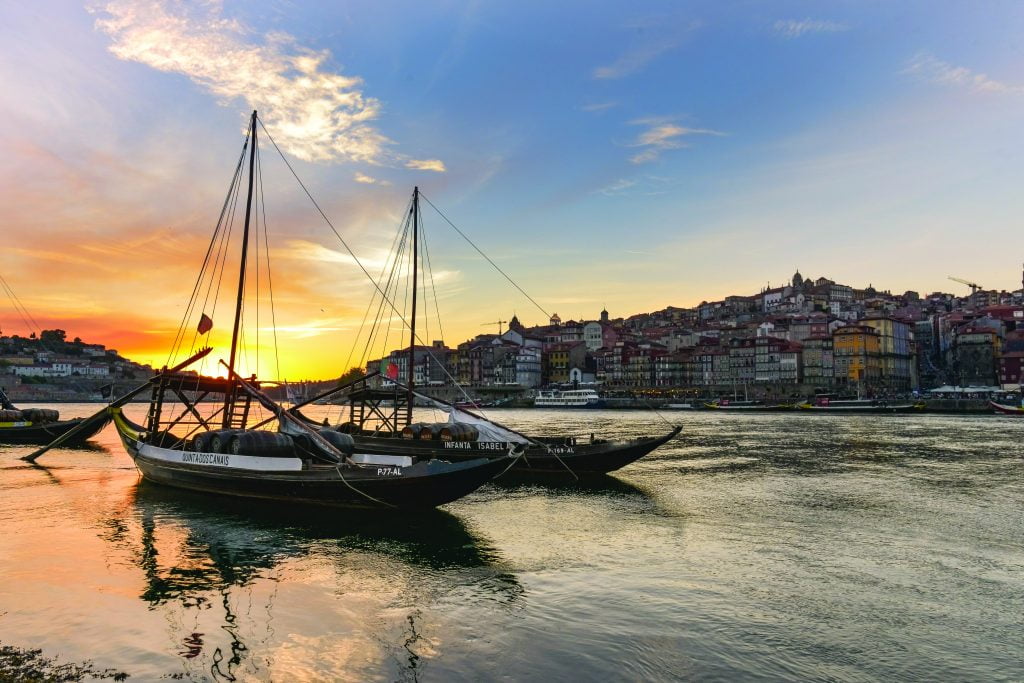 Over the years, I've peered through a miniscule window into the Portuguese culture or rather its presence around the world. As I've observed during my travels in Asia, the country's influence is glimpsed in the architecture and culture of Sri Lanka, Penang, Malacca and, most of all, Macau. However, such brief experiences did not prepare me for the marvels I saw in the actual country, when I visited Portugal with my wife last June.
The first stop on our Portuguese tour was the beautiful city of Porto. A magnificent location, it is divided by the calm waters of the Duoro River, yet criss-crossed by colossal bridges connecting both sides.
The name Porto, of course, evokes the fortified wine that many of us have had at the end of a hearty meal. However, it is so much more than a wine producer; it's one of the oldest cities in Europe (dating as far back as 300BC) and is the second largest after Lisbon. Its rich history includes an incarnation as an outpost of the Roman Empire and being declared an UNESCO World Heritage site. It's a city filled with wonderful sights, food, culture, arts, and, above all, friendly people.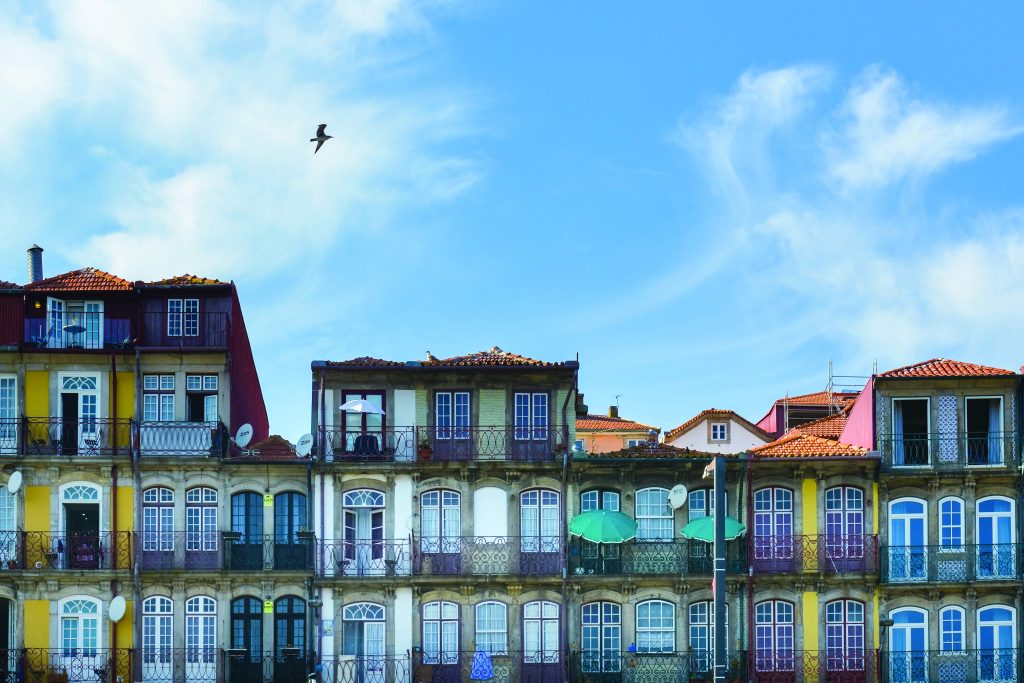 We roamed the city by foot; taking in the sights and marvelling at the imposing architecture including the Sao Benito train station where the lobby walls are covered by the famous Portuguese tile-work.
The city has many memorable landmarks and one in particular stands out for visitors: Livraria Lello. This beautiful building with its heavy art nouveau and gothic influence was an inspiration for the library in the Harry Potter movies, thus attracts a multitude of fans and tourists. Be sure to go early to miss the crowds.
As self-confessed foodies, we were left delighted – the food was fantastic! We tried much of the local cuisine with a bias for all seafood including Portugal's famous dry-cod fish dishes, although we skipped the locals' favourite: tripe.
In the gastronomical sense, it seems that no visit to Porto is complete without trying the francesinha, the Portuguese take on the French croque monsieur. Be warned vegetarians; this isn't the snack for you as the sandwich is filled with different meats and covered with a red, beer-based sauce (every restaurant claims to have its own recipe); a delicious and very filling treat.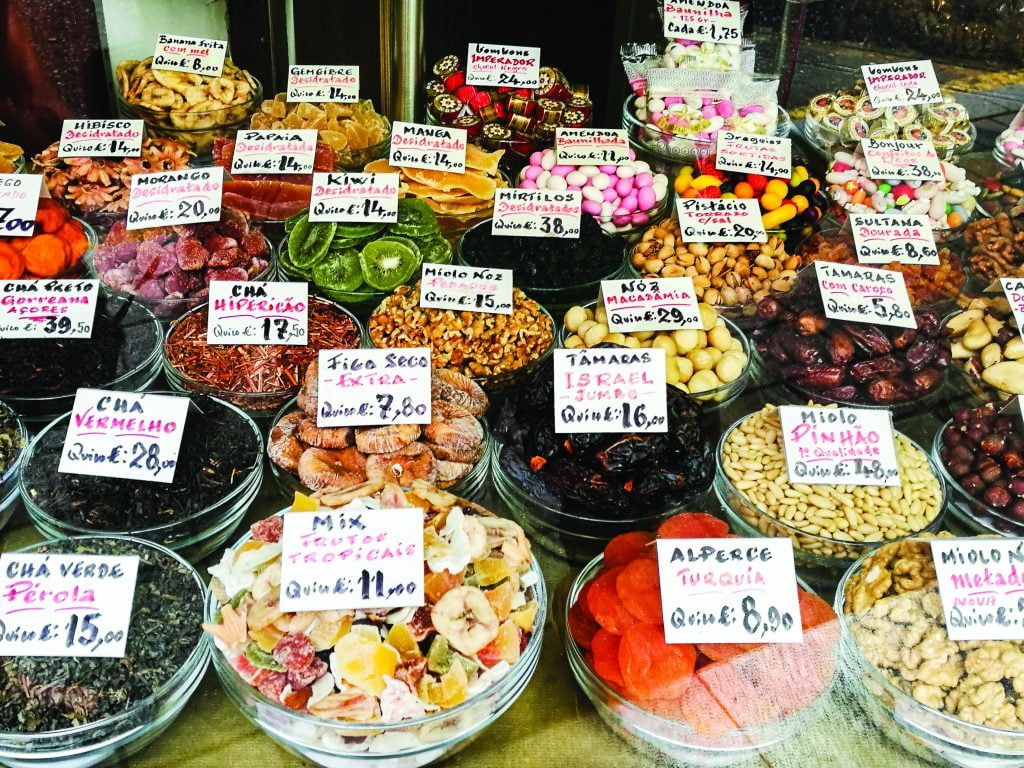 We then moved onto the capital city, Lisbon. Instead of opting for a train ride, we chose to rent a car and drive along the stunning coastline, giving ourselves time to appreciate the scenery and stop and stare where we chose. We paused for lunch at a small cidade where we enjoyed a plate of freshly caught sardines and a glass of the local wine. We also dropped by the coastal town of Nazare, well-known for some of the biggest waves in the world and a paradise for monster-wave surfers, before driving onto our destination. As we approached Lisbon, we caught a good view of Vasco da Gama Bridge, a truly impressive sight, before driving along the beautiful tree-lined Avenida da Liberdade, Lisbon's main avenue.
After checking into our charming hotel, we set out along Rua Augusta, a pedestrian-only street lined with dramatic black and white tiles. This took us to the remarkable Praca do Comercio or as it is commonly known, Terreiro do Paco – Palace Yard. Prior to the devastating 1755 earthquake, the Royal Palace was situated in this location. Nothing seems small in this square, the buildings are large and painted in bright yellow, and the skies are deep blue under the scorching sun. After a long stroll along the boulevards, we arrived at the red brick walls of Campo Pequeno, the bullring and a popular monument in Lisbon (worth noting that under Portuguese law, the bull is never killed). The city truly is a vibrant cultural collage that has taken many centuries to forge – and the best way to fully appreciate the architecture and iconic sights of this amazing city is undoubtedly on foot.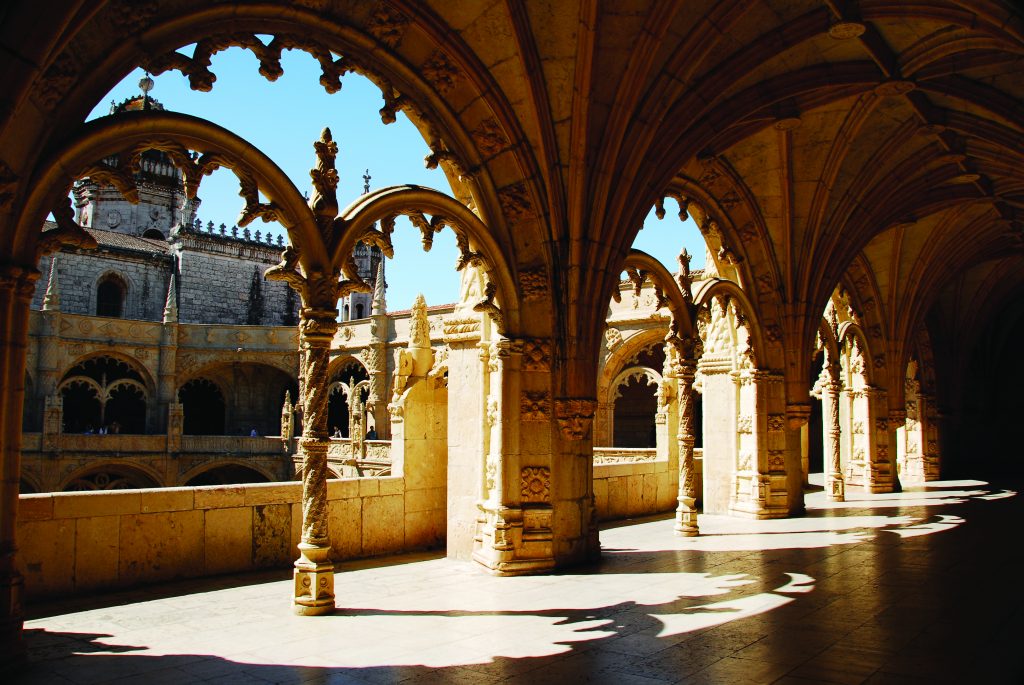 However, when your shoes start to pinch, there is another option. We unapologetically, took the hop-on/hop-off bus to further our acquaintance with the city. It was definitely time well spent as it's a vast city to cover. Bear in mind that there are plenty of hills, but luckily the elevador system helps you reach these upper parts. The system not only includes the famous yellow trams; but also the city lifts such as the Elevador Santa Justa, the most famous and not to be missed.
Like many a capital, Lisbon is made up of many, many areas. However, Baixa and Rossio, Alfama, Chiado, Principe Real, Cais do Sodre, and Bairro Alto are amongst the most popular and where the main areas of interest are located. The latter changes dramatically from day to night. During the day, Bairro Alto is a shopping and somewhat bohemian district, but at night it transforms into a hotspot for nightlife teeming with restaurants, wine bars, and clubs.
A short ride away from Lisbon's old-part of town is the district of Belem, which offers some of the most amazing UNESCO World Heritage Sites in this part of the world. These include Mosteiro dos Jeronimos, an impressive monastery commissioned in the early 16th century and built in the Portuguese old-gothic style known as Manueline with magnificent serene interiors. There is also the Torre de Belem which was built as a fort overlooking the Tagus River; and the relatively new Padrão dos Descobrimentos which represents and celebrates the 'Age of Discovery'.
In Belem (and next to Jeronimos) is a bakery known for its delicious flaky custard tarts called pasteis de Belem. These pastries have been made here since 1837 and are famous all over Portugal. While many cafes, bakeries and restaurants offer pasteis de nata; these are just not the same. This simple and tasty treat is worth the fare to get to Belem!
Lisbon is a city where a simple stroll turns into a history, architecture and gastronomical lesson; and a coffee stop can become an evening making new friends with the locals. I was amazed by the colours and diversity of this city. Whilst parts of it date back to Roman times, it has the energy and attitude of a young town. The people are warm and welcoming, but don't let that relaxed countenance fool you; these are people ready to roll up their sleeves and work hard. There is a tremendous amount of pride in their daily work and their heritage that purveys throughout the streets. Despite spending only a short time in Portugal, I know that Lisbon in particular, is a place where we could retire and live wonderfully.