Vacations are supposed to be relaxing – unless you're travelling with three children under five. Here are some hacks on helping your holiday be just that, a holiday.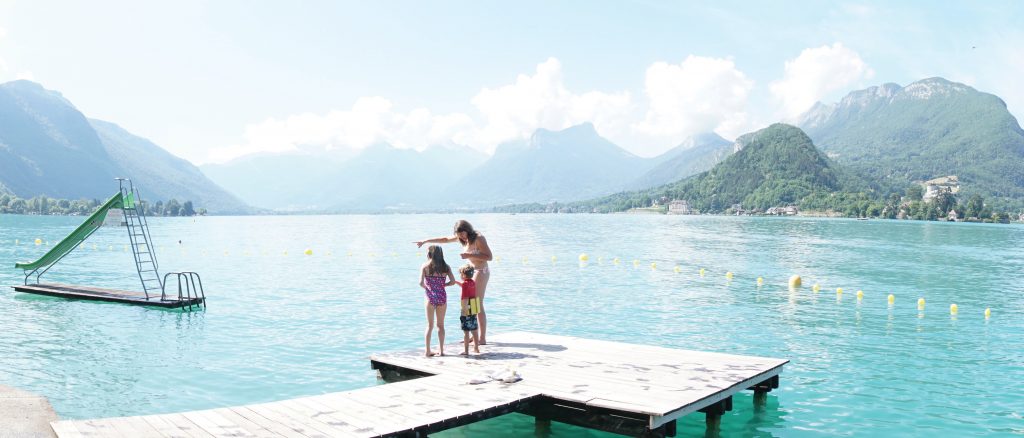 Location-Finder
Although you may want to show your three-year-old the world, a backpacking trip may not be the best option just yet. A resort or at least staying in one location will mean less time spent in transit and therefore less disruption-causing anxiety. Remember those exciting cultural trips you used to have, ooh-ing and ah-ing over the wonders of the world? Well now you'll become proficient in the World's Best Playgrounds. However, do plan your vacation where everyone can be happy – that means you too. Hence the resort idea – kids' clubs and swim-up bars.
Flight-Planner
Life as an expat equals long haul, therefore you need to plan your flight times so that you, your child or the other passengers don't have a melt-down. Night flights are for good sleepers. You can exhaust them all day and then re-create the bed-time experience in-flight – e.g. changing into the pjs, brushing teeth, story-telling; the full works. Day flights… good luck. Just keep them entertained!
Safety First
Couple of obvious things really but take a first aid box to rival any hospital; there will be bumps, scrapes and falls and you can't be too sure of what you'll have access to. Remember your Soov, Imodium, Deet, Tiger Balm, water purifying tablets, tea tree oil – it's antibacterial, antimicrobial, antiviral; just put it under your nostrils before flying –, Benadryl for allergic reactions, charcoal tablets for iffy tummies and steristrips. IMC actually have a travel kit all prepared for you. If you have friends who have visited the same area, maybe they'll have a doctor or clinic to recommend so it's worth an ask. Trust your instincts – healthcare may be different to what you're used to so if you're worried, keep pushing for referrals. Also to bear in mind are car safety rules. In Australia, a car seat is mandatory by law, but not all countries adhere to this. Remember to book one when you're getting your hire car, unless it's really another item you wish to stuff into the overhead compartments on your flight.
Carry On
First off, buy the Mary Poppins of bags. It needs to fit changes of clothes – for you and the babies – a huge stash of wet-wipes; snacks and entertainment (more on these later); kids' headphones with adaptors as often the airline ones do not fit; scarves and layers to keep warm – you know how plane temps can drop; bottles and formula – double-check with the airline but these liquids are usually fine to go through. When you're finally seated, have sets of things at close range so you can deal with emergencies without constantly bobbing up and down to the overhead lockers.
Carryin'-the-kids
For those not yet walking, a baby 'Bjorn' carrier is a must. Having them strapped to your front leaves your arms free to cope with passport-ticket-holding-other-babies'-hands whilst also being helpful on the actual flight too. If you don't have the extra seat space, then you can easily have them on your lap with the front carrier. Also, call ahead to the airport to book a stroller so you can simply check yours in with your luggage.
The Beauty of Changi
This airport has everything so all of that extra time you need for checking-in and getting sorted for your flight will be time easily spent. There's the butterfly enclosure, a super slide and a movie theatre to name but a few. Get the kids active so they will be exhausted for the flight and ready to settle…hopefully.
Feeding Time
Your best bet here really is to plan ahead and have your healthy snacks sorted. We're talking veggie sticks – they take twice as long to chew so use up some time – rice crackers, dried fruits etc. Obviously for ease, there are lots of take-away snacks on offer at the airport and inflight, but you're going to pay for that in the long-run when that sugar-rush hits. To deal with ears popping on take-off and landing opt for sugar-free lollipops.
Be the Entertainer
A long-haul flight stretches endlessly before you; just how do you keep the kids quiet for 10+ hours? First off, try and limit the screen-time. It may seem like an easy option to let them get carried away with the endless movies and iPad games, but it's going to leave them wired and not being able to rest. Instead, assist with their motor skills and concentration by packing the crayons and pads; buying the toy shop out of stickers and organising some activity books. Also, an option is to wrap a couple of tiny presents – there's a twofold benefit as it's another time-waster and they're enjoying the thrill of something new… or that they haven't used in a while. #recyclegifts
All-in-all though, remain calm. And remember this is a vacation; the excitement of a break-from-the-norm; the experience of travel; showing the kids something new; making memories. Happy holidays.