HOTSPOTS: Charley Larcombe indulges in comfort food at Marina Bay.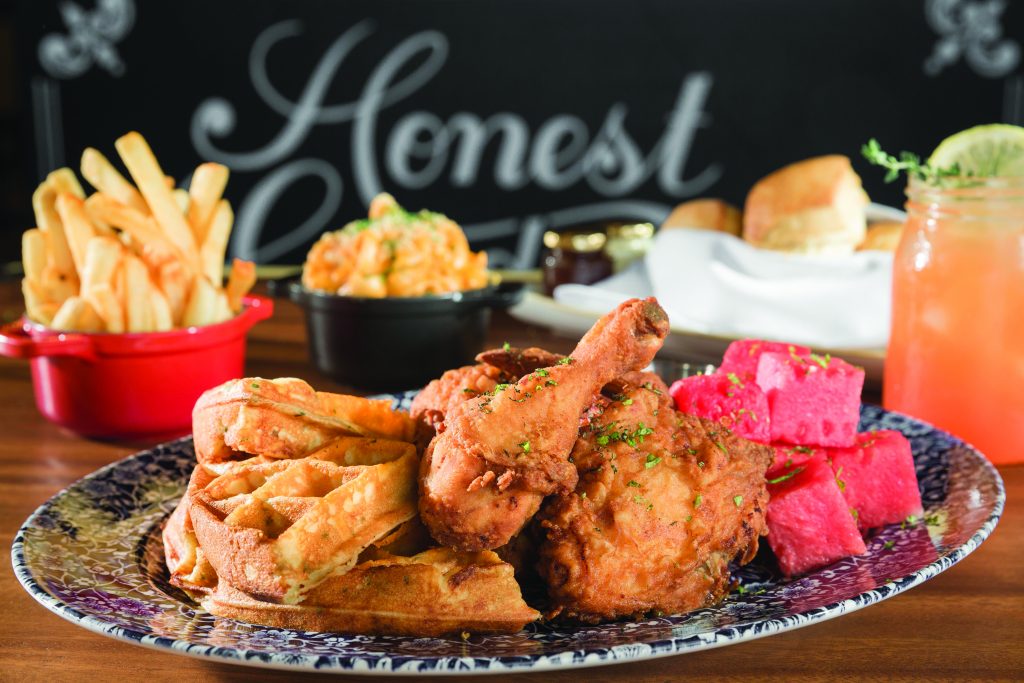 It's difficult to be a foodie stand-out in Singapore. Restaurants open and close, scarcely a week goes by without a hot new pop-up getting rave reviews, and the city is a place where a hawker centre can be as hard to get into as a Michelin-starred venue. Also, Singaporeans pride themselves on being so food-woke, that it's a tough crowd to please.
However, for something that is pretty different from the other 101 restaurants in Lion City, try out The Bird, found along the water front at Marina Bay Sands. This relaxed eatery and bar dishes up a classic, American menu as a tribute to the best of the South. It's mama's home cookin', it's the food equivalent of a cosy jumper, it's not the place to take the health-conscious or the diet-prone. You go to The Bird for some southern fried chicken, waffles, grits and whiskey-based cocktails. You make sure you haven't eaten all day in the lead-up and you wear your loose-fitting pants.
Living in such a climate, I wonder when would be the ideal time to visit such a place, but if you're ravenous, want to try something new, have friends in town and have just taken them to the light and fountain show, then this is a good bet.
On the evening we popped in, we started with a signature blackberry bourbon lemonade ($27) which was an easy intro to someone who isn't really a whiskey drinker. On the cocktail menu are US classics like old fashioneds and southern peaches – perfect for a-porch-sittin' – but there are also some nods to the region like the watermelon sling.
We took the staff's lead on dinner but the menu is very easy to navigate. For entrée, we shared devilled eggs with dill, chives and smoked trout roe ($14) and fried green tomato and crispy pork belly ($14), both delicious – and my personal favourites from the full meal.
Next, we tucked into the chicken 'n' watermelon 'n' waffles ($38). I could take or leave the waffles but the homemade honey hot sauce is aaaahhhhmmmaaazzzziiiinnnnnggggg. When I was told, I couldn't buy a bottle, I contemplated stealing one – but couldn't risk ANZA's integrity. Just promise me, you'll try it.
If you even have space for dessert, pop the top button of your jeans and pick a dish like butterscotch cake, rum-soaked banana cake, or fried Oreos (approx. $14).
I then definitely suggest a post-dinner walk to at least try and work off some of the mammoth meal.
The sister restaurants are in Miami, Vegas, and a soon-to-open one in Beverly Hills so this is the first foray outside of the States – and it looks like it's paying off as the tables were booked with a mix of people on dates, out with friends and the odd working dinner. It all lead to a relaxed vibe, mirroring the Southern hospitality that is so integral to the concept.
Give it a shot.
THE BIRD SOUTHERN TABLE
The Shoppes at Marina Bay Sands
2 Bayfront Av., 018972
marinabaysands.com/restaurants/