From great food, to enjoying the great outdoors, step off the Downtown North Line at Sixth Avenue for a Saturday bursting with activities says Charley Larcombe.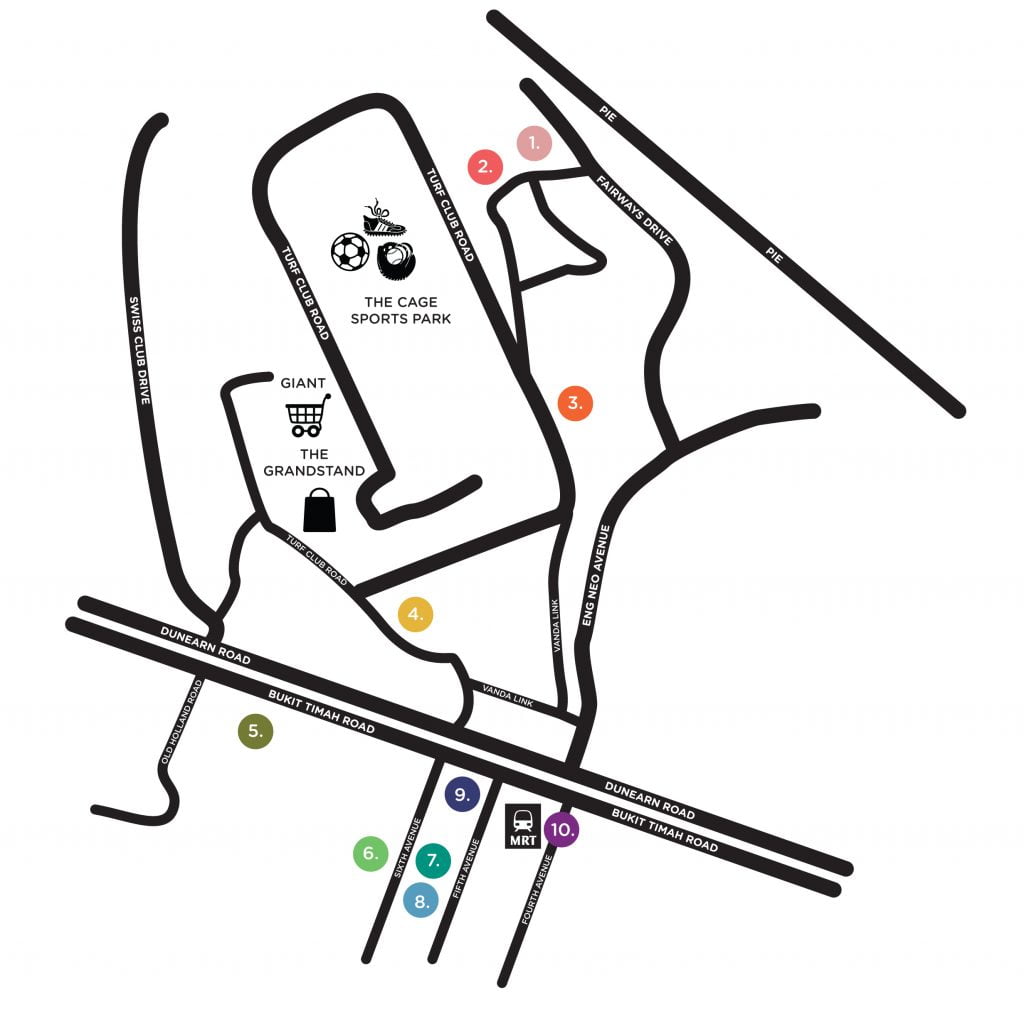 1. Bukit Timah Saddle Club
51 Fairways Dr., 286965
btsc.org.sg
These BHS-approved stables in the heart of the old racecourse offer pony rides, lessons, courses and livery for those wanting to give riding a try. The stable yard – once home to retired racehorses being re-trained for second careers in dressage and show jumping – boasts a perfect spot for you to improve your core, grapple with the basics of equestrianism or recall your Pony Club days by jumping the cross country course through the surrounding jungle.
2. Rider's Café
51 Fairways Dr., 286965
riderscafe.sg
A bit of a hidden gem, this bright and breezy café makes an exceptional brunch spot. With the shutters flung wide open, there's a gorgeous breeze flowing through the building as you look out over the lush surroundings and sip on rocket fuel coffees. There's a delicious menu to work through with the likes of the Pacific Benedict (poached eggs, crab cakes and salmon) and 'The Usual' (a hearty fry up).
3. Junkie's Corner
2 Turf Club Rd., 287988
This is a rummager's dream. An Aladdin's cave of wonders where the real currency is a sharp eye and excellent bartering skills (and cash not card). Recommended by ANZA's Designer, Skye, this is a spot to while away a morning of treasure hunting whether it's dusty 'antiques' or refurbished furniture. About a 20 minute walk from Sixth Avenue MRT, you're going to want to book a cab with plenty of boot space to carry your haul home.
4. Sunny Heights
110 Turf Club Rd., 288000
sunnyheights.sg
From day care and socialising, to boarding and training, this home-away-from-home for your dog has so much to offer. There's also a café on site, so you and your pooch can just pop up for teas and tête-à-têtes. Wagging tails all round.
5. Violet Oon Kitchen
881 Bukit Timah Rd., 279893
violetoon.com
The name is synonymous with Nyonya and Peranakan cooking, so this isn't so much a secret share, but a must-visit. It's very much a family affair with Violet Oon sharing recipes influenced by her grandmother and aunt on the menu; dishes such as buah keluak ayam and Aunty Nanny's daging chabek beef cheek. The interior is beautiful with carefully sourced Peranakan tiles and a bistro vibe set against the comings and goings of Bukit Timah. Also try her restaurants at the National Gallery and on Clarke Quay.
6. Good Good Eating House
24 Sixth Ave., 276481
For a noodle fix in the area, you can't go wrong with an order of Aunty's char siew at the Wanton Mee stall. It's an oldie, but a goodie with flavoursome noodles with plenty of sauce, a bowl of soup and delicious wantons – all for about four bucks. Just on the corner of Sixth and Anamalai, be prepared for a bit of a wait during noodle rush hour.
7. City Osteopathy & Physiotherapy
24 Sixth Ave., 276481
cityosteophysio.com
Keen supporters of ANZA Soccer and Nippers, the team behind City Osteopathy & Physiotherapy are your go-tos for not just rehab for any niggling injuries, but prehab too. As seen back in our October issue, City can help you prepare for your skiing holiday/ Ironman/ marathon as well as offer sports massages, performance testing and coaching.
8. Simply Bread
1 Fifth Ave., 268802
simplybread.com.sg
Not for those who think carbs is a dirty word, this little, sparsely-decorated café is all about the bread. The mouth-watering wafts of freshly-baked sour dough as you step through the door; the flour like a thick layer of snow dusted over plump bloomers; the brown and seeded loaves that don't need any accompaniments – everything is a winner here. As are the lunch-time sandwiches such as the salt beef or grilled cheese. Yum.
9. Ikeda Spa
787 Bukit Timah Rd., 269762
ikedaspa.com
For a feeling of Japan, step into this award-winning spa. There's a Japanese Zen garden where you can experience a simple chado (tea ceremony), before relaxing in the onsen hot tub handcrafted with hinoki (cypress wood once reserved for royalty). There are numerous signature massages and packages available as well as facials – such as the Geisha organic one which includes traditional beauty products including the exclusive uguisu. Yep, that's nightingale droppings. But we'll give anything a try for youthful looking skin.
10. The Living Café
779 Bukit Timah Rd., 269758
balancedlivingasia.com/living-cafe-and-deli
Don't let the thought of no red meat, no dairy and no sugar mean no fun, this café is positively humming with wellness and happy healthy people. There are green juices packed full of nutrients, truffles which taste decadent but really are pretty good for you, and raw dishes such as zucchini pesto pasta that prove you don't have to be naughty to be nice. The menu is brightly marked so you can easily spot what's good for the vegan and gluten-free.