HOTSPOTS: Charley Larcombe samples a pup-friendly cafe on Robertson Quay.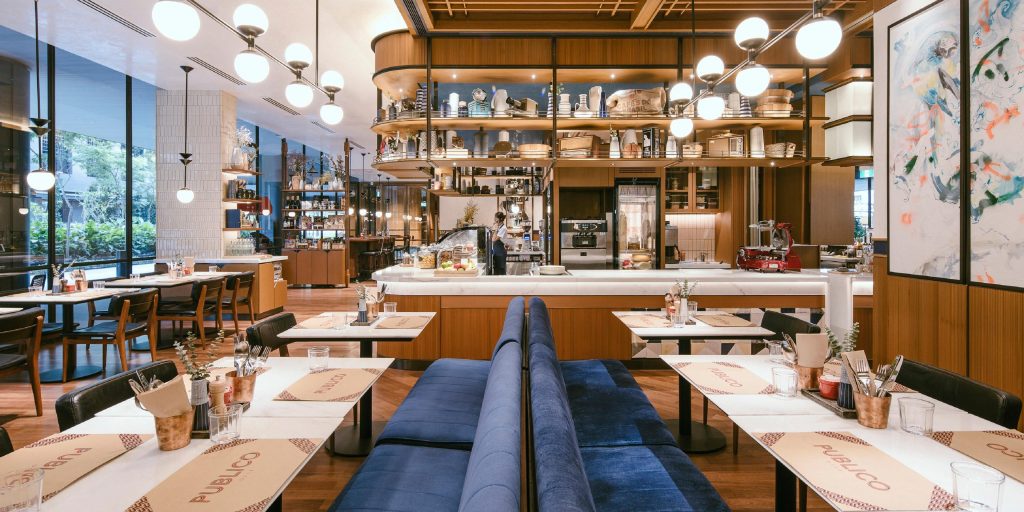 Much was written about the Publico trio concept when its home, the Intercontinental hotel on Robertson Quay opened late last year. A river-side evening restaurant, a cocktail bar, and a day-time deli haunt of choice for those in the neighbourhood.
I popped in for a quick brunch meeting mid-week to test it out – not for the food, not for the coffee, but to see if it was a puppy-friendly spot.
In light of this being the animal-centric issue, I wanted to find a decent weekend café spot where Fido didn't have to stay at home and you didn't have to drink coffee out of a water bowl.
Publico Deli isn't obviously dog-friendly, as you can't walk through the restaurant, but you will be shown a route through to the garden terrace. Far from being an after-thought spot converted from a smoker's corner, this is a lounge area where you can sit and enjoy whilst Fido relaxes in the shade. And slobber over the menu, as you will too.
For an early morning, post-power walk why not duck in for a quick coffee and a buttery, flake-y pastry – with the dog under your feet to catch all of those crumbs? But if you have more time, grab the papers, settle into the sofa (the dog has to sit on the floor sadly) and enjoy a more leisurely brunch.
Is a brunch menu even a brunch menu any more if it doesn't have smashed avocado? Fortunately, this one does; it's paired with a sort of zingy beetroot tapenade and heirloom tomatoes ($16). Give the Tostada Catalana ($17) a try – Parma ham over toasted sour dough and a good slug of olive oil – or the Mediterranean Scramble ($21) which boasts chicken breast marinated in yogurt and spices with scrambled egg whites. For the super hungry there's the Buon Appetito ($23), where you can choose from a selection of homemade sausages (like spicy Italian and veal chipolata with fennel) to join the eggs, baked baby potatoes and sautéed mushrooms on the plate. There's also Bettina's Granola ($16) for those trying to have a healthier morning. Although it's not like a wayward grain and mixed berry will get Fido begging.
The baristas are on point so you get a decent cup of Joe (an espresso is $4) and there's a selection of teas like Earl Grey Neroli, which according to the menu expresses "crisp notes of Italian bergamot and powdery orange flowers". Once you've indulged in brekkie and Fido has benefited from a pat and a love from the staff; you can be on route to the rest of your day, with tails wagging.