ANZA NETBALL: Michelle Adamson talks to Jemima and Lucy of the ANZA Rainbow Cheetahs as they share what they love about the sport.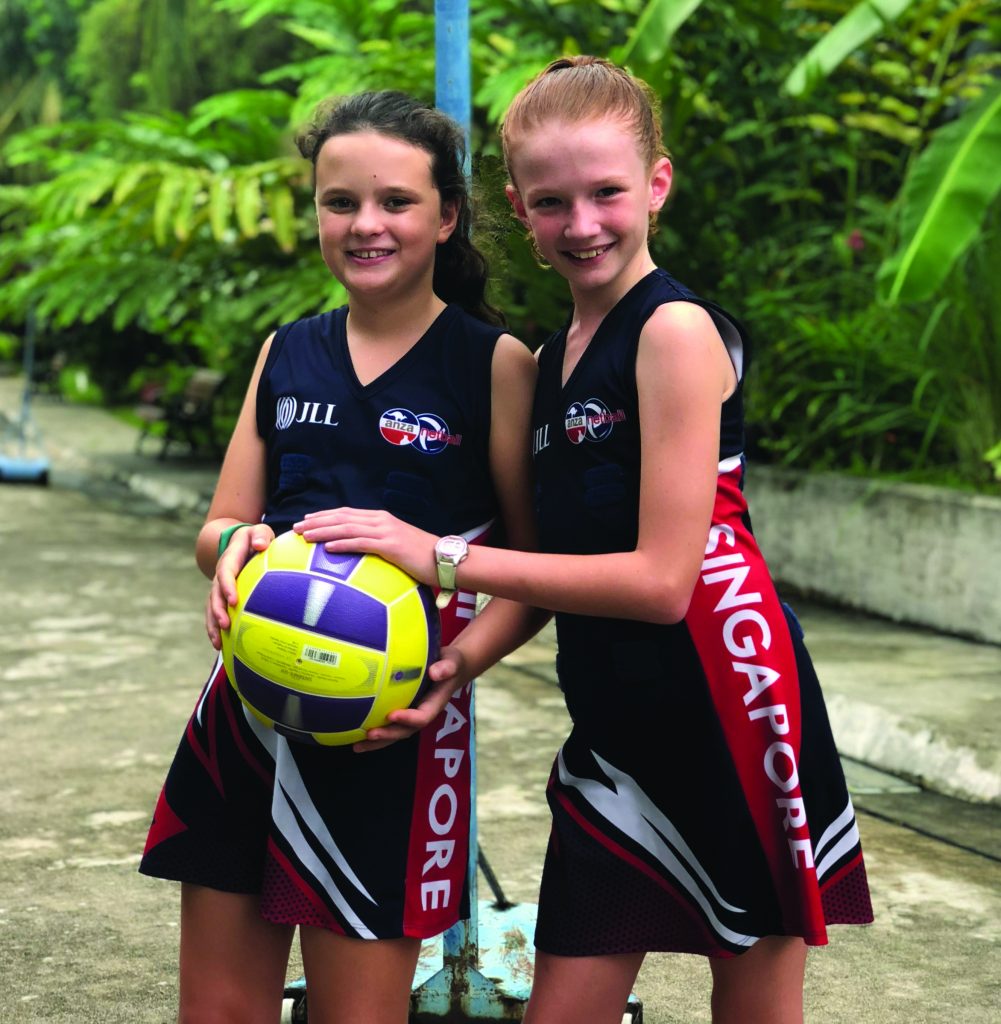 What do you love about ANZA Netball?
J: I love it because I like having fun with my friends while playing netball. I like getting to try out different positions and I especially like playing the netball games against other teams at the end of each training session.
L: I love playing netball and having fun every Saturday morning. I love playing tournaments against the other ANZA teams and also against different clubs. I like learning how to play in different positions but most of all I really like getting to meet new people from other schools. I have so many more friends because of ANZA Netball.
Why did you start playing?
J: I wanted to play a sport when we moved to Singapore and my sister had already been playing netball in Australia, so my mum signed my sisters and I up.
L: I wanted to start a new team sport and lots of my friends were going to be playing ANZA Netball so we joined together.
Tell us about your team, the Rainbow Cheetahs?
J: I think my team did very well this season. We won most of our games against ANZA teams and other sides. Some players in my team are good runners and some are good shooters and one even has a head of steel! It was nice making new friends from different schools which I would never have met had it not been for ANZA Netball.
L: Our team had a variety of girls, some small and some tall and that helped us win most of our games throughout the year. Our team is supportive of one another and we all try really hard to improve our netball skills.
What is it like having your mum as one of the volunteer team coaches?
J: At first, I was embarrassed, but then I got used to it and it was really good!
L: My mum has coached me since I joined ANZA Netball. I like it because she can give me pointers on what I'm doing right and wrong and it's fun spending time with my mum on Saturdays.
What have you learnt this season?
J: I now know where all the positions can go and I have learned how to shoot properly.
L: I have learned to attack and defend properly and I have learned more about the rules of the game.
What are you looking forward to next season?
J: I'm always looking forward to making new friends and playing some more tournaments if we get the chance. In a couple of years, I might be able to go to Perth as part of a netball tour and that would be amazing!
L: Getting a new team, making even more new friends and also playing more competitive netball and more games against other clubs.
Anything you would like to change?
J: Fewer warm-ups and more games!
L: I want to play more games because they are the best part.
ANZA Netball offers coaching and competition for girls aged six and upwards. For more info, email netball@anza.org.sg.