Whether you're new in town, or heading back to your homeland, here are five authentic Singapore food experiences you have to tick off your bucket list.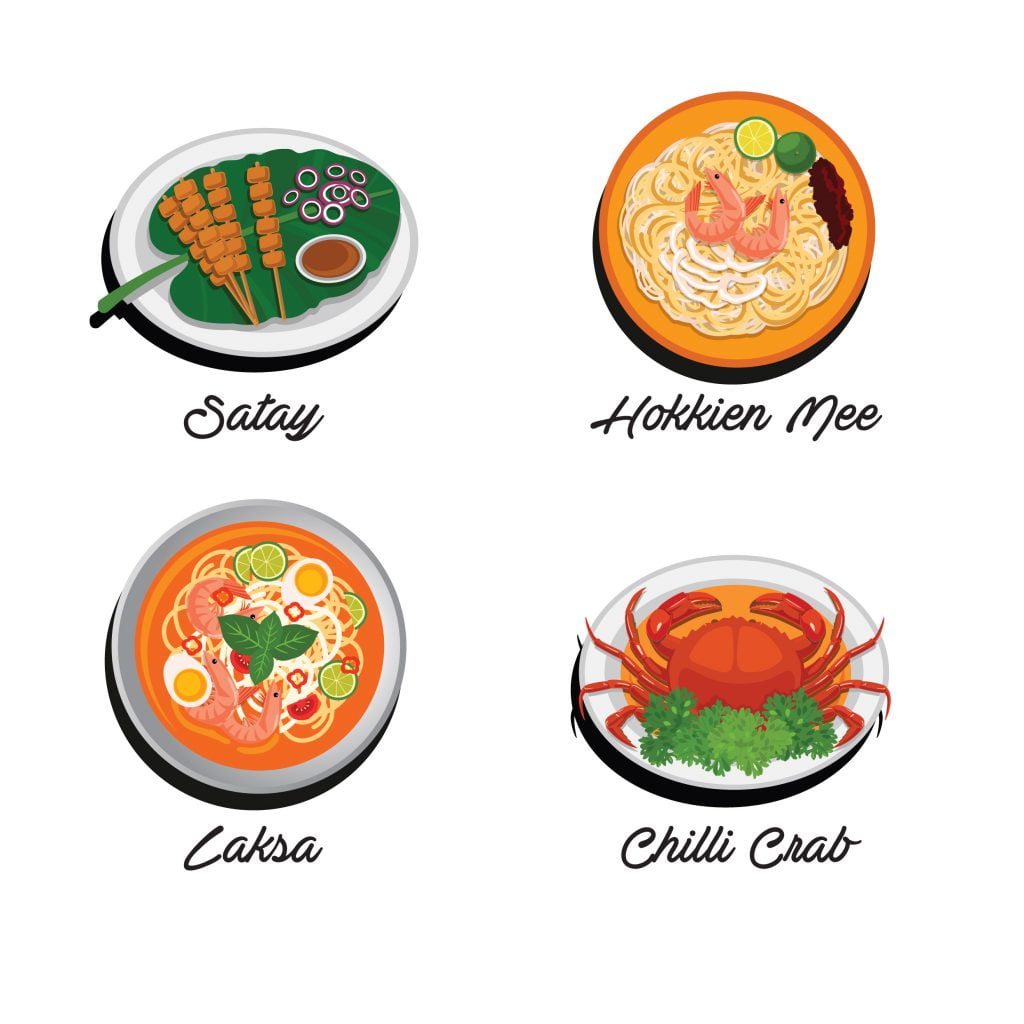 1. Hokkien Mee
This beloved Singapore noodle dish is the creation of post-war Hokkien noodle factory workers, who would gather along Rochor Road and fry any excess noodles they had. Cooked in a fragrant stock, Hokkien Prawn Mee is made with a mix of thick yellow and vermicelli noodles, large prawns and slices of squid. The dish is covered in a rich prawn stock, typically made from pork bones, prawns, anchovies and, in some cases, dried oysters. Add a squeeze of lime and sprinkle of chilli to taste.
DIG IN: Kim's Famous Fried Hokkien Prawn Mee, 62B Jln, Eunos
2. Chilli Crab & Black Pepper Crab
There are two ways to enjoy this delicious crustacean. Chilli Crab is served swimming in a mild, sweet, chilli-tomato sauce, or opt for the more robust black pepper sauce. Don't forget to dunk your fried mantous (steamed or fried white buns), into the rich, luscious sauces.
DIG IN: Long Beach Seafood, various locations, longbeachseafood.com.sg
3. Laksa
This Peranakan dish fuses Chinese and Malay cuisine into one delicious, steaming bowl. Traditional Singapore curry laksa is made with generous amounts of chilli, vermicelli, coconut milk, bean curd puffs, fish, shrimp and sometimes cockles. Singapore style Katong Laksa has chopped up vermicelli so slurp it with a spoon, not chopsticks!
DIG IN: 328 Katong Laksa: 51/53 East Coast Road, made famous by celebrity chef Gordon Ramsay!
4. Satay
No Singapore food list would be complete without satay. These delicious sticky skewered meat morsels originate from Indonesia, and have been adopted by Singapore. Choose from chicken, beef, mutton and pork and your order will be grilled to perfection on an open charcoal fire. Spicy peanut dip, pressed rice cake, onions and cucumbers are usually served
on the side.
DIG IN: Satay by the Bay, 18 Marina Gardens Drive; East Coast Lagoon Food Village, 220 East Coast Parkway
5. Carrot Cake
Not to be confused with the sweet cake with cream cheese frosting, Singapore's Carrot Cake is a stir-fried dish made of steamed cubes of soft rice and radish "cake", garlic, eggs, preserved radish and sometimes oysters and prawns. Brought to Singapore by Teochew immigrants, the moreish dish is now a hawker staple and variants include the 'black' version, which is laced with dark soy sauce.
DIG IN: Bukit Merah View Hawker Centre, Carrot Cake stand #01-37