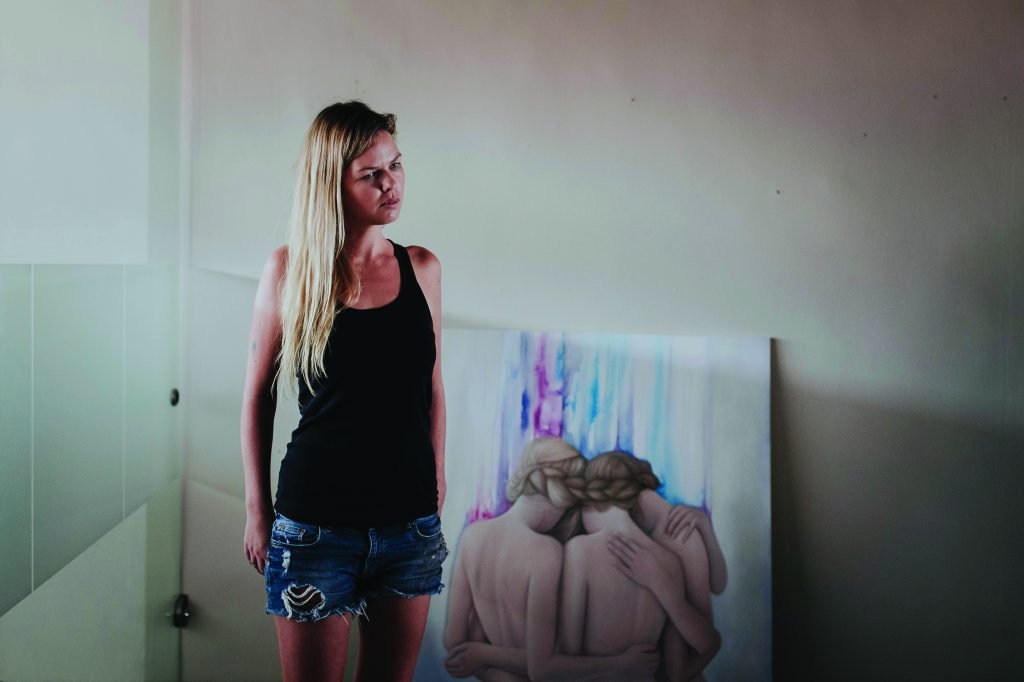 New Zealand artist Jennifer Chalklen didn't put brush to canvas until she moved to Jakarta five years ago. The mostly self-taught painter has since shifted to Singapore, been awarded an NPE Art Residency for contemporary artists, and exhibited her work in a solo show at the LUDO Gallery at the Visual Arts Centre. She talks to Pip Harry about how and why she made the move from digital marketing for a ski and surf company, to an artist's studio in Joo Chiat.
Where are you from originally?
I spent my childhood growing up in a little rural town just outside of Tauranga, New Zealand and lived in Wellington, before moving to Asia. I now live on the East Coast with my husband and three kids Taylor 11, Meya 9, and Archer 5, and a fur-kid Sansa, a rescue puppy that we adopted from Causes for Animals. We're coming up to three years living on the little red dot.
Where did your love for art begin?
I have always loved art and as a kid I was very creative: sewing and drawing in an abstract way. But I didn't select art as a subject in school, instead I went into rowing training, and more academic subjects.
Art wasn't your first career?
No, I worked in digital marketing for clients like Huffer, Billabong, Rip Curl, Solomon, Quicksilver, Ski Himalaya and Playstation. I did a bit of everything: writing weekly surf reports, developing advertising copy and making animated gifs.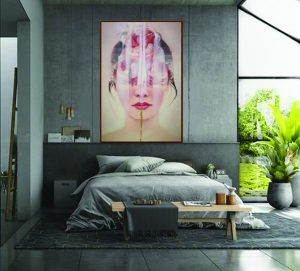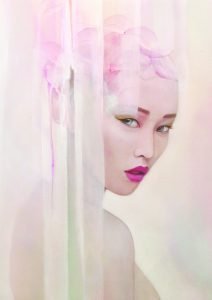 When did you first start painting?
I only started painting portraits and doing figurative work when I was living in Jakarta about five years ago, and I stubbornly decided to teach myself how to paint portraits in a realistic style with oil paints. I had a lot of images and ideas in my head, but I didn't have the technical ability to transfer them onto canvas, and I wasn't able to say the things that I was feeling or wanted to express, so there was a big gap. I learnt by Googling stuff, YouTube videos and trial and error. It's still a constant learning curve.
What do you like about being self-taught?
It gives me a kind of self-governance over my artistic direction, what I'm learning, what I'm saying and how I'm saying it. Plus, I really dislike authority and being told what to do, so formal classes don't really work for me in that sense. But I need to be always learning new skills or trying something new
How do your surroundings inspire your current artwork?
After visiting New Zealand, my paintings become greener, and trees and animals find their way into my work. My colour palette is more vibrant in Singapore than the muted tones I was using in Jakarta, which were almost the same colour as the sky from the constant congestion. I found visiting Tokyo incredibly inspiring – it was complex, frustrating and confusing at the same time, a complete sensory overload.
There's almost photographic detail in your work – are you personally detail orientated?
No! Which is why my painting style is still a surprise to me. My personality type is quite chilled out, messy, and disorganised. My desk is usually a disaster zone. I always thought I would be an awesome abstract painter wearing overalls, covered in house paint, using big bold brush strokes, which I think is more representative of my personality, but my work doesn't come out in that way.
Describe the process you go through to develop a painting?
Normally a painting will develop in my peripheral, after glimpsing an image, a person, or a dream, and it will stay there for a while. If I don't get it down, it will slowly vanish like the memory of a dream. I then gather reference images from live models that I photograph, or artist reference images online and then start to develop the work. My style is visual extension of my thoughts, ideas and experiences, it is almost like a form of meditation or prayer on a canvas.
Where do you like to work?
I work in my Joo Chiat studio, which is a space that feels like mine, outside of being a wife or a mother. I can exhale as soon as I walk inside and it allows me to get into the headspace I need to create. Also, our apartment does not have the space to make a mess, so to save my marriage, it's much better to keep things separate.
What's next?
I'm also in discussions with a gallery owner and another artist to open up a new gallery space in Singapore in the next few months, which would be great. We're currently looking for property, so hopefully the real estate gods will shine on us in a favourable way.
Contact Jen through her website www.jenniferchalklen.com or Instagram @the_secret_art_gallery