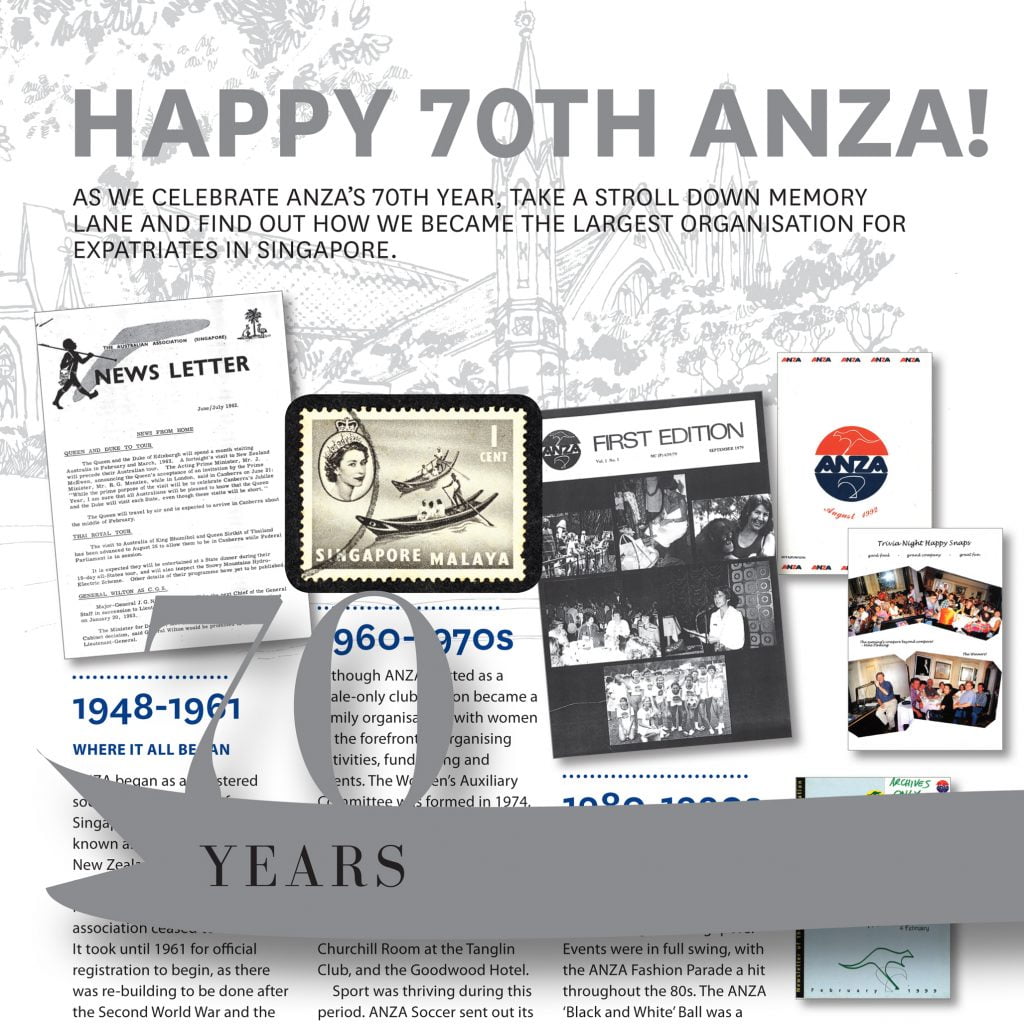 1948-1961
Where it all began
ANZA began as a registered society in the Colony of Singapore in 1917 and was known as the Australian and New Zealand Association of Malaya. In 1948 ANZA was founded, and the original association ceased to exist. It took until 1961 for official registration to begin, as there was re-building to be done after the Second World War and the administration process took some time. ANZA's goals in the early years were to provide support to Australian and New Zealand families based in Singapore: a home-away-from-home and a place where expats could meet fellow countrymen, relax, build important friendships, and give back to the community.
1960-1970s
Although ANZA started as a male-only club, it soon became a family organisation, with women at the forefront of organising activities, fundraising and events. The Women's Auxiliary Committee was formed in 1974, with a focus on raising money for local charities. The ANZA Ball was held at the Seaview Hotel in the 1950s-60s and was a very formal affair. Over the years it was held at Raffles Hotel, The Churchill Room at the Tanglin Club, and the Goodwood Hotel. Sport was thriving during this period. ANZA Soccer sent out its first registration letter to parents in 1979 inviting young players to join the ANZA International Junior Soccer League. ANZA Tennis also began in 1979, with social games played on Thursday mornings at the Minden Road Courts. ANZA Swimming was popular, with meets at the Singapore Swimming Club and Island Country Club.
1980-1990s
By the 1980s ANZA was running a range of classes for expats, ranging from craft to cooking, and regular cultural tours throughout Singapore. Events were in full swing, with the ANZA Fashion Parade a hit throughout the 80s. The ANZA 'Black and White' Ball was a roaring success. A Children's Christmas Party was a yearly highlight, with families turning up in droves to meet Santa and be entertained by children's performers. In 1987 a Newcomers Coffee Morning was introduced – which still runs today as Casual Coffee! ANZA's Keep Fit aerobics classes set to 80's pop music were a sell-out!
1990-2000s
ANZA celebrated its 50th Anniversary in 1998. To commemorate the occasion, a team of members compiled a book entitled Snippets from the Past, documenting ANZA's history and formation. A grand Golden Jubilee Ball was held at the Shangri-La ballroom to mark the occasion. Also in this year the Women's Auxiliary Committee (now known as ANZA Action) celebrated its Silver Jubilee. ANZA Netball began in 1991, catering to demand for the popular girl's sport in Singapore. Tours ventured to Palau Ubin, Little India, Changi Prison Chapel and more. Classes were held in computing, hat making, perfect dinner parties, and mahjong.
2000-2010s
The ANZA office was located inside the Tanglin Shopping Centre, and it was always buzzing with volunteers. A Newcomers Wine Night was held to welcome new arrivals. Events included an Art & Craft Fair, trivia nights, and the longstanding Melbourne Cup Lunch. The Writers' Group began meeting twice a month, and the first ANZA Scouts group was introduced. ANZA Ladies Golf played in Batam, Bintan and Singapore and ANZA Cycling was gaining popularity. Classes were held in 'Introduction to the Internet' and 'Writing and Sending an Email'! The ANZA Volunteer of the Year Awards were initiated (the first awards night was held in 2011), as well as a regular Girls Night Out (now known as Ladies Night). ANZA Secret Men's Business, ANZA Wine Club, Book Group, and ANZA Click! Photography were established as popular social and interest groups.
NOW
ANZA has now grown to a membership base of more than 7000, representing a range of nationalities and age groups including Australian, New Zealand and British, as well as from countries as diverse as the USA, The Netherlands, Germany, Canada, South Africa and Singapore. Current sports groups include Cycling, Soccer, Netball, AFL, Nippers, Cricket, Fishing, Yoga, Walking, Athletics, and more. Our annual ANZA Ball and ANZA Melbourne Cup Race Day events host around 500 guests each, and ANZA runs 60 events every year. These range from Casual Coffee to Ladies Nights, AFL Grand Final, wine evenings, Thriving in Singapore and Understanding the Job Market. Our annual Great Australia Day BBQ with the Australian International School (AIS) attracts nearly 4000 people. ANZA Action now supports over 15 local charities.
ANZA magazine through the years:
In the 60s a simple ANZA newsletter reported on the Women's Auxiliary, travel, charity work, and life on the red dot.
In 1979 a publication called First Edition was printed and a competition was held to name the magazine. The winning title was ANZA Antics.
In the 1990s came ANZA News, a black and white bound booklet which kept members updated with ANZA events, tours and classes.
The 2000's saw the development of ANZA Magazine – a glossy lifestyle publication with bold covers and colour printing.
ANZA now communicates both via the monthly ANZA Magazine, our website, EDM and though our Facebook page, which has 4200+ followers.
Join us at the Australian High Commission for a very special event celebrating 70 amazing years of ANZA. Enjoy live music and sample delicious produce and products. Register at anza.org.sg/events