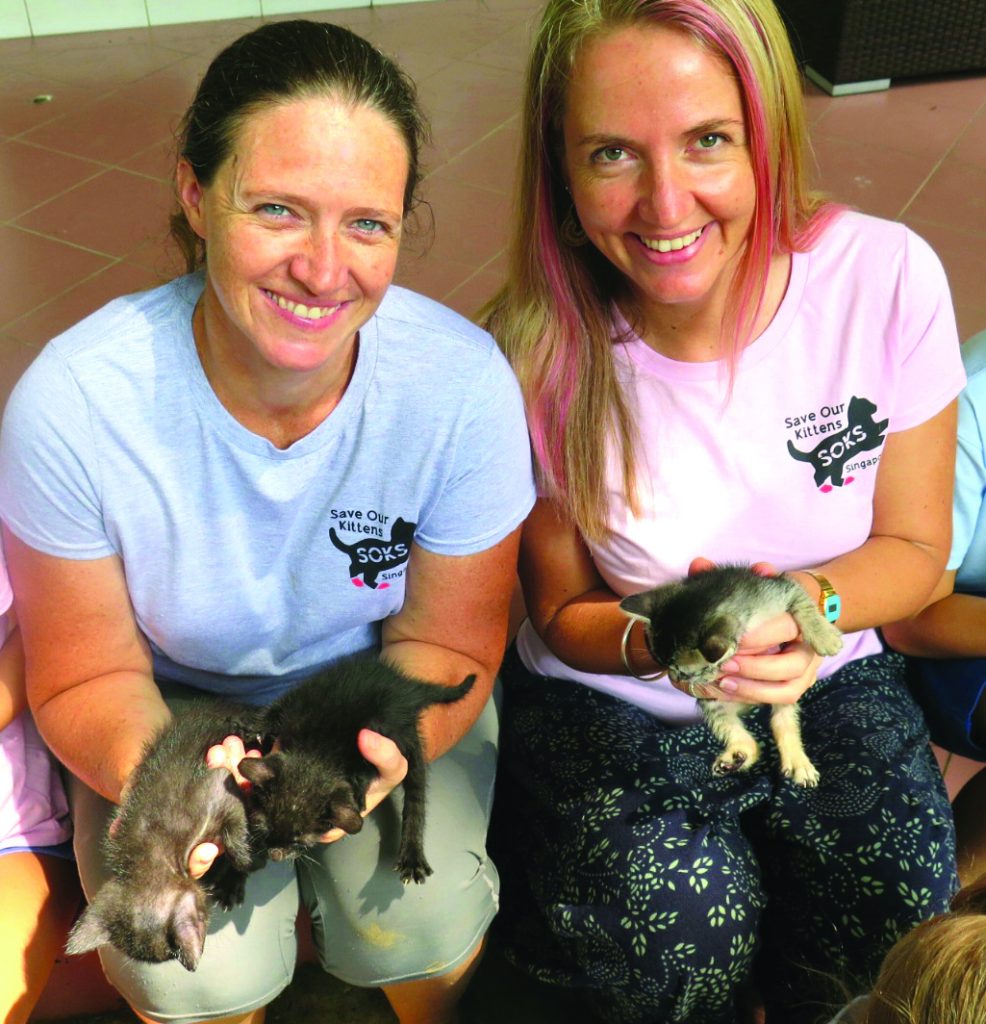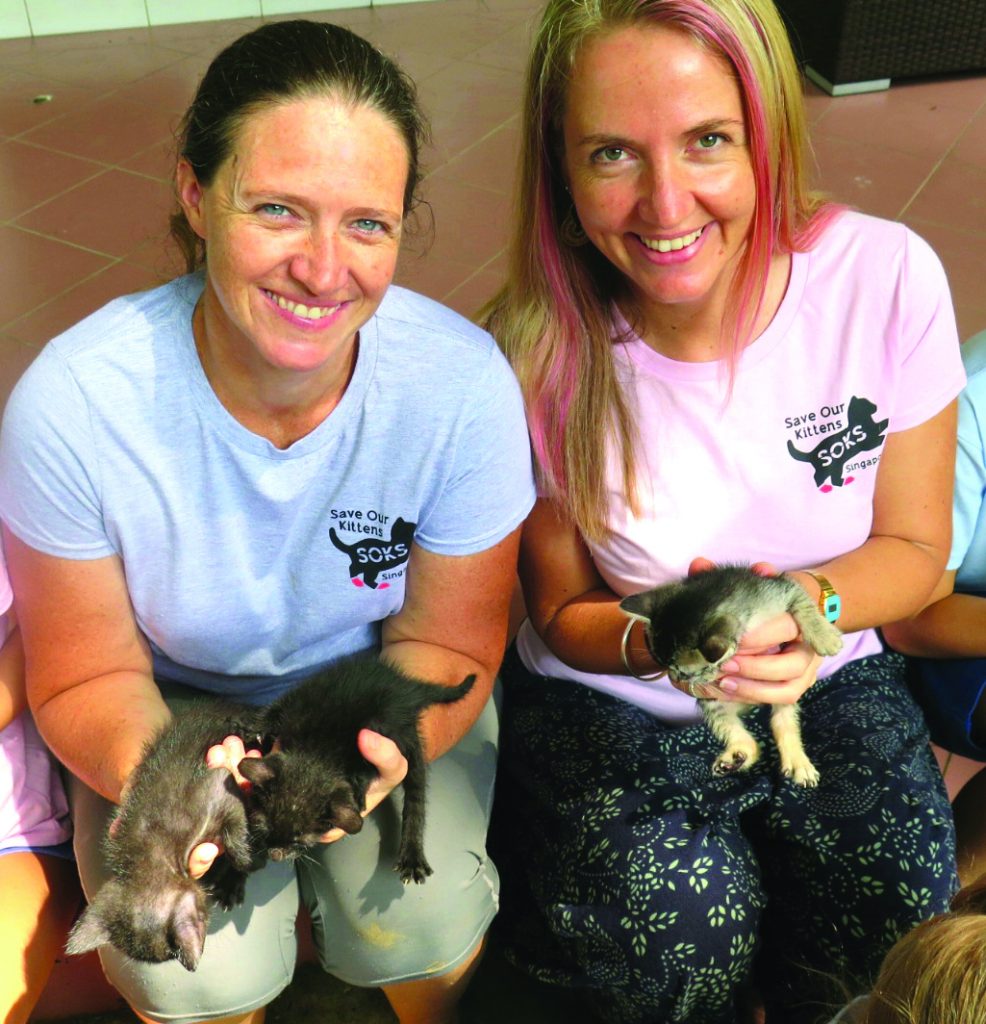 The amazing expats behind Save Our Street Kittens Singapore (SOKS) have rescued over 400 kittens – re-homing the vulnerable animals with loving families. The task of hand feeding and raising litters of kittens in their homes is relentless and exhausting, but SOKS co-founders Claire Forbes and Julia Leimanis say every time one of the adorable fluff balls finds a 'forever home' it's worth it.
Claire became aware of the stray problem in Singapore several years ago when she moved into Upper Thompson, an area populated with street cats. "I pulled 10 kittens out of the drains in the space of a month. I sought help with sterilisation, and the kittens were re-homed with the support of expat networks. That's really how SOKS began."
Julia and Claire's homes are now overrun with tiny, furry houseguests – up to a dozen at a time. "Project SOKS is a kitten rescue organisation, specialising in neonatal (under 4 weeks) kitten rescue," explains Julia. "We care for abandoned or homeless kittens, raise them in our family homes and re-home them. SOKS was formally established in April 2018. Since then, we take calls from people all over the island who need help when they have found sick or abandoned kittens."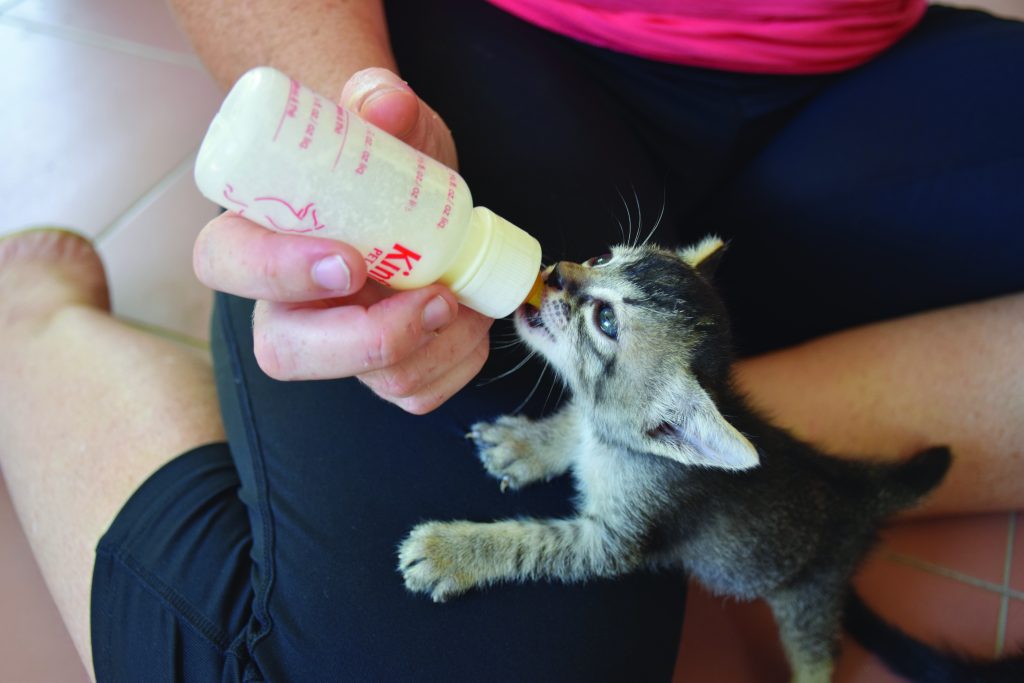 SOKS is a family affair, with Claire and Julia's children all lending a hand with the care of the kittens and Claire's vet husband offering advice on medical issues. "Both my kids are amazing with the kittens," says Claire. "Maia (8) is really great at bottle feeding and Aidan (6) is fearless and particularly good at handling the more feral kittens that hiss and bite. Hopefully I'm instilling in my children the responsibility of pet ownership, charitable giving, and the idea that we can make a difference in the world by the small things we do."
Julia and Claire are "chief kitten foster mummies", and admit it's a full time job which does impede on their social lives. "We spend hours every day bottle feeding babies, cleaning up after kittens, answering messages for people requesting help, and finding homes for our much loved babies," says Julia. "Thankfully, we are supported by a team that includes five other foster families. The kittens are all given names and capture everyone's hearts. "We both love the constant contact we have with kittens," says Julia. "They are lovely pets and bring a lot of affection and fun with their unique characters and crazy play antics."
SOKS have partnered with The Cat Welfare Society Singapore (CWS). "The CWS supports us by sterilising the mothers and fathers of any kittens that we rescue, prior to their release back in the communities where they live. CWS receives very little government support and relies almost solely on donations from the public."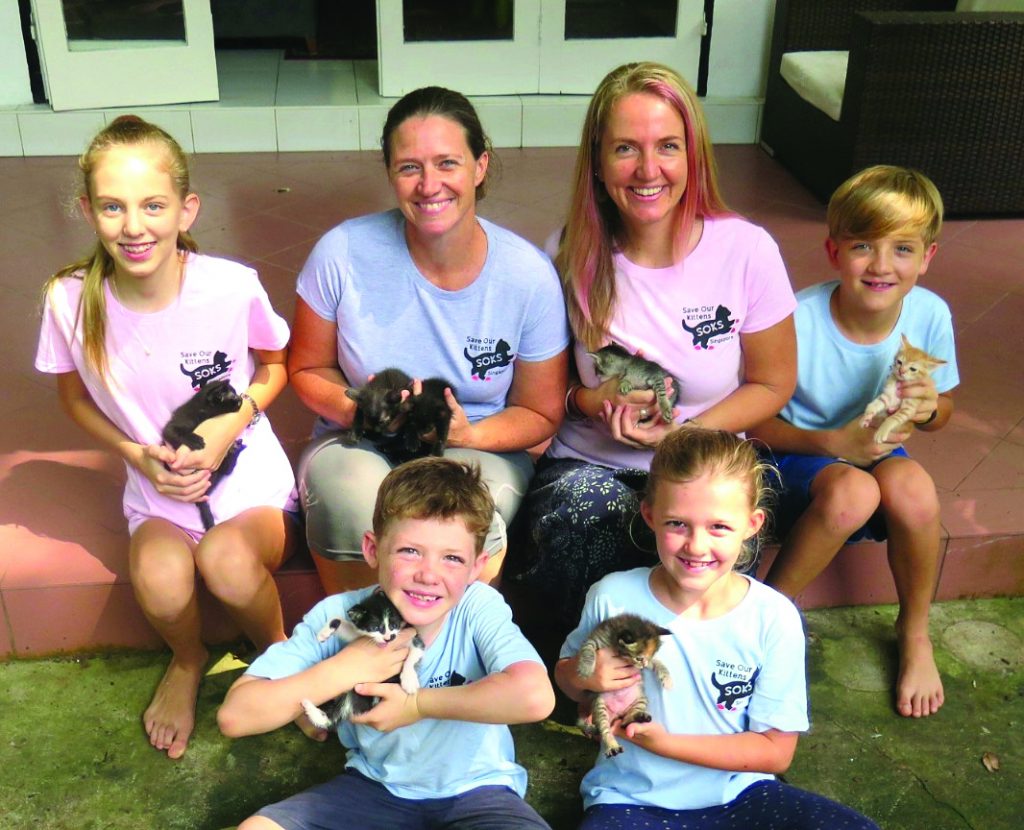 How can people help SOKS with their mission? "The best way to help us is by considering adoption of a fluffy feline for your family!" says Claire. "If you are not in a position to adopt, then spread the word with anyone who may be. Now that we have our own Facebook page (Project-SOKS-Save-Our-Street-Kittens-Singapore), people can contact us and see the many kittens we have available for adoption. We rely on the sharing of our posts to reach a wider audience."
Julia and Claire stress the importance of adopting, rather than shopping for pets, to reduce the prevalence and knock-on effects of backyard breeding. "Cats can live up to 20 years, so adoption is not a temporary 'thing' for your time in Singapore," says Julia. "Project SOKS has a set of criteria that needs to be agreed on by any adopting family. Most importantly these include compulsory sterilisation at six months of age, and relocation as part of your family if you ever leave Singapore. Many of our kittens have grown up to become world travellers!" Fostering is also an option. "Fostering usually works well for people who have plenty of time on their hands and can contribute with intensive kitten care. It can be a very rewarding experience."
Julia and Claire find it tough to say goodbye to the kittens, but they know a better life awaits them. "Seeing our babies go off into their forever homes, to have a better chance at life is what warms our hearts the most. Seeing our kittens snuggling and playing with their new families makes the hard work and sacrifices worthwhile."
Donations welcome!
SOKS gratefully receives donations of food and other supplies. "We accept contributions towards our raw meat diets, the purchase of KMR (kitten formula milk) and kitty litter in particular," says Claire. "These are items that we go through by the bucket load! People can also help us by contributing to the vet care and other supplies that we provide – probiotics, deworming and flea treatments."
Did you know?
– Cats breed prolifically in Singapore – particularly as it's warm all year round and they go on heat in summer.
– Cats gestation is two months, they can get pregnant from four months of age, and can have litters between 1-7 kittens.
– There are around 60,000 street cats in Singapore.
– The Cat Welfare Society (Singapore) sterilised18,000 cats last year
Community cats that have the tip of their left ear clipped have already been sterilised.