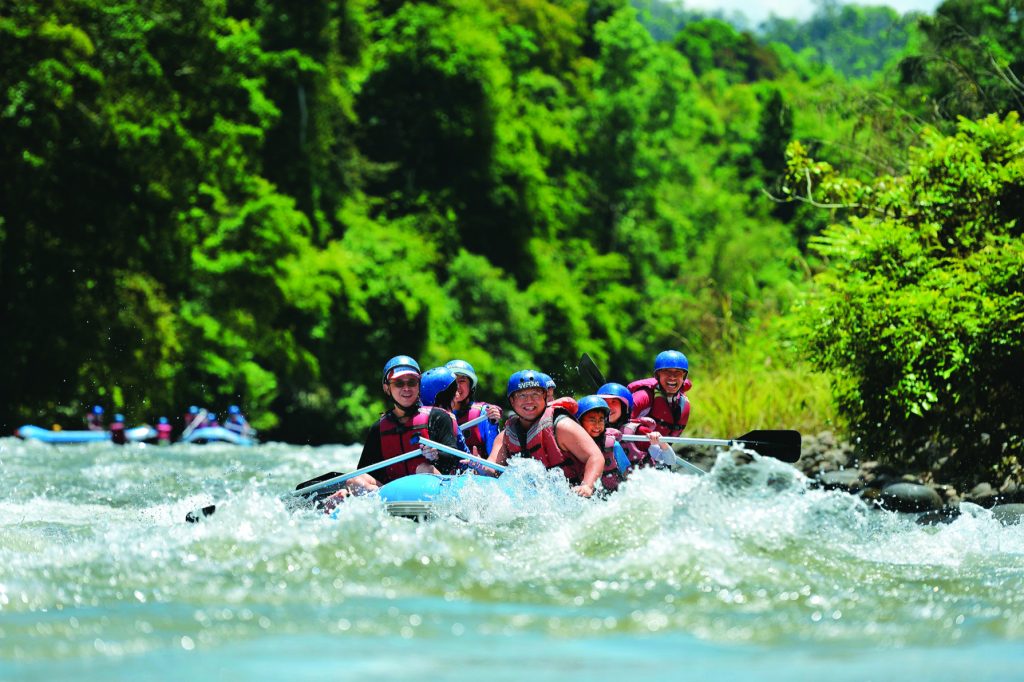 "Forward!" commands our white-water rafting guide, and as we pull into the current, forward becomes the only option. Sloshing down-river, I glance nervously at my seven-year-old daughter, and her brothers, 11 and 13. I ask our guide, Yuslan if mine are the youngest kids he has guided on the river. He laughs: "Oh no, we once had a five-month old baby on board." Before I can ask who brings a baby rafting, we are entering the first rapid, amid shrieking delight from everyone. Anxiety is gone, superseded by adrenaline and the fun of a shared adventure. Rafting is a great start to a weekend in Sabah, on the island of Borneo. Sabah's capital Kota Kinabalu (locally known as 'KK'), is just over two hours' flight from Singapore, and offers diverse options for a family escape, including adventure, culture, and relaxation.
River action
White-water rafting in the Kiulu Valley is just a one-hour drive from KK. The drive passes Sabah's biggest mosque, Christian churches, vegetable farms, and wild jungle before reaching the Riverbug rafting base. Safety gear is distributed and a briefing assures us this river of grade one to two, is suitable for beginners. Indeed, everyone stays in the boat, except when kids are permitted to somersault off and float down the river in their lifejackets. Our morning adventure takes us past lush rainforest, fishermen throwing nets, and stands of giant bamboo – remnants of bamboo rafts historically used as transport. After a Malaysian barbeque lunch, we are met by guide Brendon and our air-conditioned van.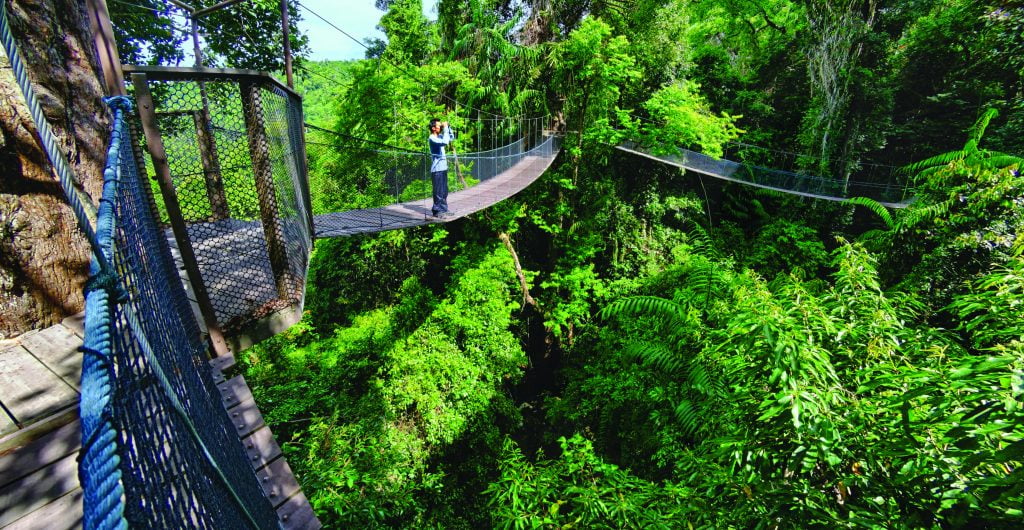 Interactive culture
Less heart-pounding but equally fun is an afternoon at Mari Mari Cultural Village. Brendon explains there are 42 main ethnic groups in Sabah, and Mari Mari engages kids in activities from the Dusun, Rungus, Lundayeh, Bajau, and the head-hunting tribe, Murut.
Lizards scuttle and butterflies flit around the rainforest trails as visitors move from one exhibit to another. Kids sample freshly made biscuits and pandan juice with local honey and lemongrass, while brave adults sip the traditional rice liquor. Everyone tries blowing a 'poison' dart, which is harder than it sounds. "Blow from the chest," Brendon says, and finally the dart lodges in the coconut target. Various ethnic dances are presented, demonstrating seriously nifty footwork as performers deftly skip over moving bamboo poles on the ground. In the Murut longhouse, tribal warriors bounce on a traditional wooden trampoline, the lansaran, touching the ceiling. The warriors howl with laughter as all members of my family try and fail.
Sundowners
After a day in the heat, the pool at Le Meridien Hotel in KK provides a welcome afternoon dip with an island-dotted view and a happy-hour cocktail. Later, we cross the road to the outdoor bars and restaurants that line the waterfront. Here, locals and tourists alike socialise and take plenty of selfies as the sun goes down behind the nearby islands.
Market meander
Photos done, it is time to wander. KK is a city of markets. Stroll through the fresh and dried seafood and head for the night market, specialising in tasty BBQ seafood. Vendors jostle for the attention of passing diners, touting their freshly caught fish, squid, lobsters and prawns, and marinated chicken wings, all cooked to order. The Handicraft (also known as Filipino) Market is here too, with plenty of cheap souvenirs for kids with pocket money.
On a Sunday morning, check out the mother of all KK's markets, the Gaya Street Sunday Market. Locals shopping for a mango tree or antique musical instruments browse alongside tourists hunting for t-shirts and fridge magnets. Hardware, pedigree cats, and knock-off 'Star Warts' toys are all being purchased. Our favourite is the watermelon juice. The top of the small melon is carved into a heart and presented to the buyer on a stick. Next an electric hand mixer is inserted into the melon, pulverising the contents. Add a straw and voila! Instant refreshment.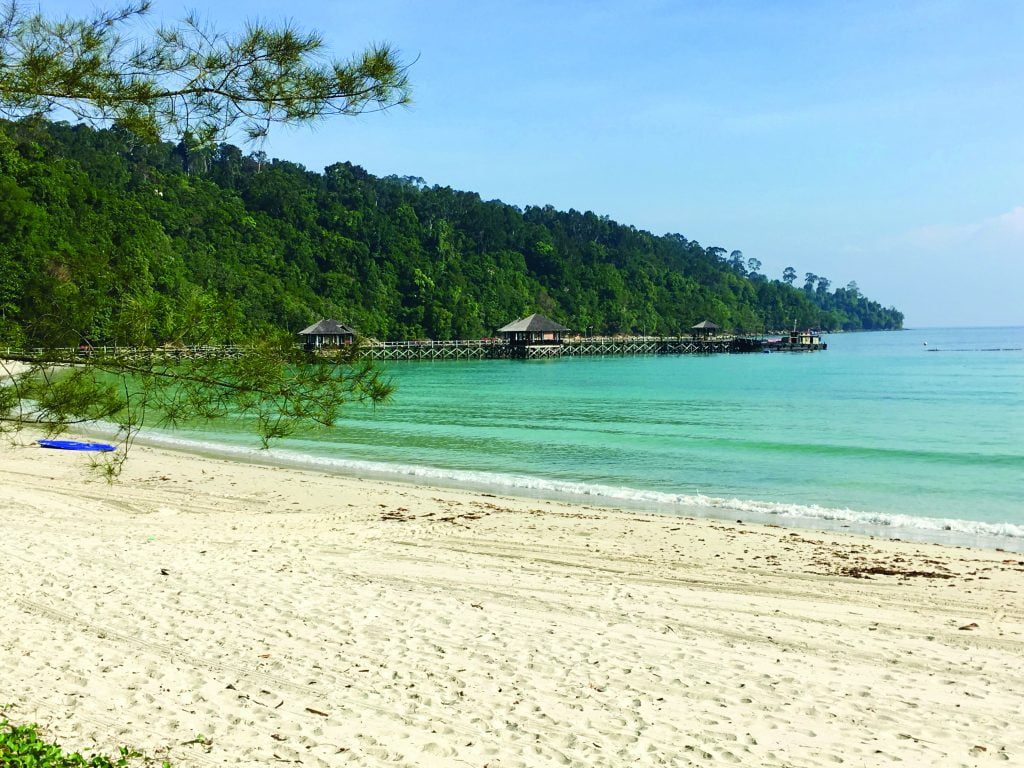 Relaxing Gaya Island
For a complete change of pace, Gaya Island, part of the Tunku Abdul Rahman National Marine Park is only 20 minutes away by speed boat. Bunga Raya Resort is set by the beach in a tropical forest with wooden villas. Our huge two-bedroom villa is up a steep hill amid the leafy canopy, with ocean glimpses. Initially dreading the trudge uphill, we quickly discover the fun option of a golf buggy pick-up. Our driver Aspeh, kindly lets the kids each have a turn of "driving" the buggy, keeping one foot ready on the brake.
The powdery beach facing the South China Sea is immaculately maintained, and the bustle of KK is out of sight and mind as visitors explore the natural surroundings. Snorkellers dot the clear water, spotting corals, rays and nemo fish. Inquisitive guests join a naturalist guided tour of the canopy walkway, four elevated suspension bridges 60 metres high, providing a bird's eye view. Adrenaline junkies get their fix too, riding the 'Flying Fox' zipline through the treetops, while the lower 'Flying Squirrel' is a blast for younger kids.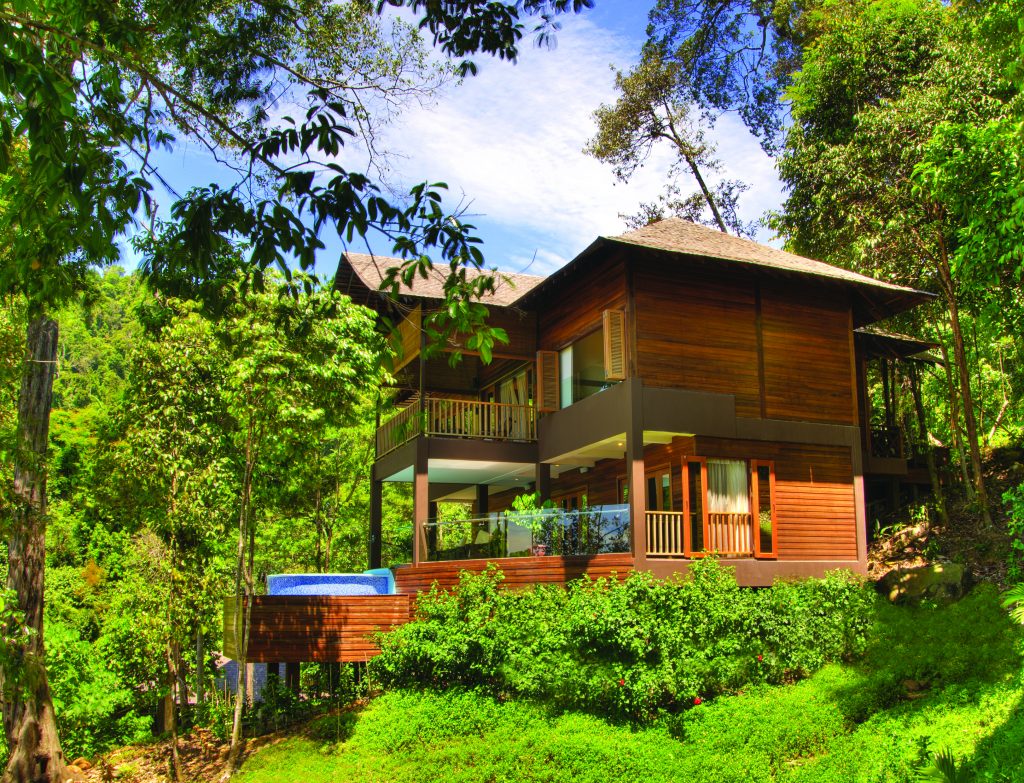 Conservation in action
Bunga Raya's sister property Gayana Marine Resort, a ten-minute boat ride away, is home to the Marine Ecology Research Centre. Marine biologists here breed giant clams, endangered by poaching for live seafood and the aquarium trade. Two giant clam species are locally extinct and five others are becoming increasingly threatened. The conservation program here seeks to produce and then nurture baby clams onsite for around four years, before release at a safe reef. The centre also offers kids interaction with robust marine creatures in a touch tank, like starfish and sea cucumbers, or to help with rehabilitating corals. Back at Bunga Raya, we watch the sun setting behind the islands for the last time this trip, congratulating ourselves on discovering the gems of KK. Right on cue, ten huge hornbill birds pause in the trees above us, before whooshing and flapping their farewell.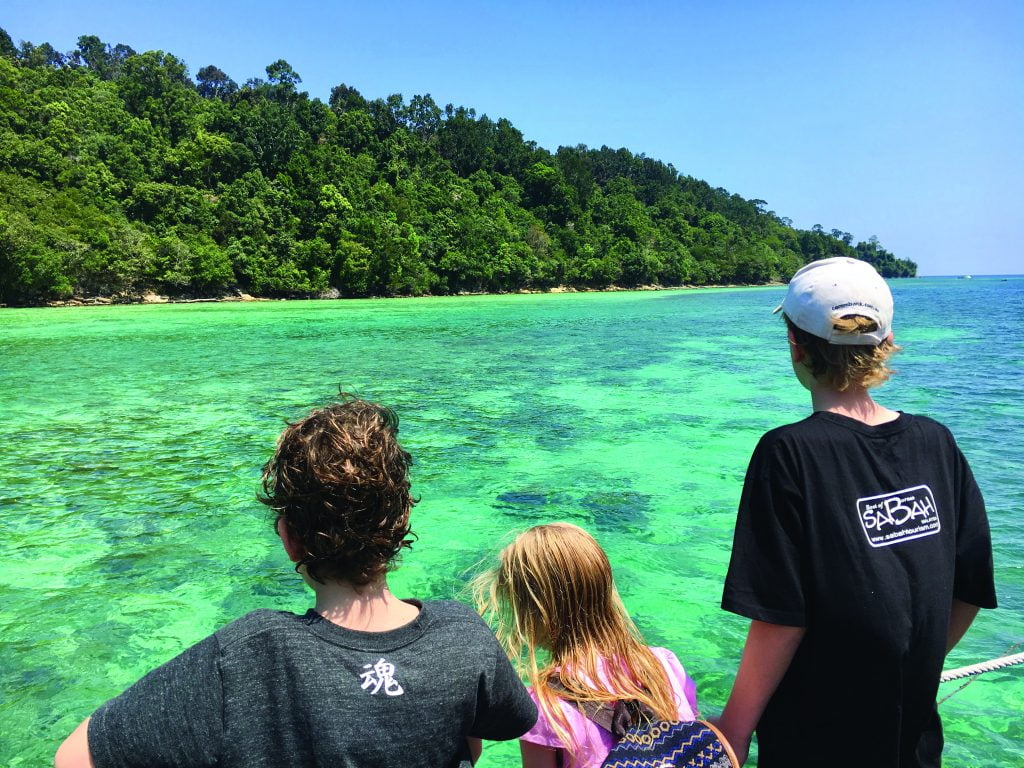 TRAVEL TIPS:
– Le Meridien Kota Kinabalu has large, interconnecting rooms for families lemeridienkotakinabalu.com
– Rafting in Kiulu Valley: riverbug.asia
– Bunga Raya Resort, a member of Preferred Hotels and Resorts, is the best beach on Gaya Island echoresorts.com/bungaraya
– Getting around Kota Kinabalu is easiest with a guide and van. Brendan from Borneo Trails and Tours has a deep knowledge of Sabah borneotrails.com
More information on all things Sabah: sabahtourism.com