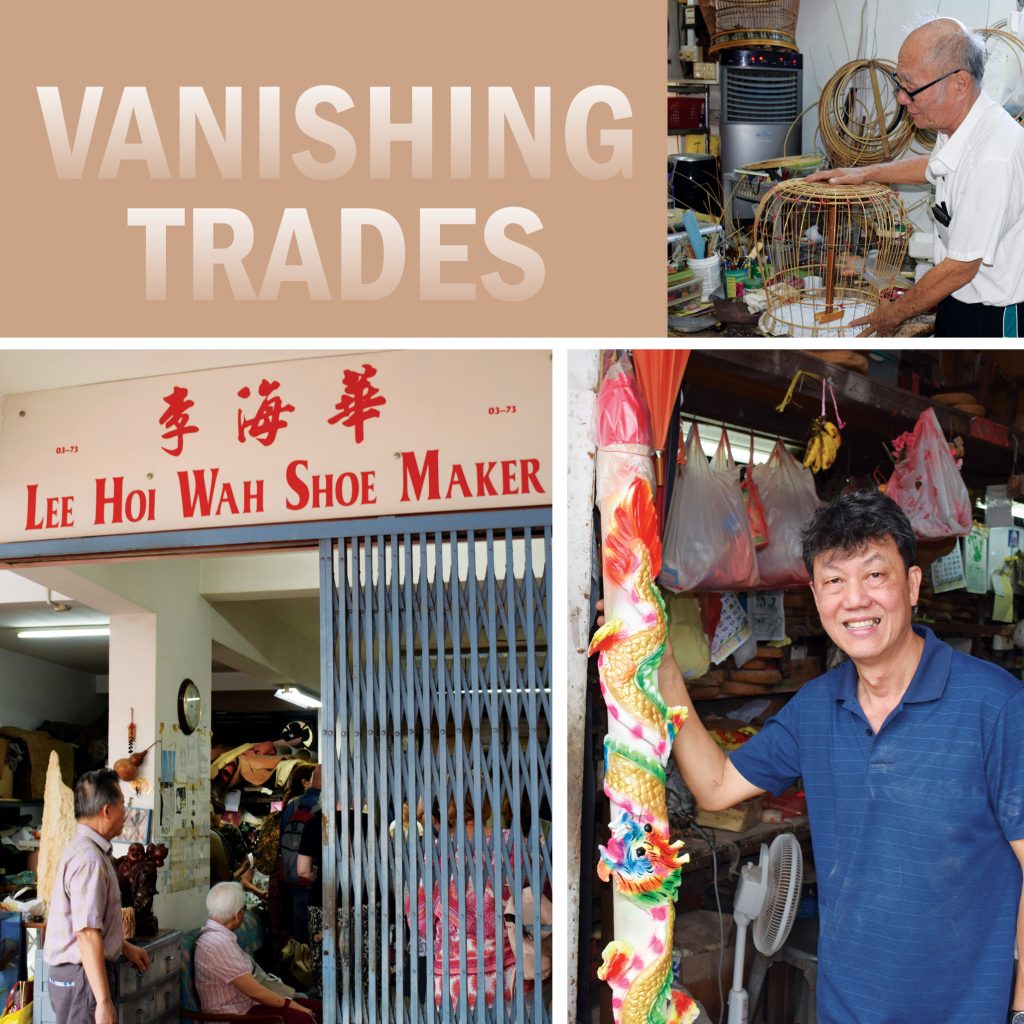 A bird in the hand
Our first stop is Mr Teng's birdcage store – Cage Making 159 – in Ang Mio Kio. We gather around his small workspace, surrounded by richly decorated bamboo cages of all shapes, colours and designs. This self-taught cage maker uses heat to bend and shape the bamboo strands, adding silk sunshades made by his wife, and carving intricate designs into the wooden embellishments. Mr Teng's passion began as a young boy and he's spent his life perfecting his trade. Mr Teng hopes to keep his family business alive; his 12 year old grandson has shown some interest in the trade.
Mr Teng adores the birds – also acting as a bird sitter, birdsong judge and trainer. He feeds the pampered animals a mix of ginseng and cod liver oil, to strengthen their vocal cords for competition. He ensures the birds are surrounded by other feathered friends, saying; "if birds are lonely they will die of heartsickness."
The adjacent Kebun Baru Birdsinging Club is Singapore's largest public area to admire the sweet tones of competitive birdsong. There are over 400 poles in the peaceful green space – each bird sings from cages hanging from them. There are three categories on which the bird is judged: amplification, melody and pitch. The top performing birds cost a pretty penny – up to SGD$100,000.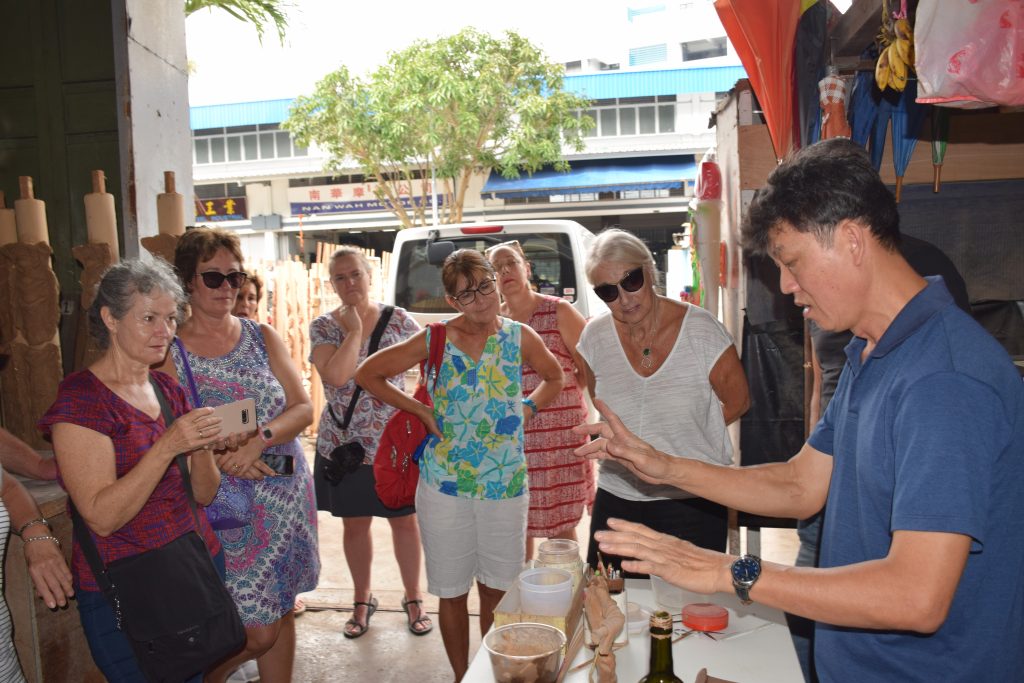 A sticky business
A visit to Tay Guan Heng uncovers a centuries-old method of making giant joss sticks and other festive decorations. Albert Tay shows us around the small manufacturing factory in Ang Mio Kio Industrial Park, demonstrating moulding techniques, and letting us handle the clay. "We're one of the only joss stick makers in Singapore, still producing our sticks by hand," says Tay. "We have been here for 100 years." The joss sticks are burnt to give thanks to the Gods and protect families, and are often decorated with neon spray paint, fierce dragons and Chinese characters. The clay is made from a wild cinnamon tree wood powder. Once shaped, the sticks dry in the sun for up to four days.
The giant joss sticks take around 12-14 hours to burn, and are popular around the Seventh Month Festival in Singapore, as well as other religious periods. One of eight children, Tay grew up around the business, learning the tricks of the trade, but times are changing. "This is a dying trade," he laments. "Joss sticks used to be made 14-16 feet tall, and were in high demand. That's not the case any more."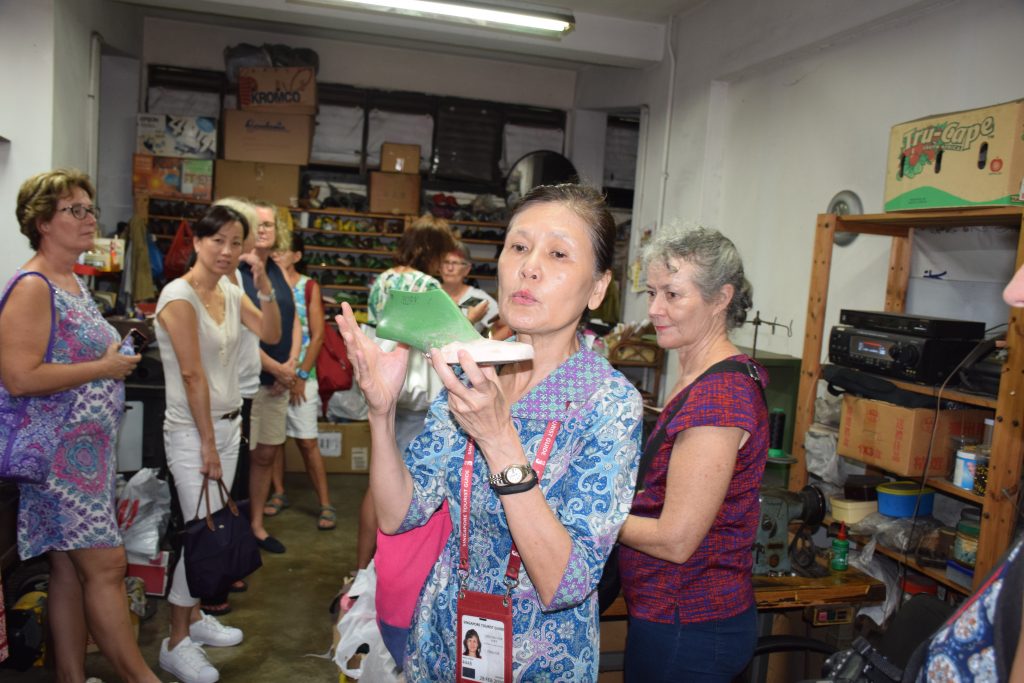 If the shoe fits
Our final stop is in the Chinatown area, at Lee Hoi Wah Shoes. Mr Lee runs a small bespoke shoe store from an HDB (Block 9, Jalan Kukoh #03-73) He measures his customer's feet precisely, hand cuts the leather, then stitches and crafts the shoes in exacting detail. He's even made shoes for Singapore's founding PM, Lee Kuan Yew. "This shop has been here since 1951," says Mr Lee. "My father was also a shoemaker. Each pair of shoes takes three to-six months to create and costs a minimum of SGD$500. "This trade is no more," says Mr Lee. "The new generation isn't interested. It's happening here, and in Europe, too." Still, when we are in Mr Lee's store, his customers continue to turn up, keen to obtain a one-of-a-kind pair of shoes from a master shoemaker.
As our tour comes to a close, I notice a trio of giant joss sticks smouldering in the HDB void deck. I take a moment to quietly appreciate their beautiful, handcrafted design, and hope Singapore's ancient trades endure as long as possible.
ANZA Tours runs regular excursions to all corners of Singapore, uncovering its hidden treasures. Book here: anza.org.sg/tours