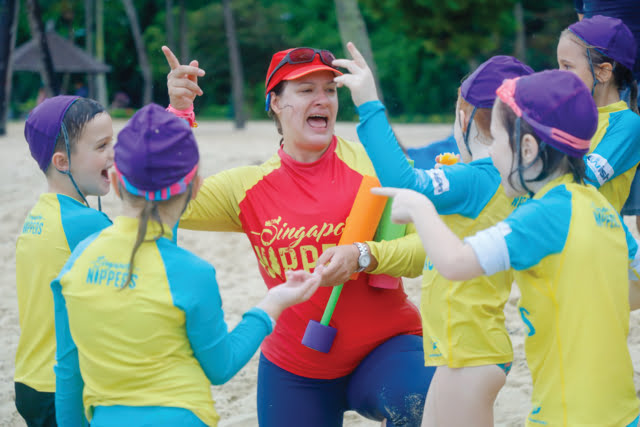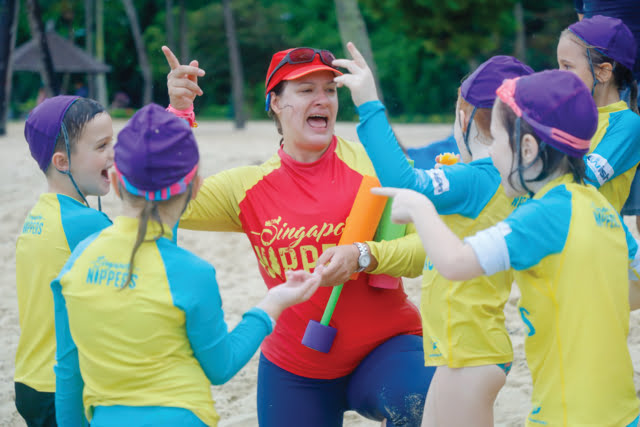 Sheree Savage, U7s
Describe a typical Sunday…
Out the door at 8am, Nippers, brunch and coffee at Tanjong Beach Club (TBC), home to change and hang out for the afternoon.
What do you get out of it? 
I'm motivated by the development of the kids – not just with running, boards and flags, but the growth of their abilities to work with and encourage others, and cope with competition. I also love seeing the children involving their parents in the activities.
What are you looking forward to?
Introducing new fun activities into the session with the recent purchase of Nippers Slip 'n Slide!
What does Nippers offer that is so different to other activities? 
Beach fun, time in the open water, strengthening swimming confidence and skills and a good balance between individual competition and team.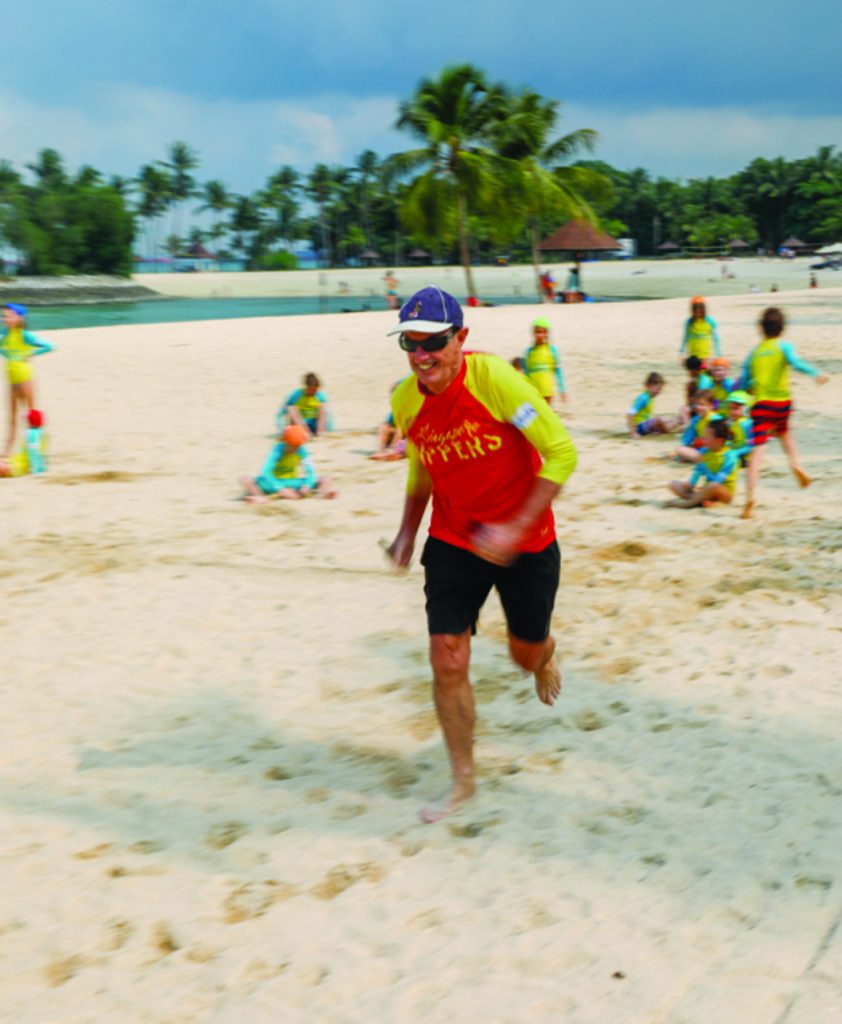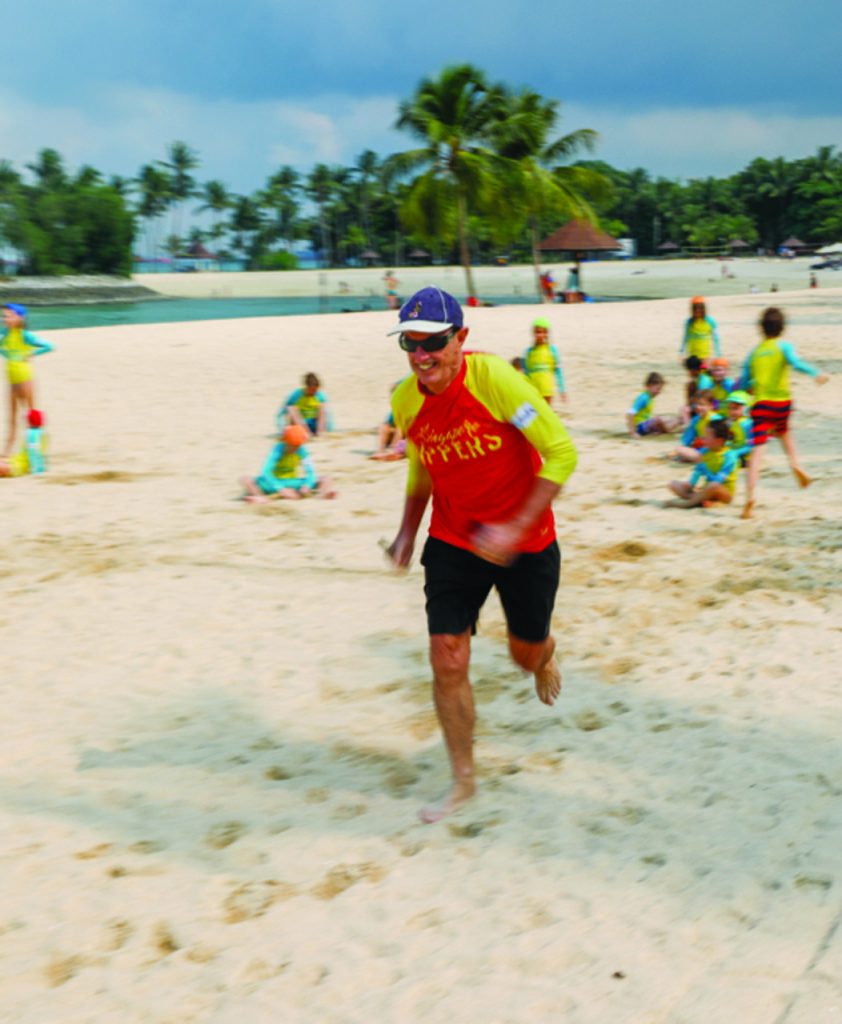 Pete Browne, U12
How did you get involved?
One Sunday morning we were walking along the beach and a friend called out to say hello. She told us they were trialling Nippers activities with their kids as a pilot for Singapore Nippers. We joined in to the next sessions. The kids liked it, we loved it and I joined the first batch of adults to attain Bronze Medallion qualification.
How has the group developed since you've been involved?
They can run further, swim further, have grace in both victory and defeat, understand the dangers of the beach, help people in difficulty and work together as a team.
What does Nippers offer that is so different to other activities?
Parents play an integral part in Nippers – whether it is in an official capacity (coach, assistant, admin) or whether participating in the activities with the kids. It is not a drop off activity – so the parents are always there and there is a great sense of community.
Alex Wellington, U6
How did you get involved?
My wife! (Founder and President, Skye Wellington). I've always loved the ocean. I was a clubbie at Long Reef growing up and spent most of my youth around water. When we had kids it was only natural that I wanted to pass on this love and interest.
What do you get out of it?
I get to witness these kids summoning determination, perseverance, confidence and rising to a not insignificant physical challenge each week.
What changes have you seen in the participants in your group?
They've definitely grown in confidence, realising they're capable of more than they thought.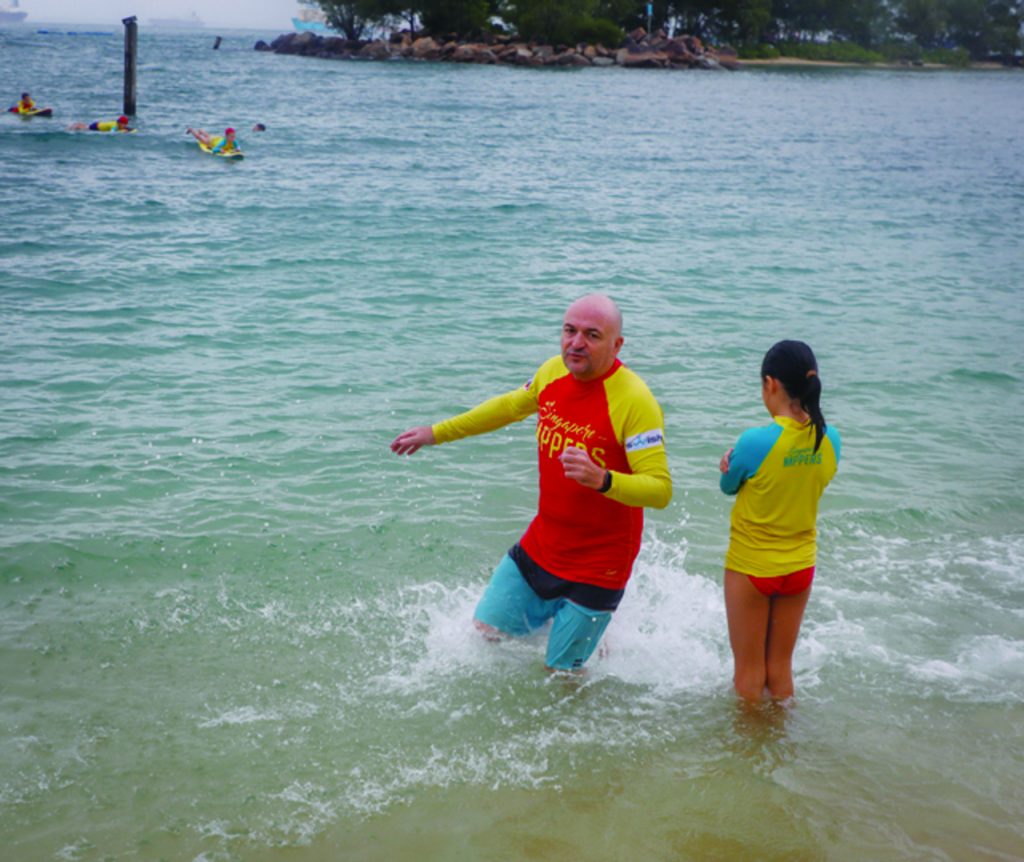 Kevin O'Reilly, U11
How did you get involved?
We religiously participate in Nippers at our local Australian lifesaving club (Fairhaven SLSC) every Christmas holidays. When we heard about ANZA Singapore Nippers it was a no brainer.
What do you get out of it?
It's great to spend time with your own kids, see them forming friendships, and work with people who are very passionate about what we do.
What changes have you seen?
I've seen lots of growing up over the last three years, quiet ones coming out of their shells, friendships formed, laughter, tears, confidence grown and character built. Being schooled by youngsters is a real highlight for me, like using recycled plastic bags to do beach clean-up.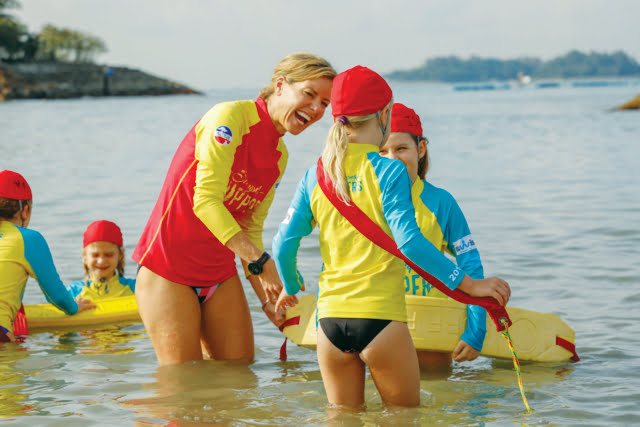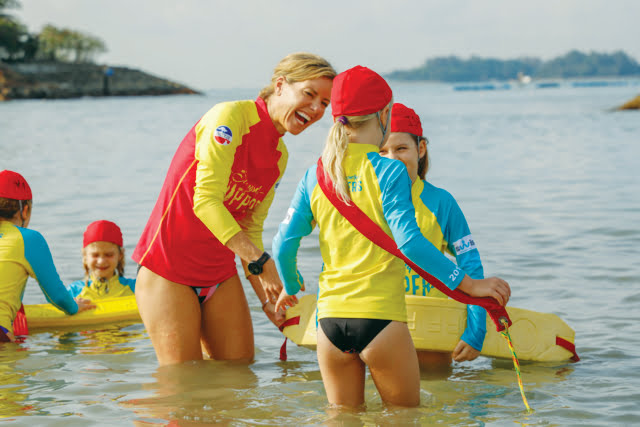 Jackie Nissen, U8
Describe a typical Sunday…
Up way too early for a Sunday, an awesome time spent with a great bunch of enthusiastic and energetic U8 kids and parents. Chilled, relaxing brunch with other nippers crew and friends at TBC.
What changes have you seen?
I've coached the same kids the last few years now and it is awesome seeing them get faster and stronger. The kids energy really rubs off on you. Their technique on the boards has really developed, being taller now, they can do much more in terms of turning and controlling the boards.
What does Nippers offer?
A sense of community and connection back to your roots, especially with our affiliation to Avalon surf club in Australia. Love those guys coming out!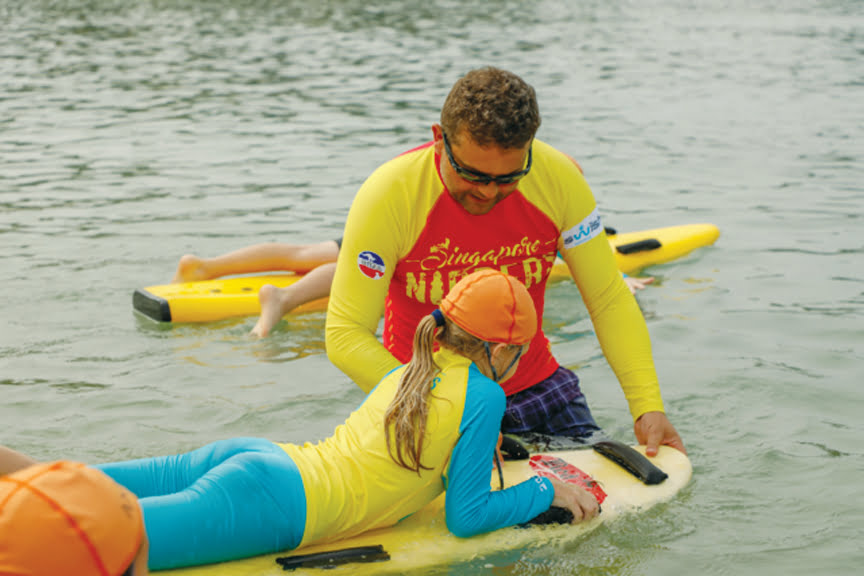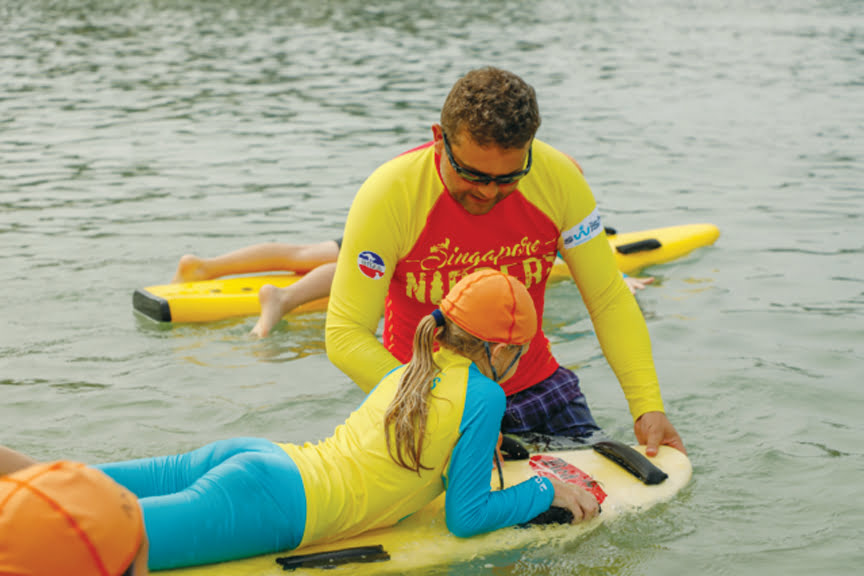 David Jorden
How did you get involved?
I saw a random Facebook post about a group of parents who were heading down the beach on Sundays. I emailed Skye, she let me know details and the rest is history!
What do you get out of it?
Our U9 age group objectives are "Honesty (Trust), Teamwork and Effort". I love watching all the kids develop in different ways. The best example was when one of our Nippers who had a massive fear of the ocean (something to do with crabs), summoned the courage to do our long swim. Her team mates all helped her out, some swam next to her, some encouraged her at the start. We all celebrated her achievement together on the beach.
ANZA Nippers next season runs 11 March to 10 June, 2019. Sign up here