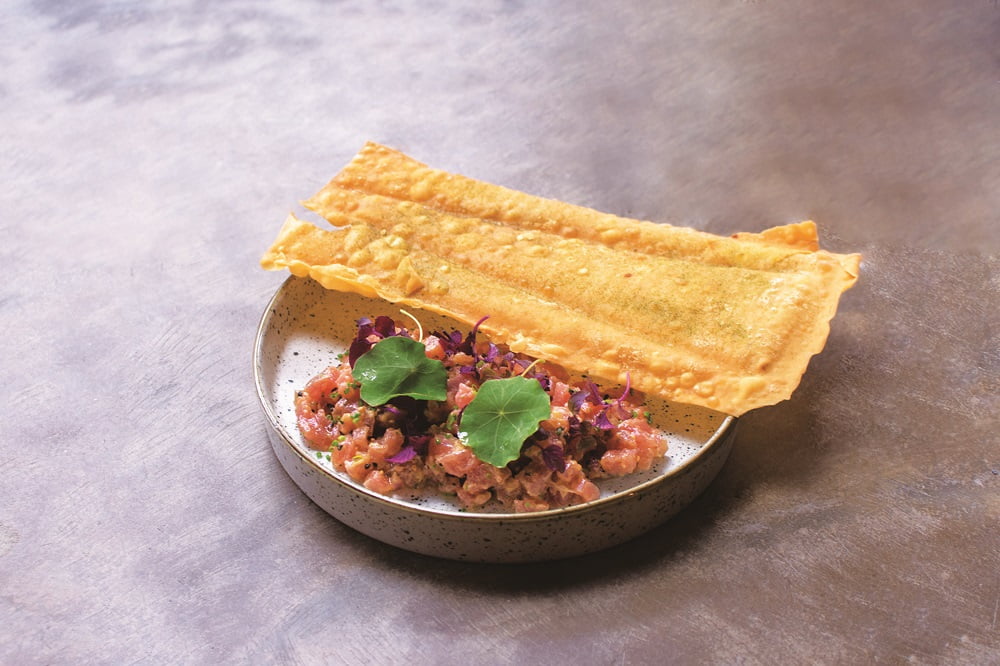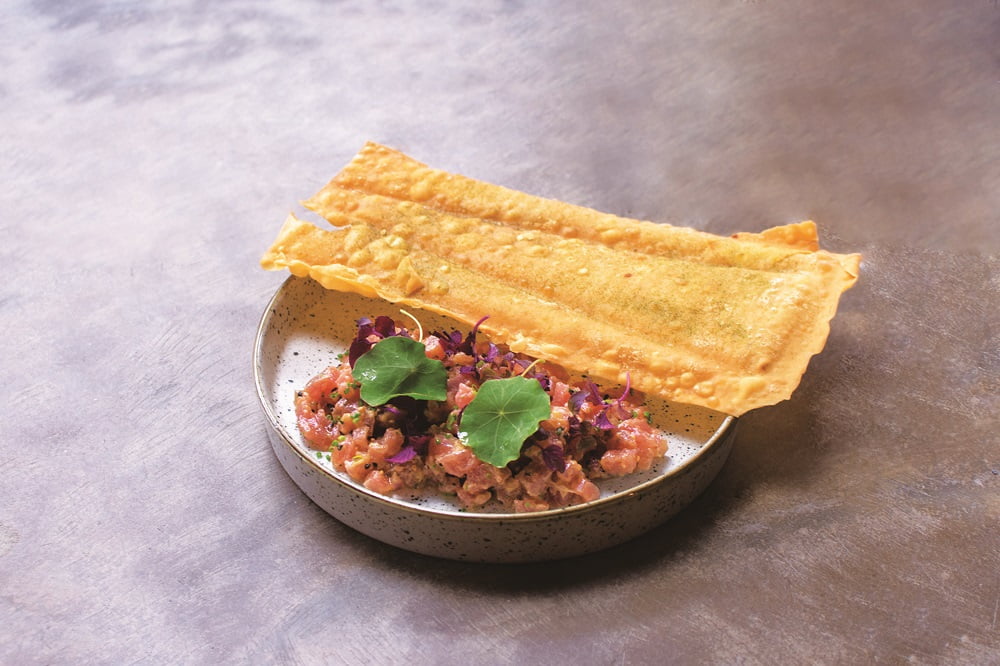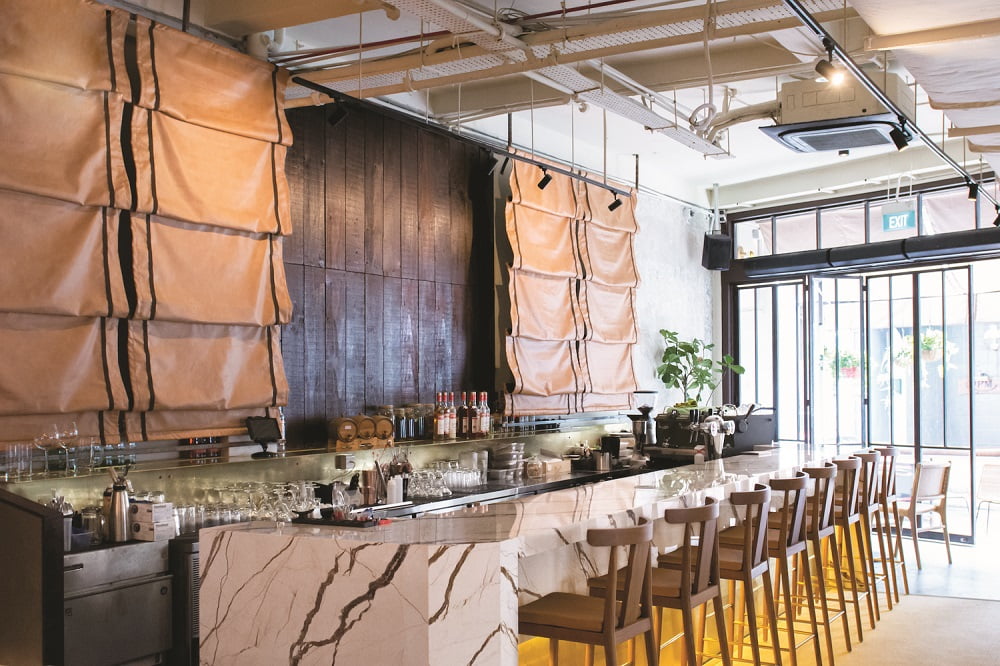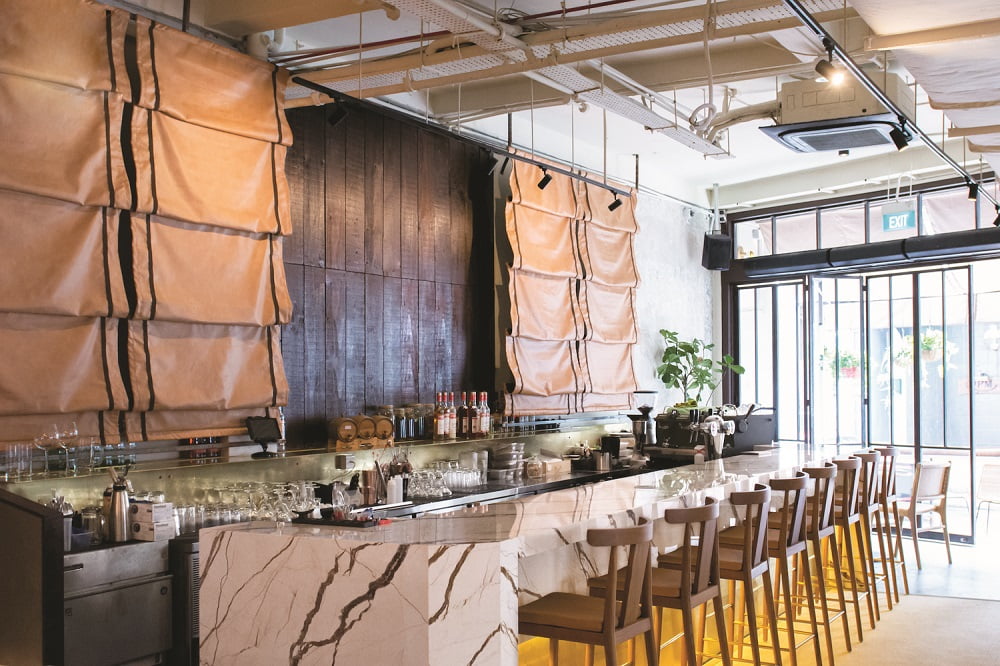 KILO KITCHEN (DUXTON)
97 Duxton Road 089541
kilokitchen.com
After eight years as Camp Kilo at Kampong Bugis Road, Kilo has relocated to uber trendy Duxton Road with a modern new look and refreshed menu. This sleek, bright location feels spacious and comfortable, with floor-to-ceiling windows and multiple sectional seating options, allowing guests to pop in for a few drinks or stay and dine. The bar is the perfect spot to sip a drink or two with views into the bustling open kitchen, while the dining room is luxuriously chic, and a wrap around terrace offers alfresco dining.
To begin I sipped a Spicy Margarita with jalapeno infused tequila, citrus, sour mix, lime and salt ($19) Then it was onto a tasting menu showcasing visually stunning dishes. Chef Manel Valero brings a taste of his Spanish heritage and European influence, accentuated by delicious Asian flavours.
Our feast included Crab Croquettes with basil vinaigrette (2 for $18), Grilled Avocado with buckwheat puffs and ponzu ($10), Burrata Cheese and Dukkah ($20), Wasabi Tuna Tartare with nori dusted crisps ($22), Beef Tongue Tacos with apple miso slaw (2 for $18), Kilo's Seafood Ceviche with tuna, octopus and snapper ($22), Atas Lentils with manchego, bacon, truffle, iberico and egg yolk ($26), Squid Ink Rice ($29), and Sea Urchin Rigatoni Pasta ($42) The sweet finish was a Chocolate Terrine with tuile and smoked salted caramel ($14), and a refreshing Coconut Tembleque with chocolate, pineapple and oats ($14). I'd happily recommend all the dishes, but the stand outs were the deliciously creamy burrata cheese, with its contrasting textures and spicy dressing; seafood ceviche, packed with freshness and zesty flavours; and squid ink rice, which could be described as an Asian paella.
Verdict: A real winner, great food and ambience at reasonable prices, with knowledgeable serving staff.
Did you know? After dinner guests can enjoy music late into the night at Kilo Lounge, located just a few steps away at 21 Tanjong Pagar Road.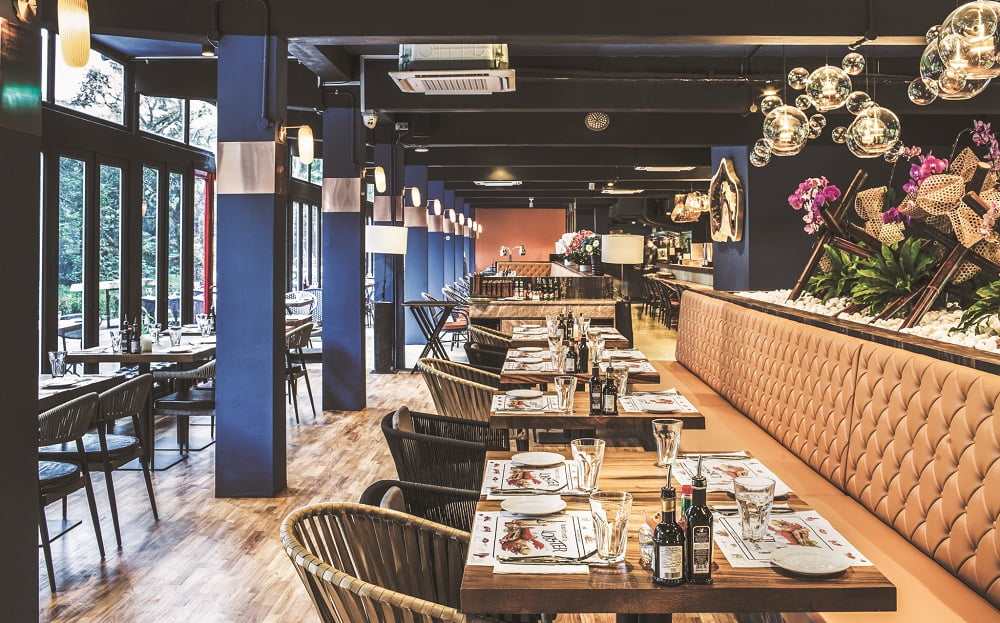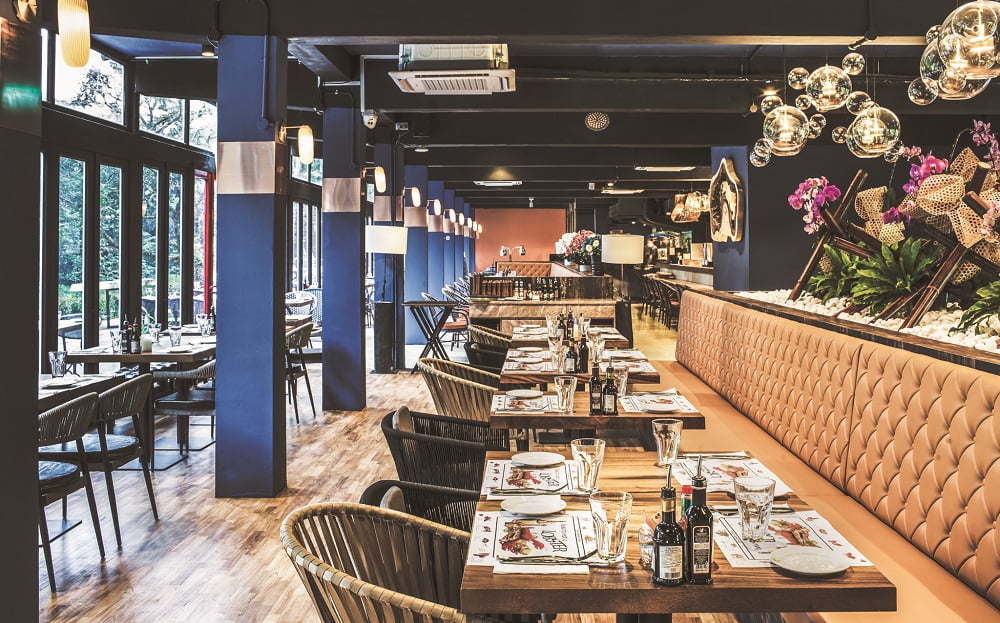 GREENWOOD FISH MARKET & BISTRO
Blk 8D Dempsey Road, #01-01 249672
greenwoodfishmarket.com
Greenwood Fish Market & Bistro opened in 2003 as a small neighbourhood eatery in Greenwood Avenue, Bukit Timah, quickly becoming a favourite. Since then, the family-run business has spread its catch to four establishments, with the newest addition recently opening at Dempsey.
At a whopping 8,300 square feet, there's a retail area with live seafood in tanks, an oyster bar, meat section, grocery and wine shelves, plus a bakery, and in-house florist.
You can opt to be seated indoors or in the lounge, but sitting outdoors amidst natural greenery is a real treat. On my two visits, I enjoyed oysters (especially South Australia's Coffin Bay variety), sushi, sashimi and grilled barramundi from the multi-concept menu featuring Western, Japanese and Chinese selections. Spicy apple crumble with ice-cream completed the meals nicely. Should you prefer, pasta, burgers, steak and lamb are also available. A kids' menu includes fish and chips, spaghetti and beef burgers.
Verdict: The 'sea to table' philosophy shines through in the freshness of the seafood.