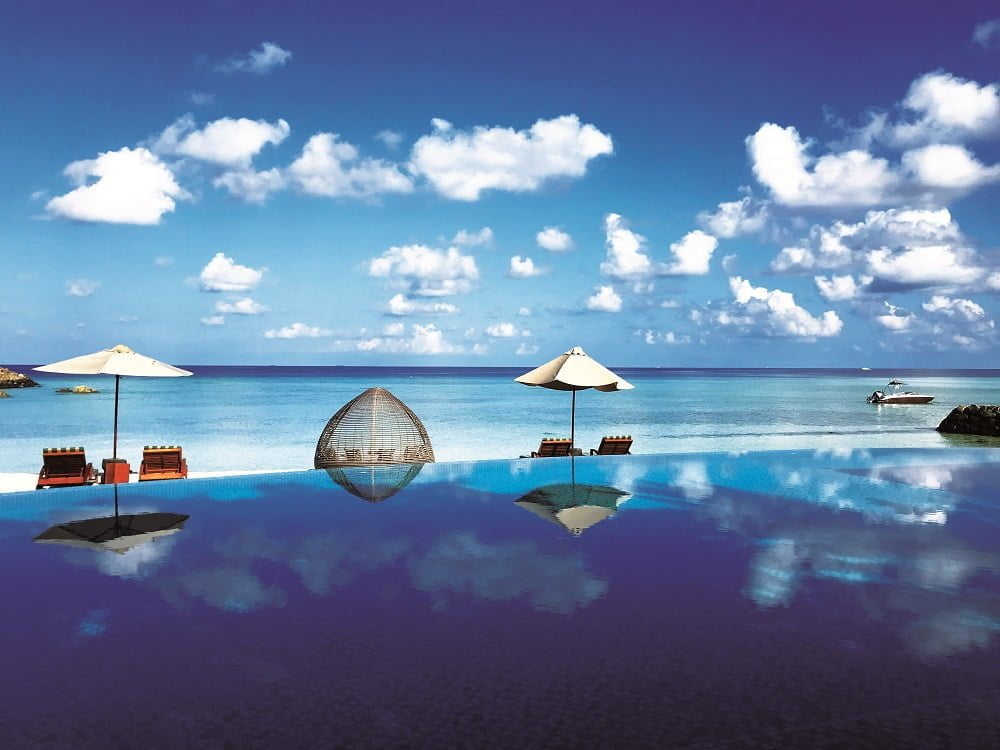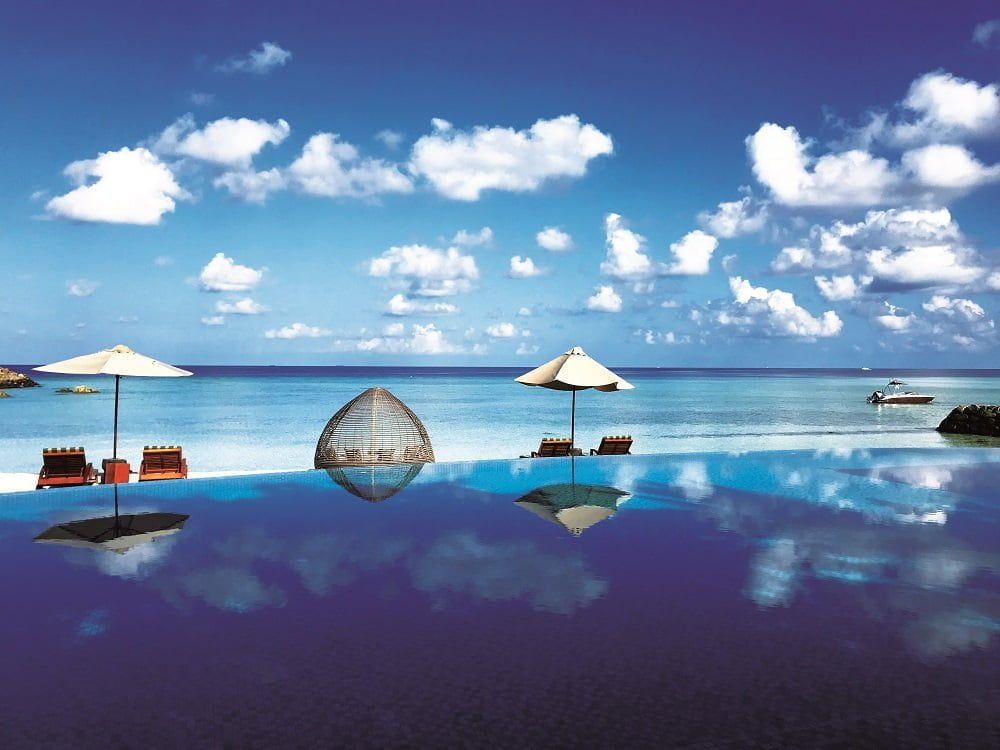 It's not every day you win a holiday to a remote Maldivian atoll, fringed by the impossibly blue waters of the Indian Ocean, teeming with exotic marine life. When I won a door prize at a recent media lunch, sending me off on a family holiday to a luxury resort, it truly felt like winning the lottery.
A few months later, with my grateful family in tow, we arrived via gleaming speedboat at The Residence, Maldives, where waiting staff whisked us off to a private over-water villa, with its own plunge pool, and sweeping views of azure waters and tiny atolls. A lovely villa butler dropped by to see if we wanted to partake in any of the resort's many activities, but we were already in our swimmers and heading to the island's fully equipped PADI dive centre to begin our adventure. The Maldives offers some of the best and most remote diving spots in the world, and we were now surrounded by rare, unspoilt coral reefs and countless beautiful sea creatures. It was time to get wet.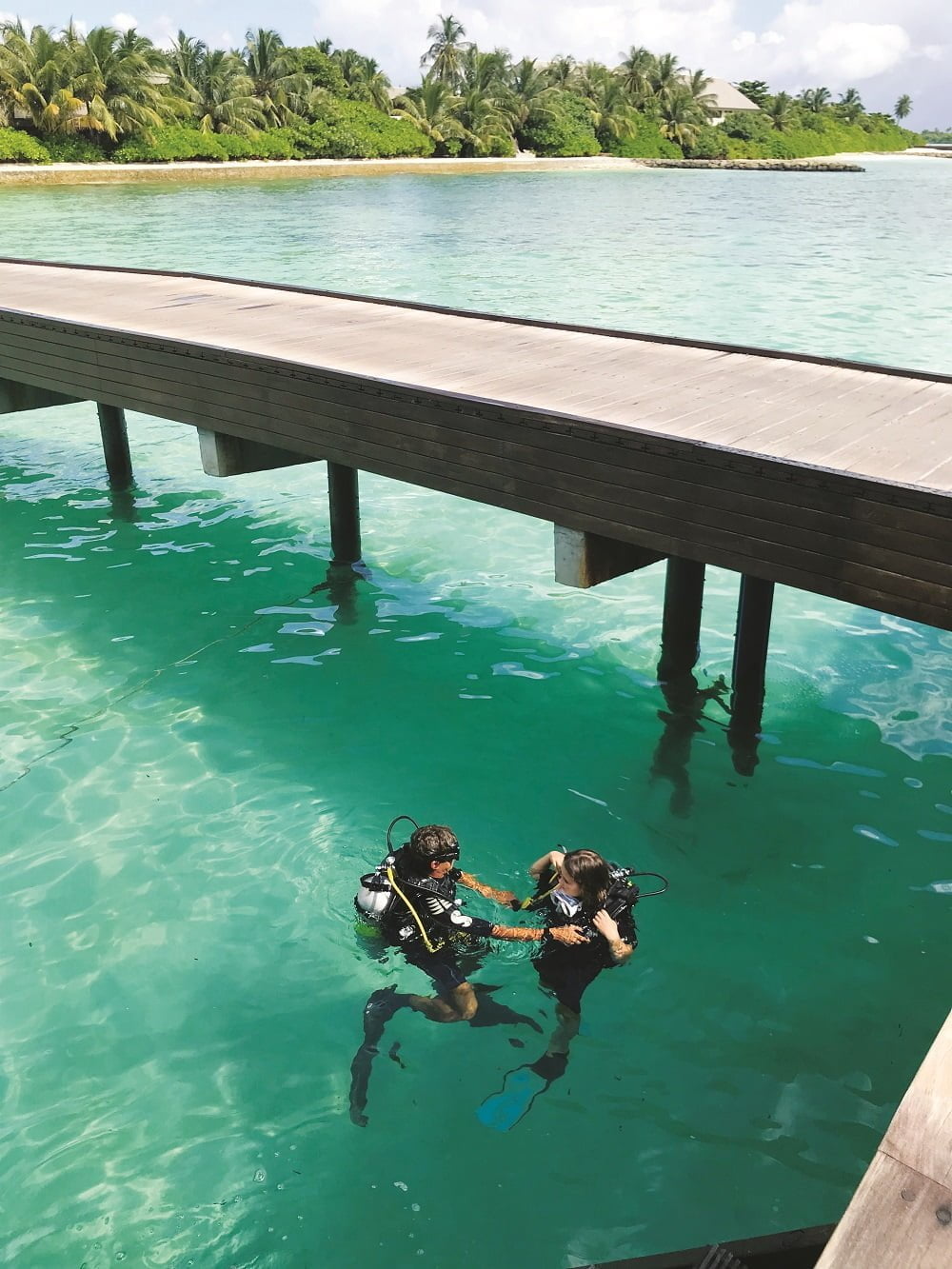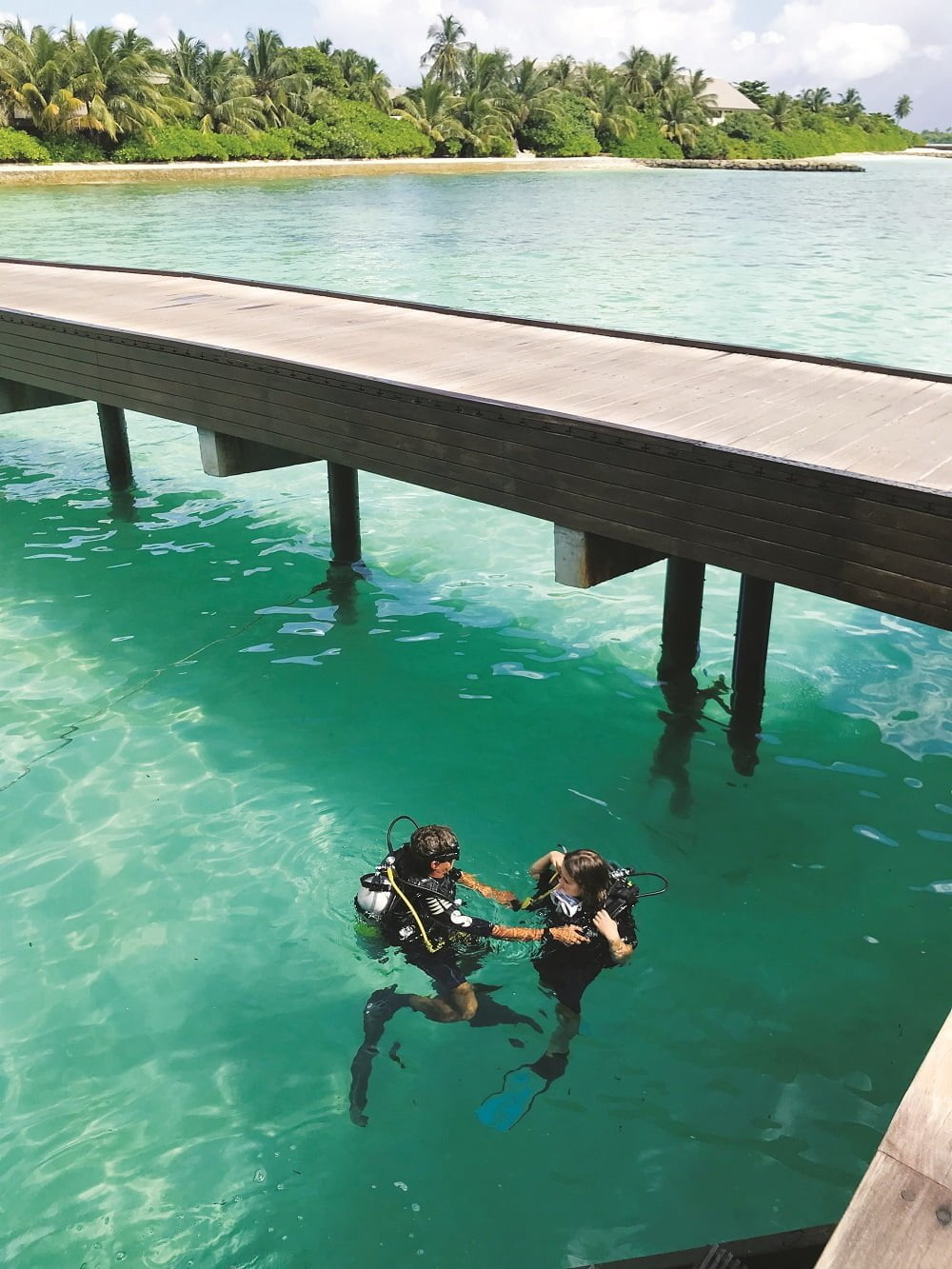 Kids Paradise
Our daughter was excited to try the Bubble Maker PADI course- a fun way for 8-to-9-year-olds to experience diving. After some dry land instruction, she leapt into the water with her own instructor, decked out in mini scuba gear. She quickly learnt how to breathe in shallow water (under two metres) and had a blast checking out turtles, reef shark and bright fish. For non-divers, the snorkelling here is as good as it gets. We explored the house reef just outside our villa most days and saw an incredible array of marine creatures. On dry land, the buzzy Kids' Club caters to kids aged 3-12, with a full line-up of fun weekly activities, including Maldivian storytelling, beach scavenger hunts, seed art and swimming at the lagoon. Staff don't mind picking up and dropping off the kids in buggies, so parents can fully enjoy their time out, or perhaps a sojourn in the tranquil day spa.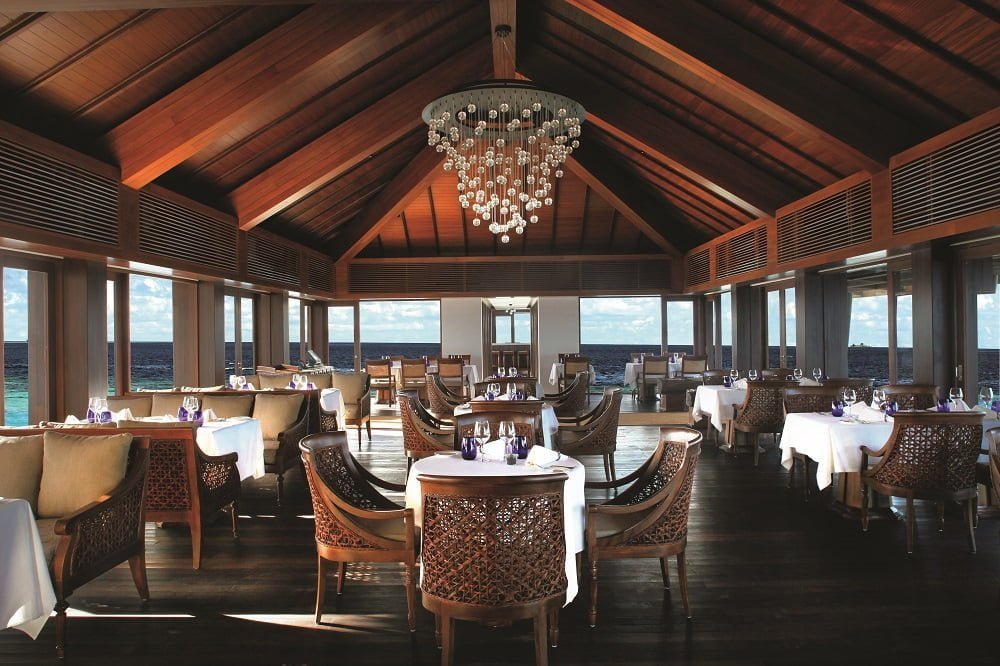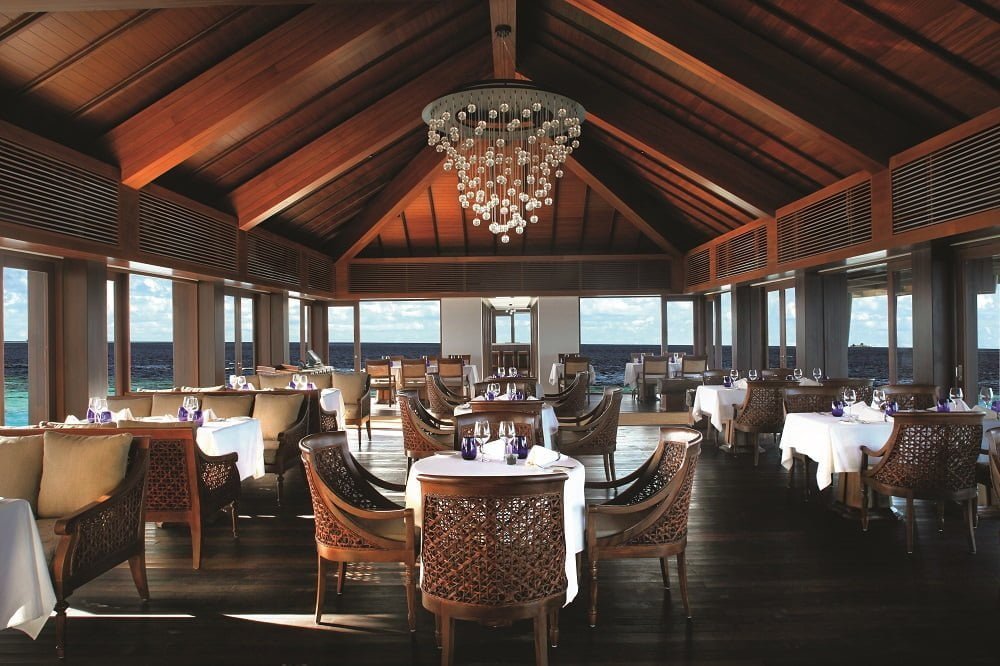 Island Eats
Another fantastic family experience was taking a cooking class. We signed up for the Maldivian Gastronomy Adventure with Executive Chef Erwan and his culinary team. We were thrilled to be invited into the kitchen at The Fulhumaa, an overwater fine-dining restaurant, perched at the end of a 230-metre long jetty. The views were sensational, but we had work to do. On the menu for our class were three local dishes; Maldivian Salad, Chicken or Fish Curry, and Dhonkeyo Kajuru (banana fritters). Aprons on, we mixed up the zingy salads, deep fried and then creatively plated up the moreish fritters and let our spicy chicken curry bubble on the stove. After our lesson, we were taken to a private table in the restaurant where we tucked into the dishes we created with crisp French wine. It was a delicious meal, and we felt quite proud of our efforts!
Another not to be missed foodie experience was the In-Villa Floating Breakfast. Order your menu items the night before through room service, and then wait for a gentle knock on the door the following morning. The breakfast quite literally 'floats' – a server slides a buoyant tray into the pool and leaves you to swim up to your meal. At first, it's rather a strange sensation, nibbling on poached eggs and bacon, whilst submerged in chlorinated water, but we soon got used to it. We polished off our tray, and our daughter absolutely loved the novelty factor.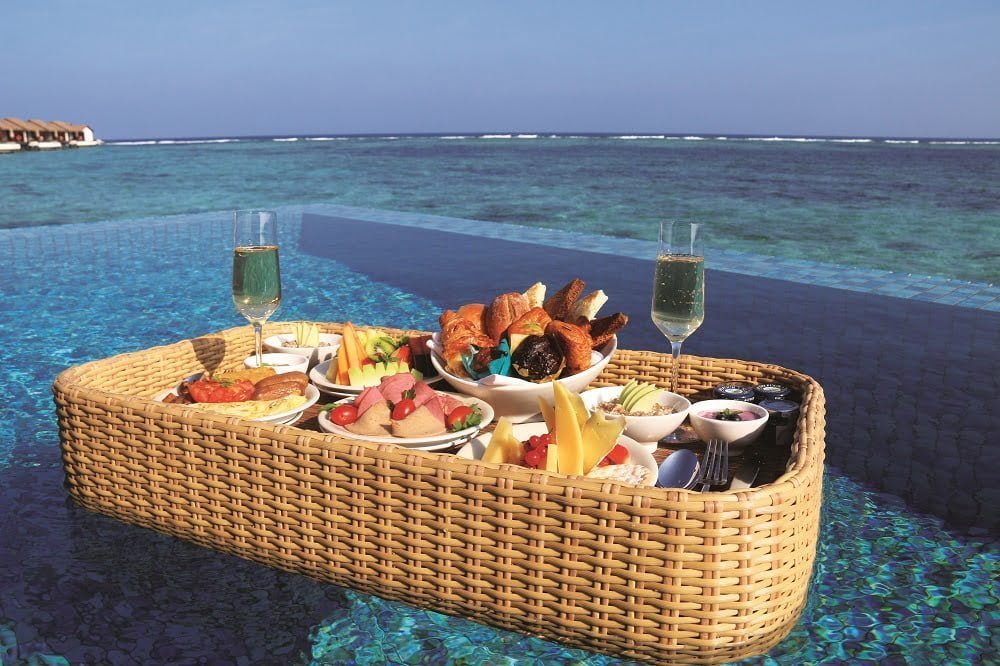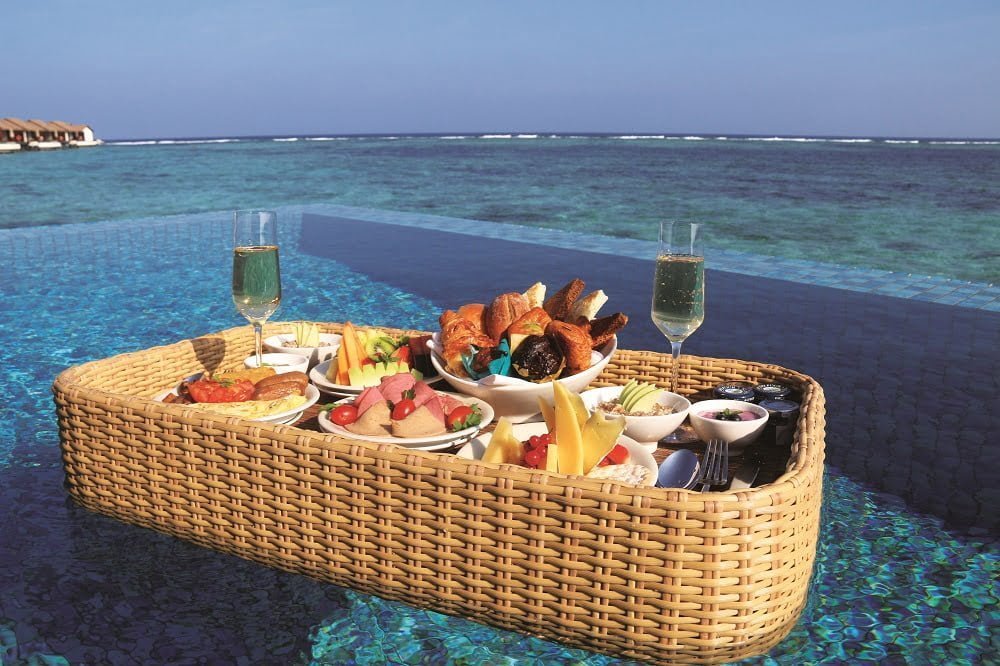 Island Extras
The resort offers a picnic lunch at nearby Castaway Island, and we decided to maroon ourselves on the tiny atoll for a couple of hours. A five-minute speedboat ride and we were left to enjoy the blindingly white sand, with a pre-packed bento box of fruit, salad and sandwiches, cold drinks and snorkelling gear. We had our own umbrella for shade, and our driver left behind a mobile phone, in case we wanted to return to the resort. The hours flew by as we flippered out to the drop-off reef, where we saw our old friends the turtles, as well as perfectly preserved coral reef. In a time when much of the world's coral is bleached and dying, it was a welcome sight. We also found time to hop on a traditional dhoni boat at sunset to spot a few resident dolphins, who like to glide alongside the boat, diving and playing. It was a glorious way to finish the day – a glass of champagne in hand, the sun slowly dipping into the ocean. As it was our last night, we decided to treat ourselves to an indulgent barbecue beach dinner with plates of grilled lamb, salads, lobster and cold beer. It was that kind of holiday – unforgettably over the top.
Get there: From Singapore, fly directly to Velana International Airport in Male and a resort host will escort you to the domestic airport for scenic 55-minute domestic flight to Kooddoo. From Kooddoo Airport, it's a 7-minute speedboat transfer to the resort. cenizaro.com/theresidence/maldives-fm