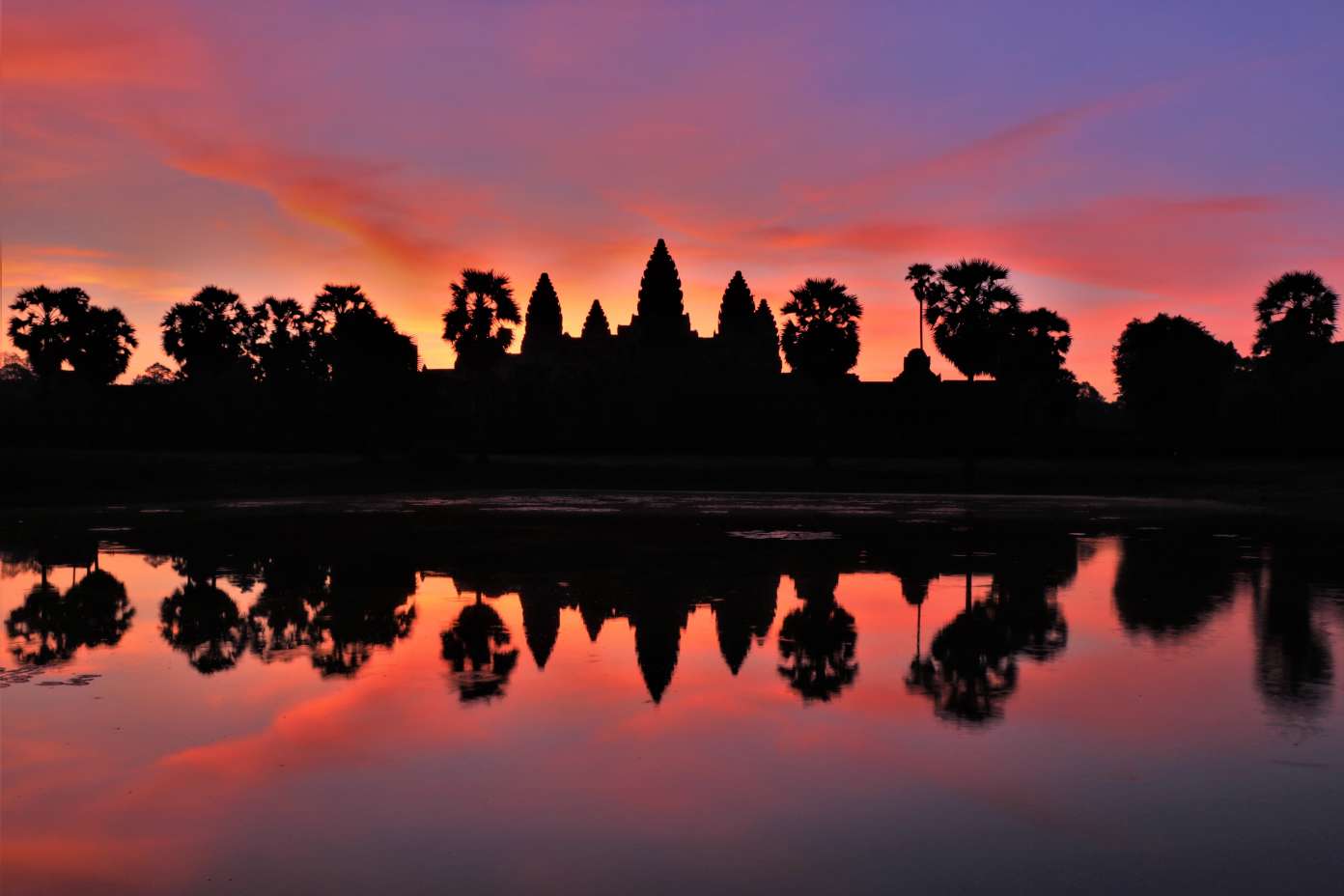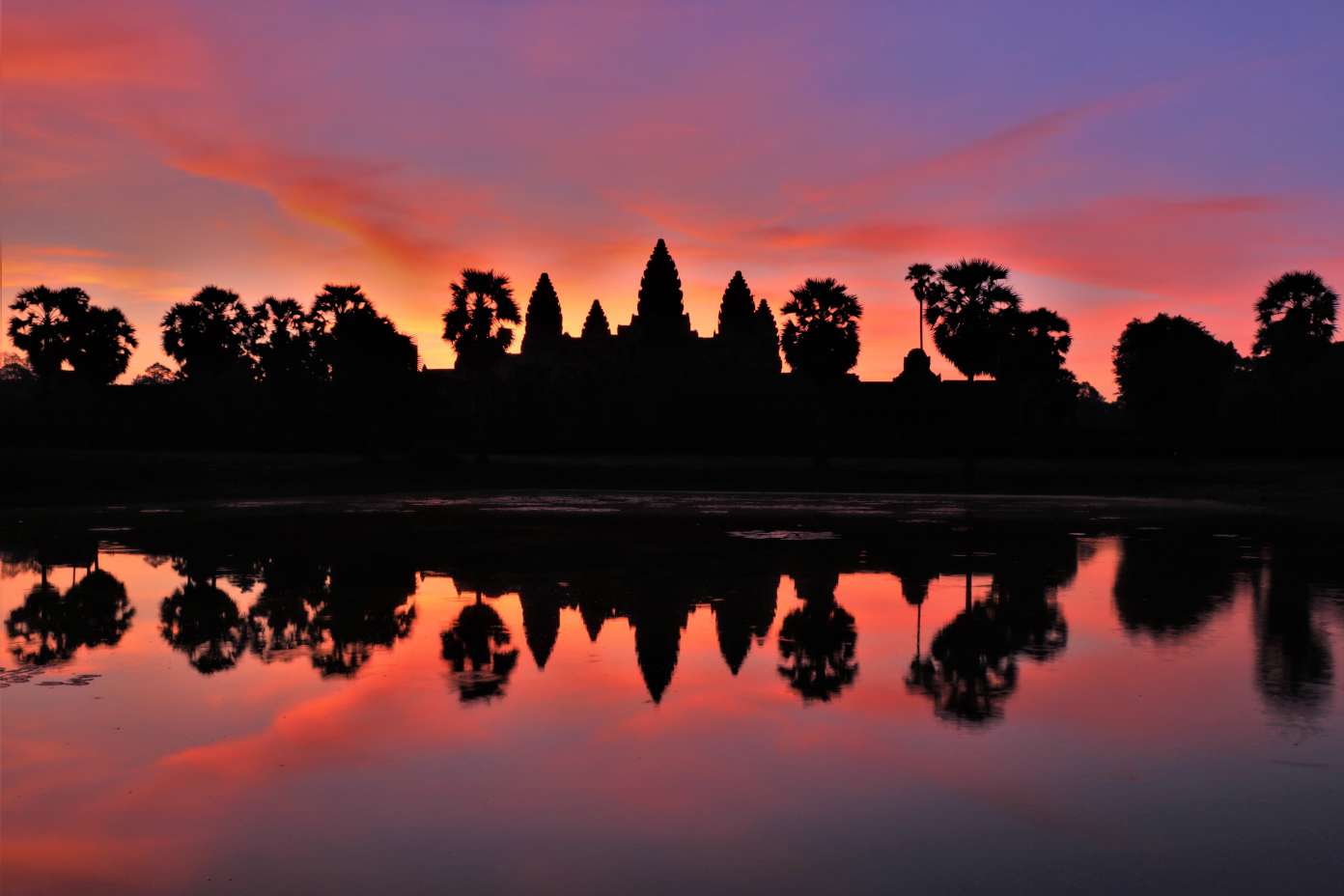 Angkor at dawn
The temples of Angkor Wat, are Siem Reap's main attraction. Soak up the serene silence of early morning visit or hop on a bike tour or a tuk tuk any time of day to navigate the mesmerising ruins. A private guide can illuminate the history of the area and take you back to the days when the powerful Khmer empire ruled Cambodia. We opt for a 4am start, and blearily line up to grab temple passes (US$37) Kids under 12 are free, but bring their ID as they'll check it at every entry. It's a bumpy, but exhilarating rickshaw race through the dark to reach the majestic stone facade, illuminating with the gently rising sun. A hoard of photographers wait to capture the ruins reflected in an adjacent pond, but we quickly get lost among the countless narrow passageways, stairs and rooms. It's easy to spend a few hours wandering this eerie, beautiful temple, steeped in history and tradition – but with kids it's best to keep the tour moving along!
TIP: Make a small donation to one of the resident monks – they'll bless your child and give them a woven bracelet.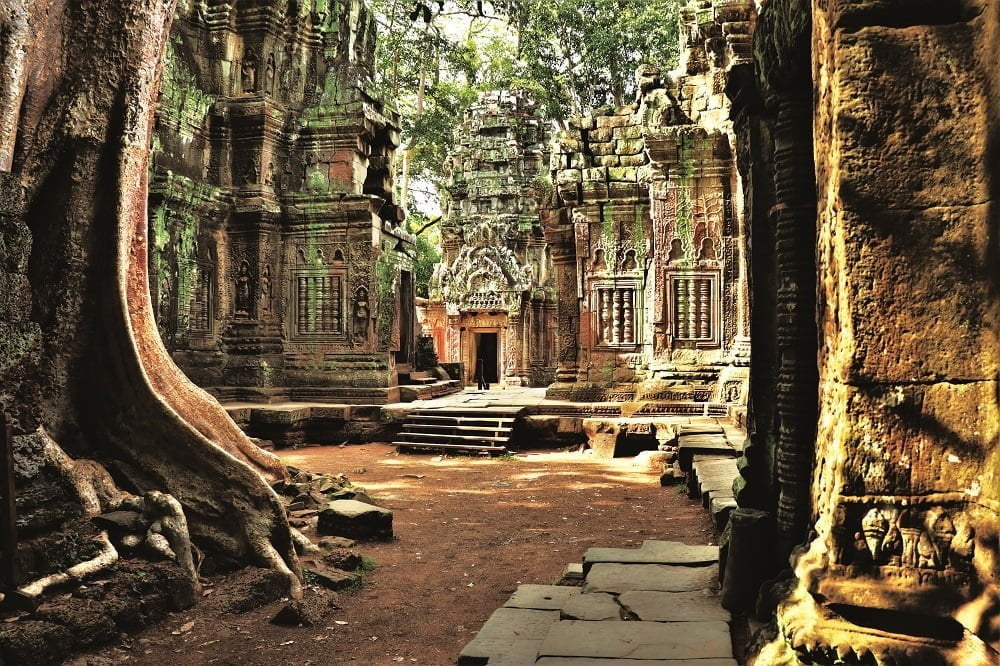 Other temple attractions
We've hired a local tuk tuk driver for the day (US$20) to show us around the main temples. He carries an eski with cold towels and water, so we can freshen up between dusty, hot explorations. Next, we venture into Angkor Thom city and visit the richly decorated Bayon Temple – a 12th century Buddhist shrine. Its 54 Gothic towers are decorated with 216 colossal, serene smiling faces of Avalokiteshvara, which makes for fun photo opps for kids with their own cameras. Across the road we watch (from a safe distance) a family of monkeys playing. There are three babies, who attract a crowd with their adorable antics. With the sun beating down, we opt to stroll briskly alongside the Elephant Terrace, then jump into our waiting tuk tuk for our last stop, Ta Prohm or Tomb Raider temple, (nicknamed for the locations it provided in the movies). Wrapped in huge tree roots, it's easily the most atmospheric ruin at Angkor, and kids will love exploring its crumbling nooks and crannies. Scheduling temple touring in the earlier part of the day, means we escape the worst of the heat. We arrive back at the hotel, exhausted, by 10am, ready for a swim in our hotel's gorgeous saltwater pool!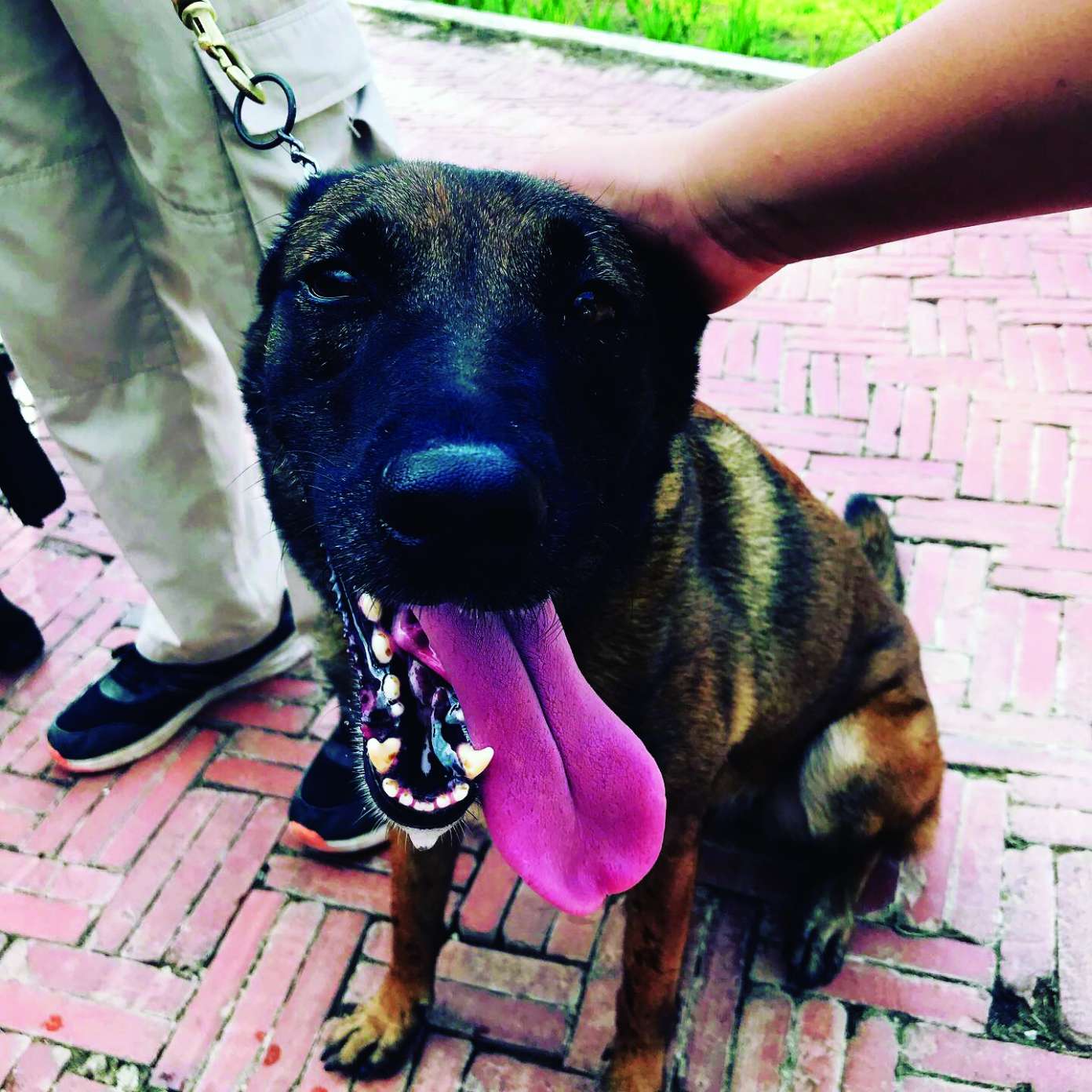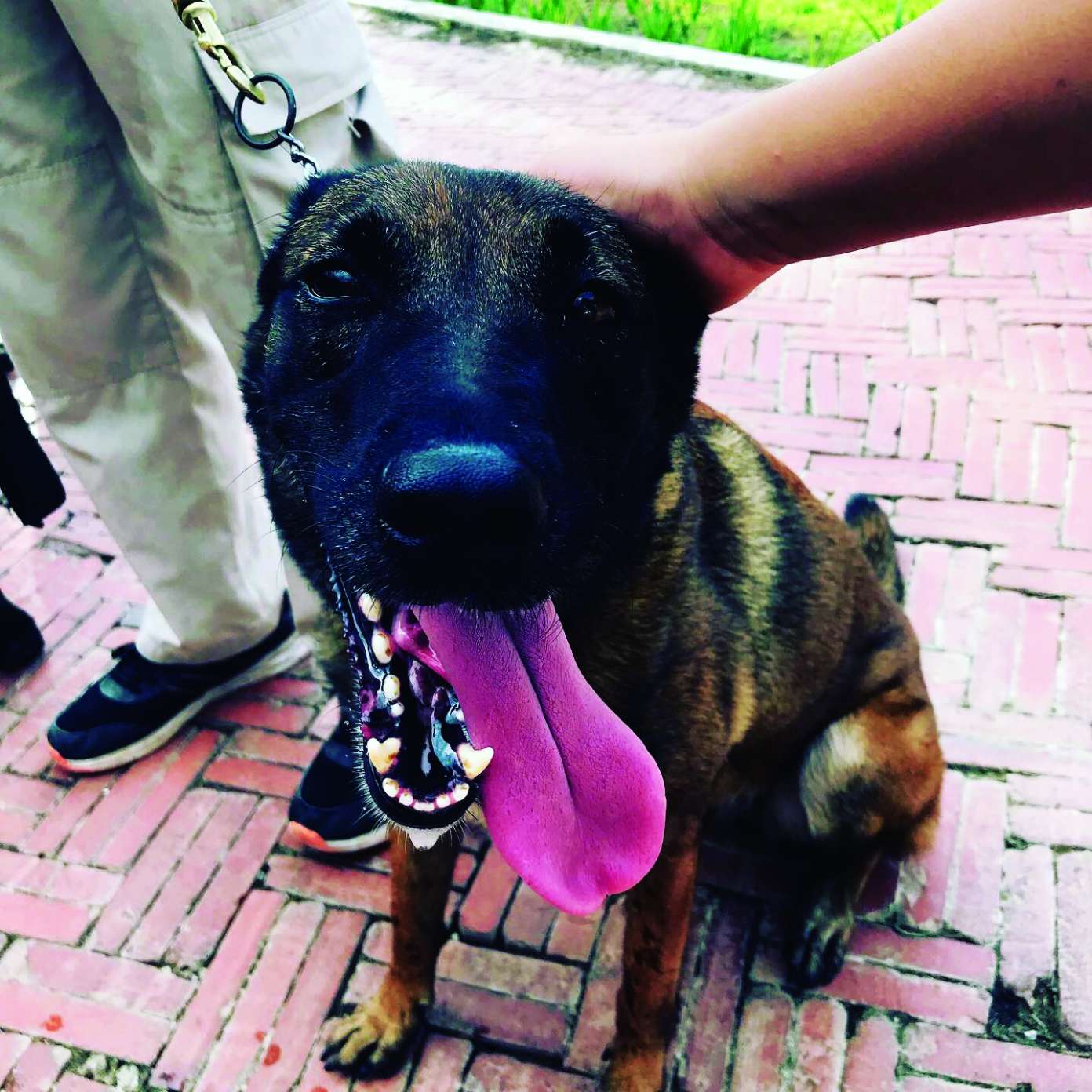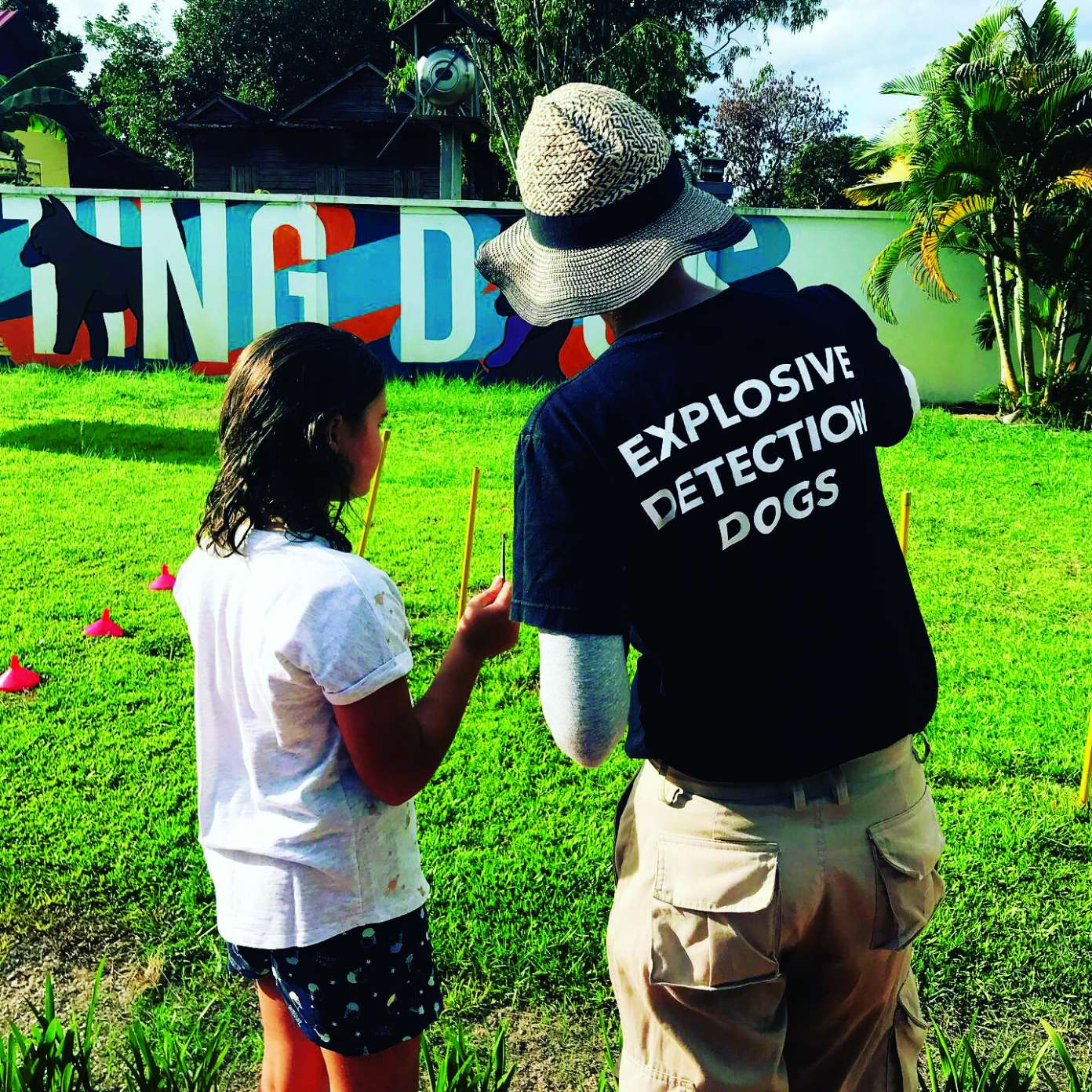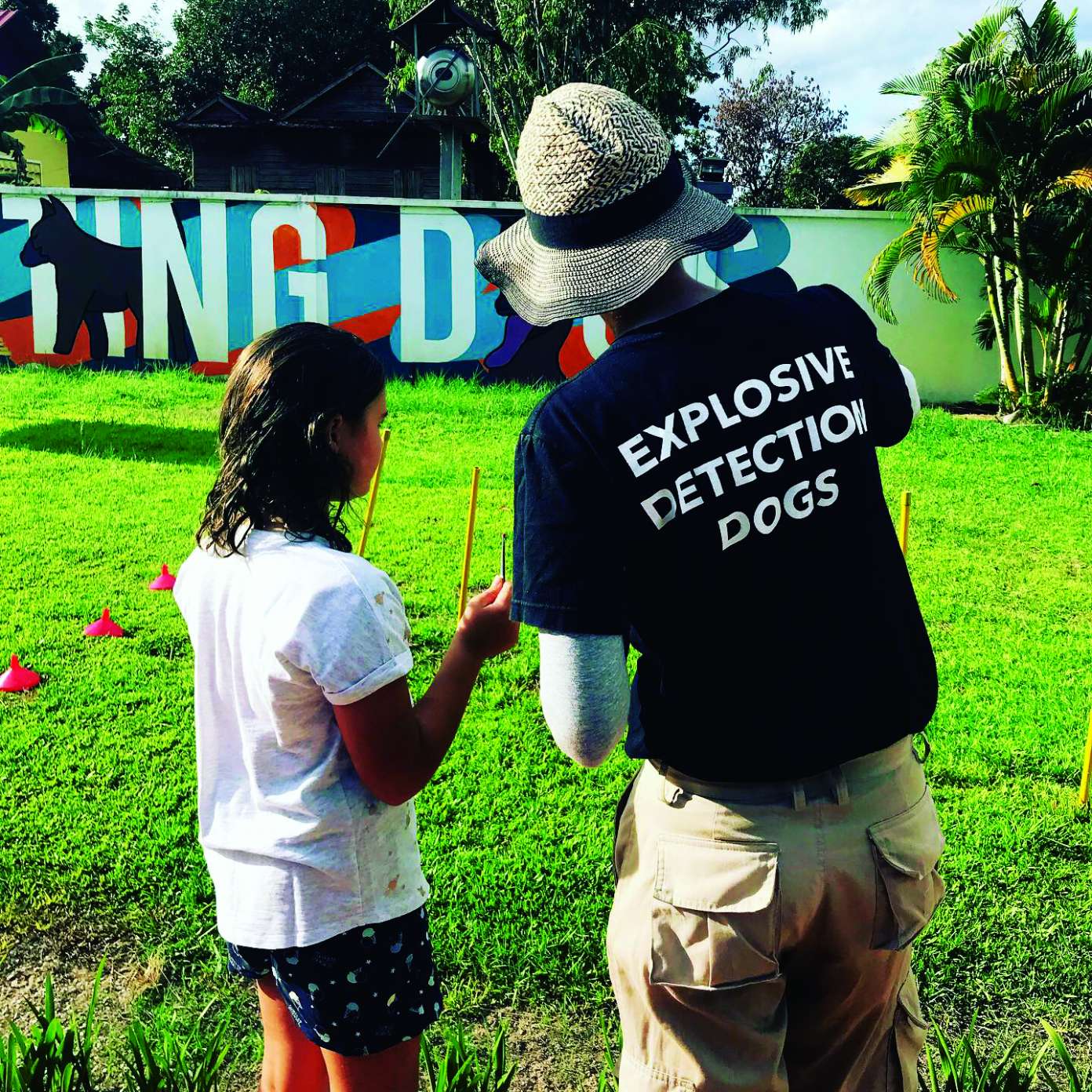 Detection dogs
We loved visiting the Explosive Detection Dogs (explosivedetectiondogs.org), a 10-minute tuk tuk ride from town. Visitors can stop by every day at either 8.30am or 4pm. During the hour-long show (tickets $7) visitors experience firsthand the incredible abilities of the Belgian Malinois breed, trained by dog experts to find unexploded landmines and bombs left over from war. We learn about the devastating legacy of landmines across South East Asia, then the dogs put on a show of their astounding sniffing skills, which help protect Cambodian lives. The organisation has worked with dogs in the field since 1992, expanding into 30 countries. During that time not a single dog has been seriously injured or killed.
TIP: Kids can participate in hiding the search items during the show, and afterwards pat and get their photo taken with the friendly dogs.
Cambodian cuisine
Cambodian food is similar to Vietnamese and Thai cuisines, but with subtle differences. You'll find noodle soup similar to Vietnamese phở and sandwiches like bánh mì, refreshing salads and sour soups, Indian-inspired curries, noodles and stir fries. Our first meal is at Chanrey Tree (chanreytree.com), recommended by our friendly hotel staff for its delicious Khmer food and gorgeous riverside setting. We devour the minced chicken spring rolls, tender beef lok lok stir fry, eggplant with pork ribs, and sticky mango rice with longan and jackfruit. Servings are large – bring your appetite! Another excellent choice for families is il Forno, hidden down a lane, off Pub Street. Kids will approve of their authentic pizzas and fresh pastas (ilforno.restaurant/siem-reap). In the early evening Pub Street is family friendly and genuinely good fun. Wander around the local night markets and try one of the many 'fried ice-cream' stalls. The vendors pour your choice of flavours onto a freezing plate, and fashion the handmade ice-cream into delicate rolls. We went back for seconds for the Nutella and Oreo version!
TIP: Malis (malisrestaurant.com/siemreap) has very good 2-for-1 cocktails during happy hour at 5-7pm (plus free nibbles!) and they welcome kids with plenty of 'mocktails' on the menu.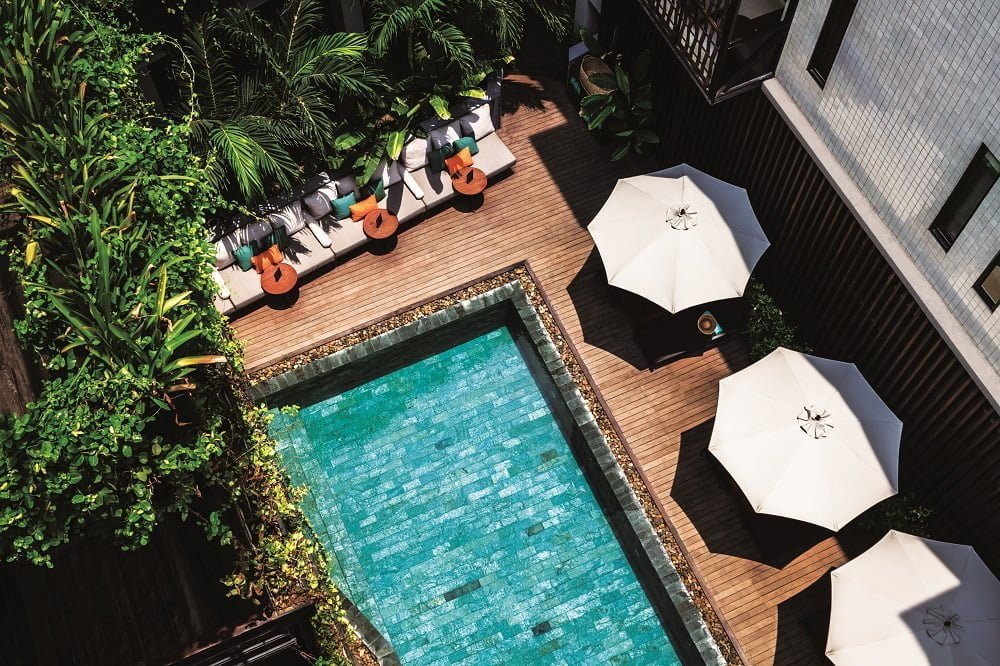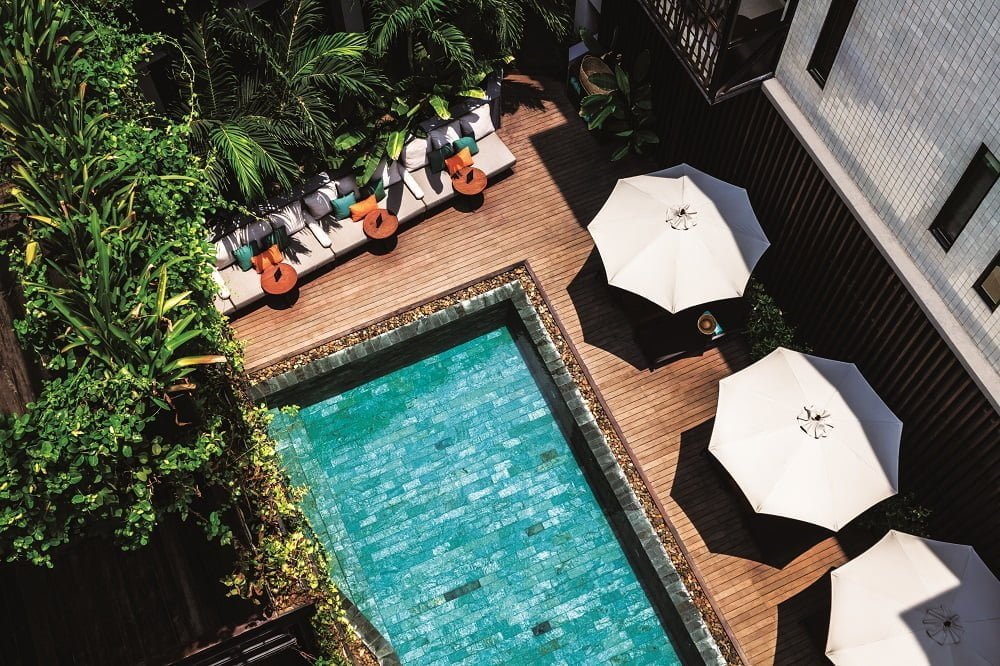 Where to stay:
The Aviary Hotel (theaviaryhotel.com) has the perfect central location in the heart of Siem Reap town, super friendly staff, and a peaceful atmosphere. Kids will adore the bird-inspired design, chill out zones with books and comfy chairs, and the refreshing saltwater pool with wonderful views of the vines and flowers that drape over the balconies above. The 25 rooms are large and eco-friendly, with oversized balconies made for lounging. We opted for the Sarus Crane Suite, a sprawling 60sqm pad which has a large bedroom, a separate living room area, and a private balcony. There are plenty of dining options, including the laidback Flock Café. Don't miss a family trip to the onsite Amret spa, where you can treat yourself to a relaxing massage after a long day of temple sightseeing.
TIP: The hotel is expanding and will soon feature a glam rooftop pool, a Japanese restaurant, and more gorgeous rooms!
Top 5 kid approved activities in Siem Reap:
1. Eco-adventurous families can zip line through lush jungle in the Angkor Archaeological Park. (angkorzipline.com)
2. Explore the regions rural heart with a visit to a working farming village – wander through rice fields, populated with buffalo and oxen and mingle with local communities.
3. Foodie families can dive
into the spicy culinary
scene with a cooking class or guided market tour.
4. Support Cambodia youth and watch incredible young performers at Phare,
the Cambodia Circus. (pharecircus.org)
5. Tweens and teens will enjoy shopping in trendy Kandal Village on Hap Guan St. You can grab a bite at one of the hip cafes or pick up funky Cambodian homewares, or jewellery.