Packed schedules and pressure to perform can lead to kids experiencing stress from a young age. Integrating some yoga or mindfulness practices can teach them relaxation and give them a chance to 'switch off' from their daily routine. There are lots of ideas for calming kids in Singapore.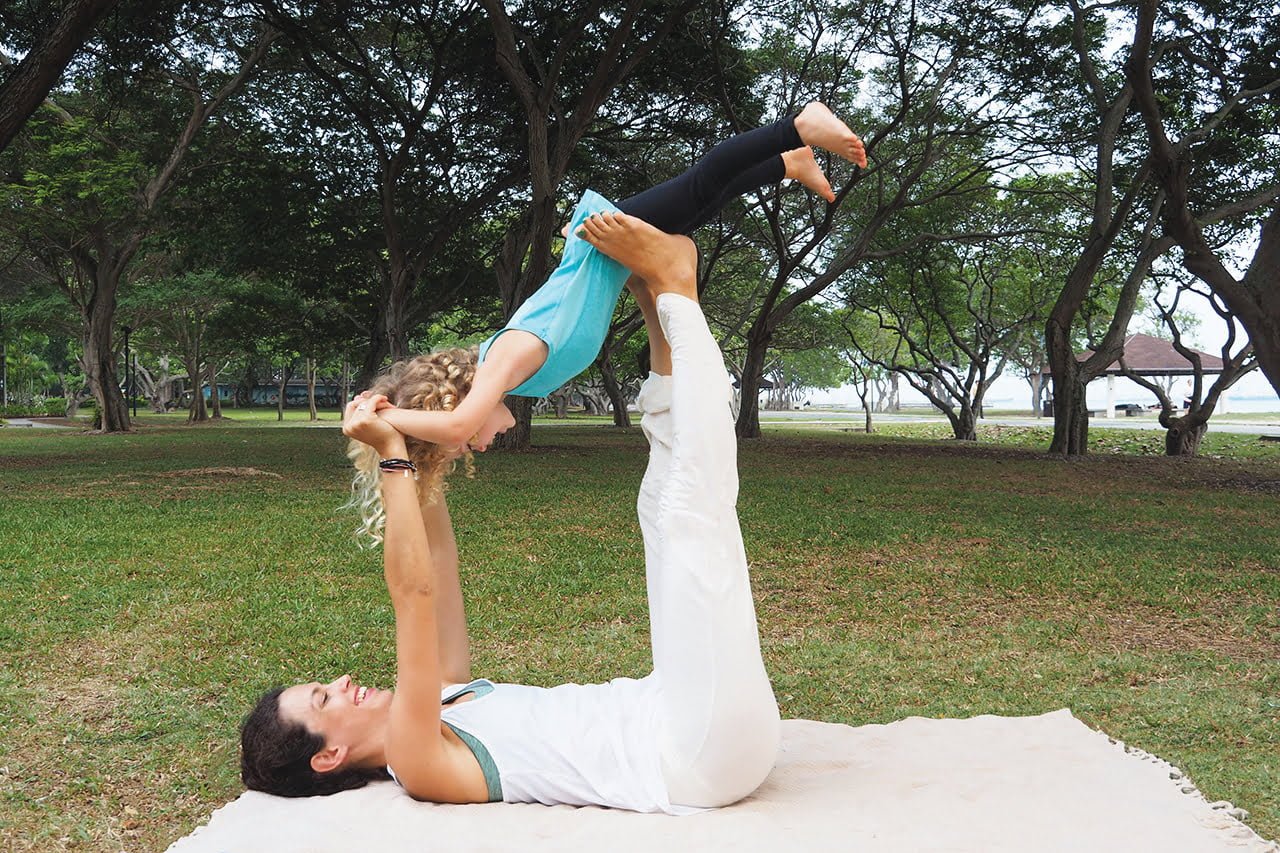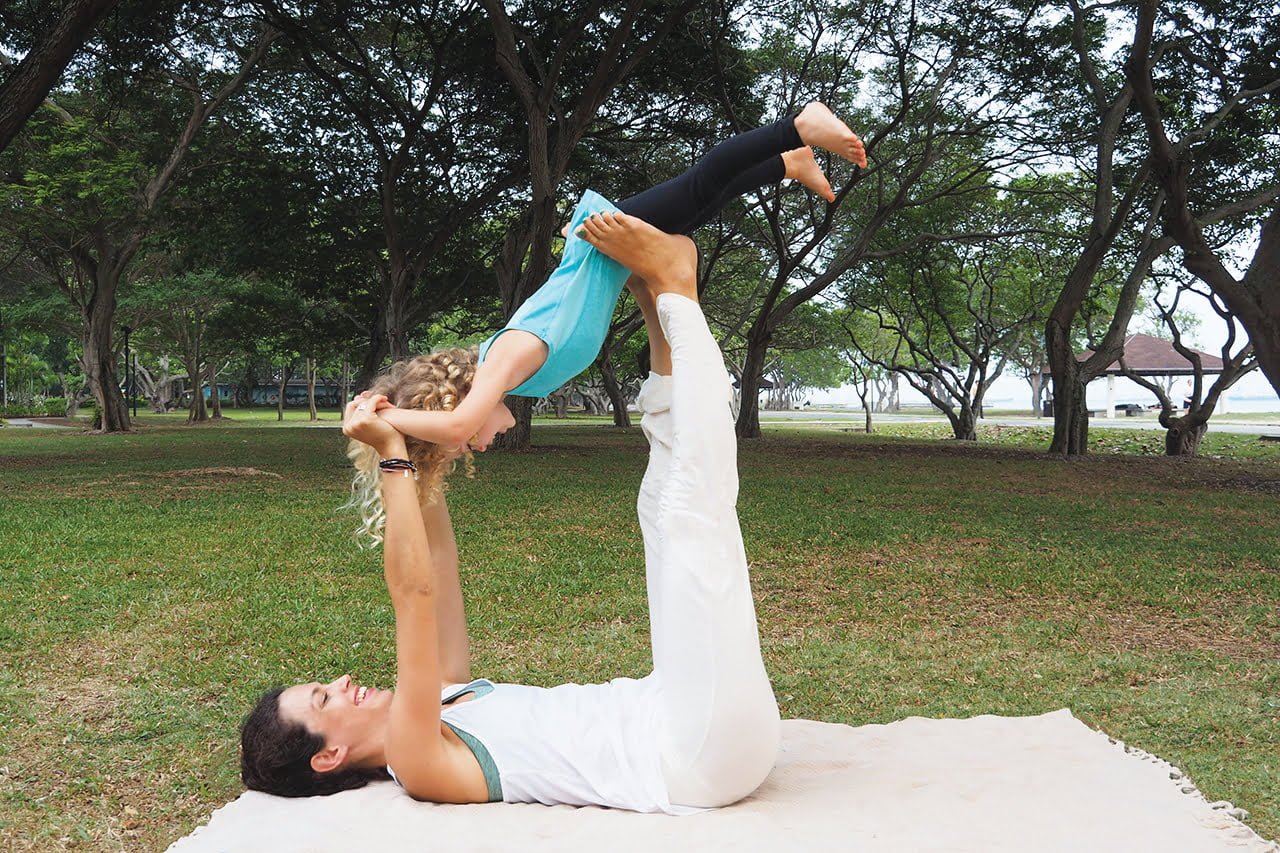 Yoga for Young Ones
So Yoga, various locations
soyoga.com.sg
So Yoga was founded in 2014 by expat mum of three Sophie Spoor. She offers classes for both kids and adults, and conducts yoga programs in some international schools. "Yoga provides different opportunities as children grow: balance, focus, flexibility, strength, self-esteem and confidence," explains Sophie.
A typical class starts with the kids sitting in a circle, not rows. Breathing exercises and warm ups come first. "We then move into yoga poses – which are brought to kids through stories, songs, or a special theme. We imitate animals' positions and sounds: kids yoga classes are vibrant, energetic, inclusive! We transition then slowly into a quiet time, and relaxation," says Sophie. "I try teaching yoga in a creative, accessible and fun way, so kids will practice while having fun. Every class comes with a special theme, story or concept (Christmas, Jungle, Chakras…). Yoga improves their balance, flexibility, strength, concentration, sleep quality and channels their energy." Sophie's passion for kids yoga has extended to writing a series of kids yoga activity books, called Miniyogi (miniyogi.com). "One book is equivalent to one yoga class, it includes story time, breathing exercises, yoga poses, games and relaxation moments."
Como Shambhala, Orchard Road
comoshambhala.com/singapore/classes/yoga/kids-yoga
Como Shambhala's kids yoga program is adapted from the pioneering YogaKids International program, and is suitable for kids of all ages. It uses games and cooperative play while encouraging children to use their imagination imitating poses like animals and nature elements. The class will give them basic techniques for relaxation, self-control, and stress-release, and help them gain increased flexibility, strength, stamina, self-confidence, and coordination.
The yoga classes are best suited to kids between five and 11 years old. Como Shambhala also offers a Mindfulness class for pre-teens (around 10 – 12 year olds) to teach relaxation and elements of meditation.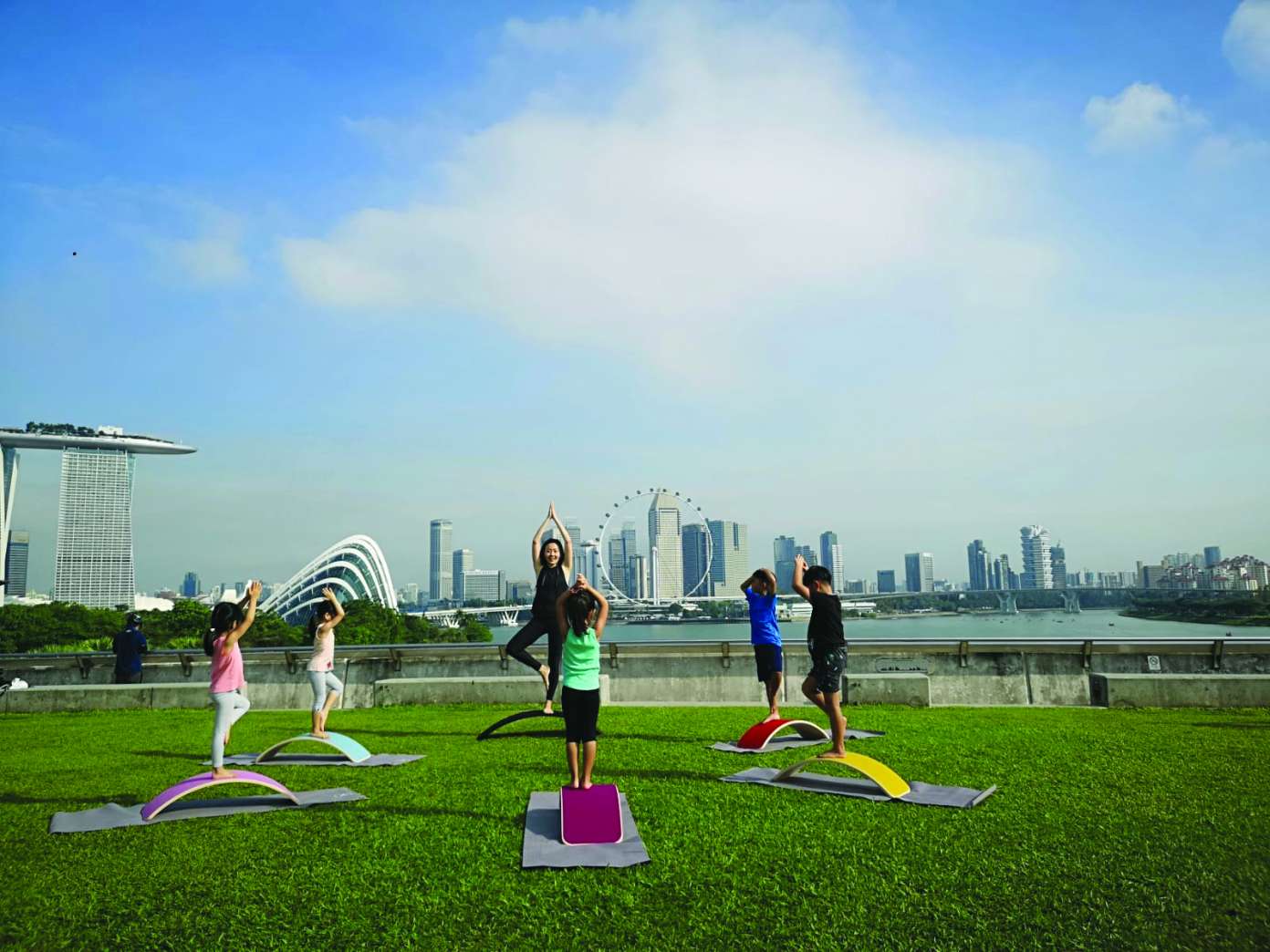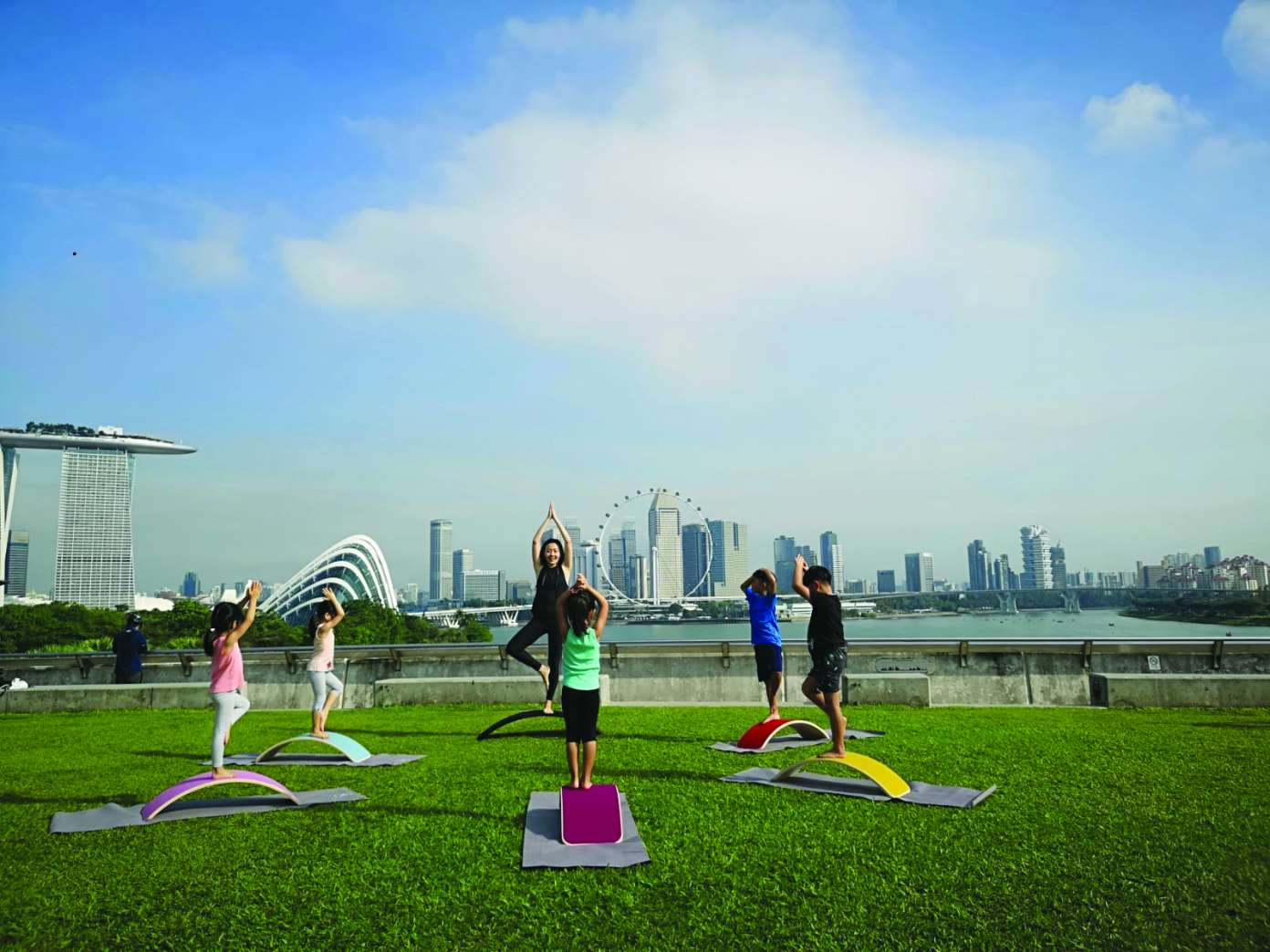 Kids Mindfulness and Meditation
Tiny Movements Co, Singapore Botanical Gardens,
tinymovementsco.com
Cheryl Ow teaches yoga sessions conducted on Wobbel Boards (a curved wooden board for balancing). They are held outdoors, usually at Singapore Botanical Gardens. "We combine children's yoga with the Wobbel Board – a curved board that accentuates movement – to unite both mind and body. Mindfulness and meditation techniques are also taught to boost patience, self-confidence and physical strength," explains Cheryl. She offers parent and toddler Wobbelyoga classes, best for children around 18 months to three years old, and drop-off classes for children from three to 12 years. "We always start with songs to break the ice, then breathing techniques, warm ups, sun salutation, games incorporating yoga poses, sometimes arts and crafts or brain yoga activities then ending with relaxation activities and meditation."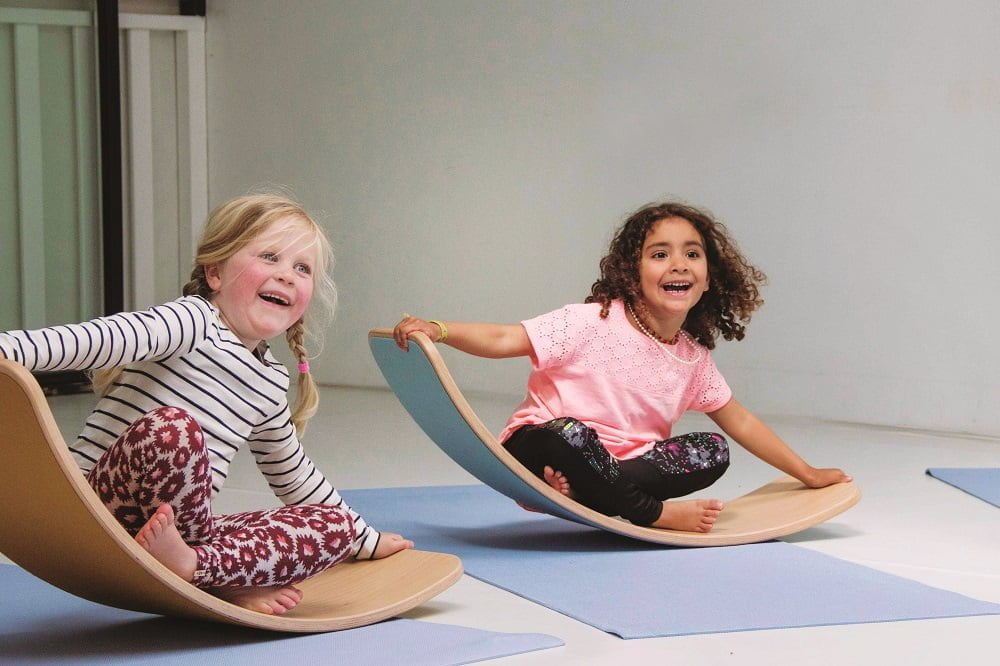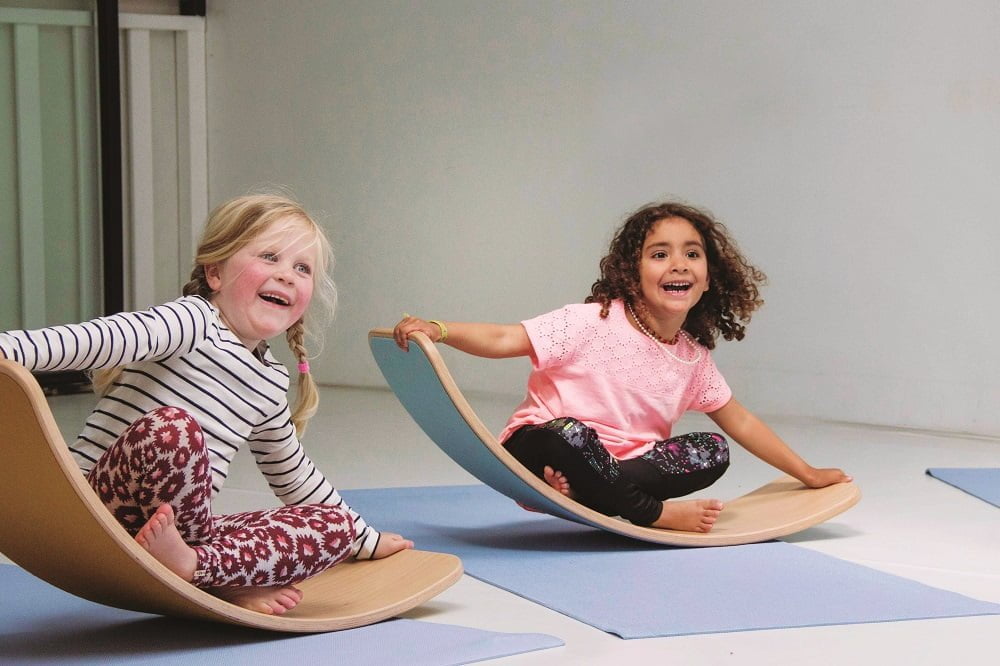 The Open Centre, Turf Club Rd
theopencentre.com.sg
The Open Centre is a space for mindfulness, resilience and creative arts for all members of the community. One of its more popular programs is 'The Resilient Child' for ages six to 12. The program covers topics like self-awareness, recognising how emotions and thoughts can influence behaviour, regulating emotions (responding instead of reacting), empathy and goal-setting. The Centre also holds mindfulness holiday camps for primary-school aged children. These week-long camps are designed to teach kids life skills in a fun and relaxing environment. Daily activities include art projects, nature exploration, mindfulness and concentration activities, games and 'mindful movement' to calm the mind and strengthen the body.
Canvass, Binjai Park
canvass.com.sg
Canvass is a yoga and art studio that offers a variety of classes based on movement, mindfulness and creative arts.
Their two-hour Movement Art Mindfulness for Children over five years old combines art, storytelling and movement exercises. Students learn about body anatomy, mindful movement practice, breathing exercises and non-verbal ways of expressing themselves. Creative art exercises strengthen the understanding of the theme of the class. Canvass also offers meditation for teenagers, with guided breathing and mindfulness techniques to promote a clear and peaceful mind. If you're looking for a family experience, enquire about Yoga Art Mindfulness for Families.
Kids and Teens Spa Experiences
Auriga Spa, Capella Sentosa
capellahotels.com
The luxe Auriga Spa offers a spa menu specifically tailored to teens, with both facials and massage on offer. They use gentle, natural products, perfect for delicate skin. Or opt for a mani/pedi with non-toxic nail polish in a range of vibrant colours. Family spa sessions (up to three people in one treatment room) can also be arranged.
Beauty Mums & Babies, Paragon & Suntec City
beautymumsbabies.com
Beauty Mums & Babies has a range of massages and treatments for mums, babies and toddlers. Try the one-hour children's massage designed to relax little ones, or pre and post-natal packages for Mum. They also offer a Mums and Bubs yoga class.
Yunomori Onsen, Kallang Wave Mall
yunomorionsen.com
Yunomori Onsen is a family-friendly facility where the whole family (kids over three years) can indulge in a traditional or modern therapeutic bath experience. Jet baths, hot baths, mineral-enriched bubble baths and more make this a relaxing and fun family outing.