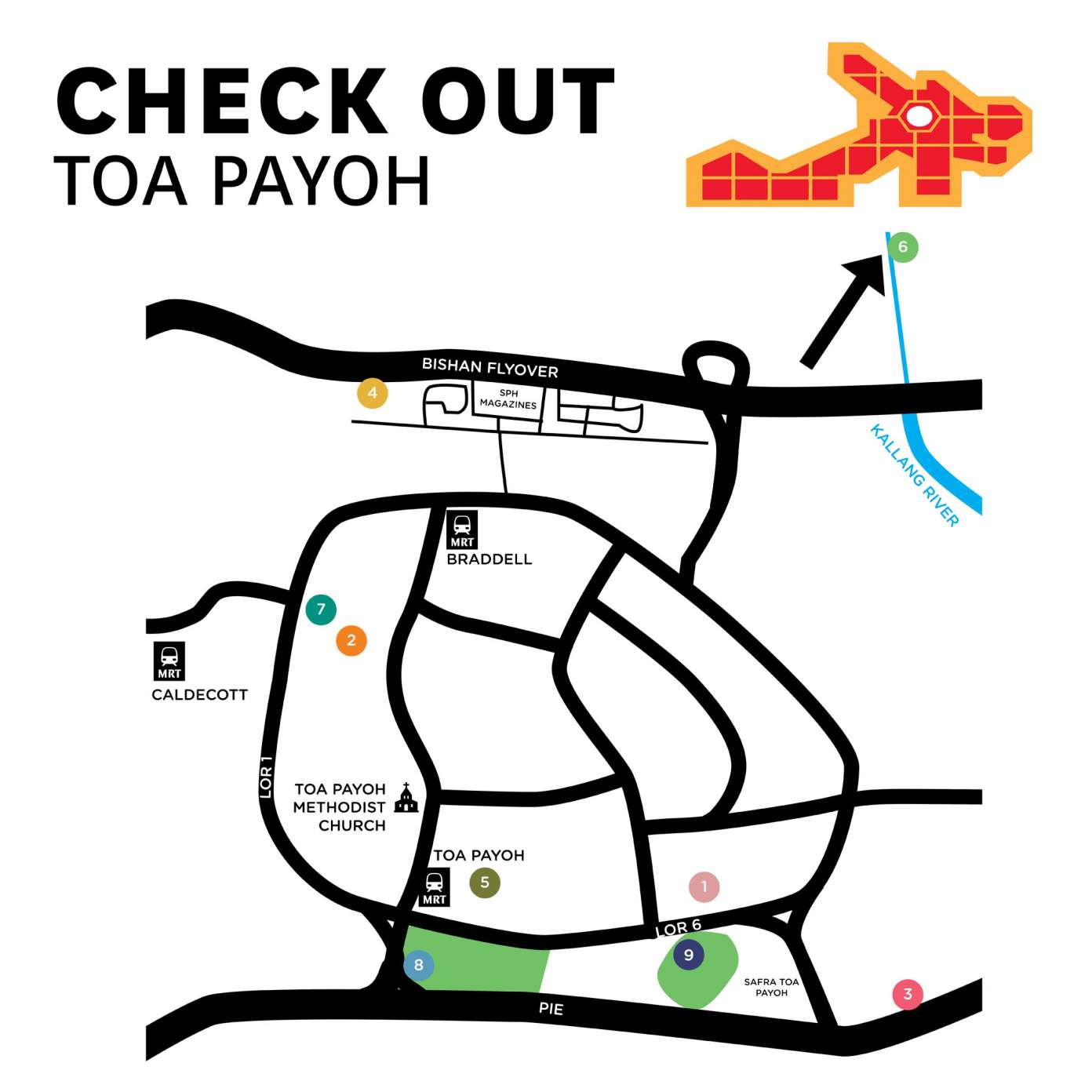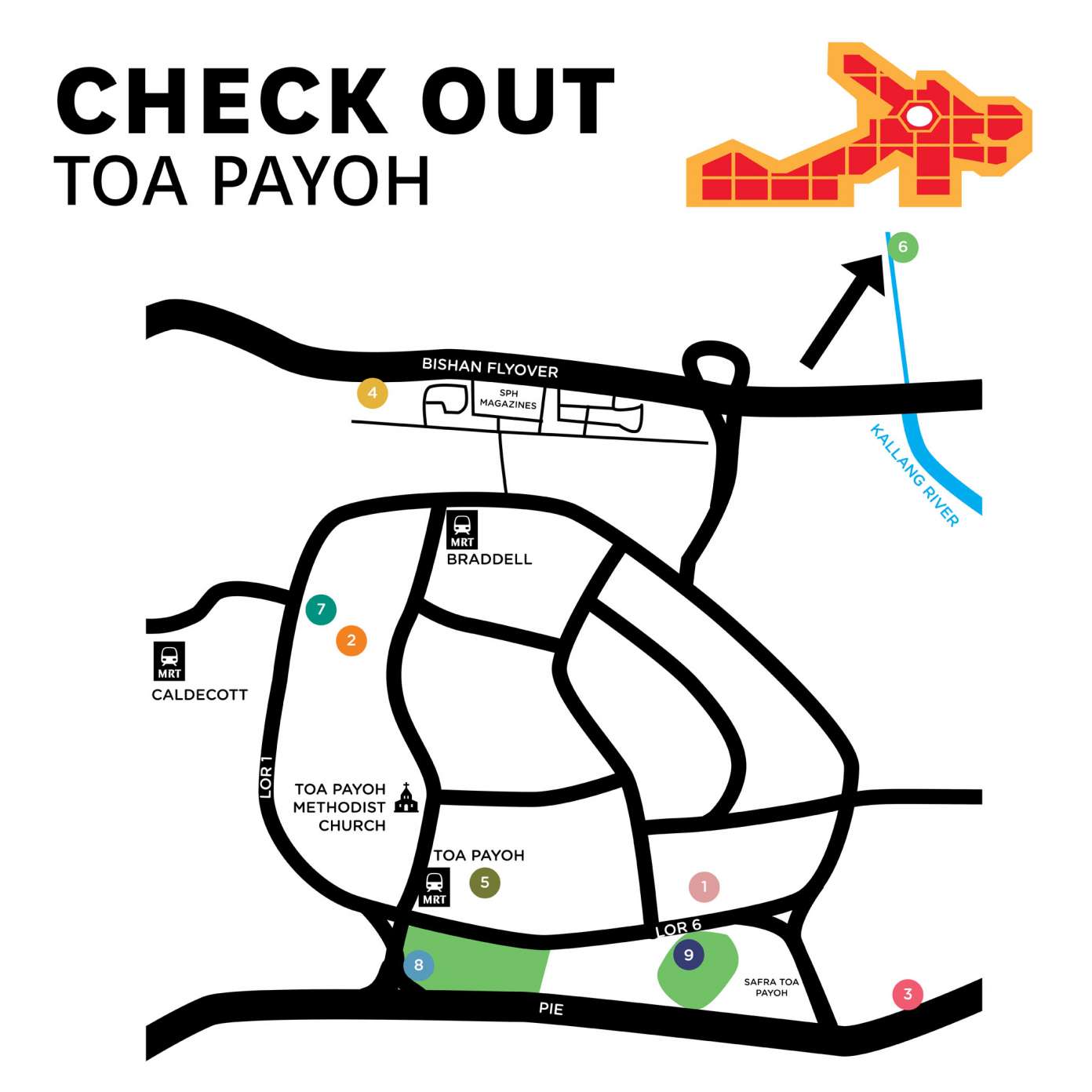 1.Dragon Playground
28 Lorong 6 Toa Payoh 310028
Toa Payoh is home to one of the last original dragon playgrounds. Built in the 1970s at various HDB estates, these dragon playgrounds have become a local icon, with the stylised dragon's head appearing on everything from bags to fridge magnets and coffee mugs. A short walk from Toa Payoh MRT and bus interchange, this colourful dragon is a fun climbing structure with a concrete slide.
2.Uggli Muffins
#02-34 127 Lorong 1 Toa Payoh 310127
ugglimuffins.com
You probably wouldn't expect to find muffins in a hawker centre, but this bakery in the Toa Payoh West Market and Food Centre has achieved a cult following. The name comes from the muffins' irregular shape and burnt-looking top, a product of the baker's secret recipe and method of baking. As well as standard muffin flavours like banana and walnut, they also offer a changing menu of flavours like Oreo cookie or sweet potato.
3.Lian Shan Shuang Lin Monastery
184 Jalan Toa Payoh 319944
shuanglin.sg
Previously known as Siong Lim Temple, this Buddhist monastery dates back to the early 1900s. It's one of Singapore's oldest Buddhist temples. The impressive entrance of two ornate gates leads to a seven-storey pagoda, several prayer halls and the monk's living quarters. The peaceful gardens strewn with bonsai trees are an inviting spot for a moment of quiet reflection.
4.Epigram Books
1008 Toa Payoh N, #03-08, 318996
shop.epigrambooks.sg
A niche bookstore and award-winning publisher, Epigram offers an intriguing selection of both local and international books. With fiction, non-fiction and a well-curated selection of children's books, Epigram should be your first stop for interesting local literature.
5.HDB Hub
Blocks 460 – 530, Lorong 6 Toa Payoh 310460 – 310530
hdb.gov.sg
The high-tech, multimedia gallery showcases the planning of current and future HDB towns across the country. It's a fascinating look at what drives Singapore's urban and residential planning, including some of the environmental initiatives making Singapore's housing more sustainable. Interactive elements (and a model dragon playground big enough to slide on) make it suitable for kids too.
6.Hock Siong & Co
#01-03 Junjie Industrial Building, 153 Kg Ampat 368326
facebook.com/hocksiongco
This vintage and second-hand shop has a huge social media following with nearly 45,000 Facebook and 22,000 Instagram followers. Their eclectic and quality range of furniture, decor items and art is well worth checking out. Expect everything from Asian antique furntiure and Art Deco relics, to cute and quirky home accessories. Newly arrived stock is often posted on their social media pages if you want to browse before hitting the shop.
7.Niche Savoureuse
Block 128, Toa Payoh Lorong 1, 310128
nichesav.com
All day breakfasts, decent coffee, quality pizzas and a huge selection of cakes baked in-house, make this an ideal stop during your day in Toa Payoh. Try the slow-cooked lasagna, or the red velvet cake made with 55% dark chocolate and almond paste. The bakery also makes creative custom cakes if you need something sweet for a special event.
8.Toa Payoh Town Park
Junction of Lorong 2 and Lorong 6, TOA PAYOH 319393
Not far from the Toa Payoh Stadium is the Town Park. This expanse of green is a lovely spot for a stroll or a jog. A series of pretty little bridges leads you to a waterfall and pond that hosts fish and the occasional turtle. There's also a pavilion and gazebo, making this a great spot for an outdoor gathering. For runners or cyclists, the park connects to the Whampoa Park Connector eastwards along Sungei Whampoa. At Sungei Kallang you'll reach the Kallang Park Connector leading to Kallang Riverside Park.
9.ANZA Athletics
Toa Payoh Stadium, 297 Lorong 6, Toa Payoh, 319389
anza.org.sg
On Friday afternoons the Toa Payoh Stadium is overtaken by the ANZA Athletics participants. From 4.30pm, young athletes join in track and field events in a relaxed environment. The season runs from September to March, contact athletics@anza.org.sg.