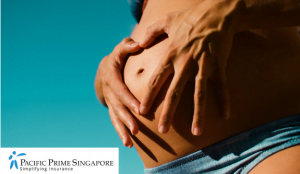 Planning for your baby's arrival is an exciting yet chaotic time. As you're anticipating the arrival of your new bundle of joy, one thing you can do is plan a babymoon. Essentially the last holiday you'll have before your baby is born, a babymoon gives you a chance to relax and unwind before everything changes. Planning a babymoon takes some time and effort. Our friends at Pacific Prime Singapore have compiled four tips to help make it easier.
1.  Plan in the first trimester, travel in the second
Most women find the first trimester of pregnancy to be quite rough. Since morning sickness, fatigue, and other symptoms are common during the first three months, you're probably going to want to wait to travel. The second trimester tends to be more comfortable as women ease into their pregnancy. Use the first trimester to plan your perfect babymoon, travel during the second, and take it easy before your baby's arrival in the third.
2.  Get the OK from your doctor
While you'll want to book your flight as soon as you find a good destination and deal, you should consult your doctor before babymoon planning can start. Your OB-GYN should confirm you're fit for travel. Traveling can be dangerous if you have any pregnancy complications. Don't worry if you can't travel abroad, staycations can be just as enjoyable.
3.  Prepare your medical checklist
If you're going to travel internationally, make sure your vaccinations are up to date and you're visiting a safe destination. It's also a good idea to have a copy of your medical records on hand, in case of an emergency. You can prepare for emergencies by finding out where the nearest hospitals are and even get a referral from your OB-GYN if possible.
Make sure your health insurance covers medical emergencies while traveling. If it doesn't, it's advisable to buy travel insurance before your trip.
4.  Inform your accommodation
If there's one time in your life you should ask to be taken care of, it's when you're pregnant. Many hotels look forward to welcoming expectant parents and will happily offer special perks, such as prenatal massages or mocktail deals. Be sure to inform the hotel that you're expecting when booking and when you check-in. If you can't get some extra perks, then at least you'll probably get some extra pillows.
Have any questions?
At Pacific Prime Singapore, we can help you find the right health insurance plan for your needs – whatever they may be. Our team of expert advisors is also available to answer any of your questions, completely free of charge. Contact us to get a no-obligation, free quote, plan comparison, or have your questions answered today.