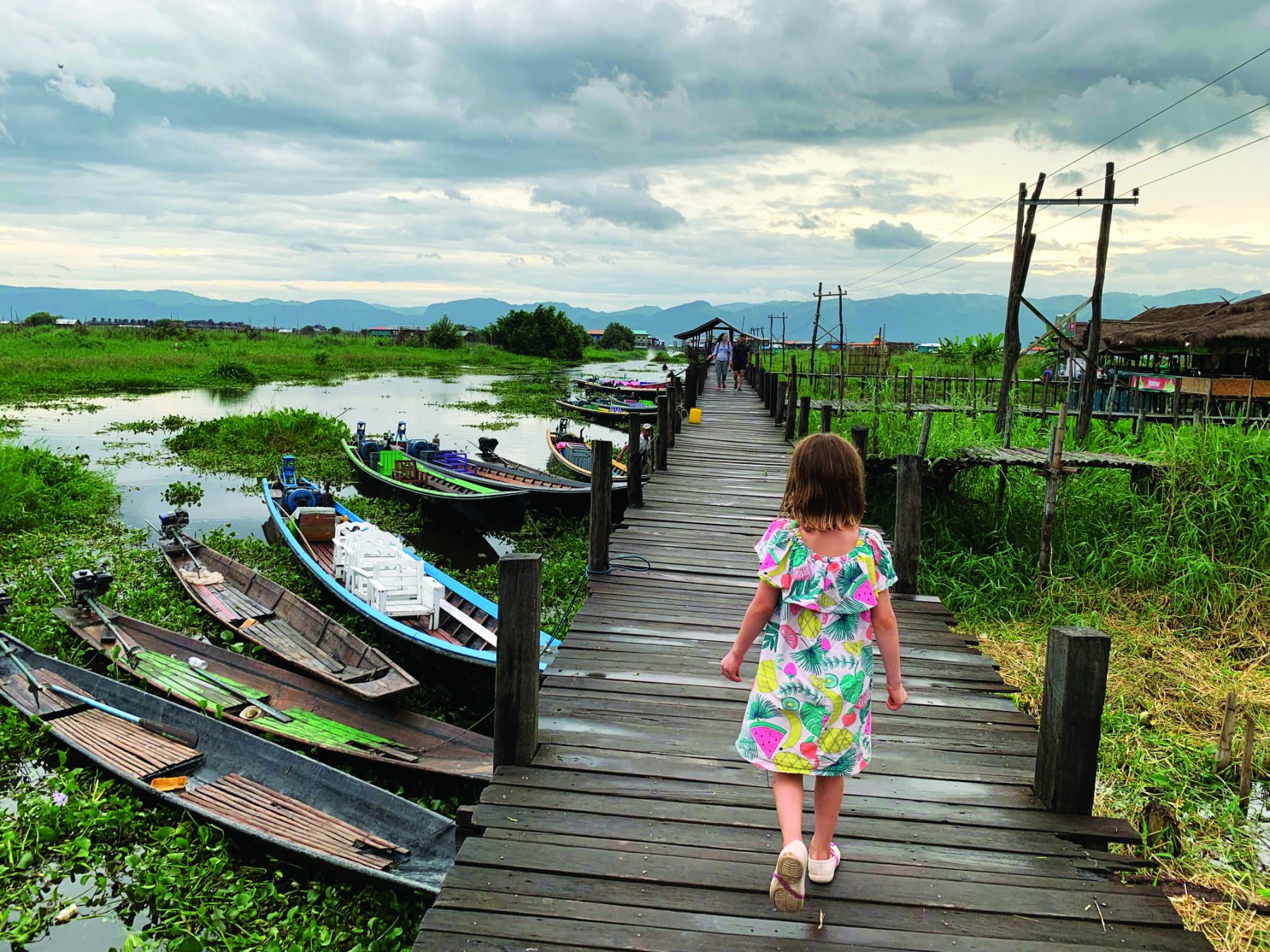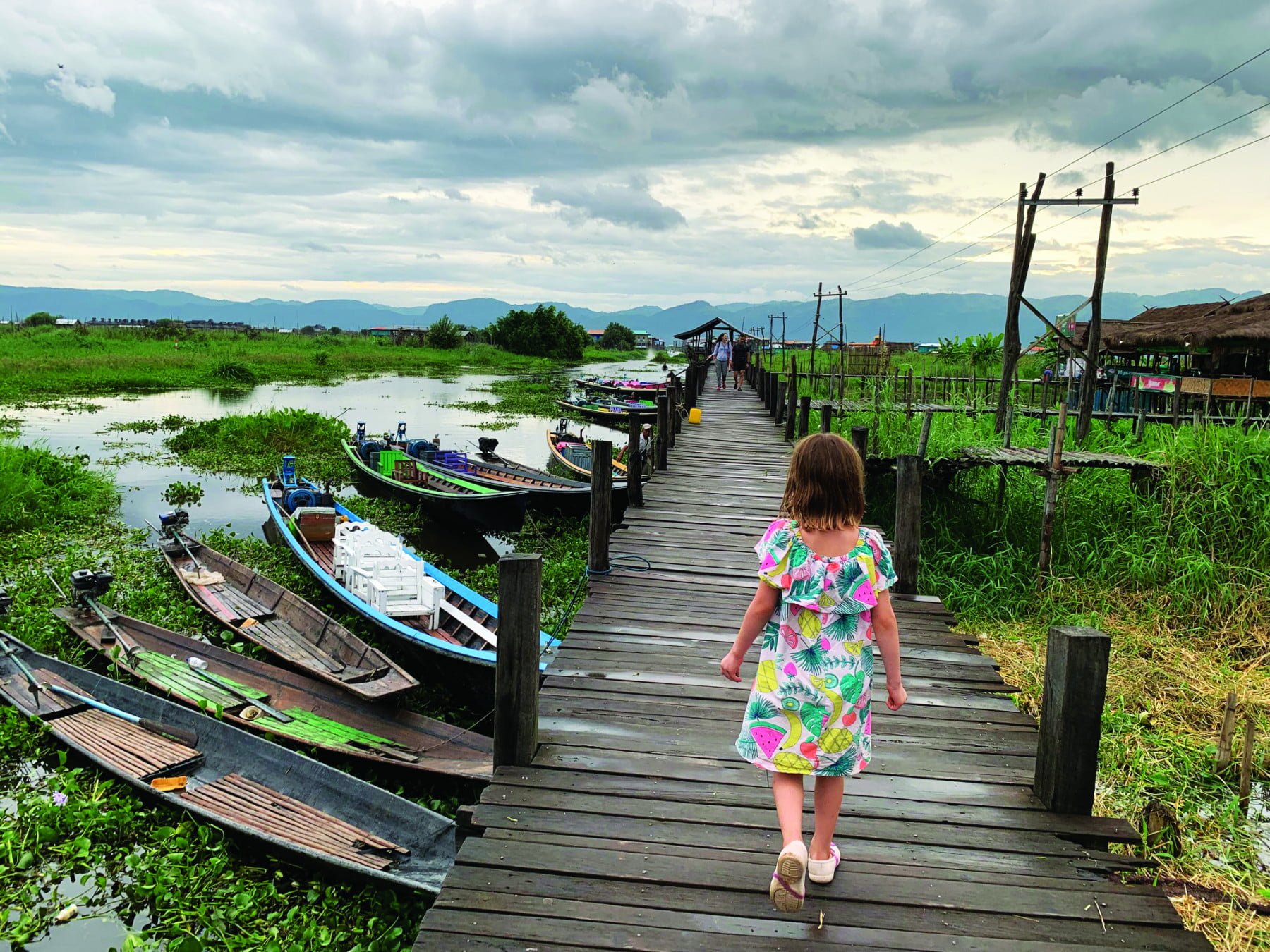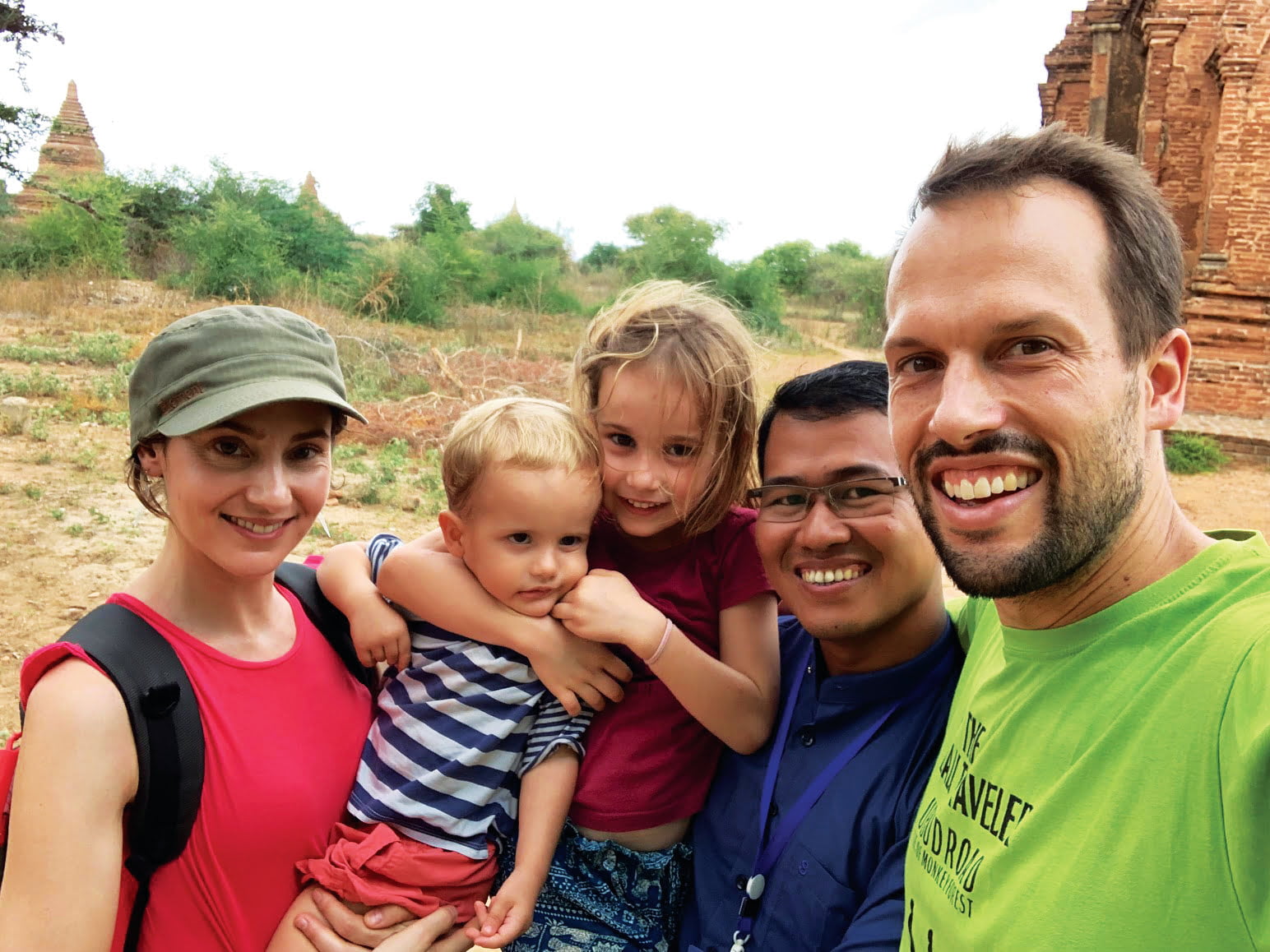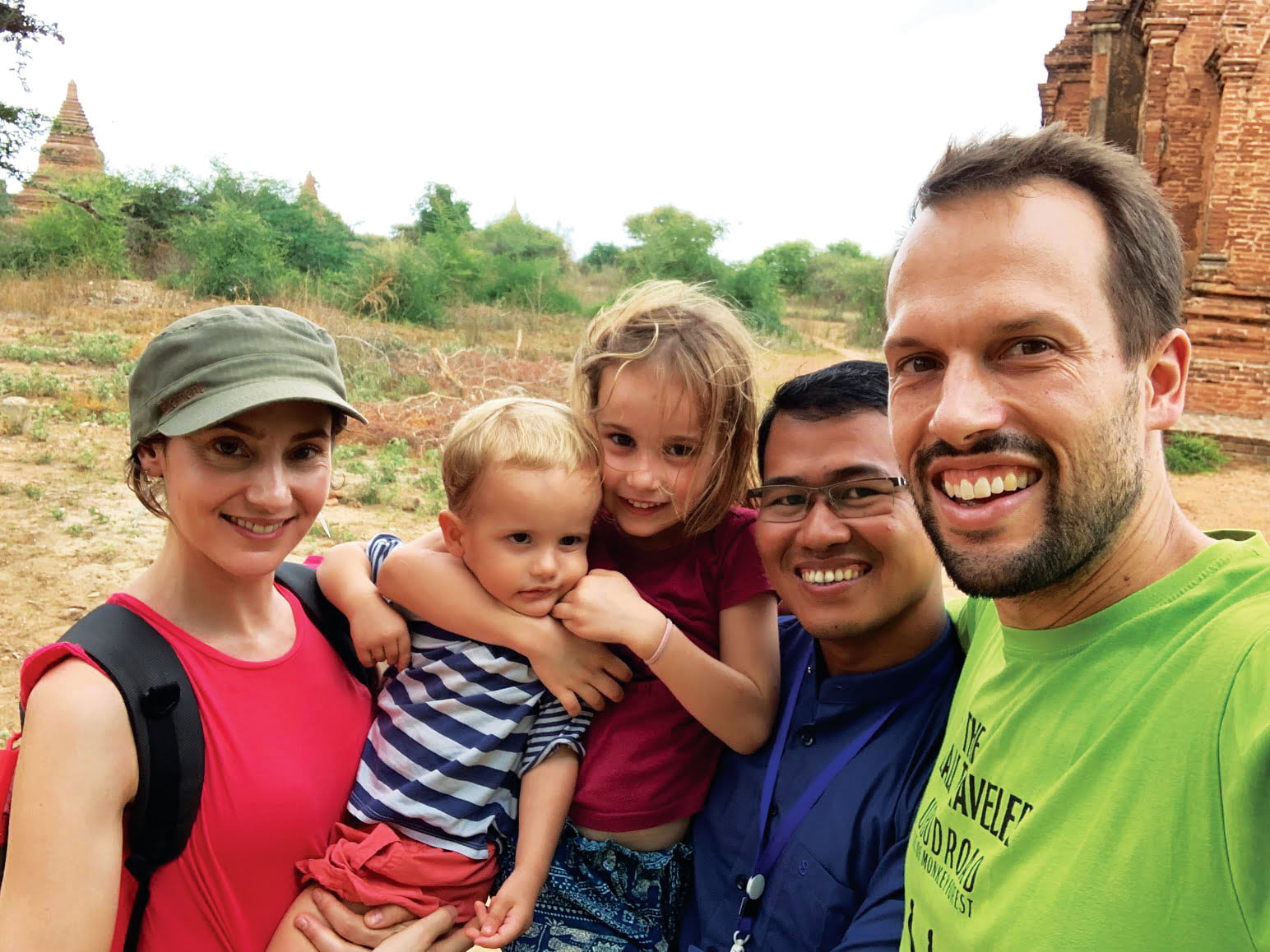 Living as expats in Singapore puts us in a wonderful position to easily explore Asia, without the cost and inconvenience of long flights. During our time here my wonderful wife Julia and I have explored some awesome off-the-beaten-track destinations, however none as unique and different as Myanmar.
We decided to brave Burma with our kids Miles (20 months) and Nina (5). To be truthful, every day brought a new tantrum, (sometimes several) however the challenge of travelling with kids in this newly accessible region was always compensated with the smiles and excited faces of the curious and friendly local people. It was more than worthwhile visiting this fascinating country.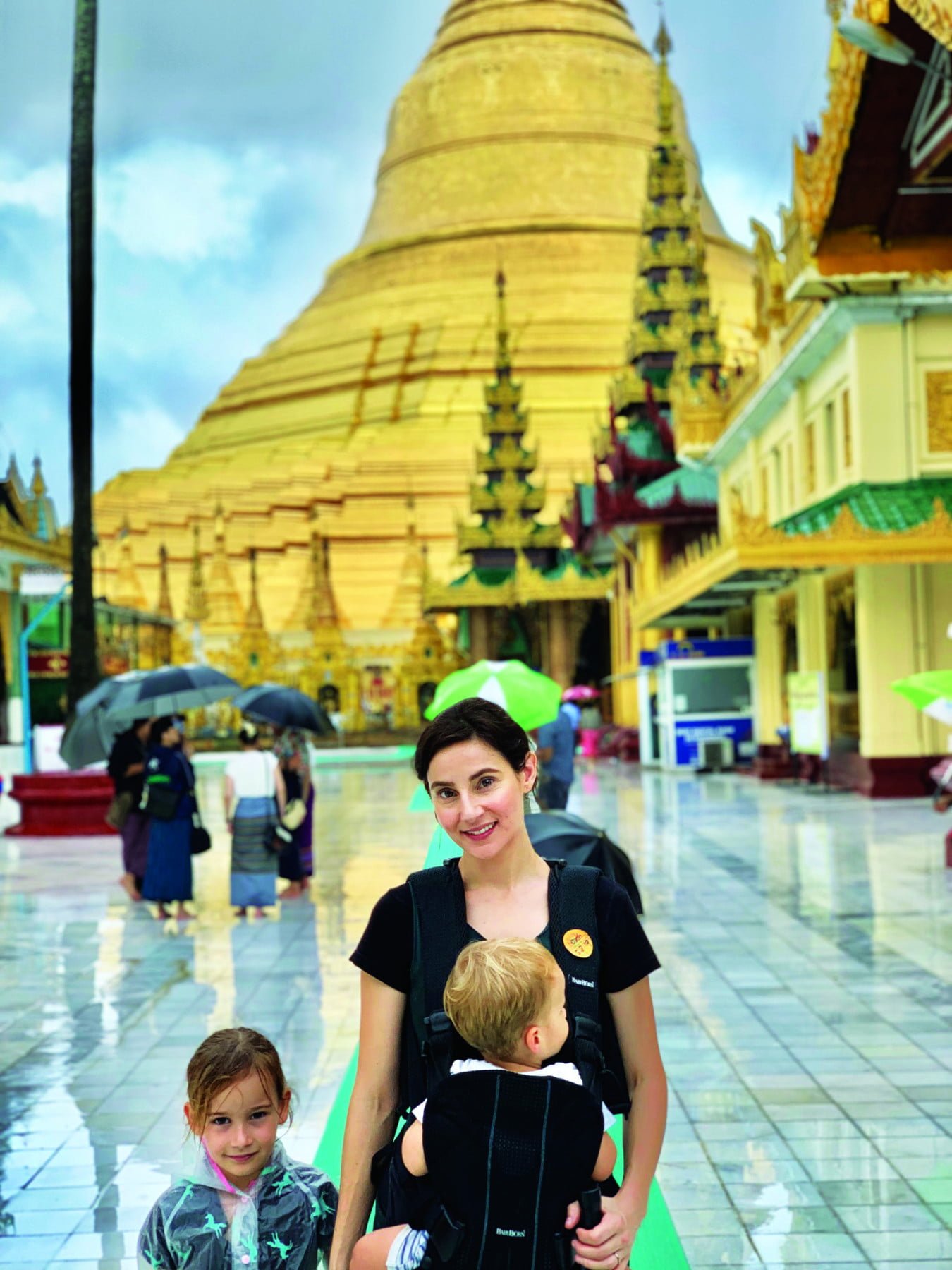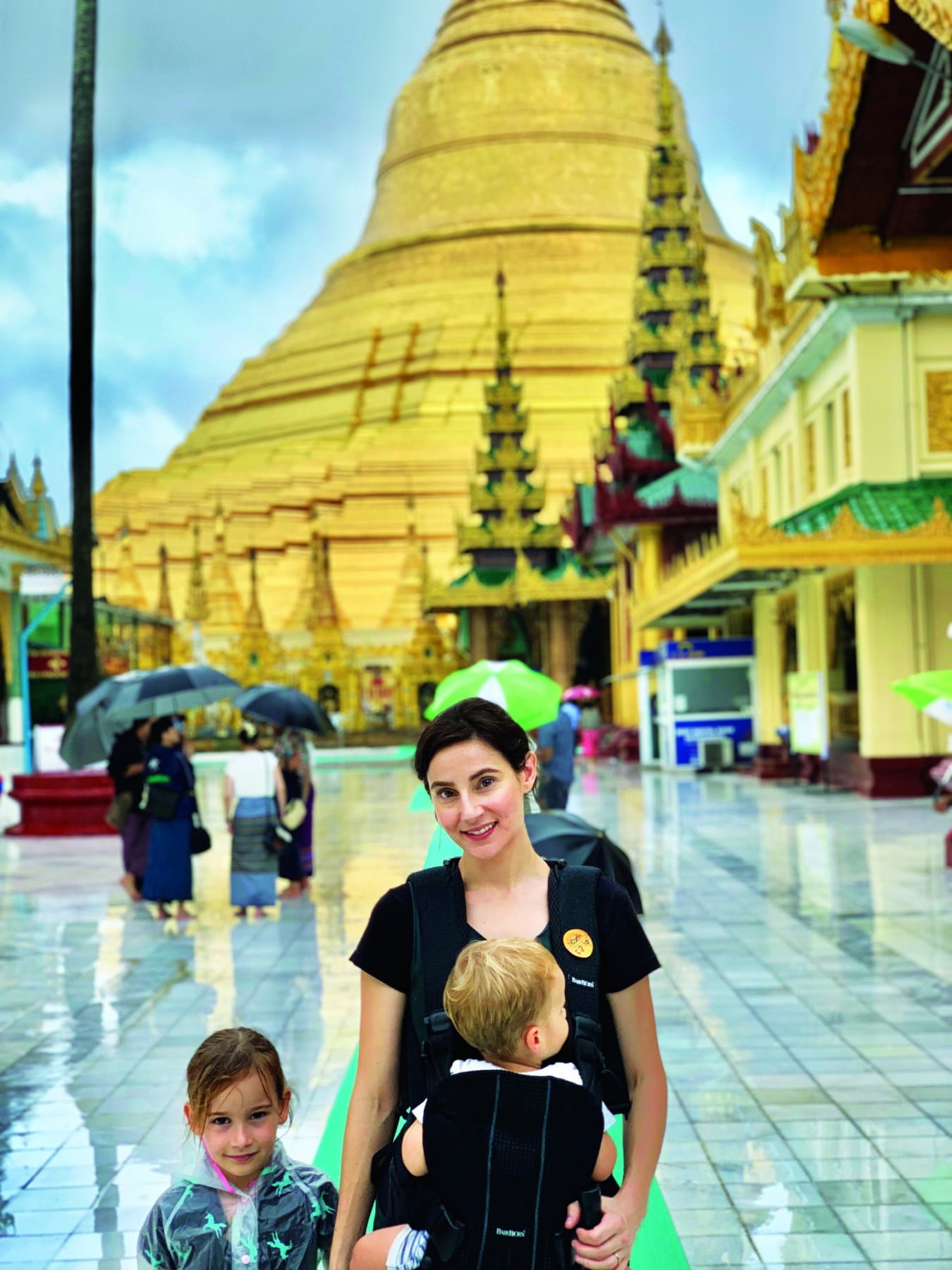 Our ten-day trip from Singapore to Myanmar commenced in the former capital known as Yangon. We travelled in the wet season, (May – early October), which is usually not recommended, but for the most part we didn't get rained out. Yangon is a busy Asian city, lined by the Yangon River on the west and the Bago River on the south and dotted with some wonderful parks, temples and history.
We stayed at the Savoy Hotel (savoy-myanmar.com), which originated as a lush private residence in the 1940's and now operates as a boutique heritage hotel. The courtyard had a wonderful French provincial feel to it and the interior was beautiful, with grand wooden staircases, antiques and other stylish fittings. Rooms were comfortable and staff very warm and friendly (like all Myanmar people really).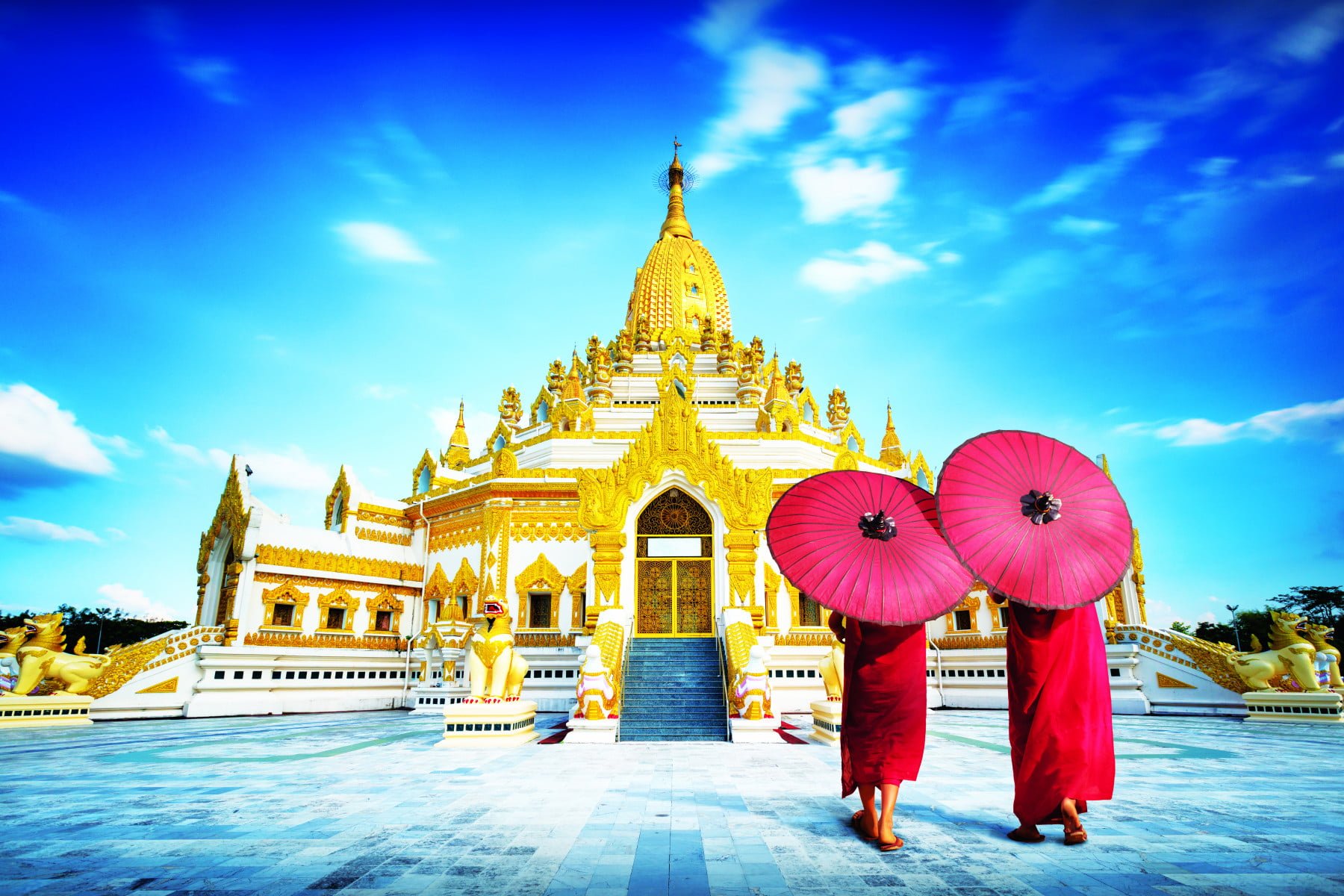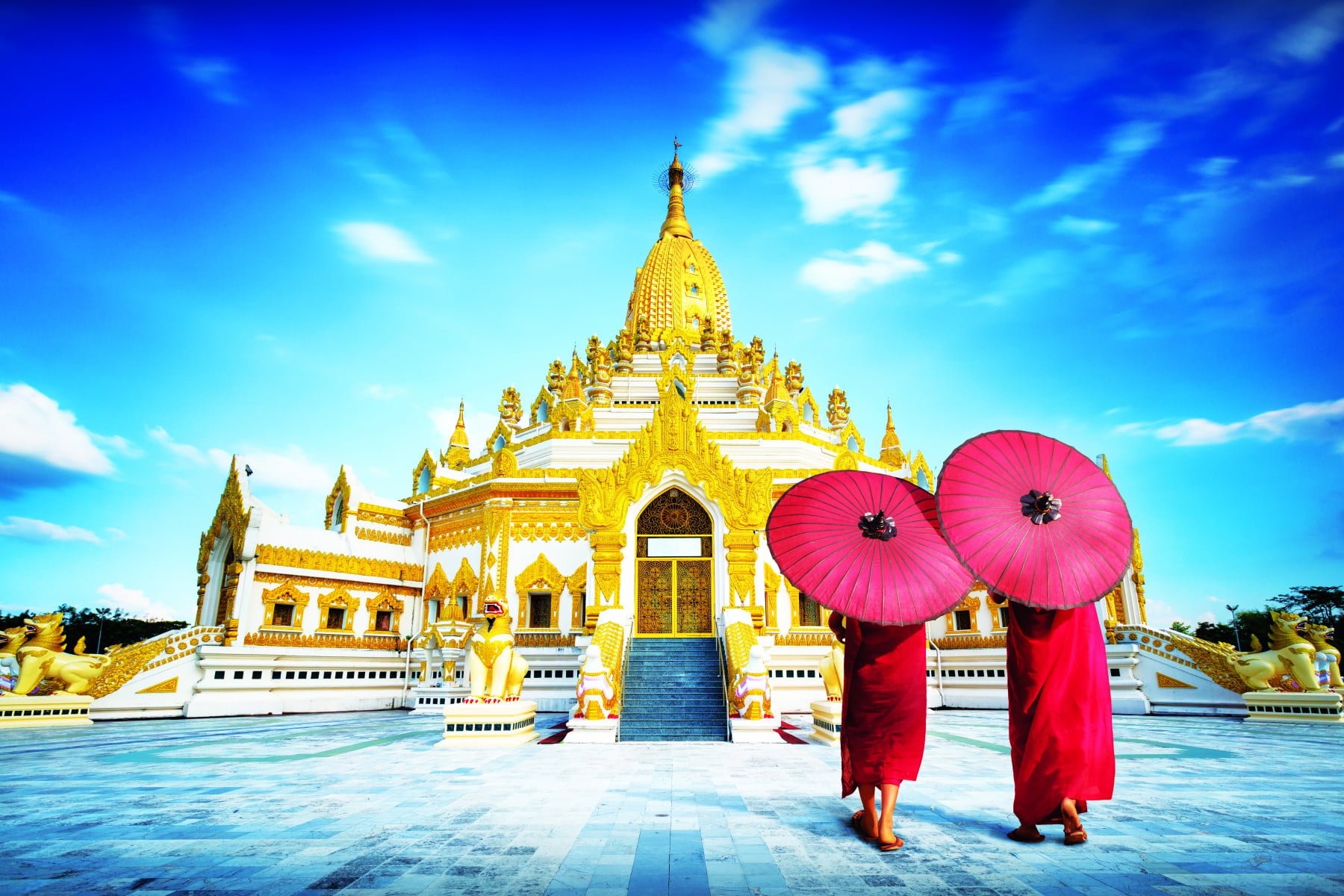 Ten minutes' drive from the hotel was the Shwedagon Pagoda – Yangon's most famous landmark. The imposing 99-metre high gold-plated pagoda is 2500 years old and boasts a diamond studded spire. Our adventures included a trip to the gilded pagoda, which had a beautiful, peaceful feeling to it, even with a one and five-year-old toddling around.
Also, on the agenda for Yangon was visiting colourful markets with a wide variety of unique trinkets and taking a walking food tour run by SaBa Street Food Tours (sabastreetfoodtours.com). Sa Ba is Burmese for "eat please" and the tour was fantastic fun. It covered the old district, including tasty sweet and savoury pastries from an ancient bakery, a guided walk through the wet market, traditional noodles cooked on coals, and spicy salads of broad beans and tea tree leaves. We also tried Mohinga, unofficially known as the traditional dish of Myanmar, consisting of rice noodles served in a hearty herbal fish and shallot-based broth. We all grew very fond of this and would snack on it regularly throughout the trip. The kids really enjoyed trying the different foods and believe it or not, no one got sick.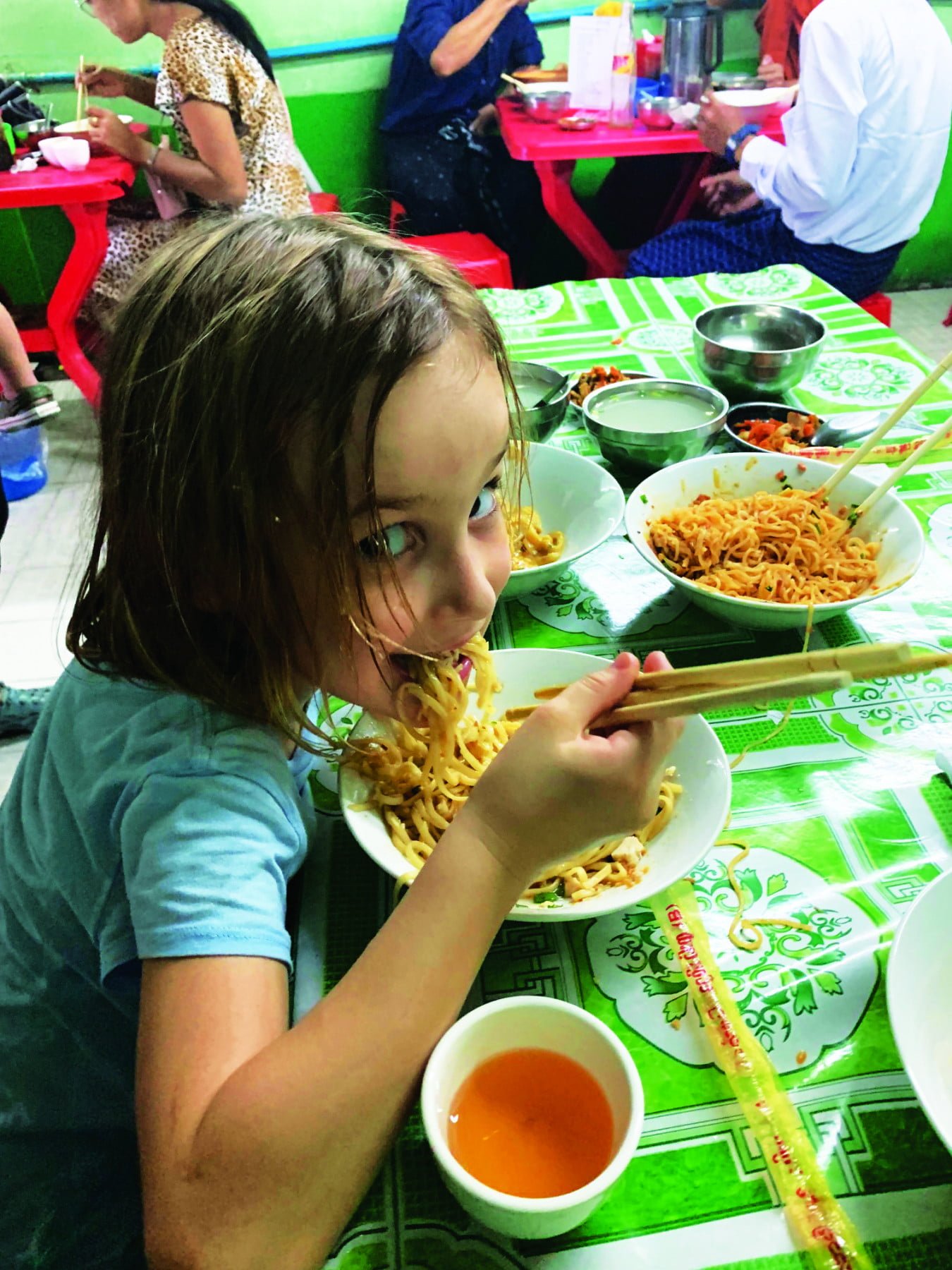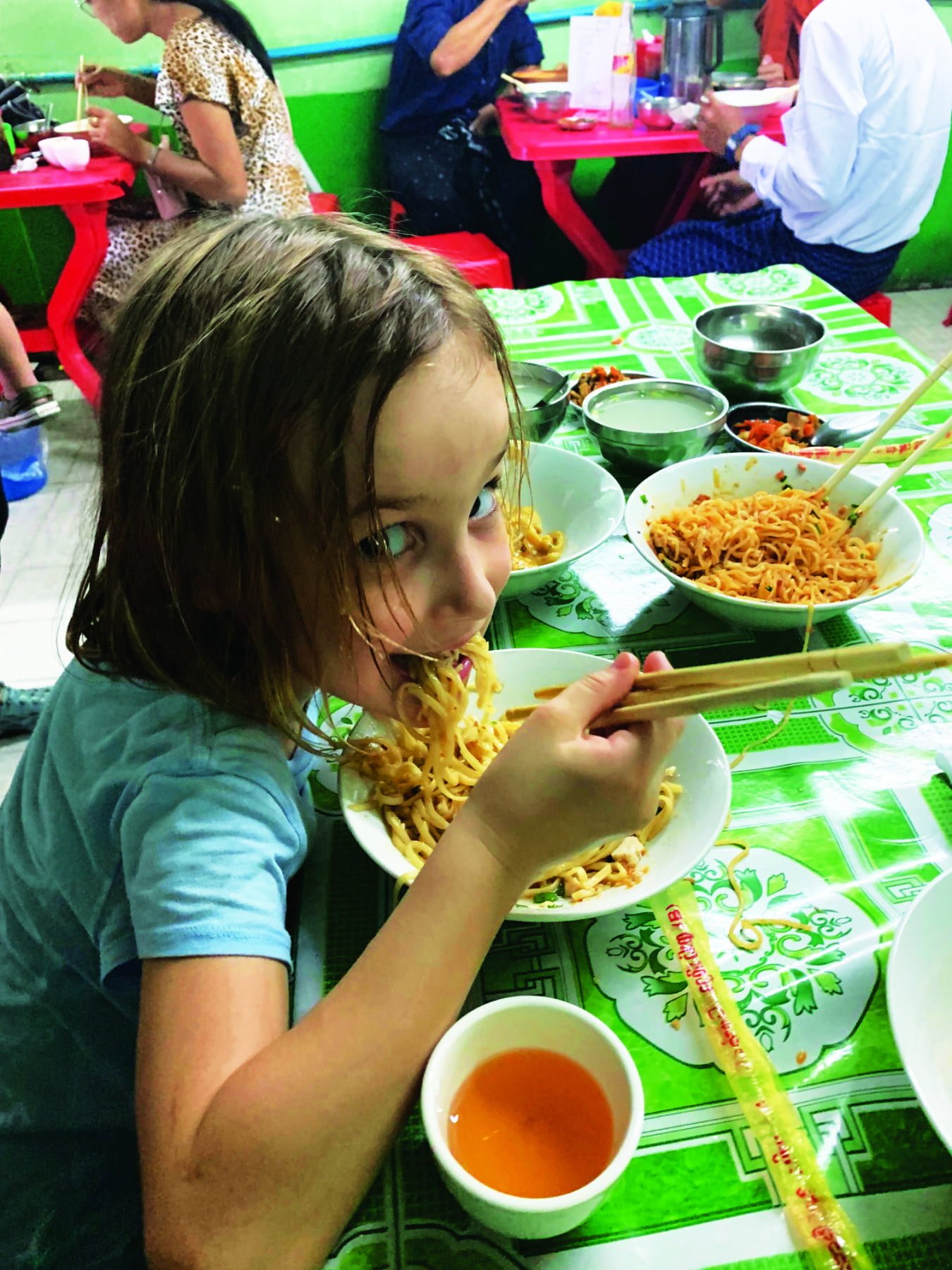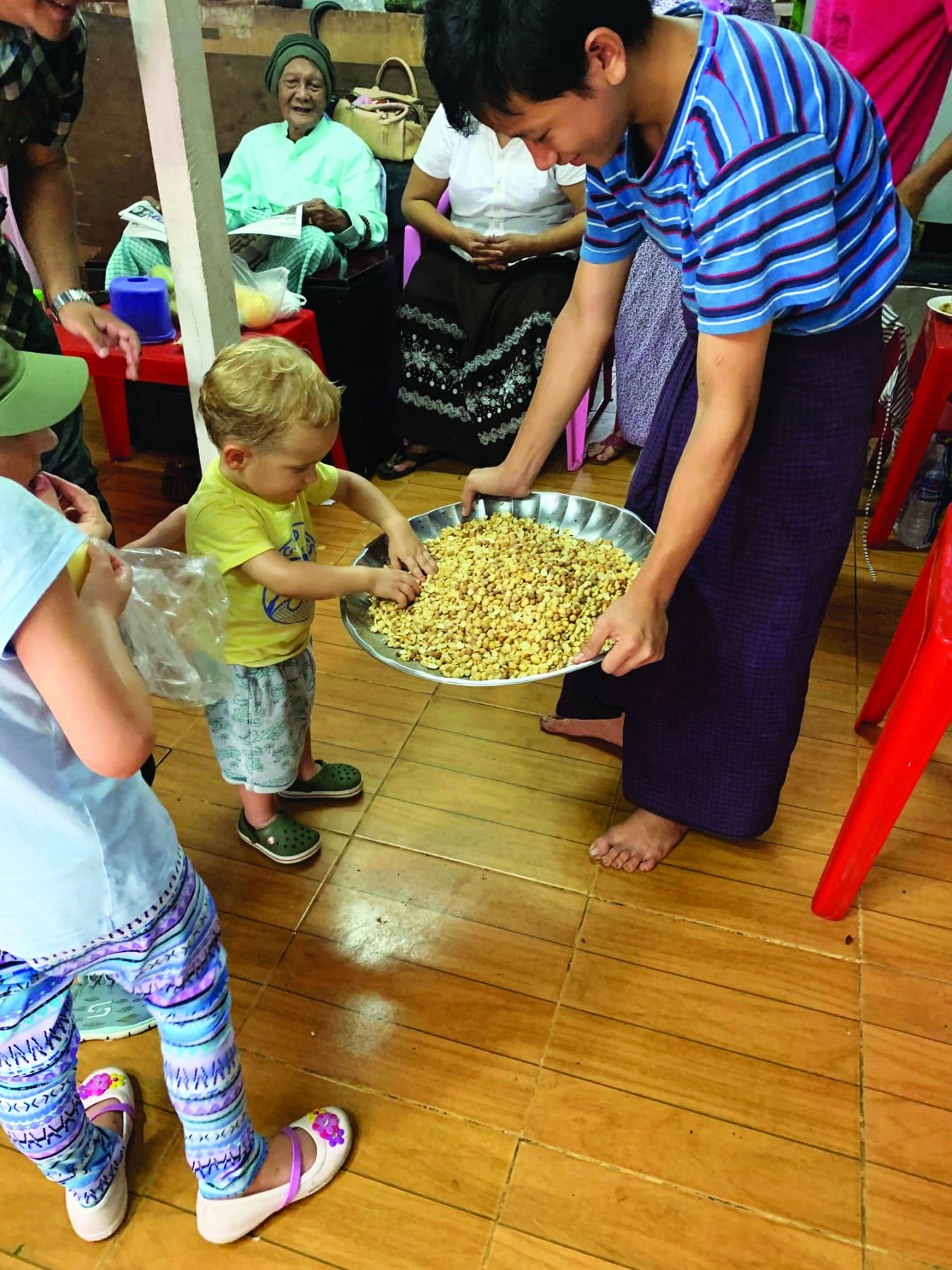 Following Yangon, we jumped in a turbo prop plane for a little over an hour and headed to Bagan, a spiritual centre for Myanmar, located centrally in a drier part of the country. The UNESCO World Heritage site is known for its stunning temples, constructed in the 11th – 13th century. Approximately 2,000 remain, rising majestically from the landscape.
You do get a little "over-templed" after a while, especially if you're travelling with young kids, but they're all fascinating. I would highly recommend getting a guide, as the history surrounding the old city is truly incredible. If our kids were a little older, I would happily listen to our guide all day.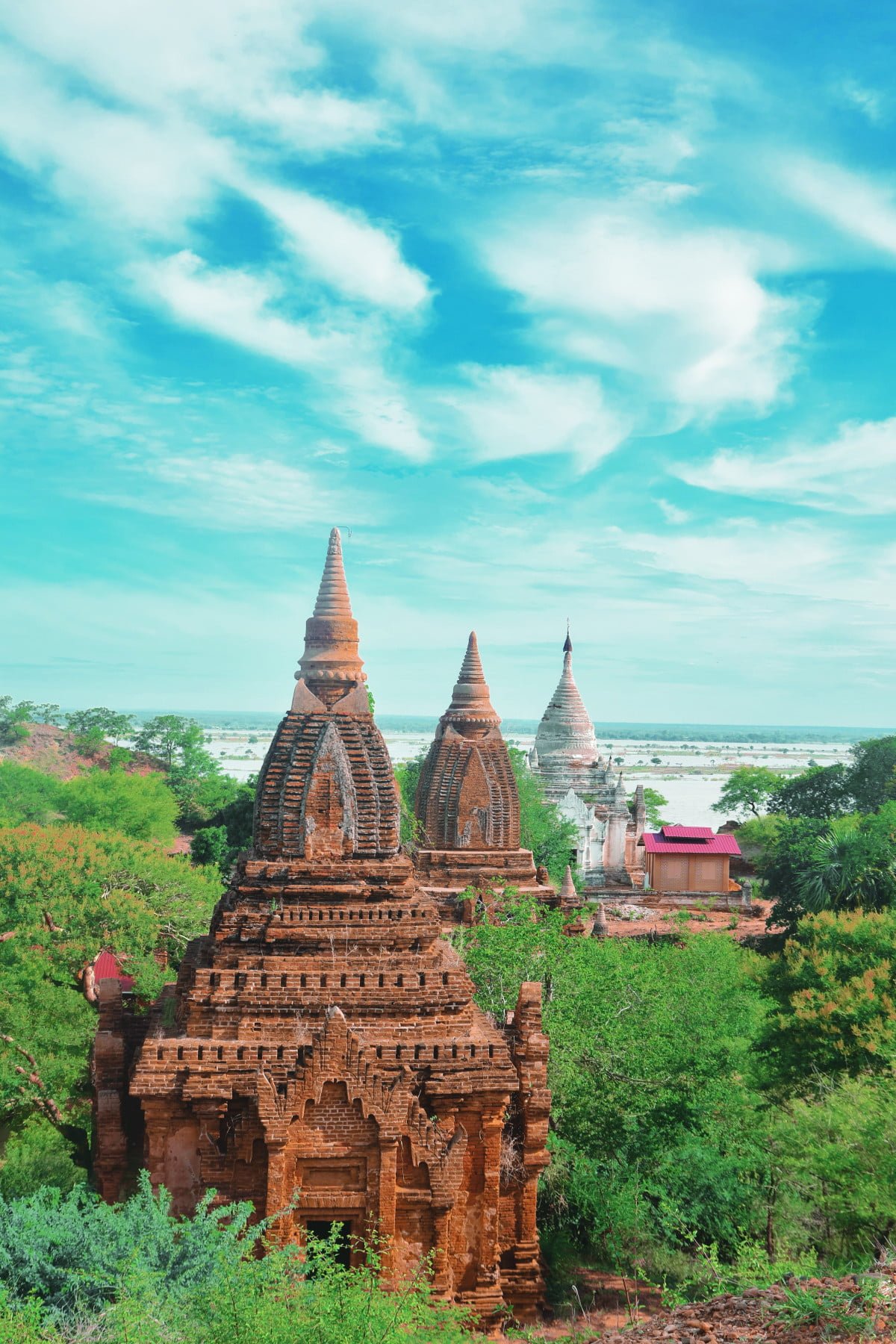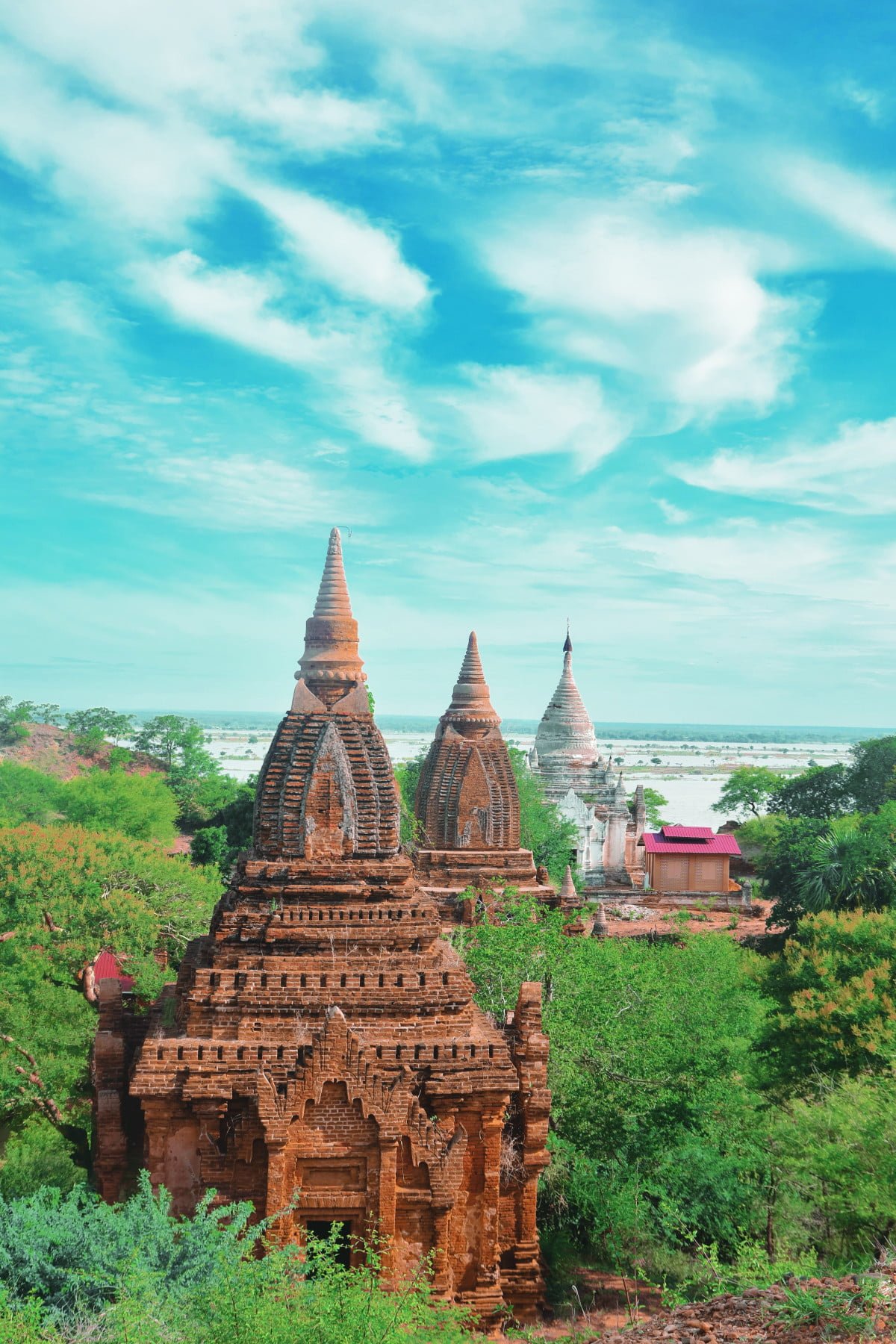 There are plenty of hotels in Bagan, but we chose The Hotel @ Tharabar Gare, (tharabargate.com) as it was right in the middle of the action. Our room overlooked the old town's walls, many temples were within a very short walk, and there was a lovely shaded swimming pool for the kids to splash around in and cool down.
We explored the temples in an airconditioned van at a reasonable rate, however in the evenings you could also jump on the back of a horse and cart. We did this at sunset, which was very special. There are also plenty of tuk tuk's around. During the months of October to April, you can ride a hot air balloon over the old town, which is supposed to be magical, if a little on the pricey side.
Our amazing guide Win and driver Coco also took us to some of the more famous temples, a very local wet market, and a monastery to watch the young novice monks have their only meal for the day, as we were educated about life growing up in the area. They were both very kind and gentle with our kids, including accommodating us when we needed a break and playing with them while we had lunch.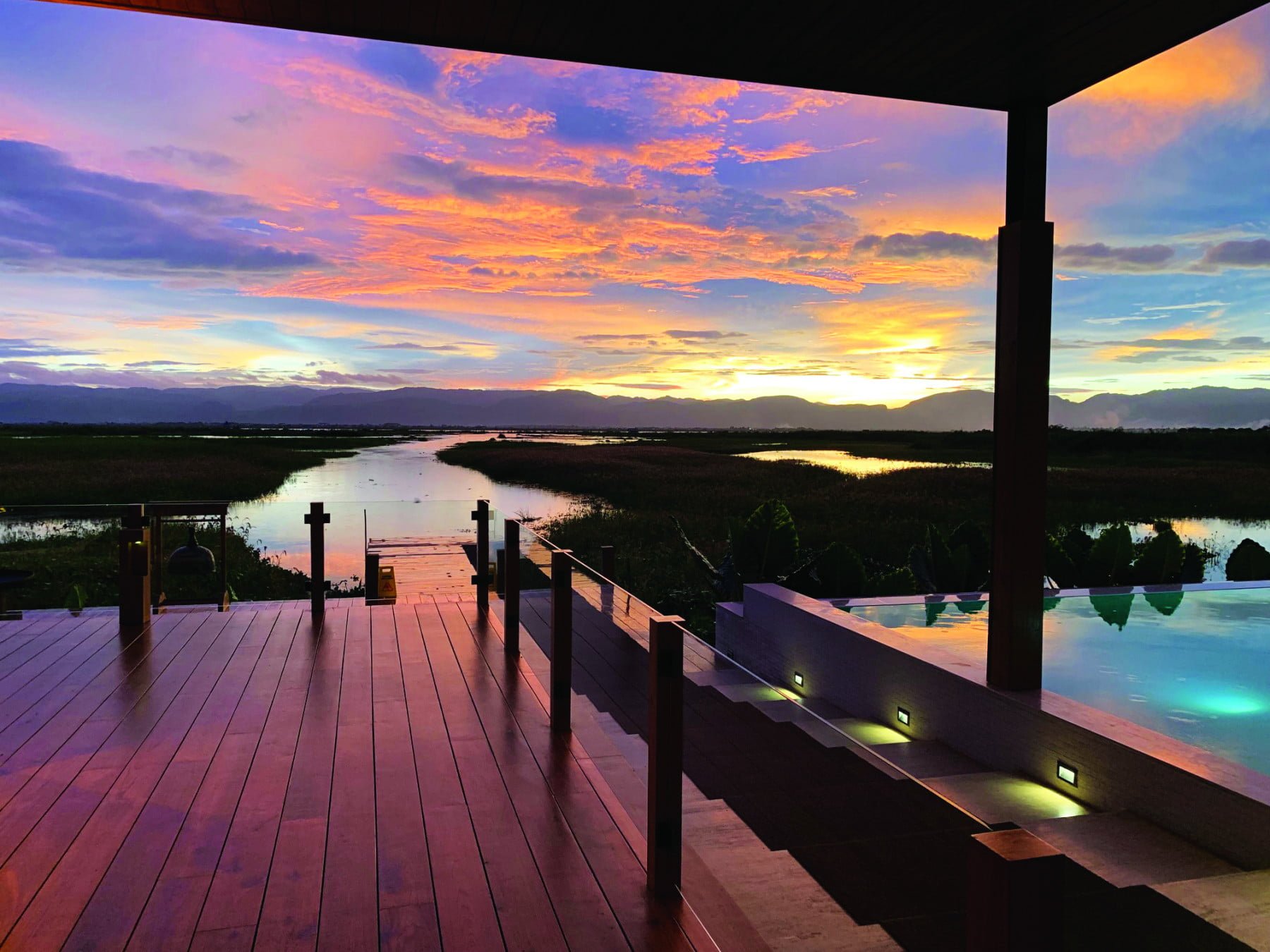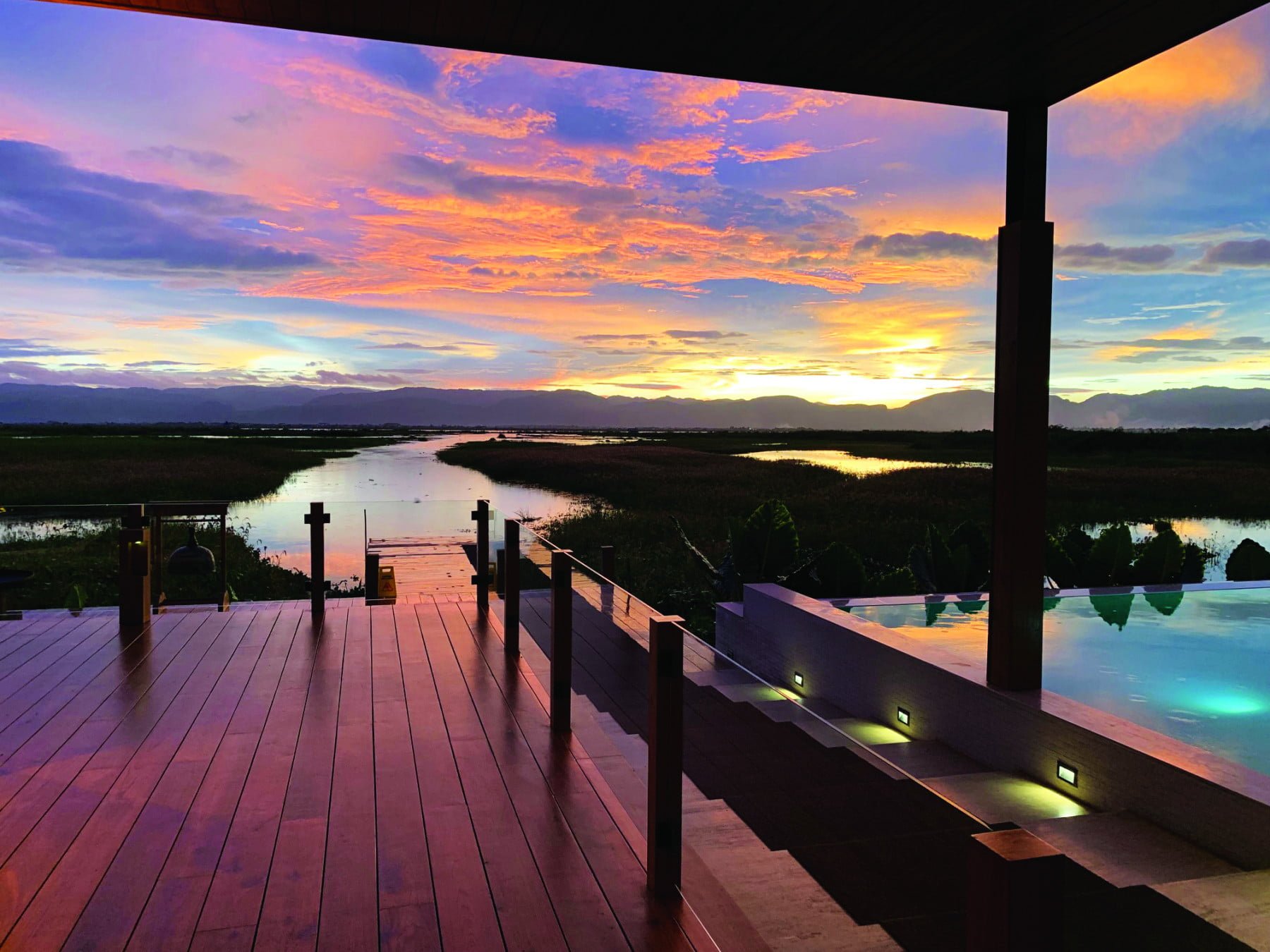 Our final destination was Inle Lake, the highlight of the trip. The 116km2 lake is home to around 150,000 people, many who live in stilt houses and farm on floating islands of vegetation. Tomatoes are the most farmed item, which results in around 90 tonnes of tomatoes a day, mostly for domestic use around Myanmar. The lake was very picturesque and well worth the additional 40 minute flight and 1.5-hour drive from the airport. We stayed at the brand-new, luxurious Sofitel Inle Lake Myat Min (sofitel.accor.com) for a reasonable rate. Our beautiful villa on stilts had a private balcony overlooking the lake – the sunsets were super special and the whole experience was one we won't forget.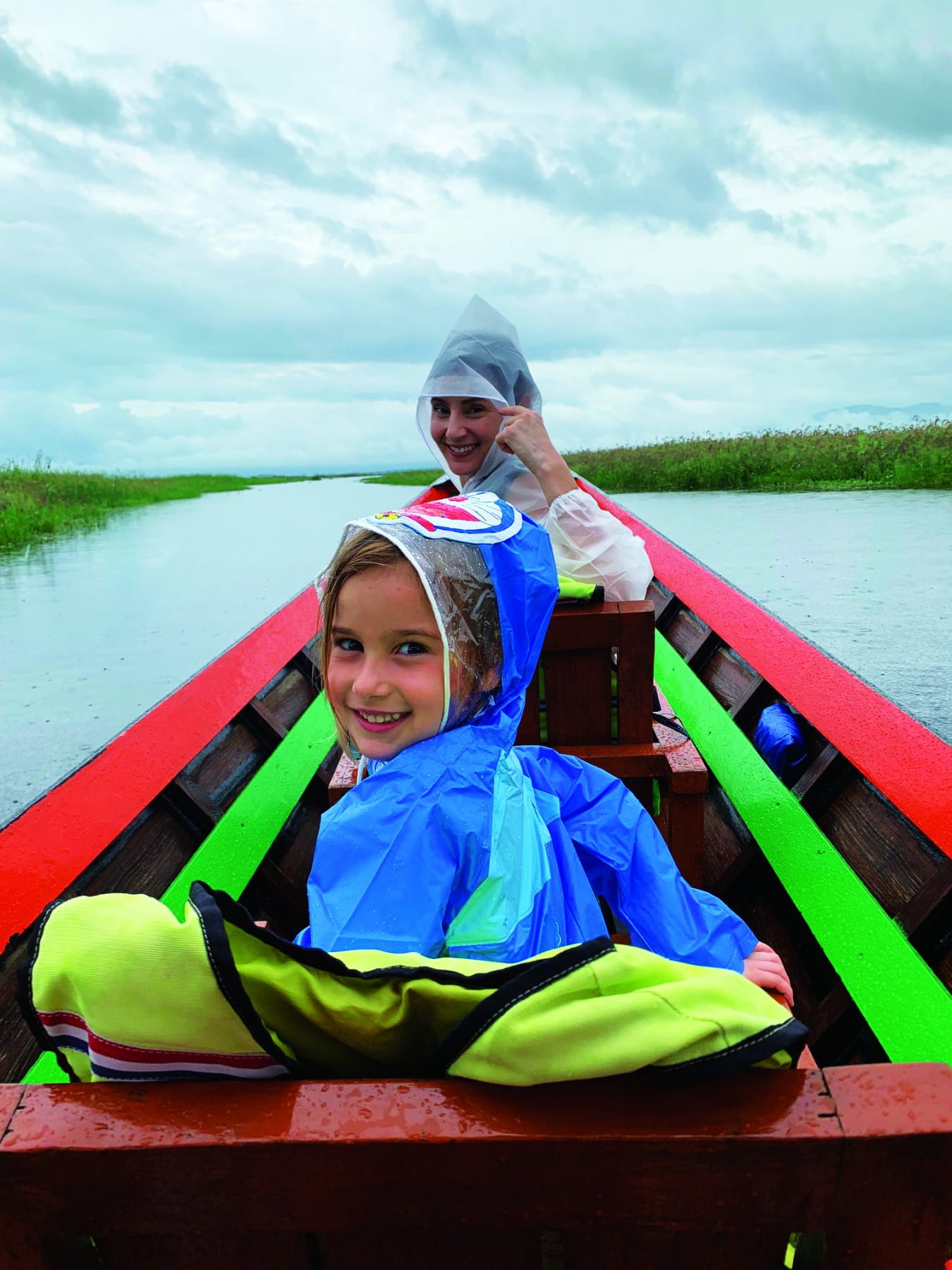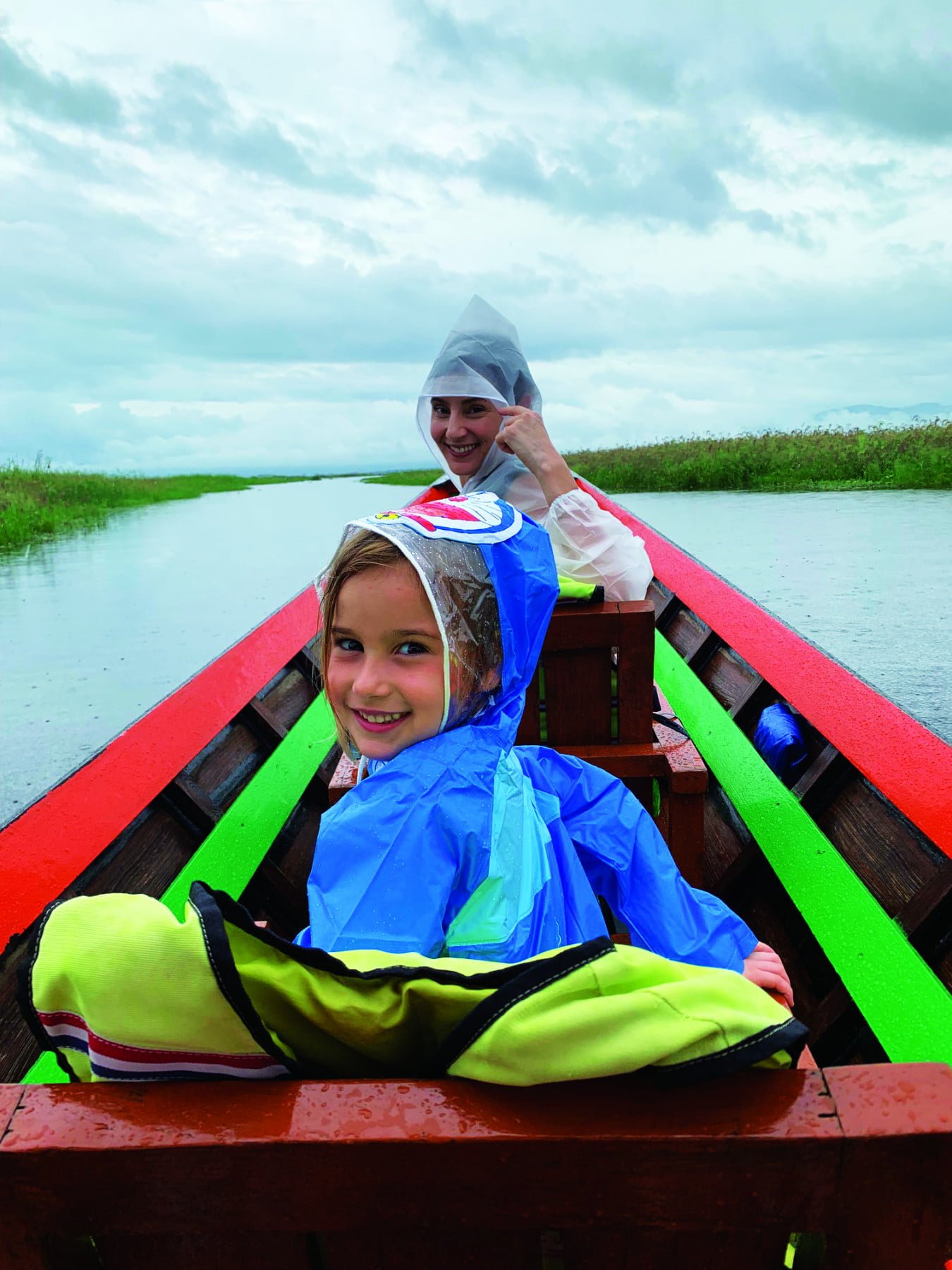 Travel around the lake is by long boat – drivers pick you up from the hotel's private jetty. We hired another guide with our own boat, which was very affordable, and visited more wet markets, temples, villages, traditional textile factories and floating farms. Life on the lake was calm, picturesque and very relaxing. All in all, we had a wonderful time and would highly recommend visiting Myanmar before it gets too commercialised!