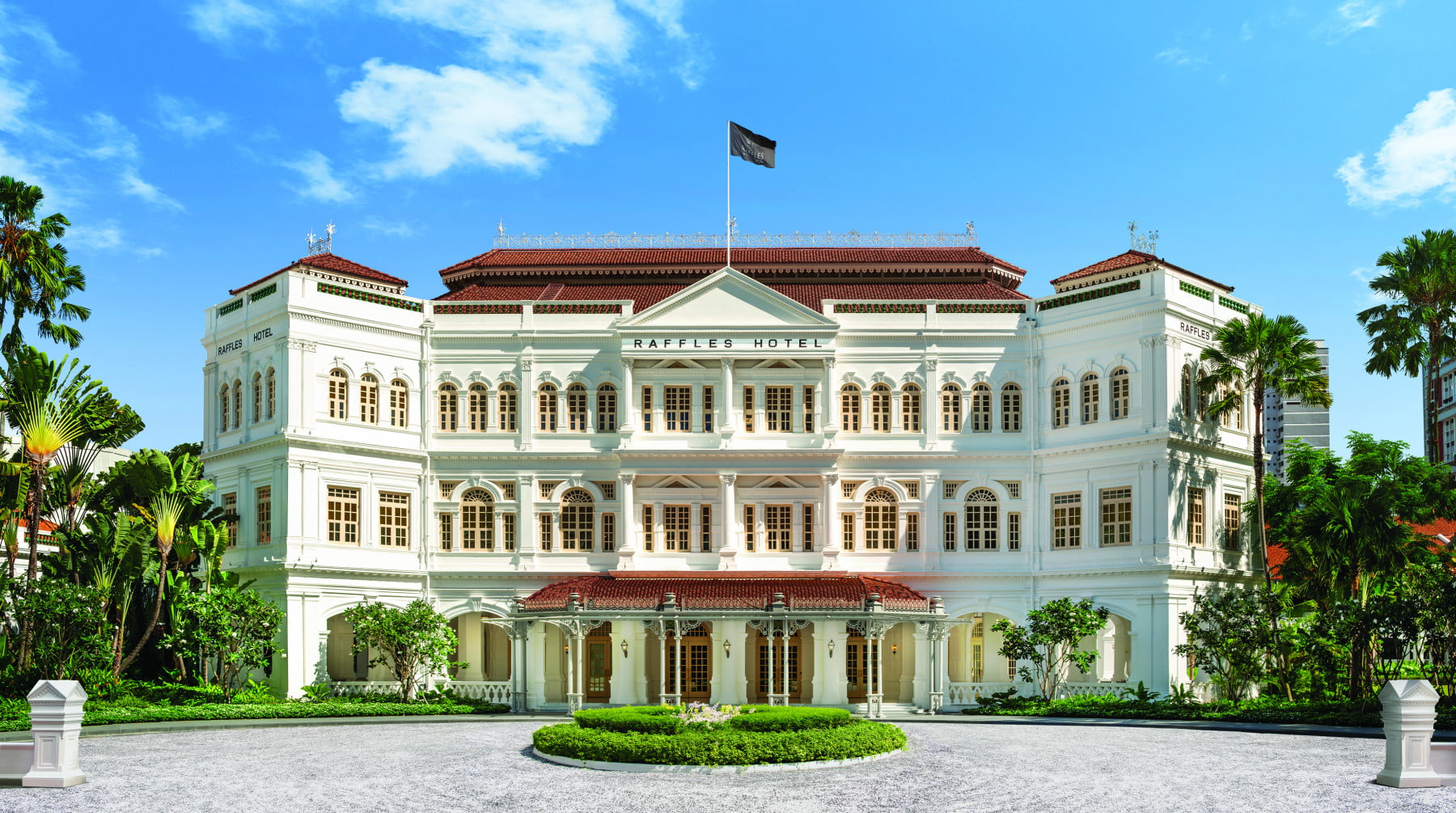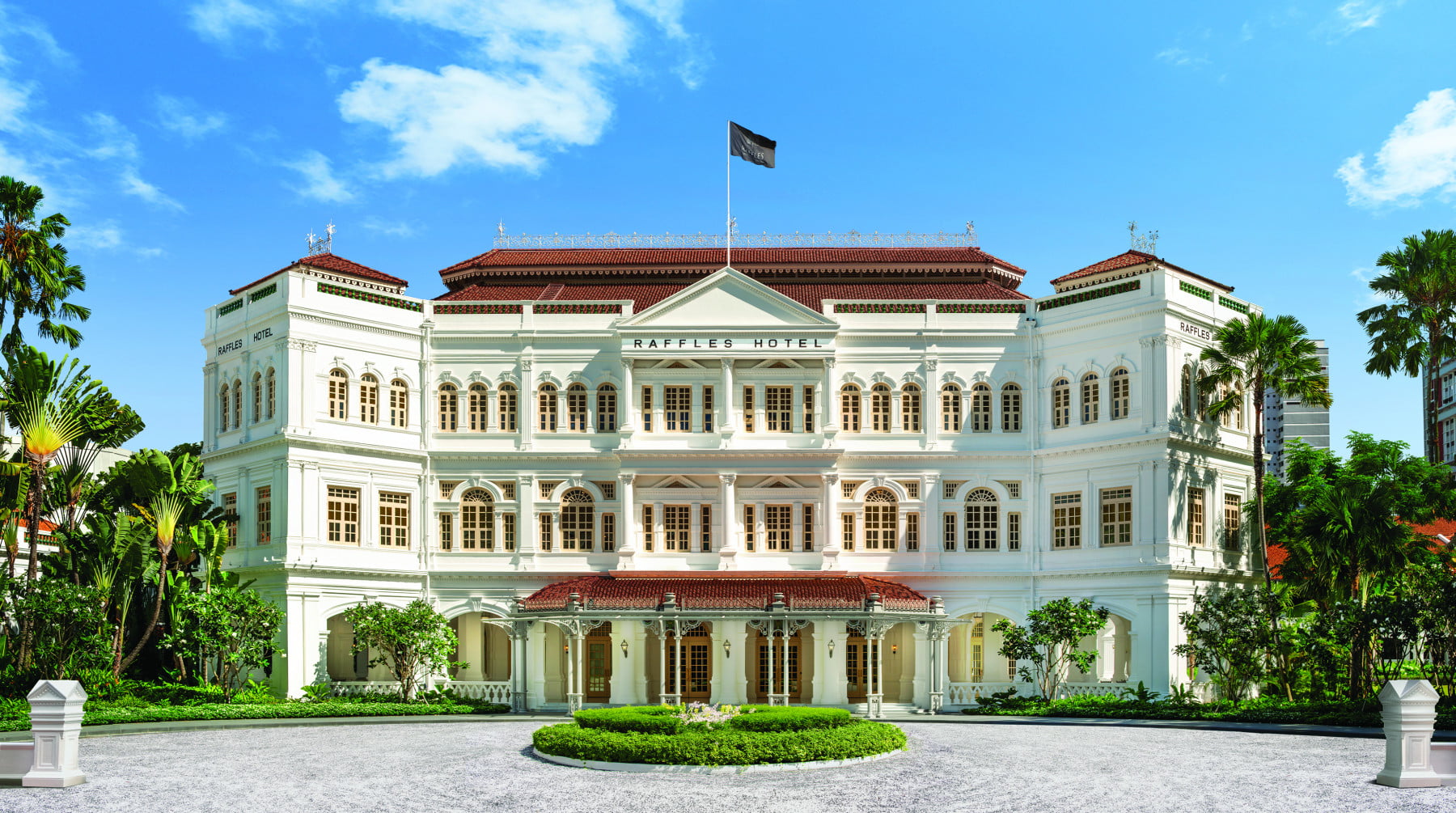 It's high on most people's ultimate bucket lists: spend a night at the elegant Raffles Singapore. With our family postponing overseas travel plans due to Covid-19, there was no better time to tick the Grand Old Dame off mine. The heritage hotel has recently emerged from a meticulous two-year renovation, overhauling its guest rooms and public spaces. While retaining all its heritage charm, the designers have managed to bring modern flair and new energy to the 133-year-old building.
Arriving in the circular stone driveway and walking the Raffles red carpet, our overnight bags are swept away by a white suited doorman. The care and attention to detail of the restoration is immediately apparent. An oversized chandelier hangs high above the expanded Grand Lobby – its 8,142 twinkling crystals a mere centrepiece for the towering ceiling and grand double staircase.
Opened in 1887, Raffles Singapore is one of the great 19th century hotels in the world and it's rightly proud of its long history and 'A List' guest roll. We're given a Raffles Butler for the duration of our stay, and he escorts us to our personality suite in the Palm Court wing, overlooking an expansive lawn and manicured tropical gardens.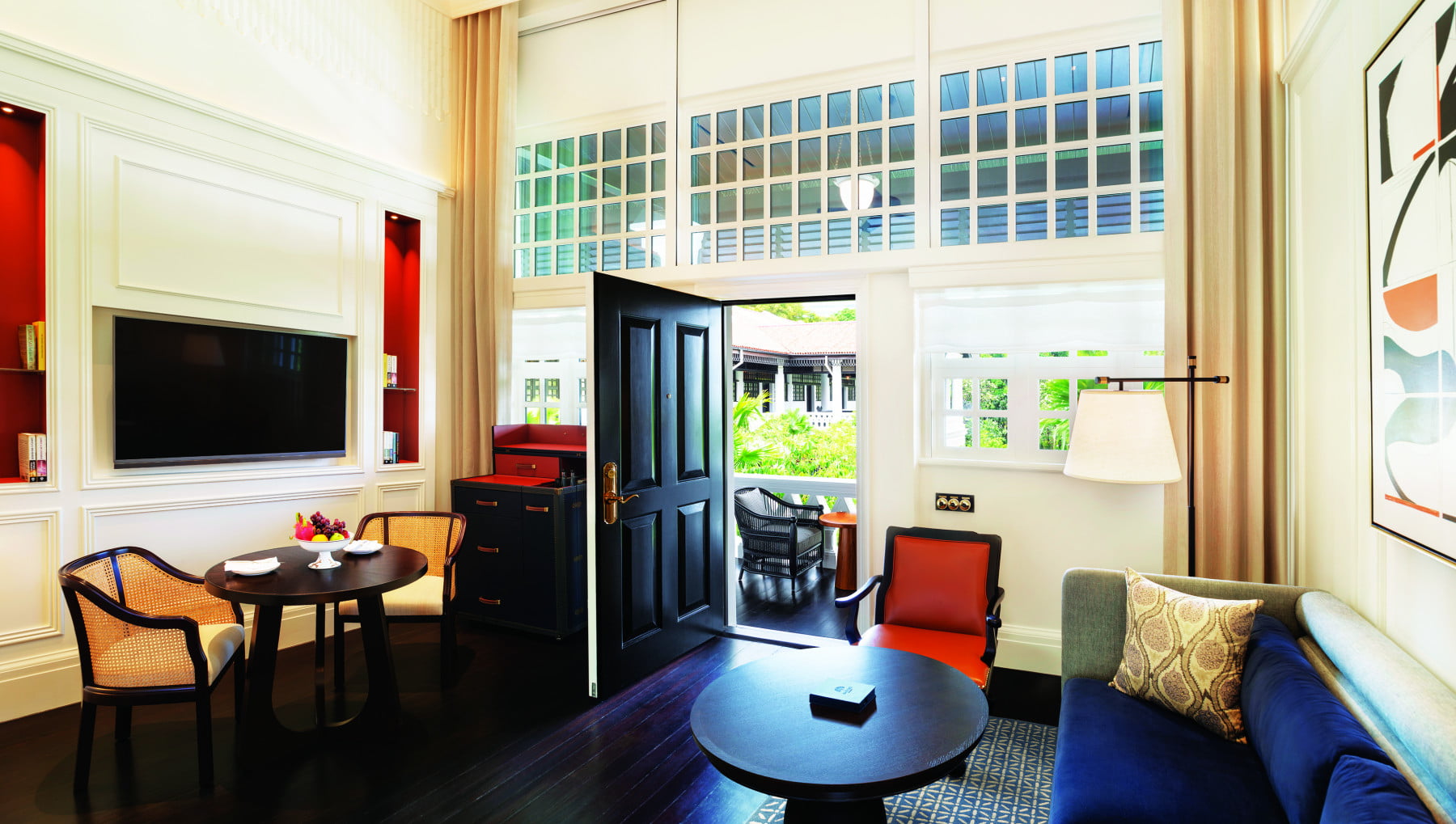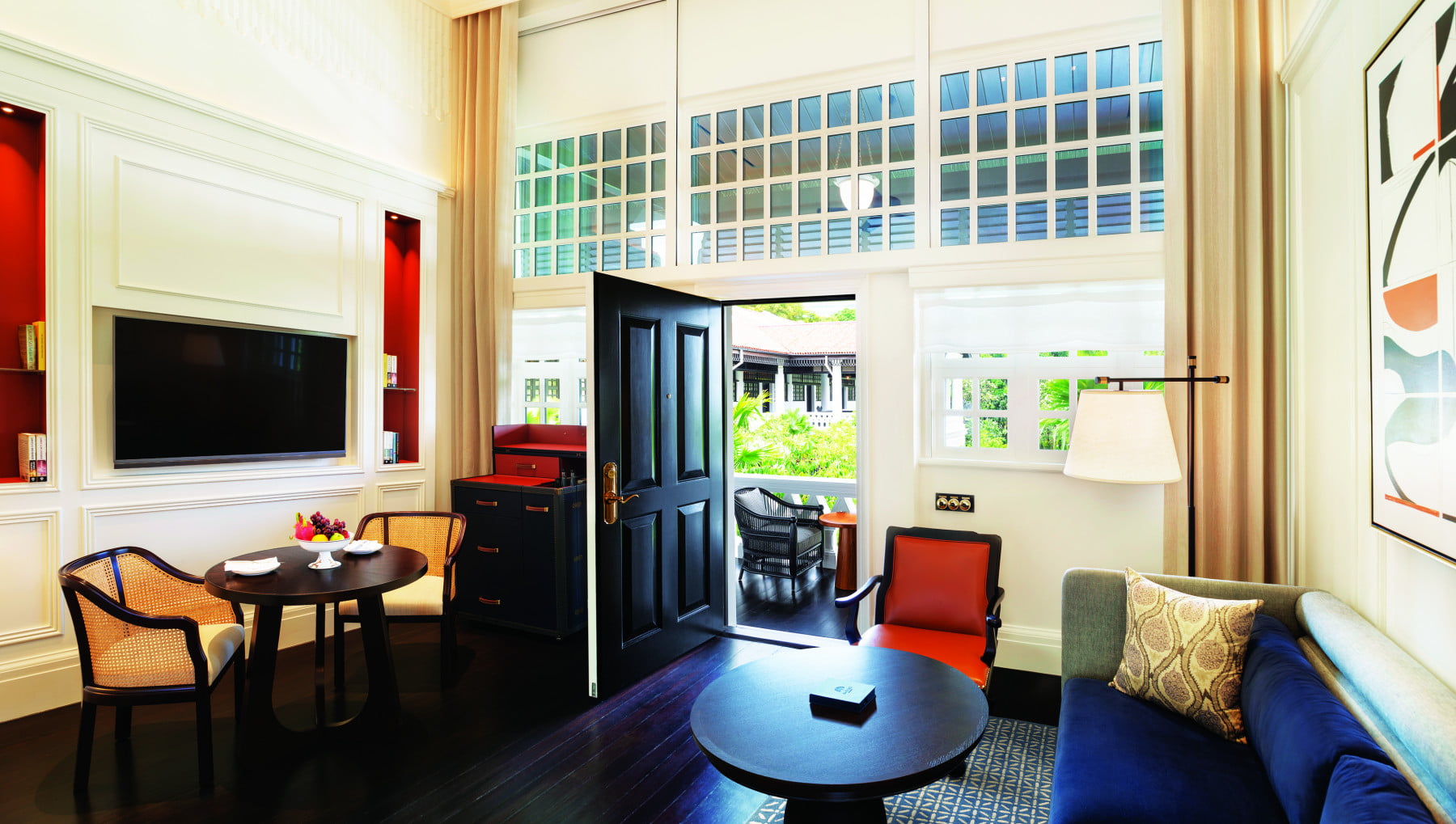 Personality Suites
We've been upgraded to the James Michener, one of 12 suites which pay tribute to renowned guests who have visited Raffles over the last century, including Charlie Chaplin, Elizabeth Taylor and Somerset Maugham. We discover more about the debonair Michener, who penned more than 40 books, including Tales of the South Pacific. "To have been young and had a room at Raffles was life at its best," said Michener, who became a regular guest after his first visit in 1949. Being so close to literary greatness inspires me to get back to my neglected novel. But first, I have a staycation to attend to…
The three-room suite is both a time capsule, and a tech wonder. Overhead fans, a four-poster bed, laden bookshelves, wooden floorboards and a deep bathtub combine with an iPad which controls every feature of the space. A finger tap on the screen can turn on and off TV's, lights and air con. It's a feature my 10-year-old finds endlessly fascinating! She also appreciates the unlimited free snacks and soft drinks in the mini bar.
Before we explore the hotel, my butler has arranged a visit to the new Raffles Spa. He accompanies me to the appointment, located in the Raffles Arcade, dropping me safely with the welcoming staff for a 60-minute Absolute Relaxation treatment. The glorious full body massage turns me from tense to liquid jelly. I float from the treatment rooms to the plush lounge for cut tropical fruit and herbal tea, followed by a dip in the hot pool. I would stay for a few hours and soak up the wellness vibes, but I have a dinner date waiting.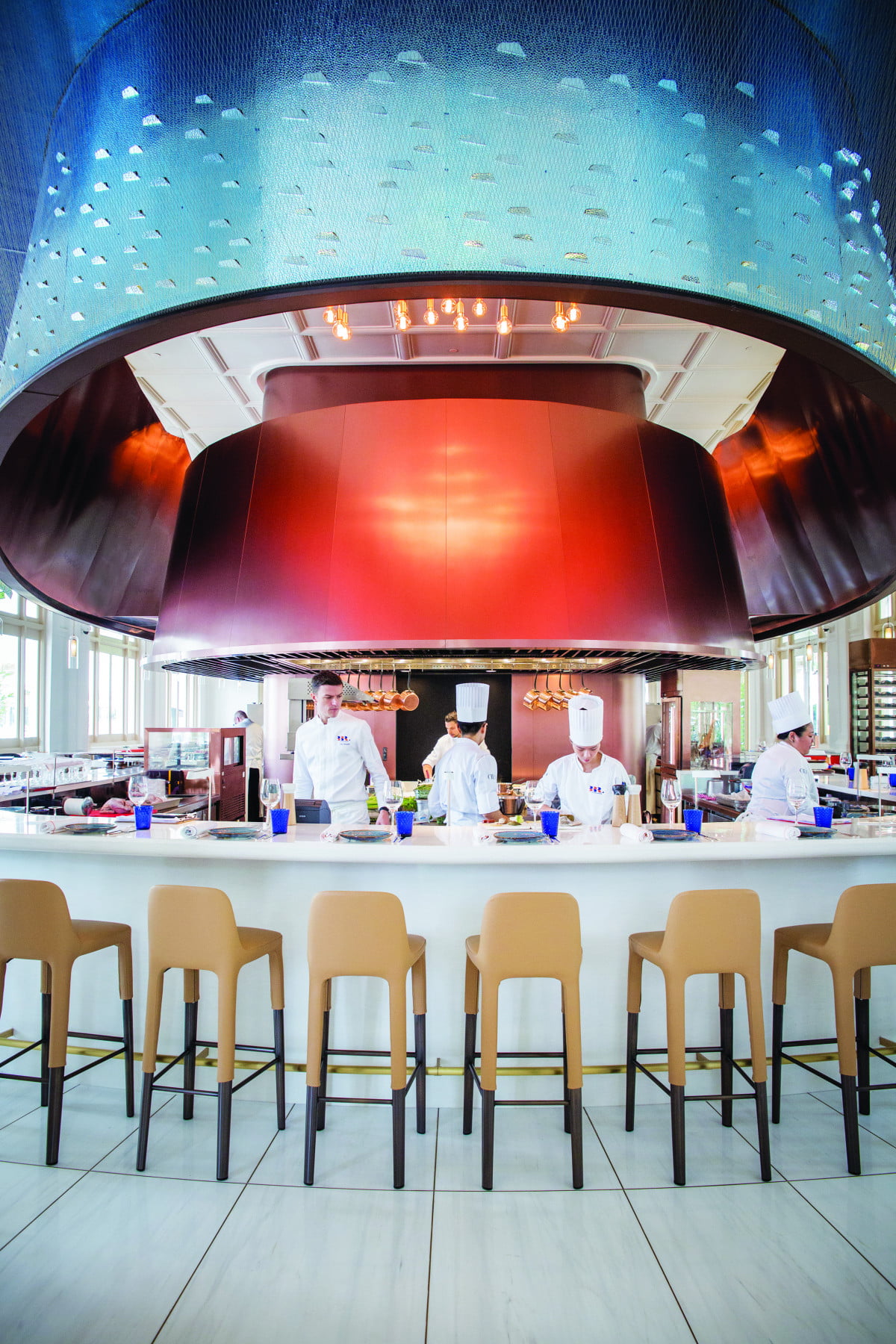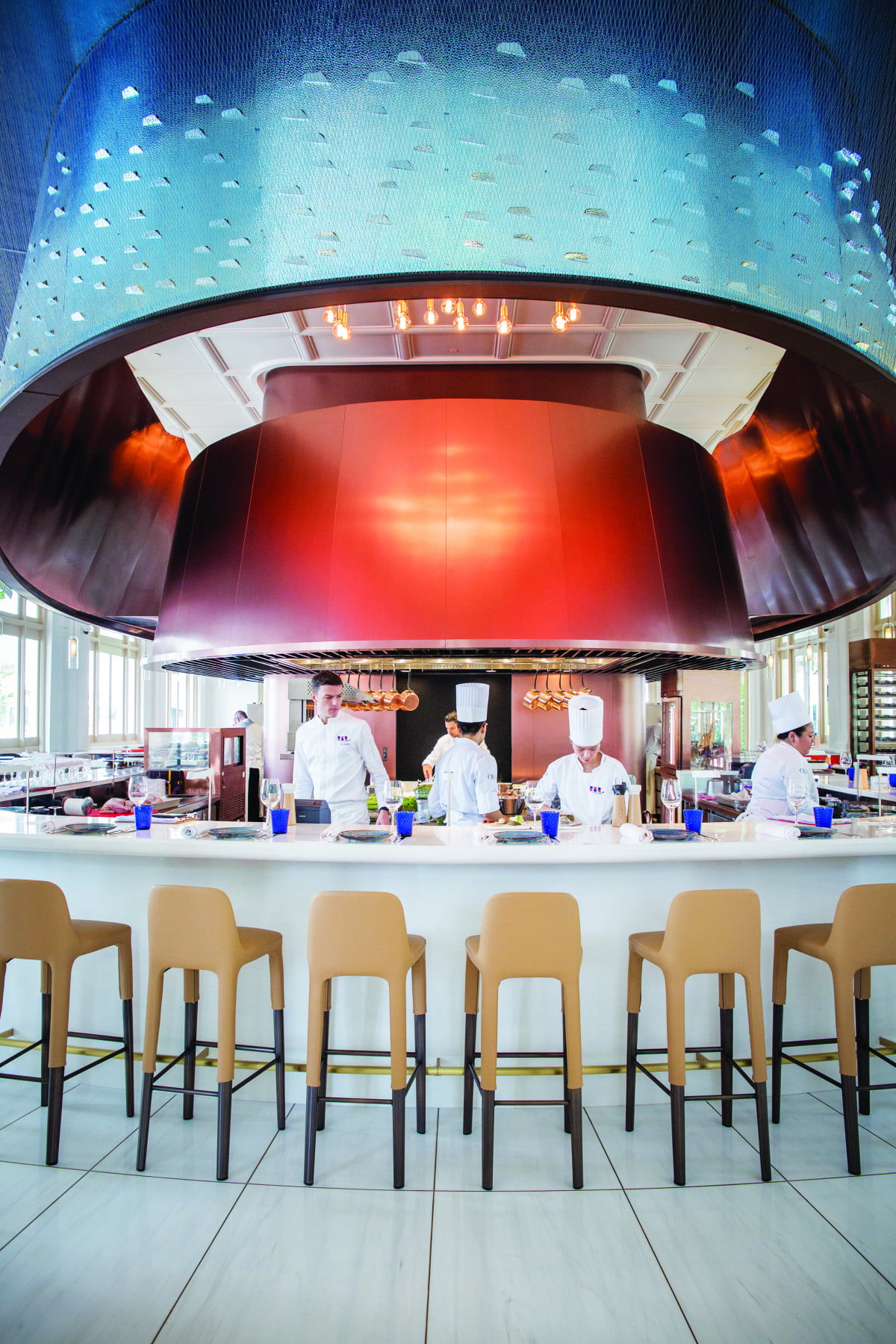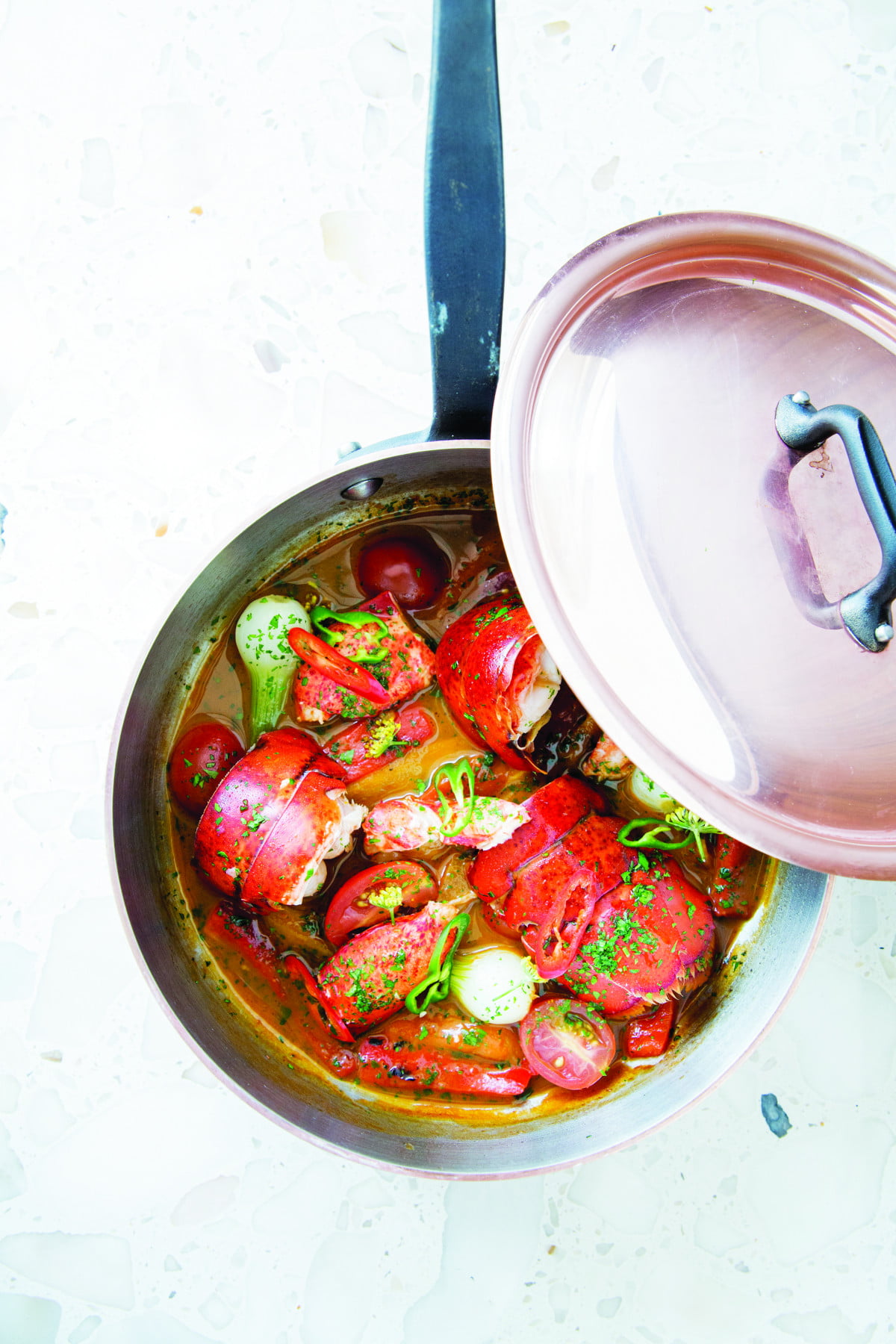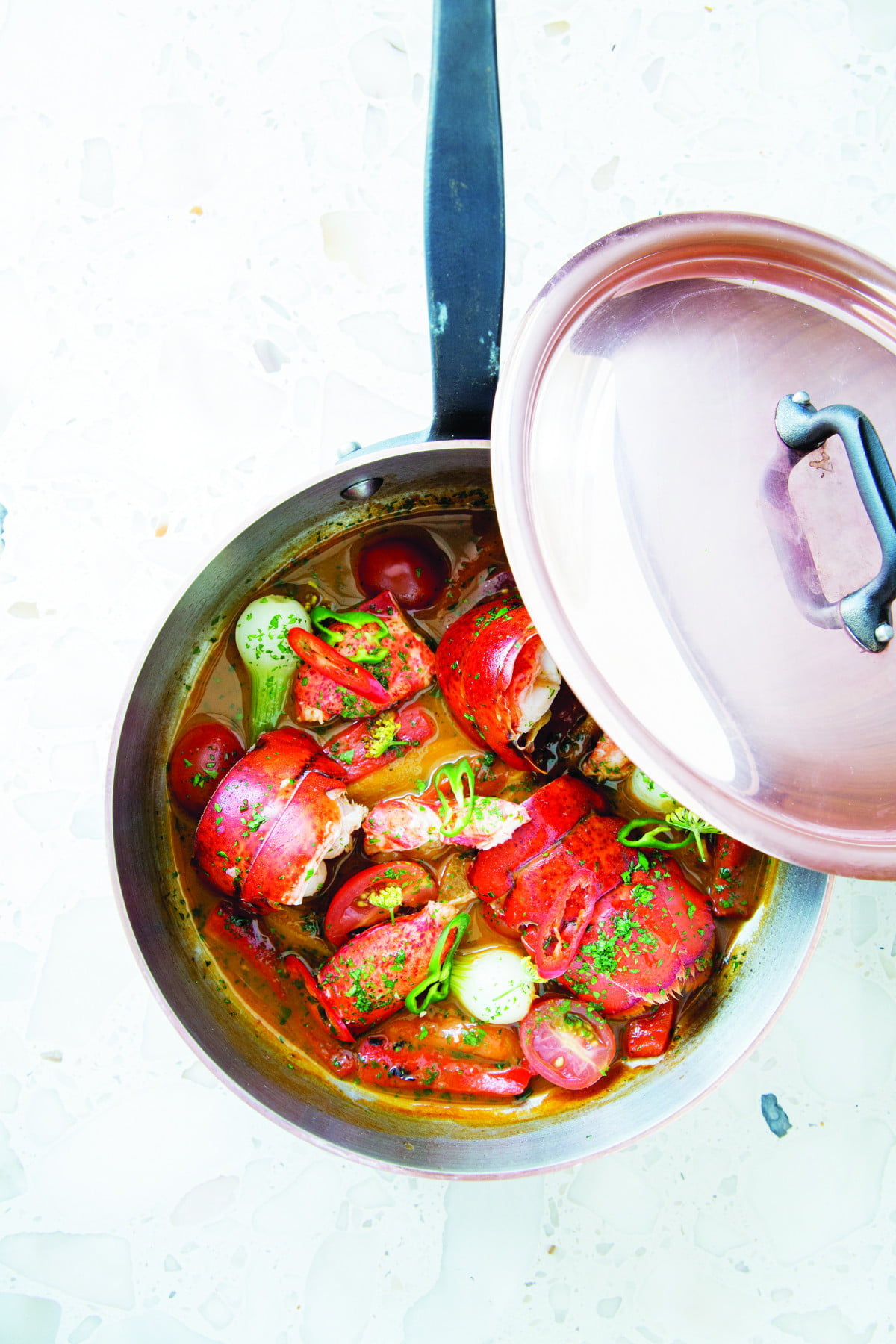 Drinking and Dining
What was formerly the Bar & Billiard Room has been transformed into a hip restaurant and bar – BBR by Alain Ducasse. Helmed by the celebrated chef, the vibe is chic and relaxed, with splashes of burnt orange tones, a vibrant open kitchen and separate bar and alfresco terrace. Every Monday to Friday from 5-9pm BBR bar celebrates the tradition of the Italian Aperitivo and offers $18++ Italian cocktails and complimentary tapas bites. I order the Fruit of Summer – Botanist gin infused with kusmi tea, tawny port and fresh lemon juice. It tastes of summer, with hints of rose and citrus freshness. My husband goes for the classic Negroni – gin, Campari and Mancini Rosso, served over a branded ice block. We nibble moreish Spanish tortilla and tender paprika spiced octopus but save room for the main event in the impressive main restaurant.
Our host recommends sharing a few dishes from the Mediterranean-influenced menu. We start with two forks and a house made gnocchi with delicate truffle shavings. The server also suggests, ever so politely, that we use the fresh table bread to mop up the juices left on the plate. So, we do! The bread comes in handy for our mains – a lobster, sweet bell pepper and tomato bisque ($72) and juicy pork chop with olives ($88) – accompanied by a light chianti. We finish with Churros Con Chocolate ($9) – fluffy doughnut bites, dusted in cinnamon and dunked in rich, nutty chocolate dipping sauce. They are the best churros we have ever tasted. After dinner we walk past the Bustling Long Bar but alas, we can't fit in another thing – not even a famous Singapore Sling!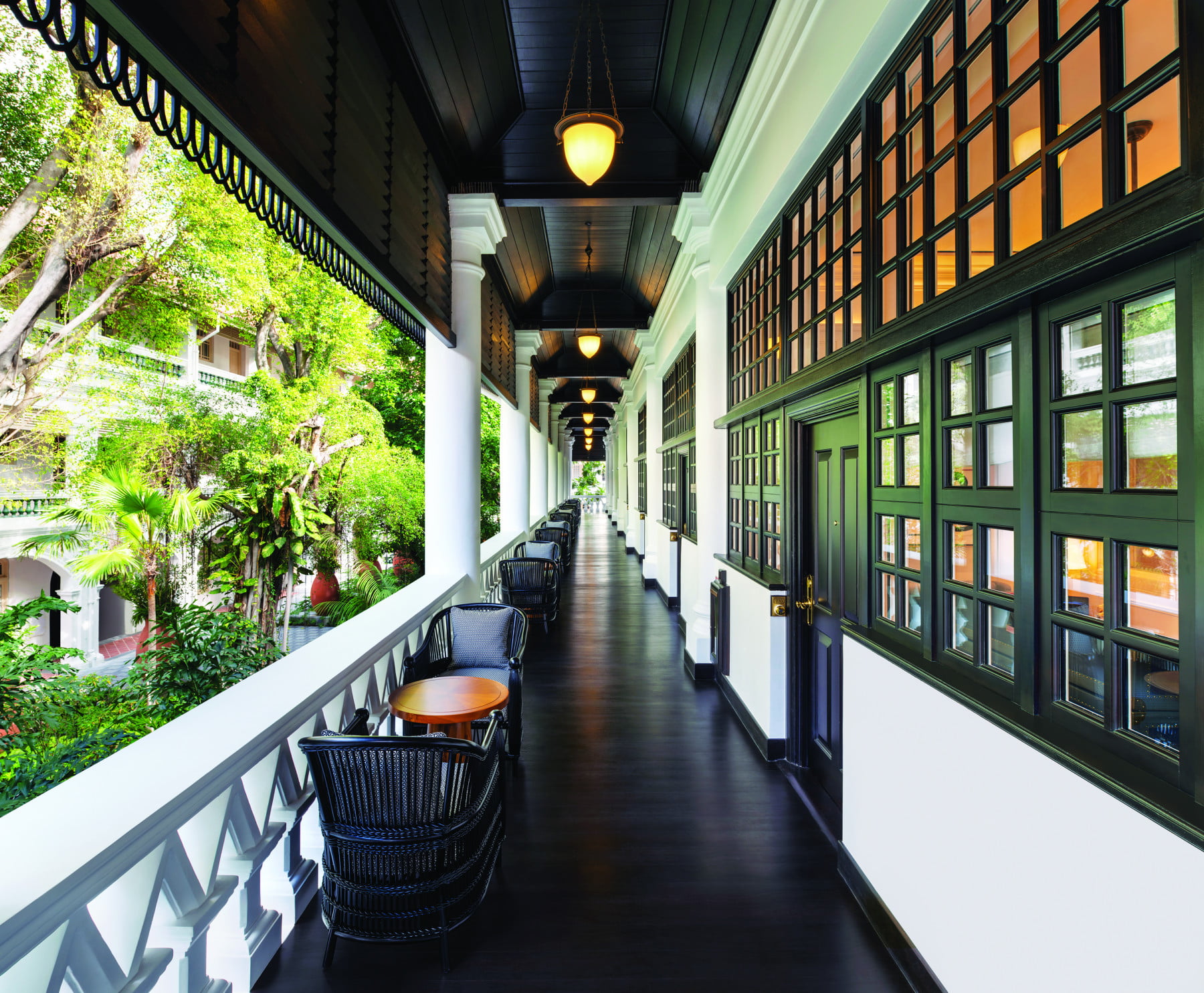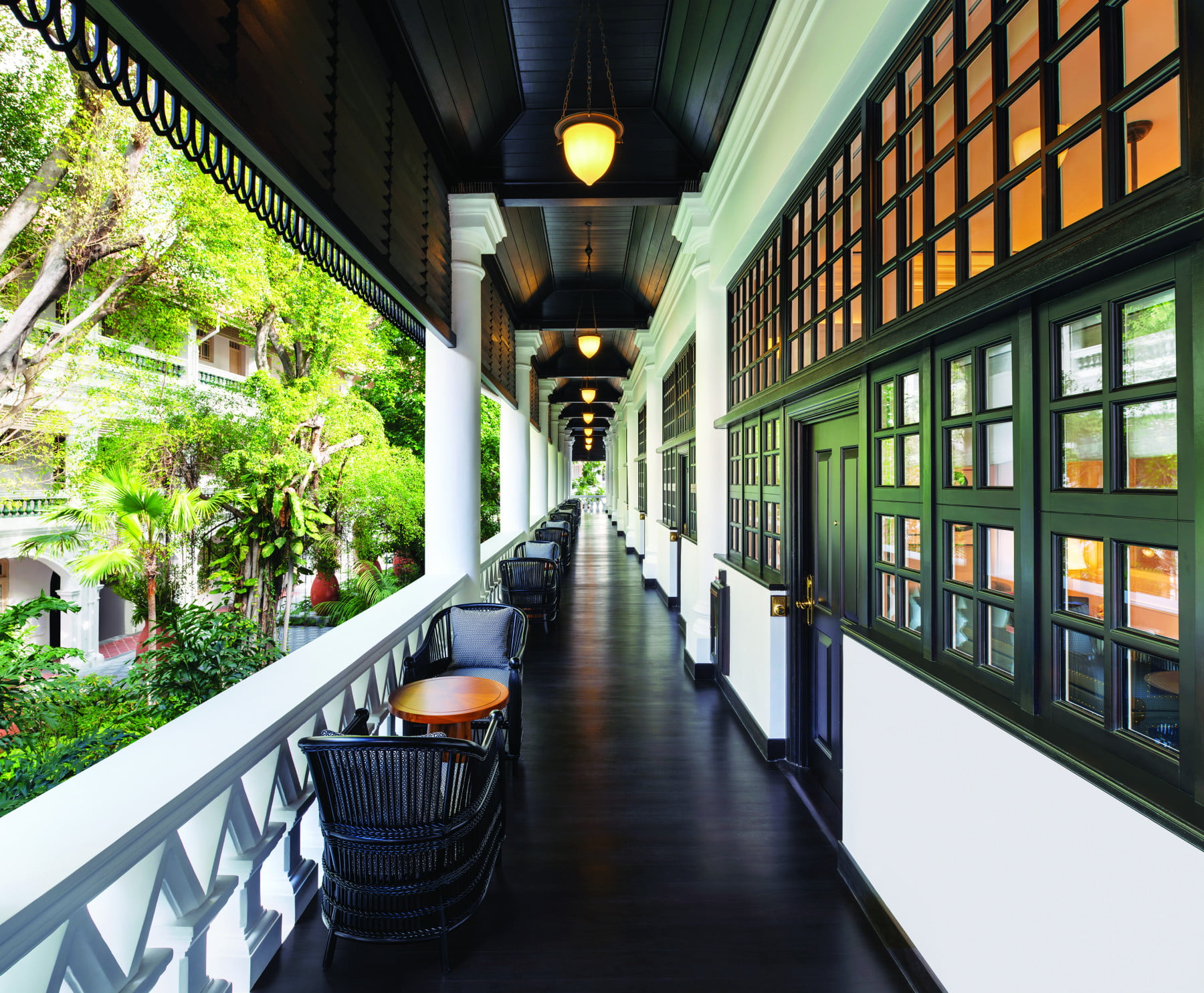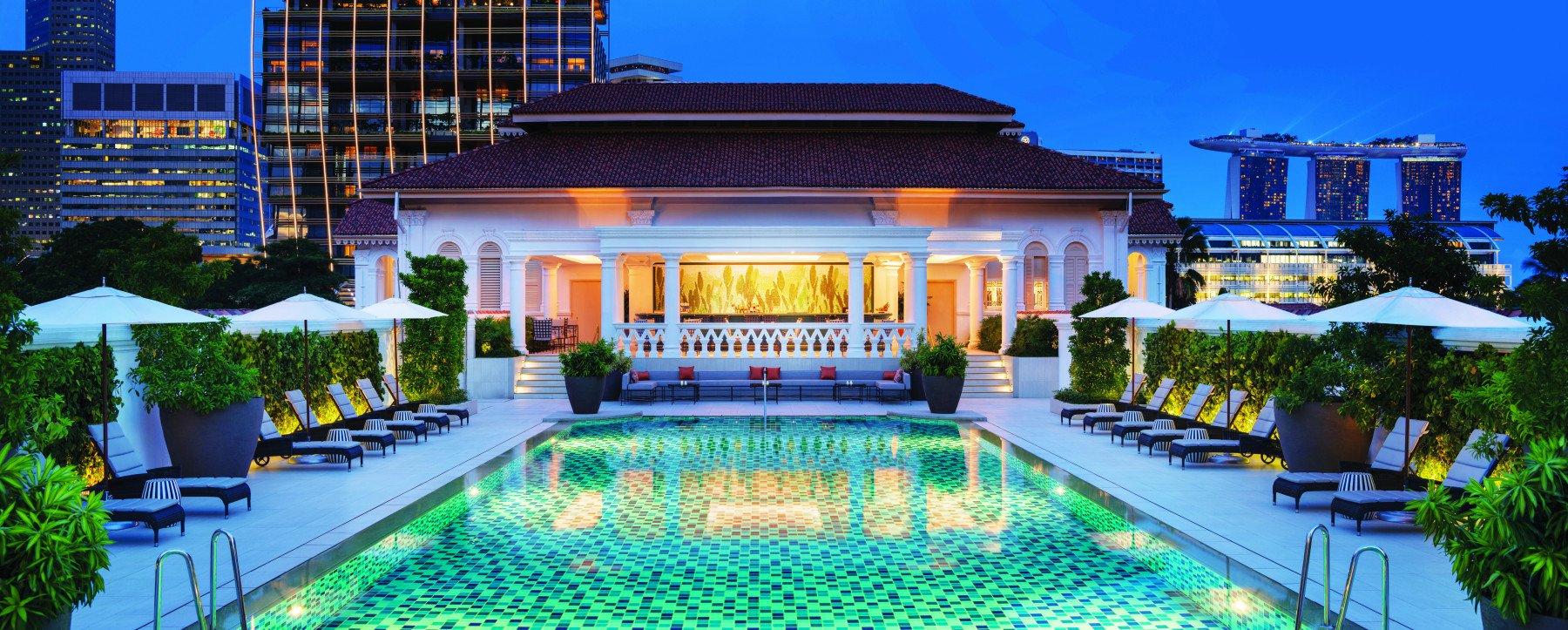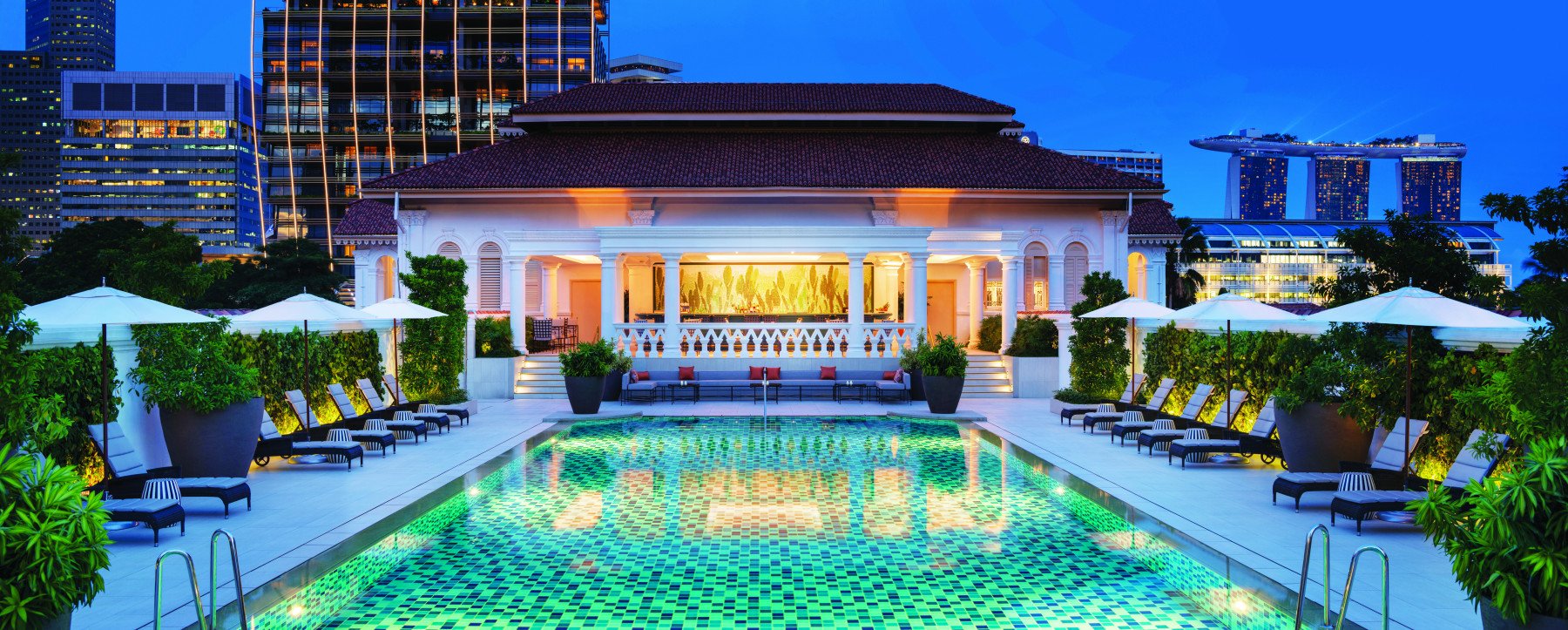 Heritage and History
In the dark cave of the Michener suite, we sleep for a solid nine hours, waking just in time for a relaxed breakfast at the Tiffin Room, followed by a Heritage Tour. Our guide is a Singaporean in his 60s, who has worked at the Hotel for many decades. As he recounts Raffles rich history, he drops in details about attending to Queens, Kings and Pop Stars. The highlight of the tour is getting a peek into one of the Presidential Suites – a huge two-bedroom apartment, with a wraparound veranda. At S$10,000 a night, I imagine it's been the scene of quite a few wild celebrity parties!
For lunch we sample the famous curries at Tiffin Room. Part of Raffles' history since 1892, Tiffin Room continues to serve up delectable North Indian cuisine for lunch and dinner. In celebration of Holi, the Indian festival of colours, Chef Kuldeep has dreamt up a special tasting menu, featuring vibrant vegetarian and meat curries, buttery roti and naan, and a melody of desserts, including carrot pudding, sweet dumplings and steaming chai. There's just enough time before we check out to take a dip in the rooftop pool. Relaxing in the saltwater and gazing at Marina Bay Sands in the distance, we agree that this hotel stay will be very hard to beat.
raffles.com
More staycations!
Now is the time to stay and play in Singapore. Many hotels around the island are offering added extras like late checkout, dining, spa treatments, champagne, and more. Try these two offers…
LUXE: Sofitel Singapore City Centre
From S$370++ per night enjoy a luxury room, daily breakfast, and a 3-course Chef's Signature Dinner for two people at Racines, plus late checkout until 6pm.
Valid for stays between now and 1 Jan 2021 on Friday, Saturday, and Sunday only. (Max two-night stay) Book by 31 Dec 2020. For more info visit all.accor.com
BUDGET: ibis Singapore on Bencoolen is offering $130++ per room, twin share, and they'll throw in a $15 dining credit per room each day. Valid until 1 Jan 2021. Book by 31 December 2020. For more information visit all.accor.com