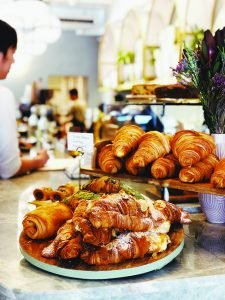 Common Man Stan
1 – 12 Stanley Street, Singapore 068730
commonmancoffeeroasters.com/pages/cmstan
facebook.com/CommonManStan/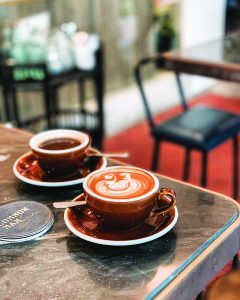 READ THE REVIEW:
There is torrential downpour when my family visits Common Man Stan under the cover of umbrellas one quiet Saturday morning. We instantly feel cosy inside the sleek cafe, which combines touches of gold bling with natural tones of wood, rattan, marble and raw cement. We grab a booth and order a warming round of excellent coffees and hot chocolates, while slowly drying out. 
The CBD outlet of this popular café offers an impressive array of all-day breakfast dishes, along with glistening donuts, flaky croissants and other enticing pastries. Feeling nostalgic we order the Australian Crumpets ($10), served with butter and a pot of creamed honey. It's a fight to get a triangle of the gooey treat, which brings back memories of toasted crumpets on a winter's day back home. 
My daughter tries the Eggs Benedict ($25) with braised oxtail and chive hollandaise on toast. It's a sophisticated choice for a 10-year-old, but she makes quick work of the perfectly cooked poached eggs and creamy sauce. The thick sourdough toast is declared an absolute winner – with just the right amount of tartness, chewiness and crunch. The House Baked Cornbread ($26) is sweet and crumbly, served with creamy smashed avocado, black bean salsa, steaky bacon and a poached egg. It's tasty, filling and full of South American flavours. My husband decides to DIY, and we all have food envy when his sourdough toast arrives with thick cut bacon, scrambled eggs and slices of avocado. 
Verdict: There's tons of love and care put into the service and dishes at Common man – and it shows. Brunch is satisfying, and full of flavour, and the ambience is just right. We could've stayed all day.