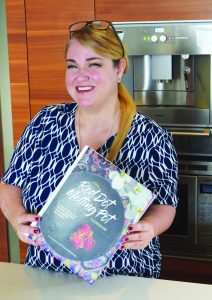 Recipe: Makes 20 mini meringues
Ingredients (Hazelnut Meringues)
2 egg whites
130g caster (fine) sugar
1 tsp vanilla extract
2 tbsp ground skinned hazelnuts
Ingredients (Topping)
80ml (1/3 cup) whipping cream 
1 tbsp caster (fine) sugar
250g raspberries
2 tsp icing sugar, for dusting
20 tiny mint springs, for garnish
Directions 
Preheat oven to 180C (350F).
In a large bowl, whisk the egg whites until it forms soft peaks. Whisk continually and add in the caster sugar, 1 Tbsp at a time until all the sugar is added and the mixture become stiff and glossy.
Using a rubber spatula, fold in the vanilla extract and the ground skinned hazelnuts.
Using the tip of two teaspoons to place small walnut-sized spoonfuls, spoon out each mini meringue unto a parchment lined tray. Create a small indent on the top of each mini meringue using the back of a teaspoons. 
Bake at 180C (350F) for 5 mins, then reduce the heat to 120C (250F) and continue baking 20 mins, or until the meringues are firm to touch. Remove from oven and allow to cool.
Assembly
Whip up the whipping cream until it holds soft peaks. Whisk in 1 tbsp caster sugar.
Top each cooled mini hazelnut meringue with a small spoon of this sweetened whipped cream. 
Place 2-3 raspberries on top of the whipping cream, and top with a tiny mint spring in the middle. 
As a final touch, dust each mini meringue with icing sugar, ideally sifting it first through a fine sieve positioned above each meringue. 
Find out more about the International Cooking Club Singapore and get your copy of the Red Dot Melting Pot Cookbook here.