The excitement was palpable as the Chix (split into two #Max5 groups) arrived at Changi Point Ferry terminal with the immense anticipation of going for a ride 'overseas'. Ordinarily ANZA Cycling members take regular international day trips to places such as Bintan, Batam, and further afield. Since the arrival of COVID-19 and border closures, the idea of going for a ride anywhere apart from the usual Singapore streets has become a distant memory.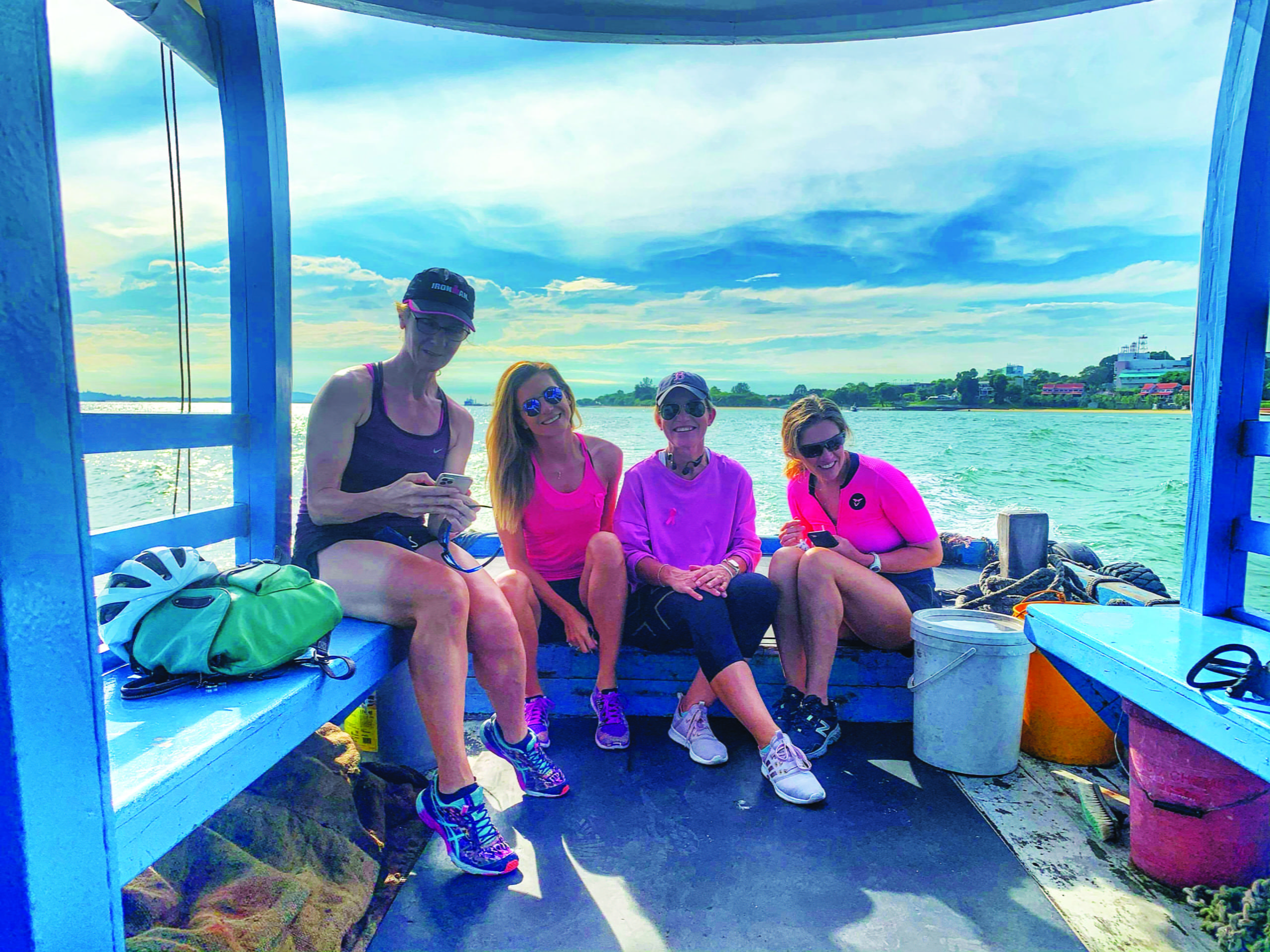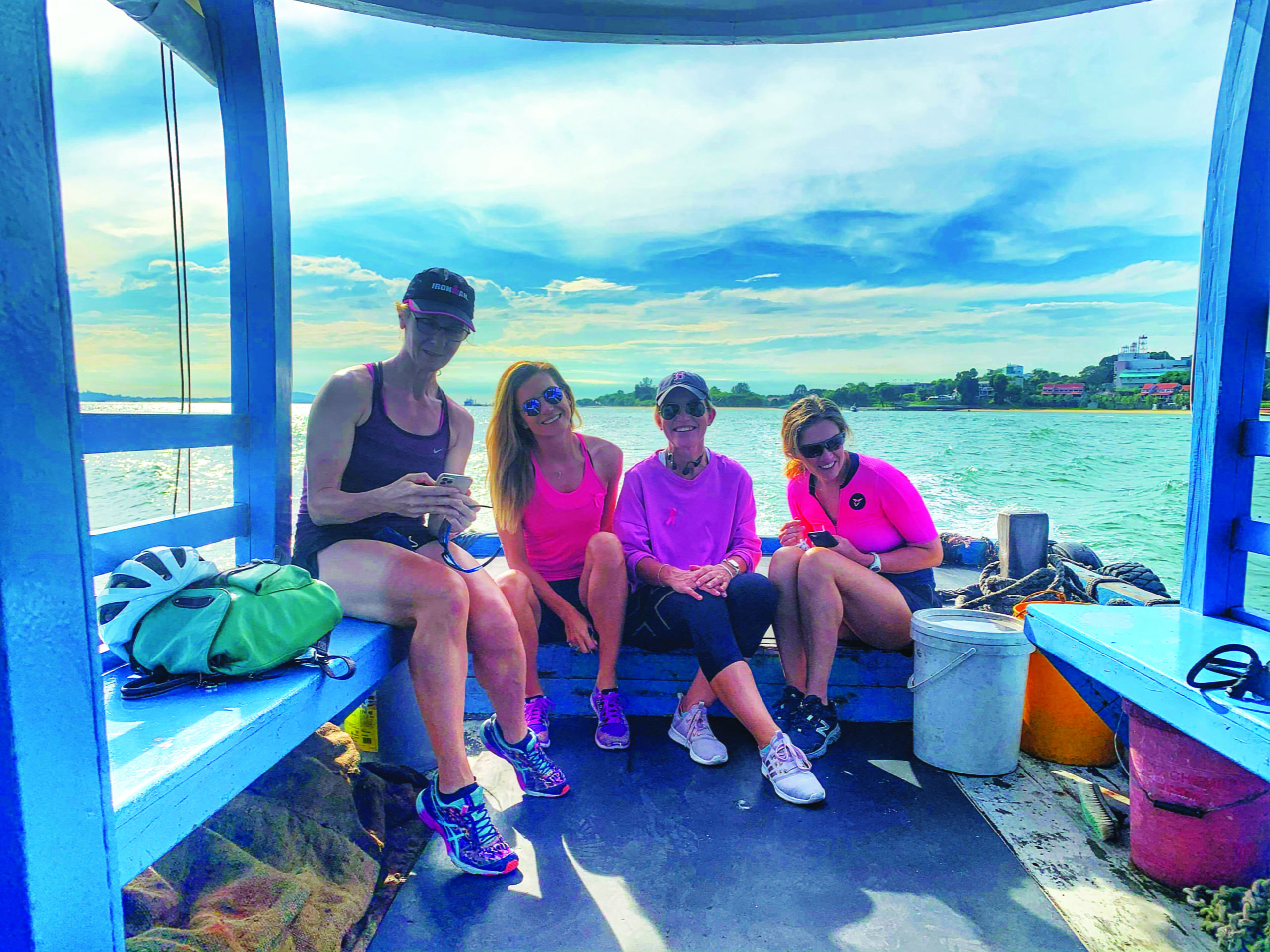 Calendars cleared, we chose an earlyish weekday start of 8:30am, with the hope of having as authentically rustic and crowd-free an experience as possible. Word has gotten out about the 'overseas experience' and the little island of Ubin fills up on the weekends with nature-seekers, families on tandems and the more hardcore MTB riders.
Boarding the bumboat was seamless, with our two #Max5 groups straight onto different boats, chugging their way across the water with beautiful blue sky overhead. At $4 per person and an extra $2 for anyone who wanted to bring their own bike, the trip would've been cheap at twice the price!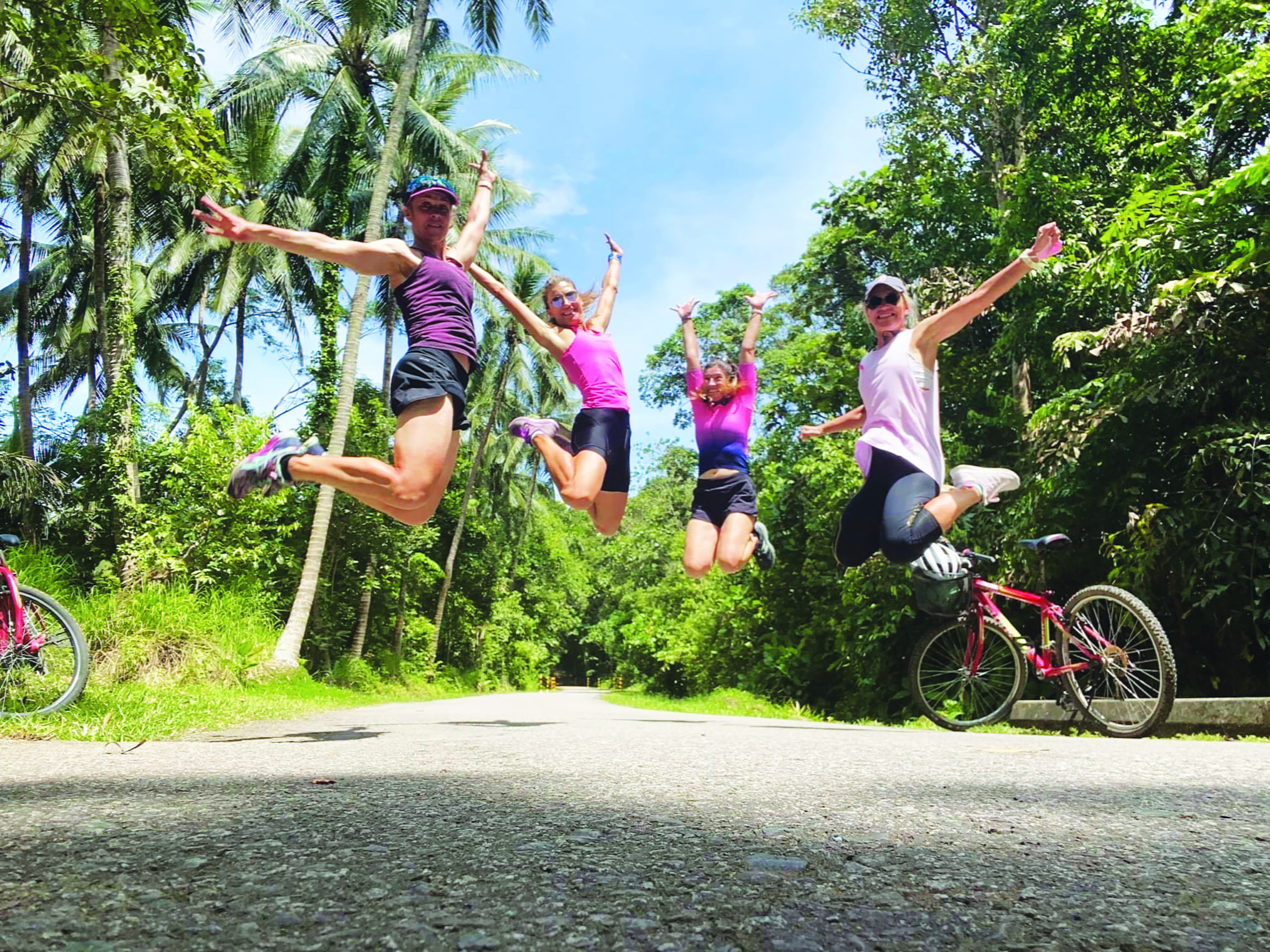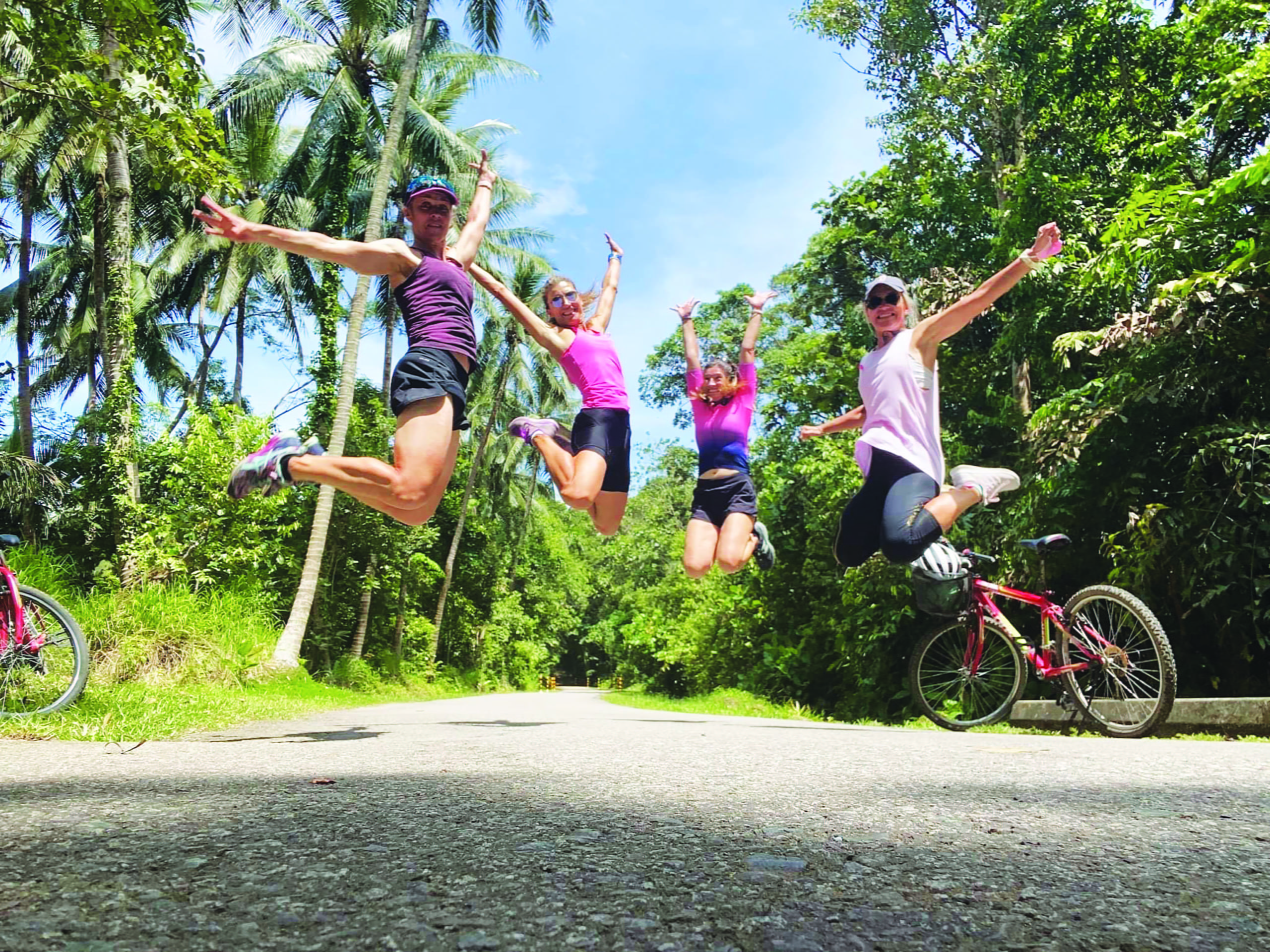 With most of the Chix having road bikes in their stables, and a more rugged type of bike being called for, we opted to go with MTB rental bikes on the island. This was the first point of group differentiation, with Group 1 heading straight for the cheapest no-frills 'Sunny' bikes, secured at $10 each, while Group 2 sought out proper 'quality' bikes. Chief negotiator Lucy was mid-closing at a superlative discount on bikes for the quality group when Ann strolled in and casually agreed with the proprietor that the original asking price of $30 per bike seemed pretty fair… negotiation over and deal done!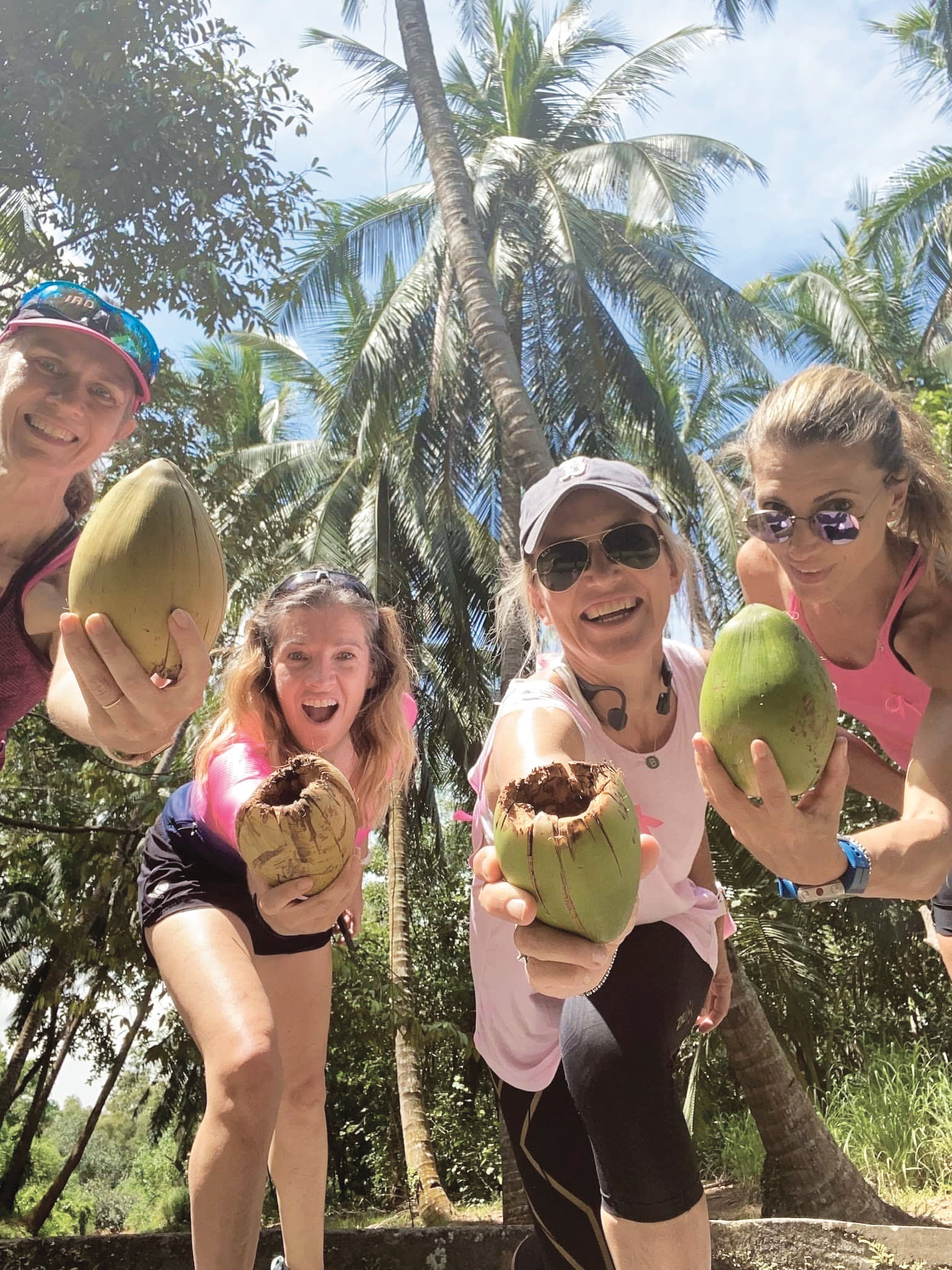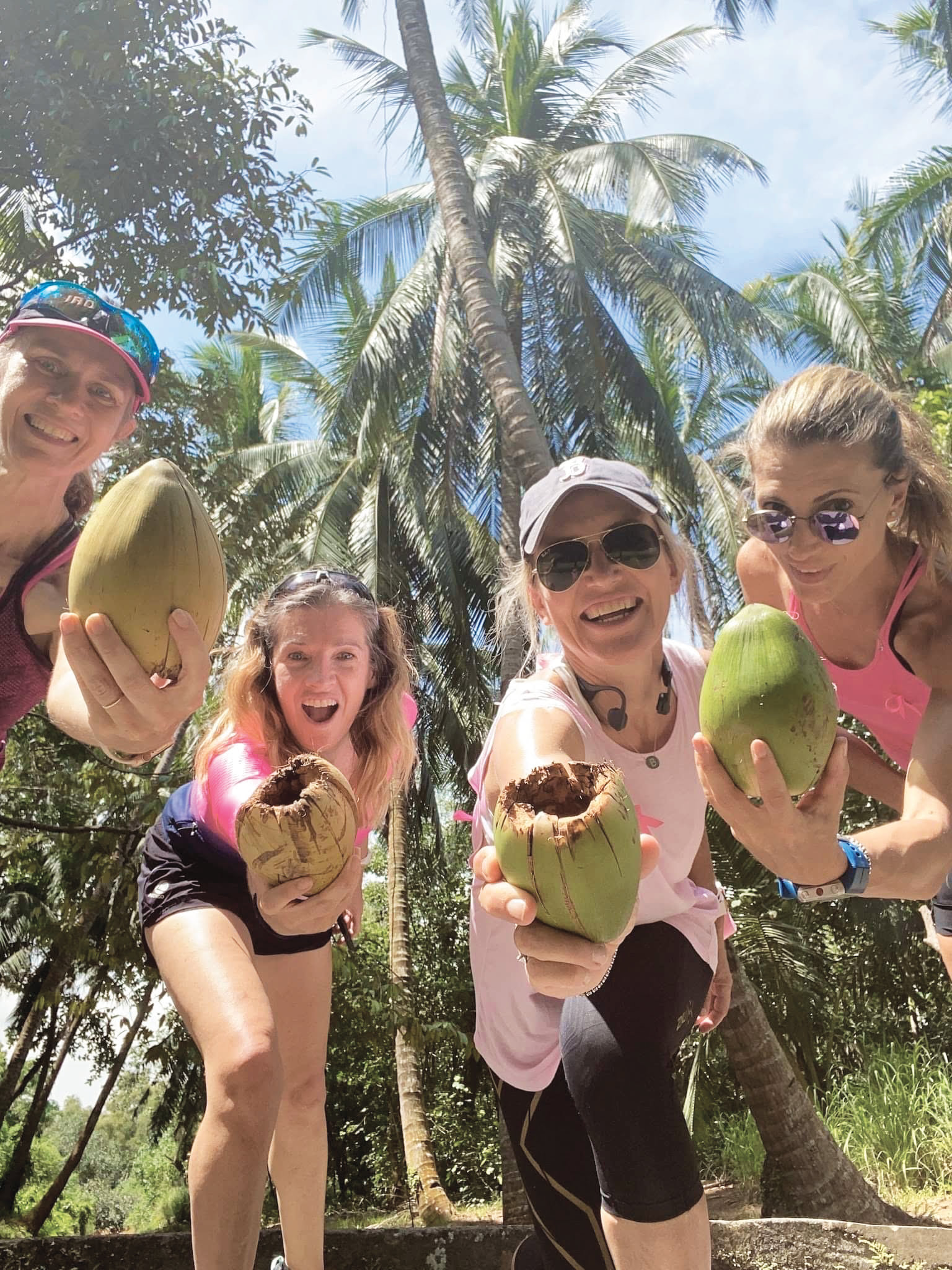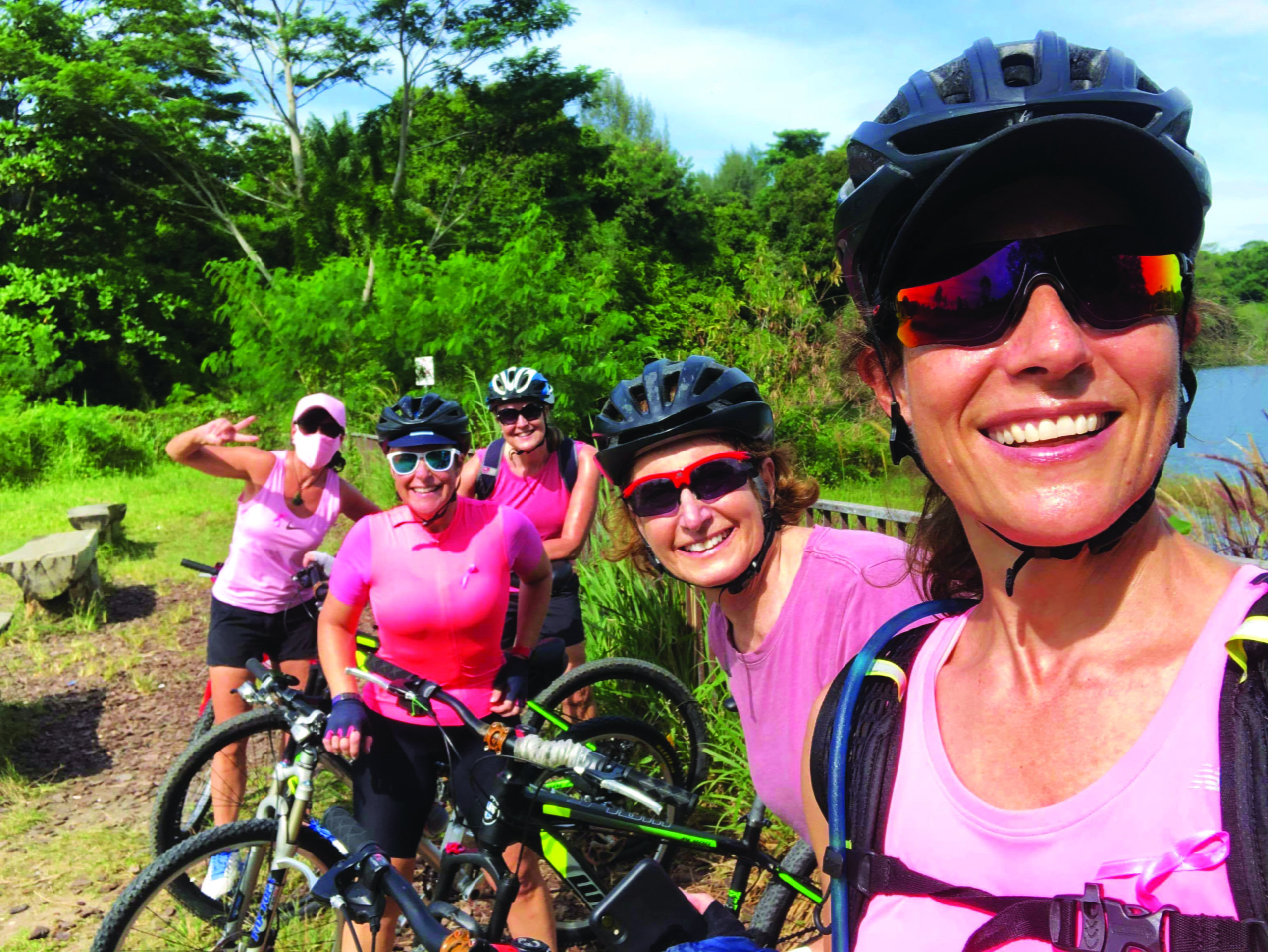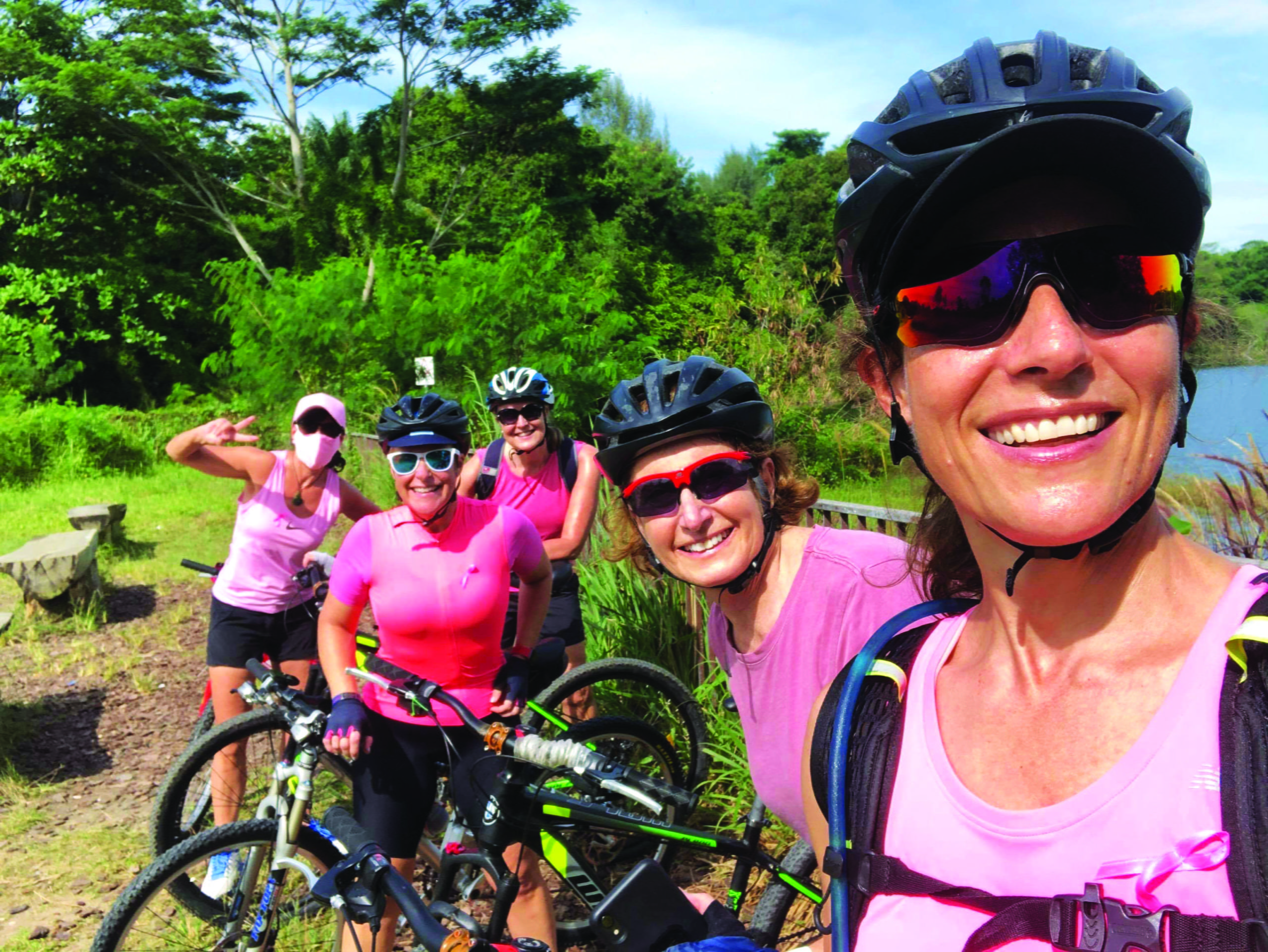 Each group then set off on their separate journeys around the island. Dodging wild boar on the trails, there were plenty of stops for photos, attempts at mountain bike sections, sightings of other wildlife, hunting for fruit, history and architecture appreciation, and turnarounds at designated 'no entry' areas (at least by most of the law-abiding riders).
On the way back for lunch and beers and donation collection for pink ribbon pins at Changi Point's Little Island Brewery, everyone seemed to feel the same way, with declarations that it had really been a great day 'away'.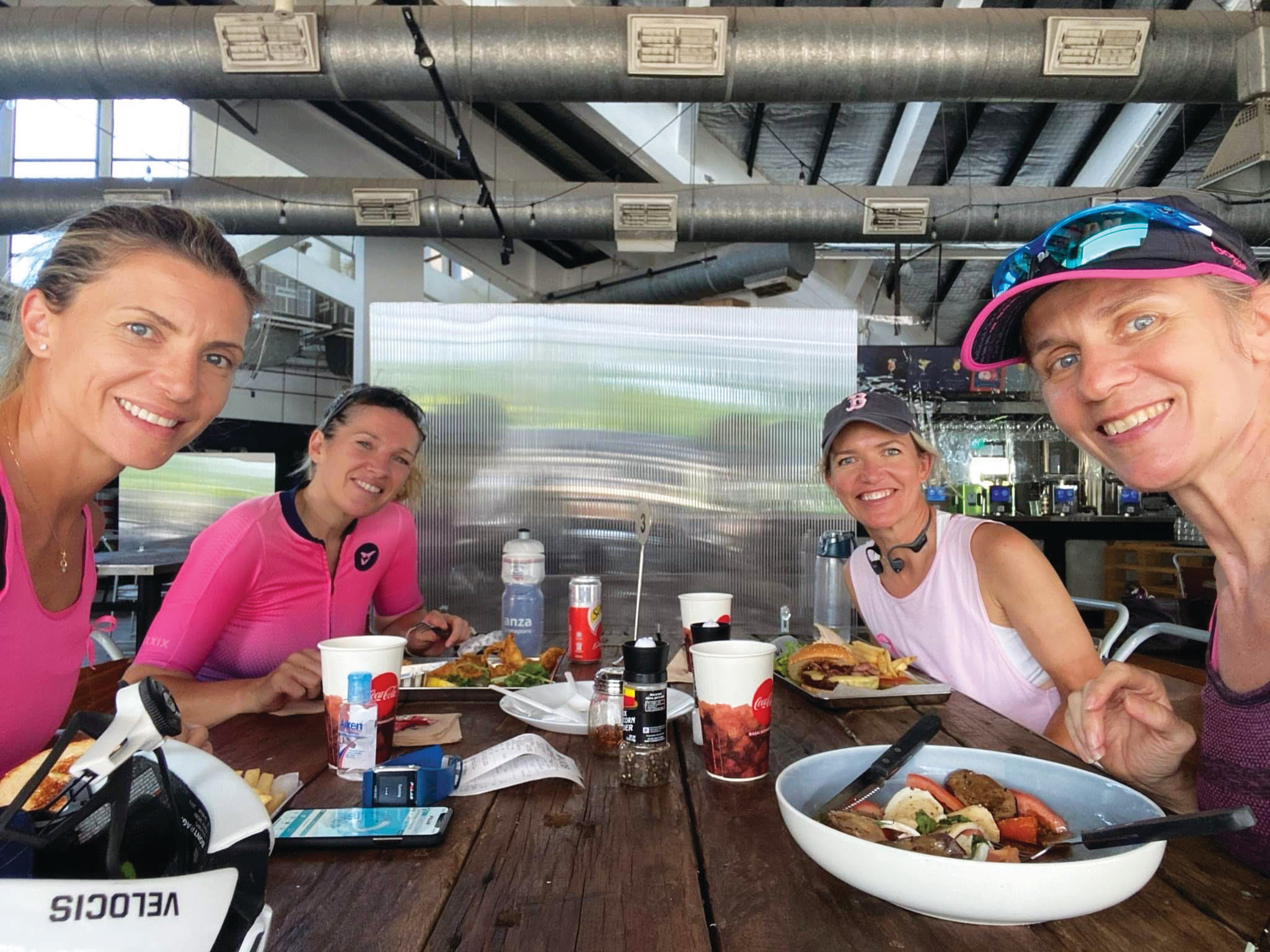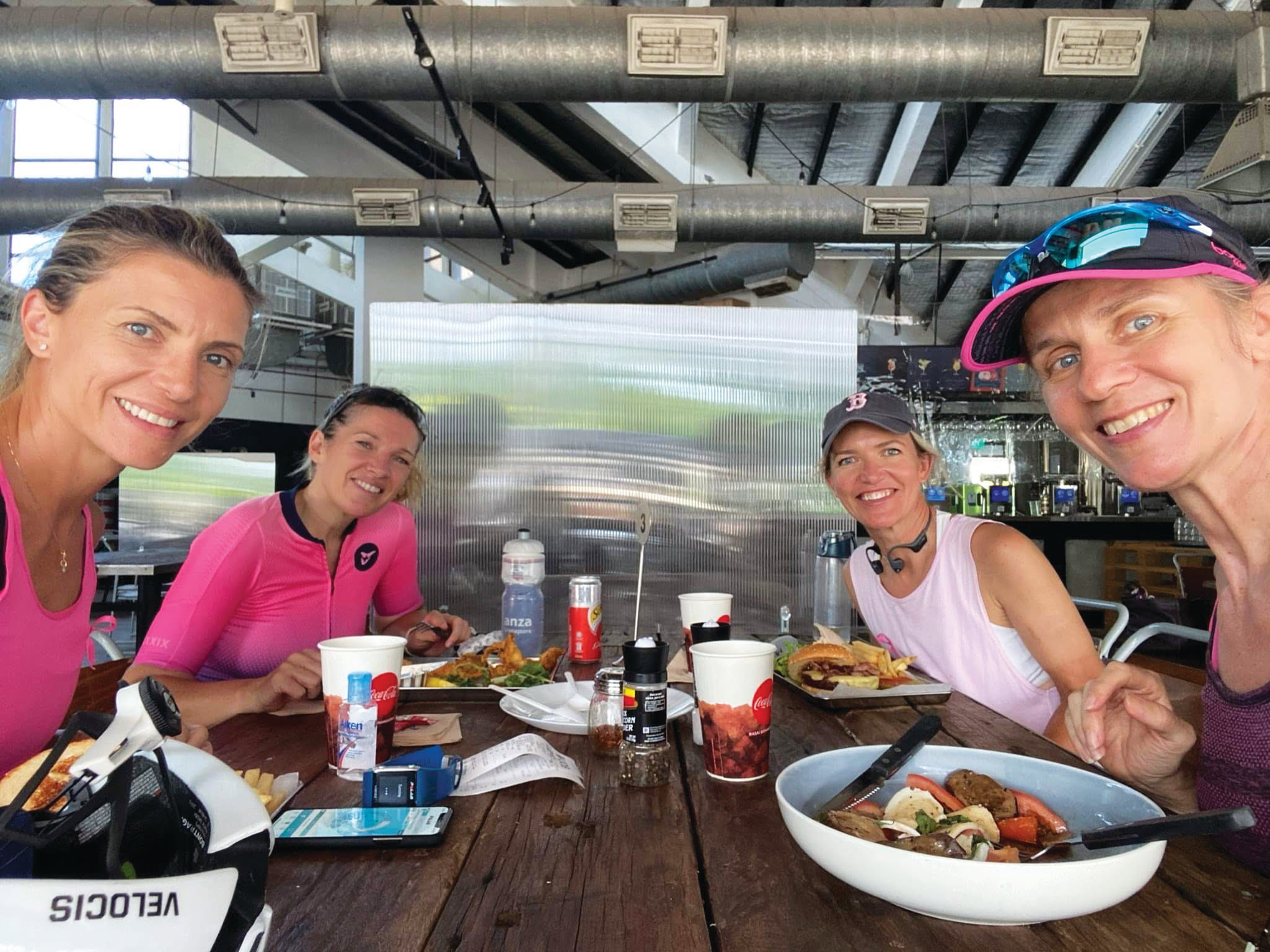 "ANZA Cycling Chix are a rare breed. We share a love of fun, adventure and exercise. Together we have explored many fabulous space, of which Pulau Ubin was no exception."  
Lucy (Australia)
"After spending six months in Singapore without travel, going to the small island of Pulau Ubin felt like a wonderful mini vacation. Spending the day with like-minded ladies, cycling and hiking was everything I could wish for to feel recharged and energised. And doing it in the spirit of Breast Cancer Awareness Month made it that much more special!"
Tsveti (Bulgaria) 
"Best day so far in 2020! Felt like going on holiday when we boarded the boat. Plenty of fun on the Island on and off the bike with amazing girls!"
Laurence (France)
"It was the perfect day – fantastic weather and company and it was so relaxing to be away from the 'city'. Great to ride among the greenery and meet local wildlife. Really fun day – thanks ANZA Chix!"
Ann (Australia)
ANZA Cycling is Singapore's largest registered cycling club with members from 26 different nationalities. Members enter road, MTB and triathlon events locally and across the globe and often grace the podium – but many say what they enjoy most about the club is the group camaraderie and the post-ride coffee!