The school bell is about to ring for the new academic year! If you missed your chance to stock up on school and sports shoes without your annual trip home over Christmas, don't worry – book a fitting at Ten Feet Tall in Holland Village.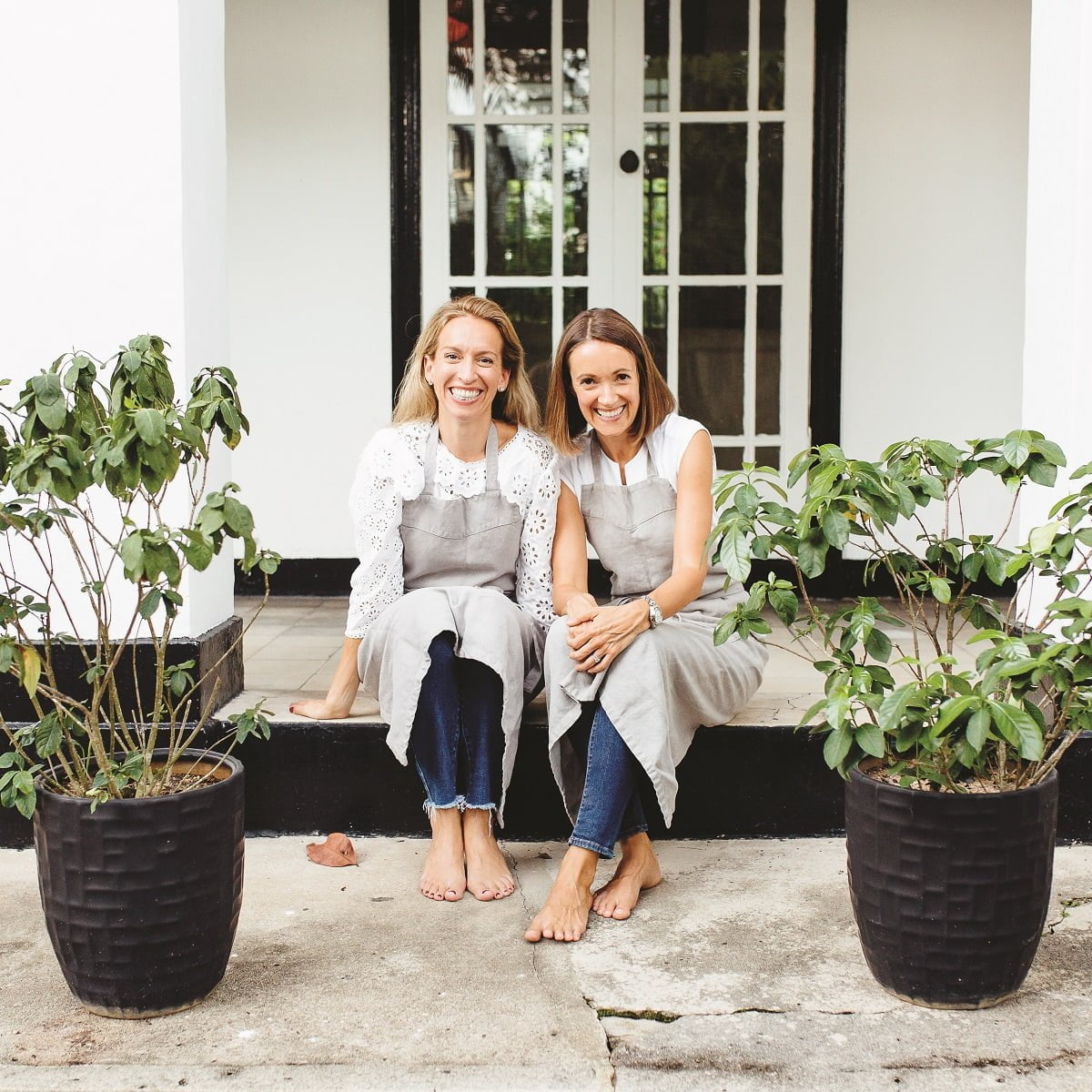 Feet First
Expat mum duo Sam Shorten and Nicola Bradley founded Ten Feet Tall four years ago when they struggled to find quality school shoes for their children in Singapore. Until then, taking children for their annual school shoe fitting (a rite of passage for many growing up in Australia or Europe) was an impossible task, with only a handful of shops selling a limited choice of school shoes and a lack of measurement expertise. Expats were left with no choice but to take an extra suitcase back home for summer holidays to stock up, or go through the trials of ordering shoes online (with the inevitable returns!).
Nicola and Sam set out with a mission to transform the school shoe market, bringing a proper measuring and fitting service to Singapore, along with a wide selection of high-quality school shoes for children aged three to18 years. They opened their fitting studio in Holland Village Shopping Centre in July 2016 and have partnered with most of the big international schools in Singapore to run pop-up shops at orientation events and school fairs. Since then they have met well over 6000 families and measured over 15,000 feet!
During busy periods, Ten Feet Tall now offers a COVID-safe fitting service by appointment. "In order to meet social distancing guidelines, we now run an appointment service during back to school seasons in January and August, so customers just need to jump onto our website and book a fitting first," explains Sam.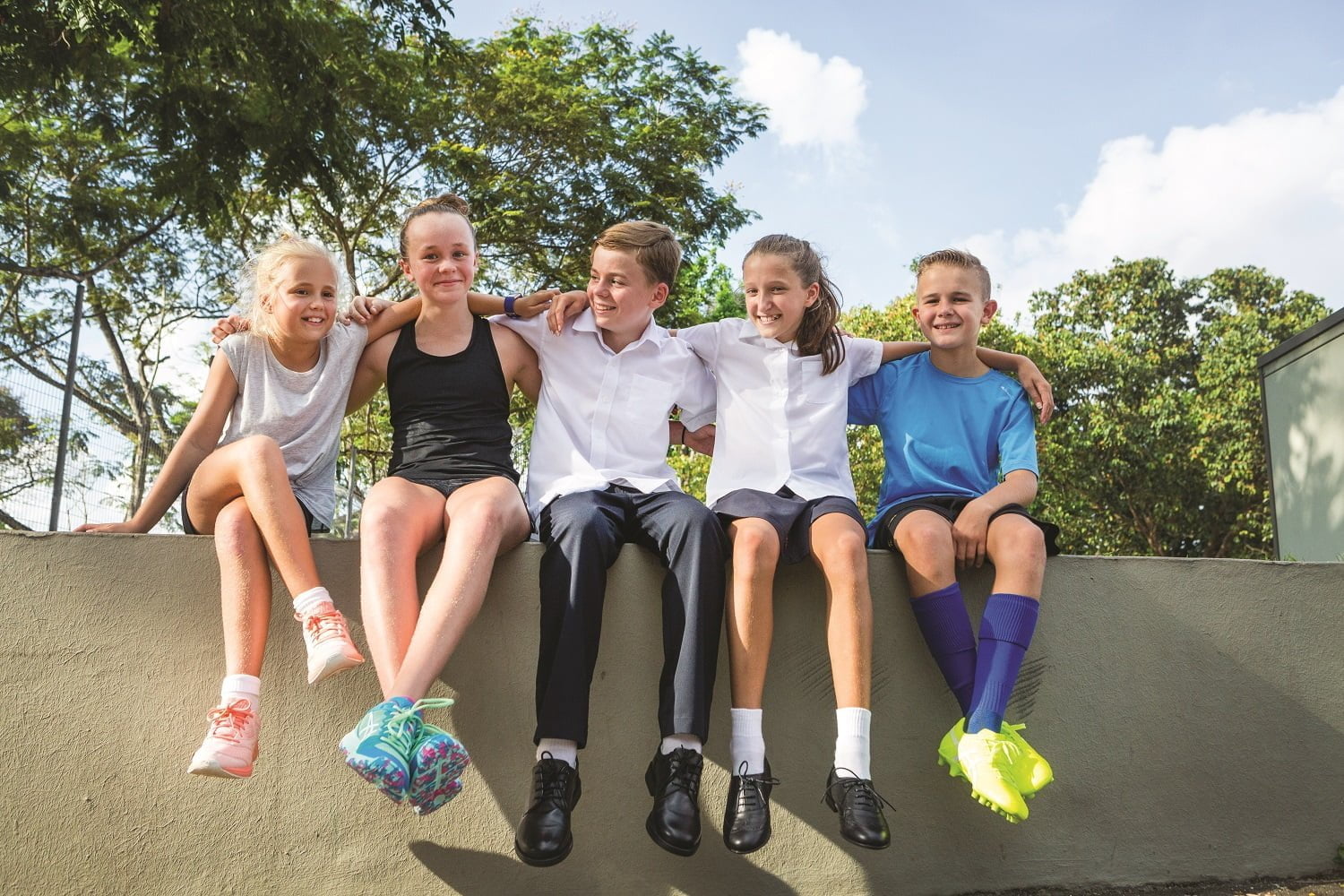 Hand-Picked for Tropical Toes
Nicola and Sam carefully select a fabulous range of shoes from the top three European school shoe manufacturers – Start-rite, Ricosta and Petasil – choosing styles which are lightweight and attractive, yet durable for life in the tropics.
To cater for customers from the Australian International School (AIS), they now stock one of Australia's favourite school shoe brands – Ascent (described as sports shoes in disguise!). They have a huge delivery of new styles arriving in time for this year's back to school in January.
Ten Feet Tall's shoes range from a dainty EU24 (UK 7) to a man-sized EU49 (UK 13), with half sizes and a range of widths from narrow to wide, ensuring every child can find the perfect pair. They have over 30 styles in total, including a selection of orthotic-friendly styles for children who need specialist insoles in their shoes.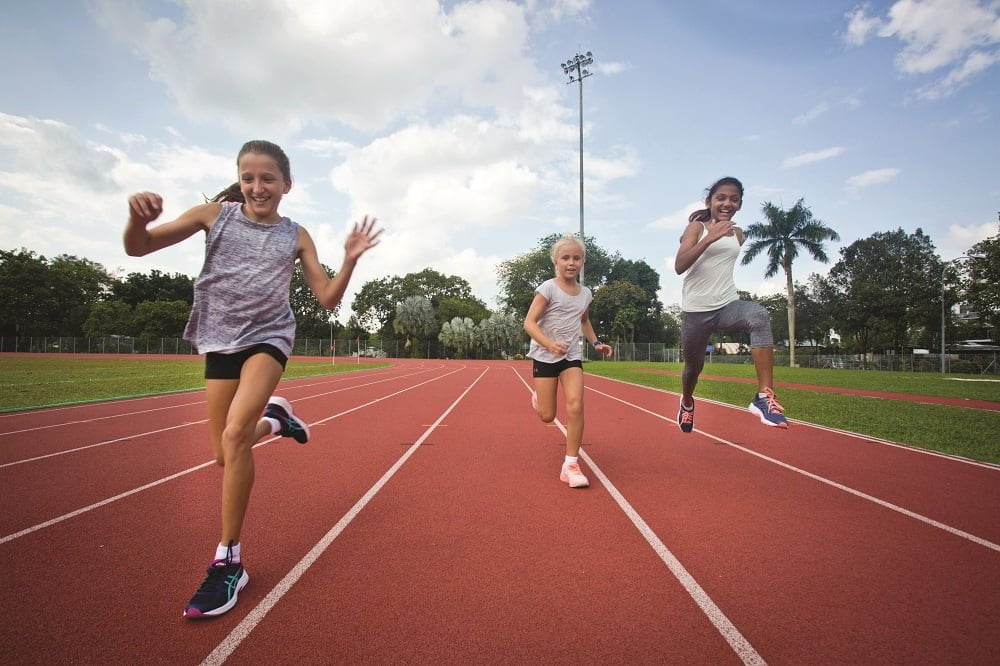 On Your Marks…
With the aim of making life easier for busy parents to kit out their active children in one place, Ten Feet Tall offers ASICS kid's trainers and ASICS football boots and Netburners. They are now the biggest retailer of ASICS kid's shoes in Singapore.
Team TFT
Passionate about accurately measuring and fitting shoes to protect growing feet, Nicola and Sam recruited the ex-CEO of Clarks in Australia to train their initial team of ten staff. They also appointed Helen Crawford and her business partner Rob Ashton from The Osteopathy and Podiatry Centre in Singapore to be their consulting podiatrists. They not only run free mini podiatry appointments in their Holland Village shop but have also helped develop the three-day training programme all Ten Feet Tall team members undergo before they can start fitting feet.
Ten Feet Tall From Top to Toe
The 'Shoe Ladies' (as they have become known) have also branched out to offer a fantastic range of high-quality school uniforms, including day wear, sports wear and accessories. So, they now offer schools and parents a full complement of high-quality uniforms from top to toe. They have been appointed by St Joseph's Institution International Elementary School and Brighton College Singapore as their school uniform provider and are hoping more schools will follow in their footsteps.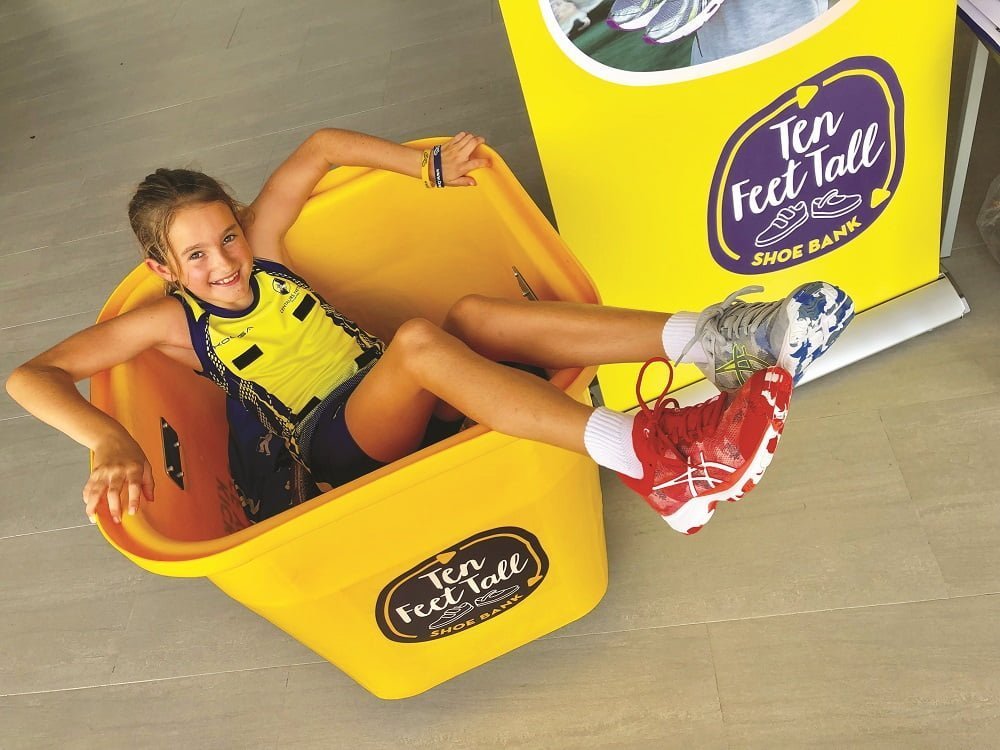 Standing for Something Special
From the very first moment they launched Ten Feet Tall, Nicola and Sam established the Shoe Bank and asked customers to bring their old school shoes back when they came to buy new ones.
Last year they partnered with US not-for-profit Soles 4 Souls, so they now collect any adult and children's shoes in good condition. They host bi-annual 'Kick Off Your Shoes' events with schools and clubs in Singapore. To date, they have collected over 20,000 pairs and sent them to people who really need them all over the world.
Covid measures have meant Ten Feet Tall have been unable to accept donations in store this year but collections have started up again at international schools and various locations in Singapore. For more details of how and where you can donate, visit their website tenfeettallshoes.com
"January is always a busy time for us as we gear up for AIS and SJII back to school," says Nicola. "We also to refit children at the British schools who have already grown out of their school shoes and trainers since the start of term in August. Book a slot early and we will help make sure your children have the perfect shoes for every extraordinary day at school."
Fitting studio: #02-16 Holland Road Shopping Centre, 211 Holland Avenue, 278967
(above Cold Storage on the first floor).
Opening hours: Mon – Sat, 11am – 6pm (Sunday 10 and 17 Jan 2021 for back to school)
tenfeettallshoes.com
hello@tenfeettallshoes.com
Tel: +65 6493 7244 / 9012 5585.