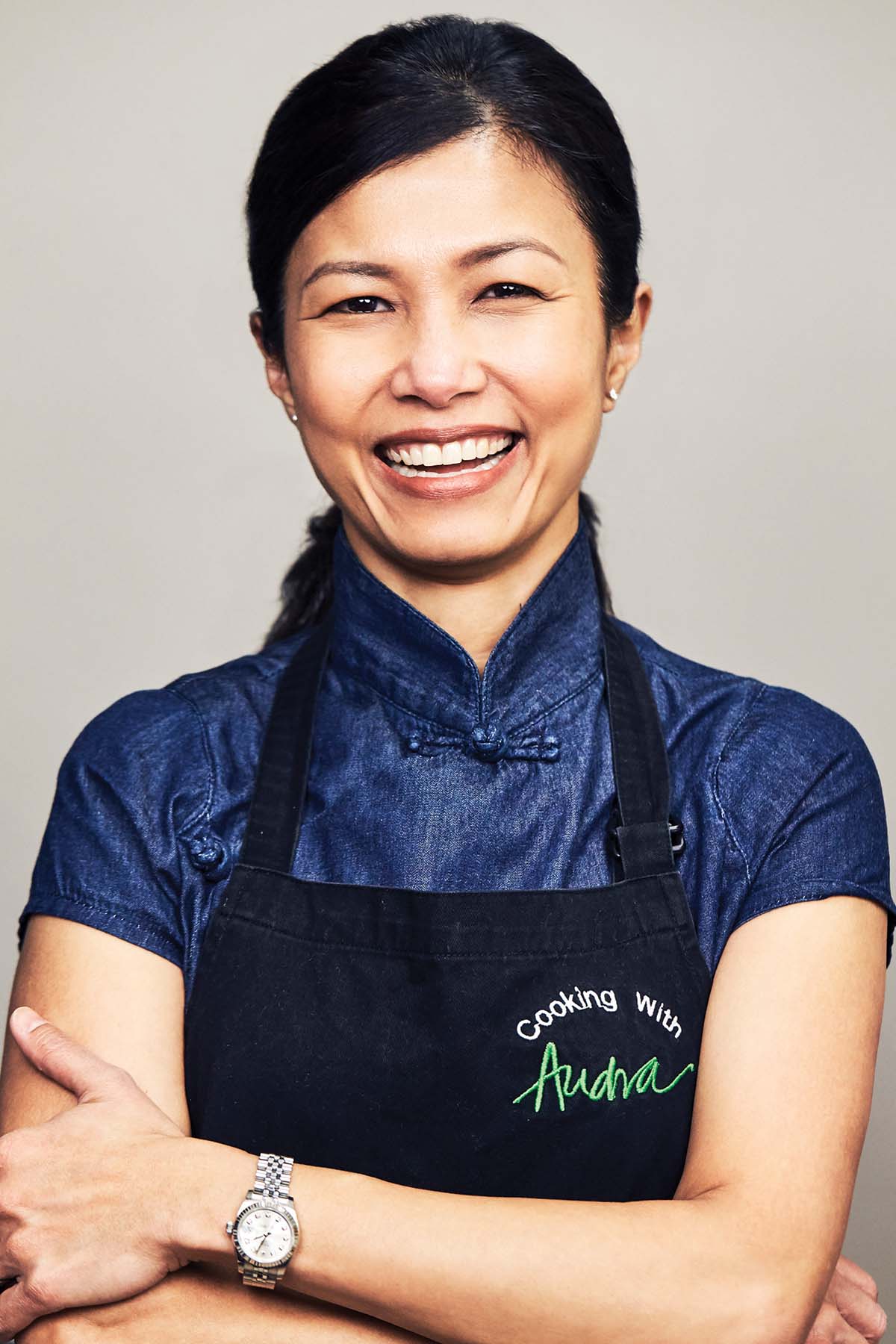 MasterChef Singapore judge and MasterChef Australia 2012 finalist, Audra Morrice, has created a lighter-than-air pandan flavoured lamington, bringing a delicious Singapore twist to this Australian icon. Check out the Australian High Commission Facebook page on 26 January to see Audra herself whip up a batch of these scrumptious treats, while talking about her personal journey.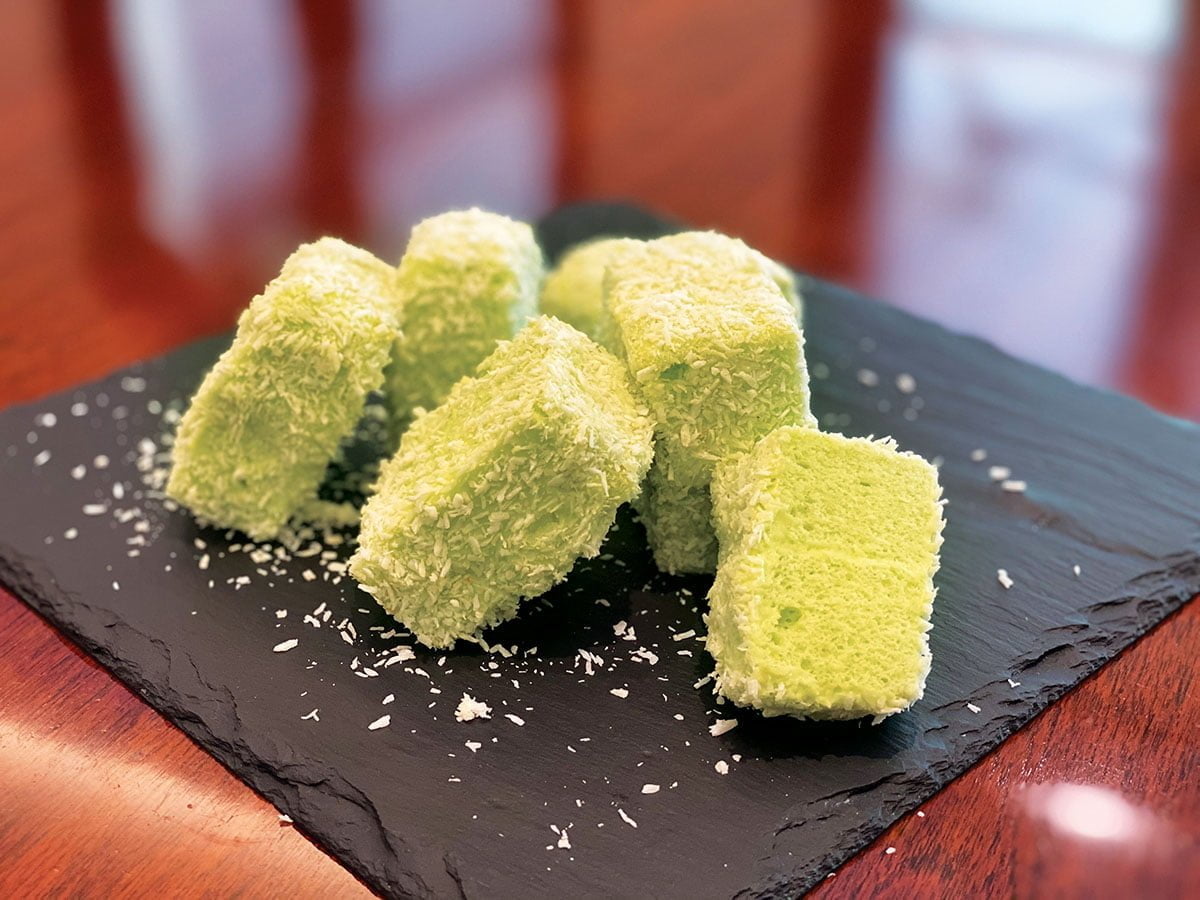 Pandan Lamingtons by Audra Morrice
"The name in itself says it all. Pandan, distinctively Singaporean. Lamington, wholeheartedly Australian. In my view, this is the best of both worlds. I couldn't have put two better words together to describe this delicious sweet that also portrays who I am. Singapore was my birthplace and where I grew up. Australia is where I've lived for the past 20 years.
I've had the immense fortune of being part of a family that lived and breathed food. Mum is Chinese of Hock Chiew descent, Dad is of South Indian descent, and Singapore – a melting pot of various cultures – all influenced my love of South East Asian cuisine. Reflecting back, it wasn't just the flavours but also the cultural cooking practices and methodologies that have been ingrained in my mind. Now, a little older, and hopefully wiser, I'm reliving the experiences of my youth and appreciating what I remember in a much different way, adapting it to the way I cook.
Whilst my heritage is strongly rooted in Singapore, Australia has allowed me to expand my boundaries. In Australia, I discovered true farm-to-table, grass fed vs grain fed, pure flavours of luscious cream and so on. I also gained a much-deserved appreciation for the people behind the produce and the challenges faced by many in the farming industry. Time in Australia has allowed me to truly experience and appreciate fresh produce.
The Pandan Lamington is a near perfect match. Soft, pillowy and moist, using a very retro chiffon cake adds another layer of deliciousness. Sandwiched and smothered on the outside with delicious coconut pandan cream, then encrusted with shredded coconut turns this Aussie-Singaporean sweet into a winner for me and hopefully for you too!"
Ingredients
Pandan Chiffon
• 5 egg whites
• 4 egg yolks
• 1/3 cup (80ml) oil
• 1/2 cup (125ml) coconut milk
• 125g caster sugar
• 2 tbsp pandan extract (from blending 6 pandan leaves with 2 tbsp of water then squeezing through a muslin cloth)
• 1-2 drops pandan essence (optional for extra colour)
• 140g plain flour, sifted
• 11/2 teaspoons baking powder
• 1/4 teaspoon cream of tartar
Coconut Pandan Creme Patisserie
• 400ml coconut milk
• 75g caster sugar
• 30g cornflour
• 4 egg yolks
• 3-4 pandan leaves, knotted
• 1 drop pandan essence (optional for colour)
• 100ml thickened cream, whisked until soft peaks form
topping: 1 cup unsweetened dried shredded coconut
Method
Pandan Chiffon
1. Preheat oven to 180C degrees. Set aside a 23cm wide chiffon cake tin.
2. Sift the flour and baking powder in a mixing bowl. In a separate bowl, whisk the egg yolks, oil, coconut milk, half the sugar and pandan extract, and essence (if using). Add the flour and whisk until smooth.
3. In an electric mixer with a whisk attachment, beat the egg whites and cream of tartar on medium high speed until foamy. While the mixer is whisking, slowly pour in the remaining sugar and whisk until thick and glossy. Be careful not to over whisk.
4. Add a third of the egg white mixture to the egg and flour batter and whisk until well combined. Gently fold in the remainder of the egg whites until just combined. Be light-handed but confident and be careful not to over mix or you will lose all the precious aeration.
5. Pour into the baking tin and bake for 40-45 minutes until cooked through. Remove from the oven and invert immediately, allow to cool completely before removing the cake from the tin.
Coconut Pandan Creme Patisserie
1. Place the coconut milk and knotted pandan leaves in a small-medium saucepan and scald. Immediately remove from the heat and set aside.
2. In a separate mixing bowl, whisk the sugar, cornflour, egg yolks and pandan essence, if using, until pale and creamy. Gradually whisk in all the hot coconut milk. Return the mixture back into the saucepan and stir over medium heat until the mixture thickens and the rawness of the cornflour disappears. Remove from the heat and pour into a glass bowl, line some cling film directly on top of the custard and refrigerate to cool.
4. Once the mixture is cool, stir it with a wooden spoon until smooth. If the mixture is lumpy, pass
it through a sieve. In a separate bowl, whisk the thickened cream until soft peaks form. Fold the cream into the creme patisserie starting with a couple of tablespoons to loosen the mixture, followed by the rest. Refrigerate until ready to use.
5. To assemble, halve the cake, spread with the creme, portion to size. Scatter the shredded coconut on a flat plate. Then spread more creme around the cake and toss in the coconut. Serve immediately or keep chilled in the fridge until ready to serve.