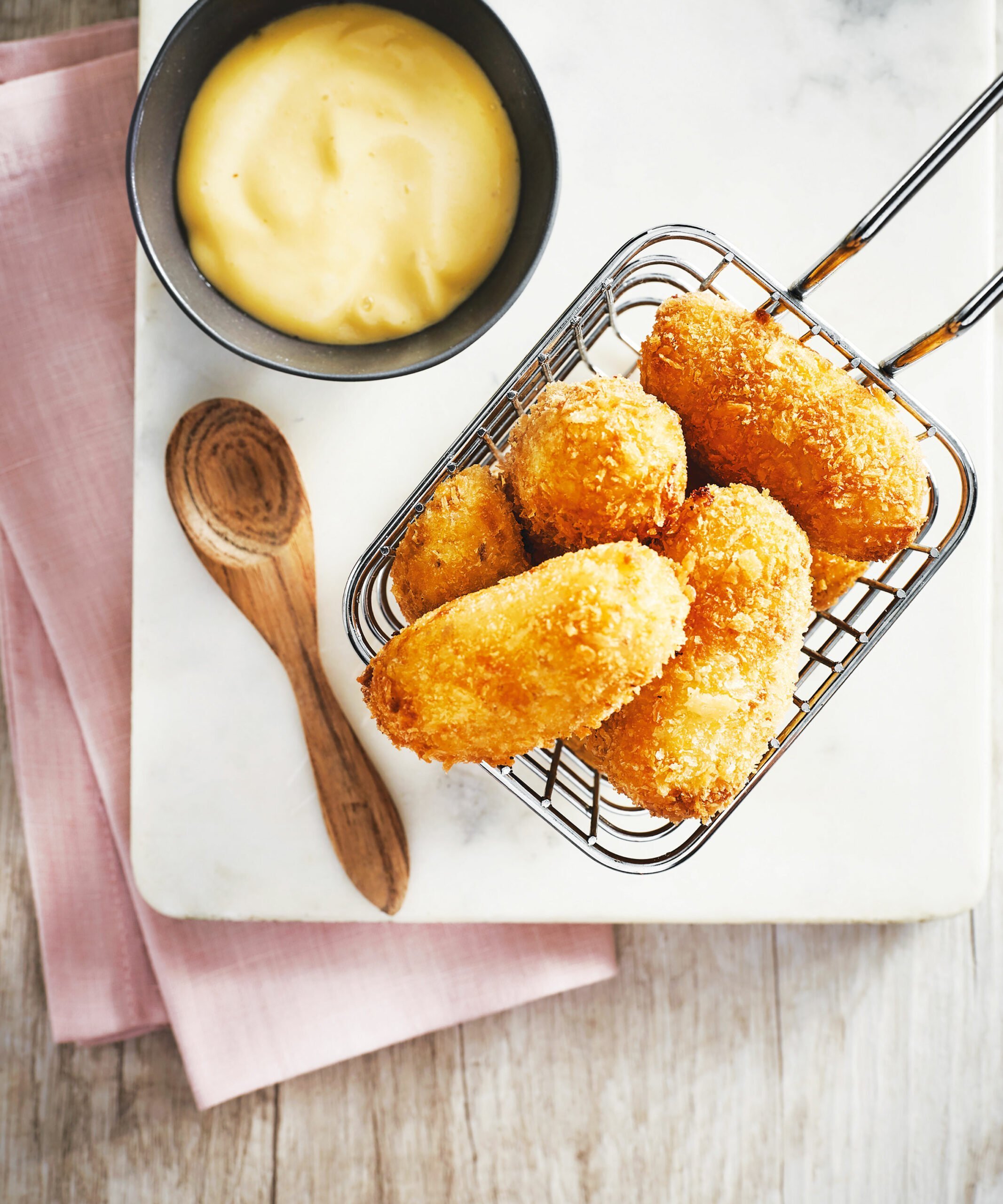 Makes 22 croquettes
INGREDIENTS
Vegetable oil, as needed
for deep-frying.
CROQUETTES
500ml milk
1/2tsp fine salt
75g butter
110g Iberian ham
80g plain flour
40g Manchego cheese, grated
2 sheets gelatine, soaked in iced water
COATING
120g plain flour
3 eggs, lightly beaten
120g panko breadcrumbs
GARLIC AIOLI
2 eggs
10 cloves garlic, peeled
750ml canola or olive oil
Salt, to taste
METHOD
1. Place the milk and salt in a medium saucepan and bring to a boil. Remove from heat and set aside.
2. Melt the butter in a small pan over medium heat. Add the ham and heat gently until the fat in the ham is melted. Add the flour and cook, stirring, for 3–5 minutes.
3. Add the warm milk in three additions, stirring constantly with a whisk for about 10 minutes to form a strong dough.
4. Add the cheese and gelatine sheets and mix thoroughly. Remove from heat and set aside until dough is cool enough to handle.
5. Portion the dough into 30g balls, then shape into croquettes.
6. Place the flour, eggs and panko into separate shallow dishes, then coat the croquettes with flour, followed by egg and panko in this order. Refrigerate until ready to fry.
7. Heat sufficient oil for deep-frying in a pan over medium heat. Lower a few croquettes into the hot oil and deep-fry for 2-3 minutes until golden. Remove with a slotted spoon and drain well. Repeat to cook the remaining croquettes.
Prepare the garlic aioli.
1. Place the eggs and garlic into a blender and process. Gradually add the oil while blending until the mixture is emulsified, thick and creamy. Season to taste with salt.
2. Serve the croquettes warm with garlic aioli on the side.