Payal Thakurani serves up a plant-based roast pumpkin dish that's great as a side, salad or healthy lunch. "Roast pumpkin, beet, garlic, feta, spring onion and peri peri seasoning – transformed into this beautiful, plant-based dish! Spread on a piece of crispy sourdough – heaven on toast!"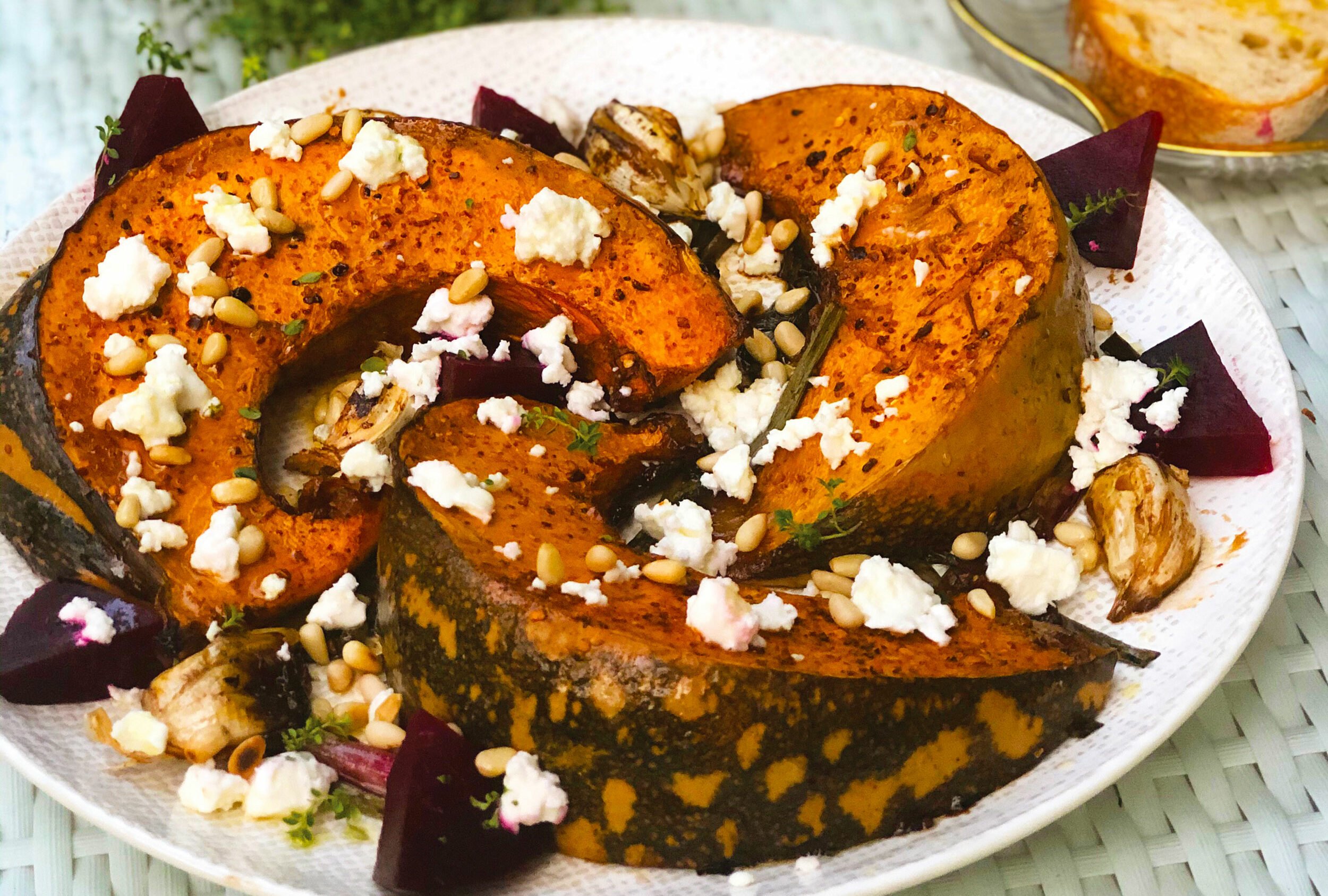 (Serves 3-4)
Ingredients
1kg sweet, ripe pumpkin – cut
into wedges
1 cup spring onion, cut into match sticks
3 tablespoons extra-virgin olive oil
3 tablespoons balsamic vinegar
1 tablespoon maple syrup
1 garlic bulb, whole
1/2 teaspoon sea-salt
1/2 teaspoon black pepper
3 sprigs fresh thyme plus 1/2 teaspoon chilli flakes (or a good sprinkling of
Peri Peri seasoning)
1/2 cup crumbled feta
3 tablespoons toasted pine nuts,
for garnish
1 medium roasted beetroot, sliced into smaller wedges
Toasted sourdough, to serve
Method
1. Preheat your oven to 200˚C. Cover beetroot in tin foil and roast for about 60-90 minutes until cooked through. Set aside to cool, then refrigerate. Once chilled, peel and slice into smaller wedges.
2.  Preheat the oven to 200°C or 180°C fan. Arrange the pumpkin wedges in a large, shallow baking dish. Break the garlic bulb into cloves (unpeeled), and place in between the pumpkin.
3. Drizzle with 2 tablespoons balsamic vinegar, 1 tablespoon maple syrup, 2 tablespoons olive oil – rub liquids into pumpkin using your fingers. Sprinkle Peri Peri seasoning all over pumpkin (or thyme leaves + chilli flakes). Roast for 20-25 minutes, or until slightly tender.
4. In the meantime, add a tablespoon of balsamic, extra virgin olive oil, and a sprinkle of salt and pepper to the spring onion. Add the seasoned spring onion to the tray of pumpkin and roast for another 15 minutes.
5. Once the pumpkin cooks through and has lightly caramelised, transfer everything on to a serving platter.
6. Add chopped roast beets to the serving platter, sprinkle with feta, a drizzle of olive oil and some toasted pine nuts. Serve warm with thick slices of toasted sourdough.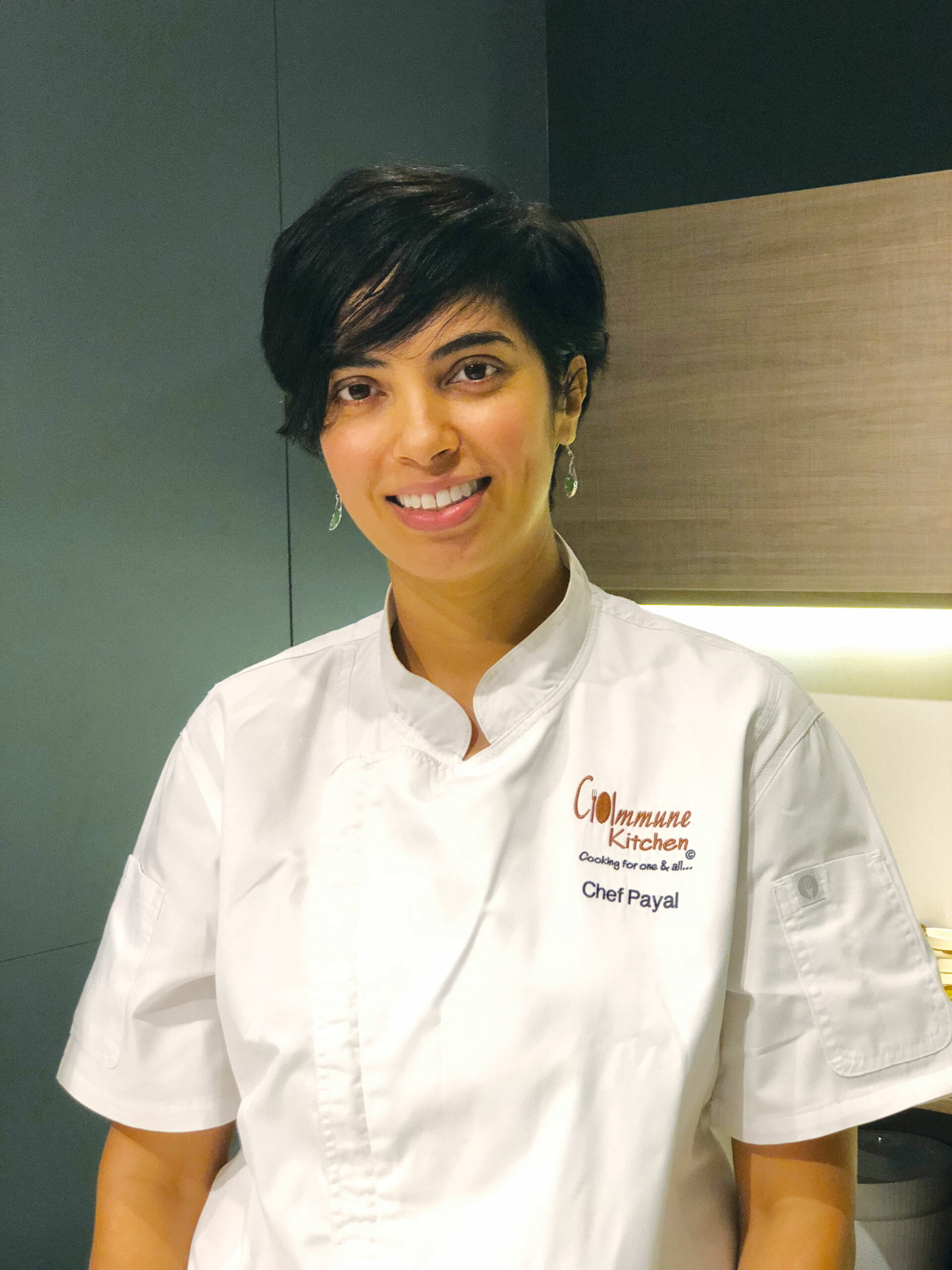 Long term expat Payal Thakurani is an author, chef, cooking instructor and founder of Commune Kitchen cooking school in Downtown Gallery. She hosts affordable hands-on cookery classes to promote healthy, wholesome cooking using locally available produce and sustainably sourced meats. For cooking class updates, free recipes, or to order Payal's cookbook, visit communekitchen.com
Check out more of Payal's delicious recipes