Sri Lankan-born and French-trained, chef Roshini Dharmapala shines when cooking authentic French cuisine. Her recipe for beef bourguignon is rich and full of braised beef and slow-cooked vegetables. The preparation time for this dish is considerable, but it is well worth the effort.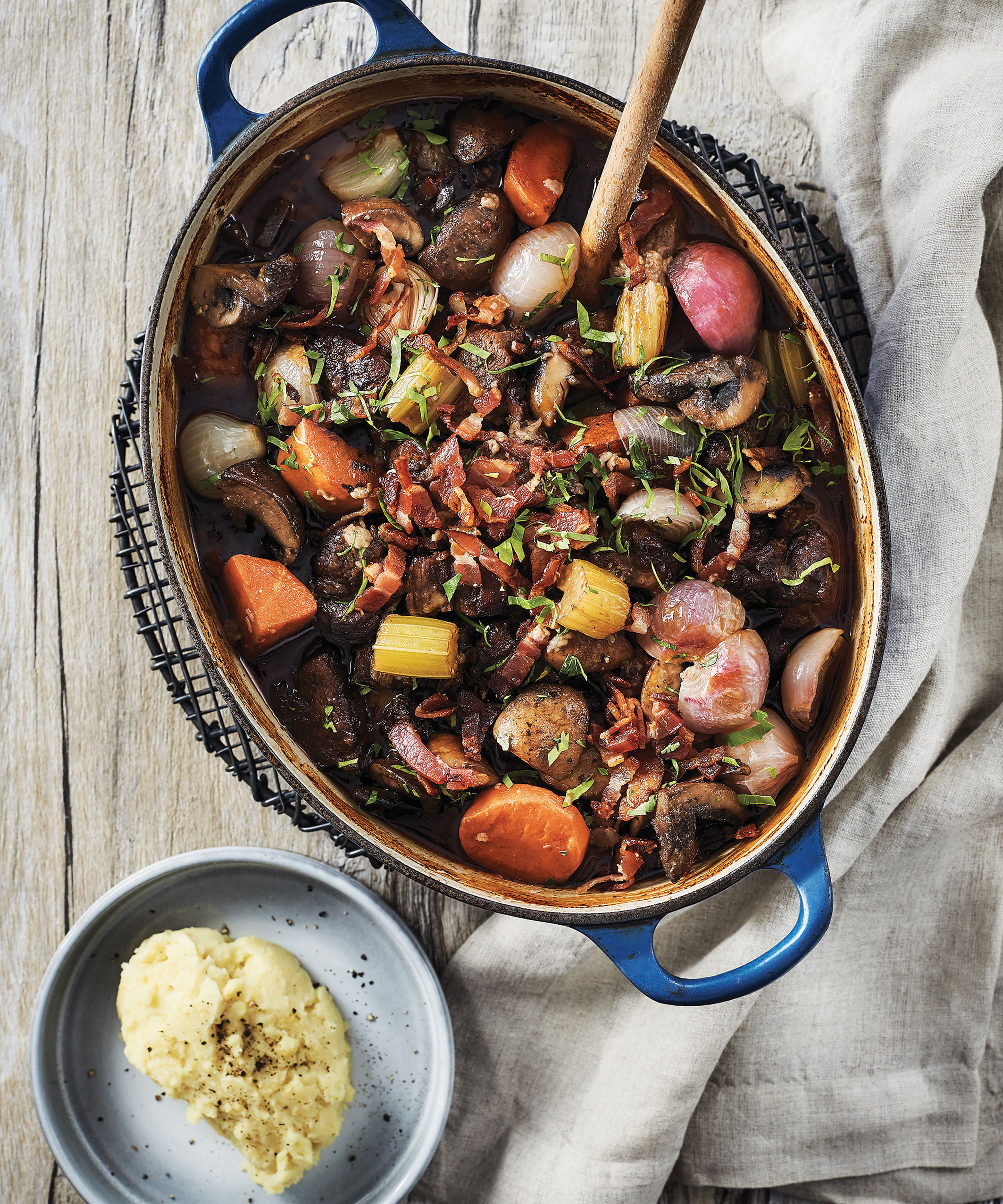 Serves 6
INGREDIENTS
1.5kg chuck beef, cut into cubes
150g plain flour
Salt, as needed
Ground black pepper, as needed
200g bacon, cut into matchsticks
150g button mushrooms
85g butter
200g peeled shallots
1 tbsp sugar
1–2 tbsp water
2 tbsp chopped Italian parsley
MARINADE
750ml red wine
3 medium carrots, peeled and chopped
3 stalks celery, chopped
6 cloves garlic
1 bouquet garni (thyme, bay leaves and parsley stalks)
3 tbsp brandy
3 tsp black peppercorns
STOCK
3 tsp tomato paste
700ml (231/3 fl oz) beef stock
METHOD
1. Marinate the beef for at least two hours or overnight if time permits. Place all the ingredients for the marinade in a large bowl. Add the beef and mix well. Cover and set aside. Preheat the oven to 200°C (400°F).
2. Remove the beef from the marinade. Strain the marinade into a medium pot and set the aromatics aside. Bring the marinade to a simmer.
3. Dry the beef well on paper towels, then coat with flour and season with salt and pepper. Set aside.
4. Heat a large ovenproof pan over medium heat and fry the bacon until crisp. Remove and drain on paper towels. Reheat the pan and sear the beef until browned. Remove and set aside.
5. Prepare the stock. Reheat the pan and add the aromatics from the marinade. Add the tomato paste and cook for 10 minutes.
6. Deglaze the pan with the warm marinade.
7. Add the beef and beef stock and bring to a boil. Cover the pan and place in the oven. Braise the beef for 11/2–2 hours, turning it over every 30 minutes, and cooking until the meat is fork-tender.
8. In the meantime, wipe the mushrooms with a damp paper towel and cut into quarters. Heat half the butter in a pan over medium heat. Add the mushrooms and sauté until soft. Season with salt and pepper.
Set aside.
9. Heat a clean pan over medium heat. Add the shallots, a pinch of salt, the remaining butter, sugar and water. Cover and cook until the shallots
are soft.
10. Remove the beef from the stock and place in a casserole dish.
11. Strain the stock and discard the aromatics. Bring the stock to a boil and simmer over low heat until thick and glossy. Pour over the beef.
12. Top the beef with the bacon, mushrooms and shallots. Garnish with parsley.
Reprinted with permission from COOK: Food to Share ($40), available through bakerandcook.biz/collections/cookbooks