Since its launch just three years ago, Tanglin Gin has scooped up several prestigious awards, including the coveted Double Gold Award for its Black Powder Gin at the San Francisco World Spirit Competition in 2020 and 2021. The distillery added four more awards this year at the same competition – three gold and one silver – putting them firmly on the map in the gin market.
A tour of the facilities at Mandai gave us a fascinating insight into the painstaking care and effort that the team puts into their distillation process. Taking inspiration from its Chinese name, Twa Tang Leng, and the area's rich history of growing botanicals like sireh, pepper and ginger, Tanglin Gin produces a wide variety of flavored gins. Our senses went into overdrive as fragrant aromatics, botanicals and other elements used in the production were presented to us.
After learning the history and background of the gin distillation process, we tasted a flight of different Tanglin blends. Before we got started, the Tanglin team taught us the proper steps to gin tasting. Already being primed after smelling and becoming familiar with the different botanicals earlier in the tour, we could appreciate the "nose" and then the taste of the spirit at a whole different level.
We started with the Orchid Gin, a smooth gin which highlights the juniper berries and classic herbal flavors of a typical gin but also offers complex unripe green mango tones from Indian Amchoor powder, combined with distinct undertones from the Vanilla Planifolia Orchid.
We followed with the new Singapore Gin, intended to capture the Singapore spirit and the wide variety of flavours that form the island's culinary and botanical landscape. This gin is a tongue-tingling experience that hits every tastebud with a combination of young ginger, orange peels, licorice and dry chilli flavors, with a citrusy lime nose. A dynamic and exciting spirit that deserves a place in every Singapore home.
Next, we sampled the Tanglin Barrel Aged gin. This is a smooth and subtle gin, aged in Garrison Brothers Bourbon oak barrels. A sophisticated, classic herbal gin which finishes with bourbon-like "legs" from the aging process.
Our pure gin tasting concluded with the Cacao Gin liqueur, made in collaboration with Lemuel Chocolate – a Singaporean bean-to-bar artisan chocolate maker. Using cacao bean husks and nibs as part of the distillation process, the result is a first layer of fruits and flowers followed by a chocolate undertone and a caramel-like after taste.  It makes for a wonderful after dinner spirit.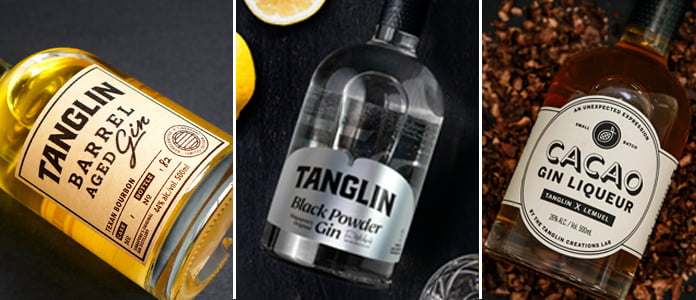 We finished off with a classic gin and tonic cocktail, opting for the Double Gold Award Winner Black Powder gin. It was extraordinary and more than stood up to the accolades. Make no mistake, this is not a subtle gin and best served as a G&T due to its stratospheric 58% ABV. However, it was one of the most perfect G&T's we had ever tasted.
The Singapore Gin with its citrus and chilli undertones is also a good choice for a zesty G&T. Served with the aromatic tonic water, it was the perfect Singapore-weather drink.
Tanglin Gin Distillery
5 Mandai Link # 01-6, 728654 Singapore
Tour and tasting $30pp. Book at: https://www.pelago.co/en-sg/activity/p0ftx-tanglin-gin-distillery-tour-singapore/