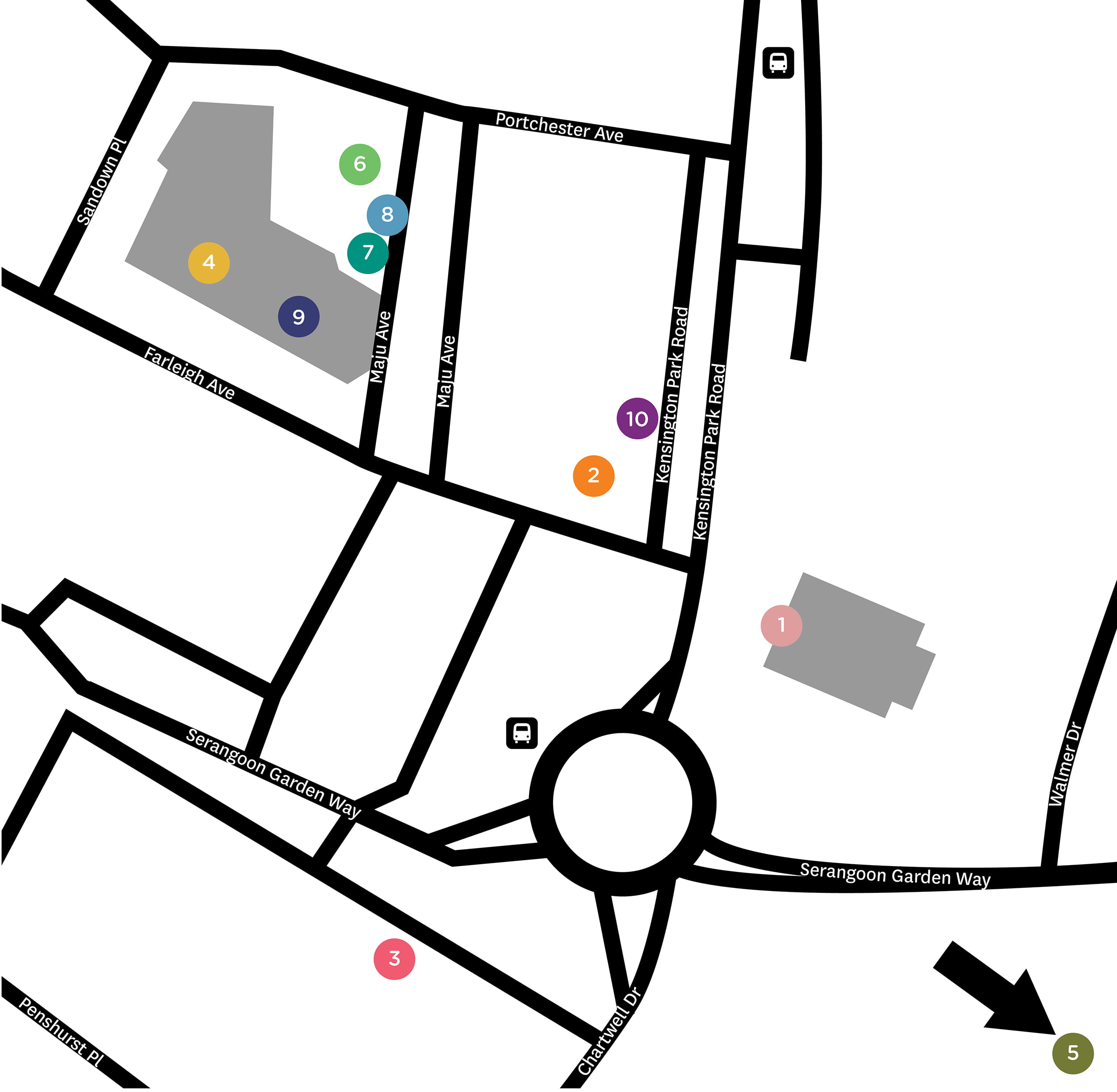 1. Chomp Chomp Food Centre
20 Kensington Park Rd 557269
Singaporean's rate Chomp Chomp very highly, and for good reason. It was built in 1972 to house street hawkers that sold their dishes from carts on Kensington Park Road in the 1960s. Now it hosts 36 stalls serving excellent hawker fare. The satay and wanton mee are delicious, and also try the famous Ah Hock Fried Hokkien Noodle, Ang Sa Lee Fried Oyster and the carrot cake from the nameless Stall 36. 
2. LPB Market (formerly La Petite Boutique)
4 Kensington Park Rd 557256
petiteboutique-sg.com
The influx of French expats in the Serangoon neighbourhood is largely due to the French international school, Lycee Français de Singapour, having a large campus in the area. This authentic deli is run by French expats Morgane Freyermuth and Jean-Baptiste Couty. The small but sumptuous store is full of delicious French flavours – from croissants, pastries and baguettes to beautiful cheeses, charcuterie, wine and chocolate.  
3. Apollo Coffee Bar
65 Serangoon Garden Way 555961
apollocoffeebar.com
Apollo Coffee Bar fits right into this hipster food enclave. Managed by the café crew behind Atlas Coffeehouse, Columbus Coffee Co, and Lunar Coffee Brewers, it offers wonderful coffee and tasty brunch/lunch offerings. Grab a seat surrounding the central coffee bar or go alfresco in the courtyard. Tuck into Lemon Curd Hotcakes, the Breakfast Burger, Honey French Toast, or Miso Bacon Risotto.  
4. myVillage shopping centre
1 Maju Avenue 556679
myvillage.sg
This low-key shopping centre boasts lots of hidden gems, including a nail and hair salon, pop-up fashion and homewares, speciality Italian coffee outlet 101 CAFFE, gourmet burgers, wine stores, bakeries, cafes, and a Fairprice Finest supermarket stocked with hard-to-find French groceries, cheeses, and an excellent butcher. Worth a browse. 
5. The Plain Jane
211 Serangoon Ave 4 #01-10, 550211
cafeplainjane.com
Known for their light, creamy Swiss rolls, this small café is located in a quiet residential block. Pull up a seat and tuck into rolls of all flavours, including Nutella, Matcha, Thai Milk Tea, Meringue and Yuzu. Pair with a pot of brewed tea in wild flavours like Mango Sticky Rice, Lychee Konnyak or Pandan Chiffon. 
6. Plonk
7 Maju Avenue 556685
plonk.com.sg
Owned by two Aussie chefs, this breezy bistro offers the perfect spot to kick back with some grub and a few bevvies. Inspired by fresh produce and laidback Down Under vibes, Plonk is popular with locals from the 'Goon Gardens and beyond. Try their hearty breakfasts, pizzas, a la carte meals, and a rotation of chalk board specials. 
7. Dan's Steaks
12 Maju avenue (Opp MyVillage) 556690
danssteaks.com
The idea for Dan's Steaks was born during Phase 1 of Singapore's Circuit Breaker. Chef Daniel Ong began preparing and serving delicious sous vide steaks seared to perfection, with a range of sides and condiments. The concept was a hit and the steaks sold out daily. Cue Dan's Steaks, a bricks and mortar steakhouse with Korean influences. Cut into a range of tender 250g – 350g grass-fed steaks, wagyu steaks, USDA Prime steaks, or try the miso salmon or Korean chicken with sides like mac 'n cheese, kimchi, honey balsamic tomatoes, or garlic mash. 
8. Oblong
10 Maju Avenue 556688
facebook.com/oblongicecream
You're in charge of your loaded waffle at Oblong. First, choose your waffle flavour (Classic, Premium or Supreme), add a drizzle of syrup from a selection of decadent sauces and finally, select a single, double, or triple scoop of ice cream. Flavours include cookies and cream, ondeh ondeh, rocky road, banana Nutella or mint charcoal ice cream. Kids and sweet tooths will be in heaven! 
9. Maison Kayser
In myVillage shopping centre
maison-kayser.com
Order a café au lait, take a bite of Maison Kayser's famed buttery croissant and soak up the sounds of French chatter around you. This bustling, family-friendly café is as close as you'll get to Paris life right here in Singapore. Take home a bag of savoury and sweet baked goods and continue the love affair at home. 
10. Ohm Secrets
4A Kensington Park Road 557256
facebook.com/ohmsecrets
Self-care is essential after all the stress and uncertainty of the past two years! Treat yourself to a luxurious pampering session at Ohm Secrets. From facials to head therapy, waxing and threading, their services are as affordable as they are blissful. The therapists blend Indian beauty secrets with modern techniques, which will leave you looking and feeling fabulous.