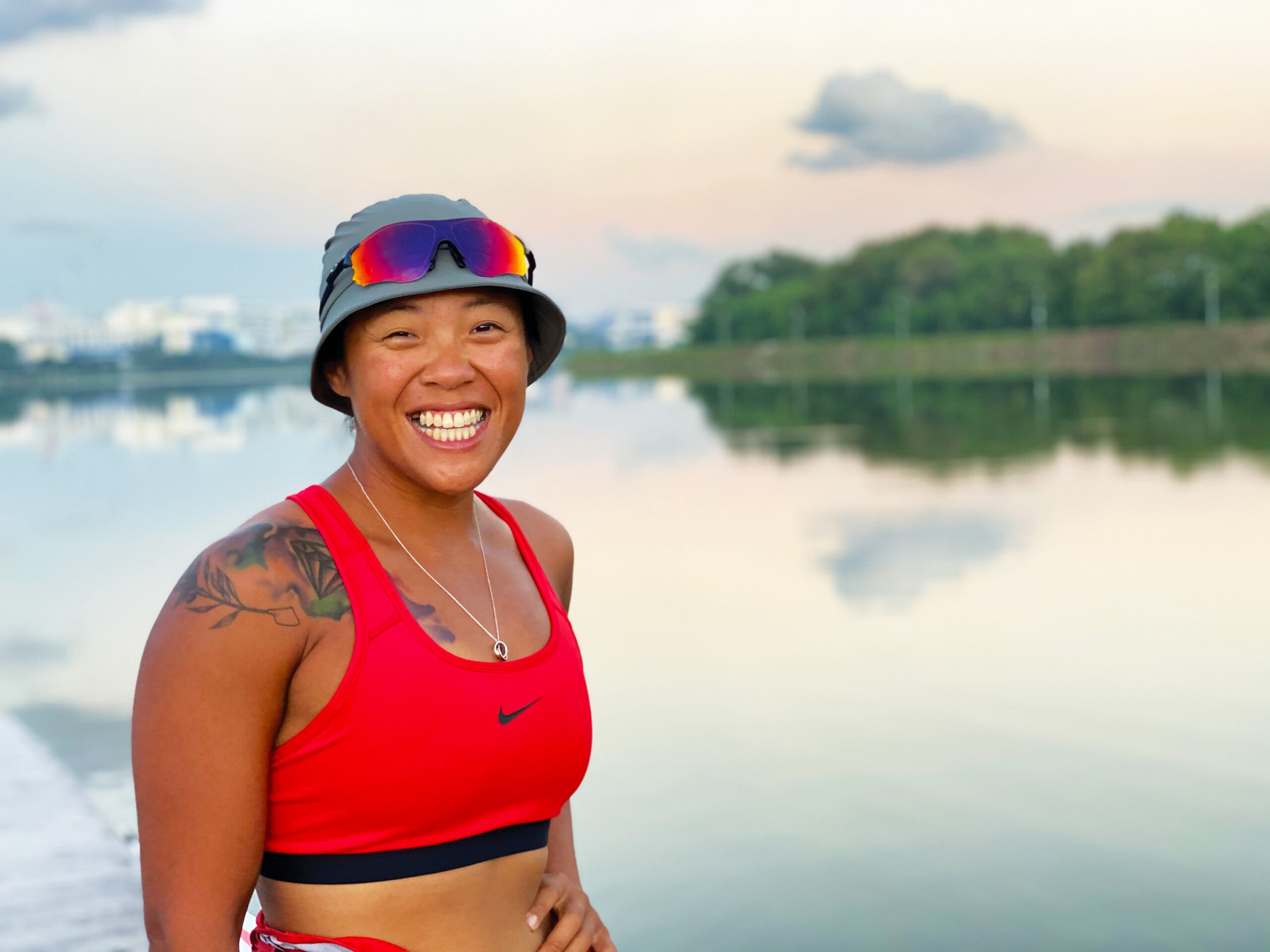 When did you first start rowing?
I picked up rowing in 2015. At the time, I had taken a gap year from university to sail the 49er FX, aiming to qualify for the 2016 Rio Olympics. However, my sailing partner had broken her hand during a capsize when we were racing at the Sailing World Championship. That left me stranded, not knowing what to do. A friend told me the Singapore Rowing Association (SRA) was recruiting a team to represent Singapore at the Southeast Asian Games (SEA Games) to be hosted in Singapore in 2015, just as I was contemplating a work and travel holiday in New Zealand or Australia. I made the team and raced in the women's pair over the 500m and 1000m distance. I stopped for a couple of months before jumping back in when there was news of a foreign coach coming in. It was sometime in May 2016 that I learnt to row the single scull.
What do you love about the sport?
I love that rowing challenges and grows me both as an athlete and as a person. It can be so hard; you have to find the deepest grit to push through some training pieces. Rowing has taught me values I now hold dearly – versatility, resilience, commitment, excellence, and kindness.
Rowing isn't a well-known sport in Singapore, why did you choose it?
Although rowing started out as an opportunistic adventure, it's become the sport for me. It's a tough sport, one that you have to keep choosing over and over again. On good days, I'm sucked into the constant, addictive chase for mastery and a drive to keep getting better. There are so many things to perfect in rowing – strokes, posture, power, rigging, strength, stamina…so much room for growth. On bad days, it's the idea of being in a unique position, with a unique opportunity that keeps me going. Rowing is virtually unheard of here in Singapore, so it makes me feel like what I'm doing is special. Being the only rower representing my country internationally since 2017, I've felt honoured to fly Singapore's flag at races. I'm committed to increasing the visibility of rowing in Singapore and to share the sport with a younger generation.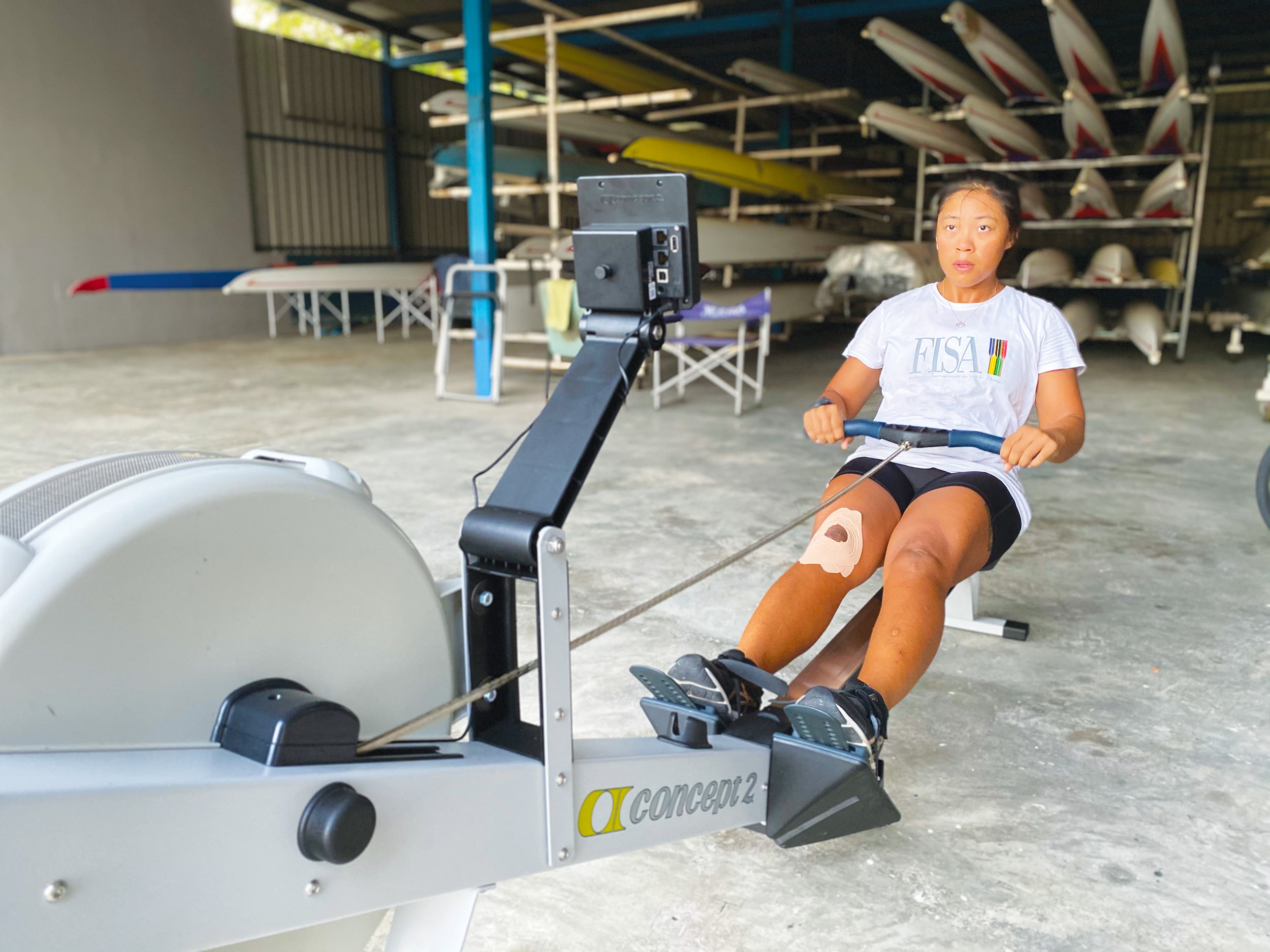 How would you like to see rowing develop here?
Currently, rowing takes place in the secluded Pandan Reservoir in the West of Singapore. Since we learn a lot from what we see, rowing is often mistaken for kayaking, canoeing or dragon boating, which is common on the waters around Gardens by the Bay. I would like to work with the Singapore Rowing Association to take rowing activities to other parts of Singapore, to increase its visibility and spark curiosity towards the sport. I'm also hoping to reach out to schools and organisations who help at-risk youth, to introduce and engage young people in rowing from less privileged or at-risk environments; to help them find a niche, develop confidence and find rewarding ways to spend their time. That's what sports did for me. 
You worked as a nurse during the pandemic?
Yes. Prior to the pandemic, I had taken a period of unpaid leave from my work as a hospital nurse to pursue full time training overseas, in preparation for Olympic qualification. When I returned to Singapore in March 2020, I also returned to work in the hospital as the government called for all-hands-on-deck at the healthcare frontlines. It felt like a natural duty and my responsibility as a nurse. I work as a staff nurse in TTSH's renal unit with dialysis patients. The hospital also supports the National Centre for Infectious Diseases (NCID), so if I had to attend to patients in the NCID, I'd have to shower after every dialysis procedure performed. On some days that meant showering up to three times in a shift! I trained twice a day – before and after my shifts, around 20-30 hours a week. Working at the healthcare frontlines it was really heartening to see the public and businesses sending love and support in their own little ways to us during this time. On grimmer days, these gestures really filled our hearts! In March 2021, I took unpaid leave from the hospital again, to train full steam for the Asia and Oceania Olympic qualifying regatta in May. 
What achievements have you been most proud of?
For a long time, I thought that achievements must come from podiums, medals, erg scores and personal bests. But during Singapore's Circuit Breaker in 2020, together with the Singapore Rowing Association I put together a women's rowing team. My partner also helps with the logistical and operational stuff. The rowers come from all walks of life – mostly they're working full time but we have a few students. They're ex-teammates of mine, sisters of ex-teammates, juniors, best friends, and students who have returned to Singapore from studying overseas and rowed while they were there. Today, we have a team of 11 women who picked up rowing last June. They're training diligently and hoping to experience racing at the 2021 SEA Games, scheduled to take place in Hanoi this November. Other than having held on and pursuing rowing against all odds, this is the proudest achievement of my rowing career. 
You don't have the height of other rowers, has that made you more determined?
It took a while to discover this determination. I've had to look for inspiration and examples of "outlier" athletes to understand that not all hope is lost! Speaking to experienced coaches and athletes has also shed plenty of light on how I could capitalise on my other attributes to keep a competitive edge. Seeing Jeannine Gmelin from Switzerland (1.7m) becoming the World Champion in 2017, beating Victoria Thornley (1.9m) from Great Britain – seeing them standing next to each other on the podium – was truly an inspiring moment for me. No one should ever be told that they are too small or "not enough" to do anything. With the right heart and desire, anyone can blossom and go on to achieve what they set out to do.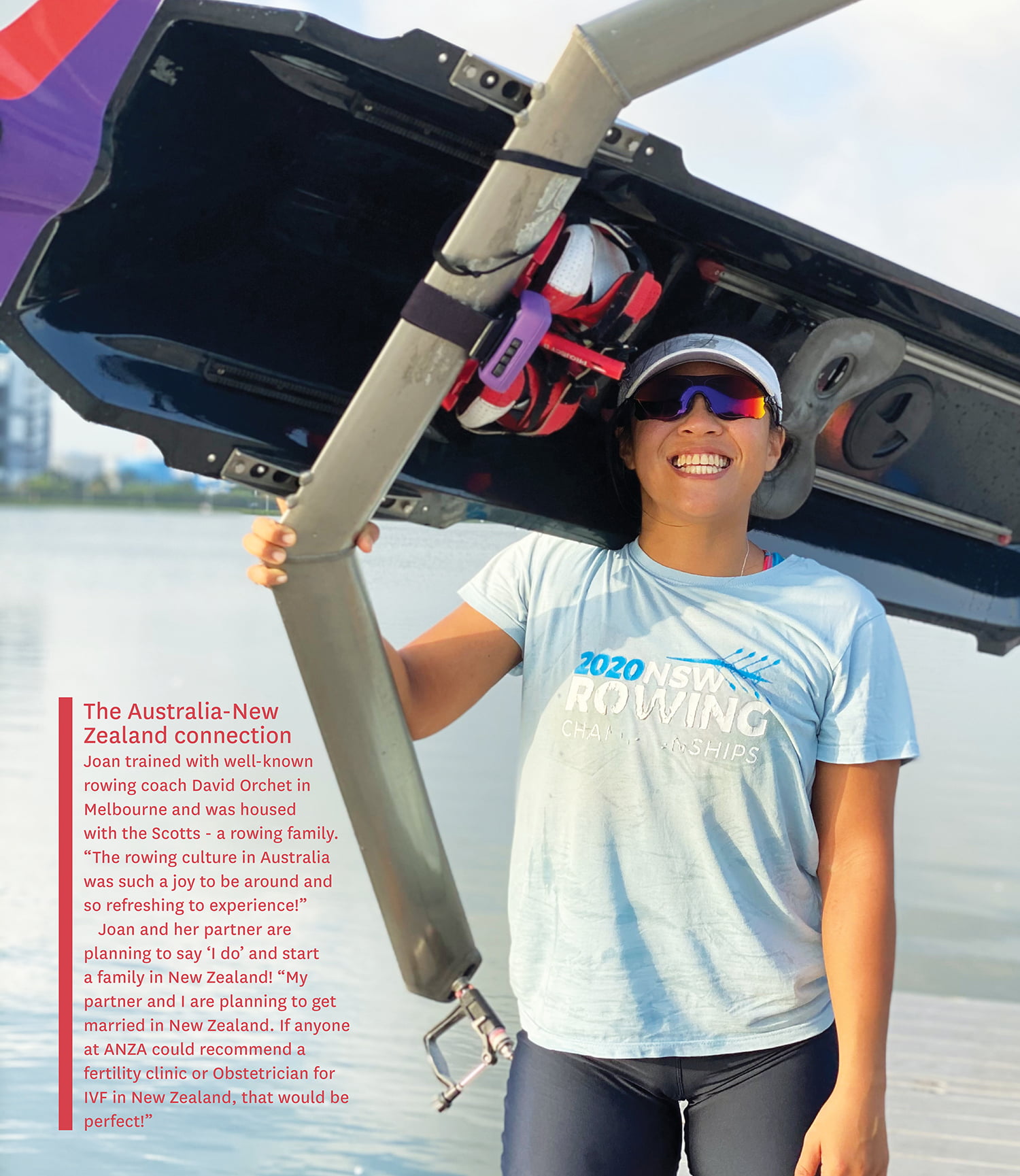 There has been so much uncertainty about the Olympics – how have you stayed optimistic?
In the earlier days while waiting for news on the Olympics, I found myself waking up a few times a night, reaching for my phone to check World Rowing and news outlets for updates. It felt like I was running a marathon and the finish line kept  shifting. I couldn't see the finish, I didn't know if I would, but I had to keep running. Leading up to the Olympic Qualifiers, it was a complete emotional rollercoaster. I was constantly wondering if the games would be cancelled. The travel policies during the pandemic were constantly changing based on the changing situations in the different countries. In such unprecedented times, there was also a huge amount of logistical and administrative arrangements. I got a lot of help and support from the people who love me, my sports psychologist, my coach Laryssa, and our women's team who volunteered to put in double sessions on the water, so it was less lonely for me in my single boat – the theme this past year has been to let go of the uncontrollable and control the controllable.