CARNE
88 Amoy Street, 069907
Tel: 8868 4388
www.carneburgers.sg/
CARNE isn't just another cookie cutter offering in Singapore's explosion of high-end burger joints. Their culture firmly embraces corporate, social, and environmental responsibility and they're the first burger bar in the world with a Certified B Corporation rating. This globally recognised score is not based on a product alone, but rather on the company's entire social and environmental performance.
CARNE'S social awareness can be seen browsing their menu ingredients: natural 100% grass-fed Argentinean beef, hormone-free bacon, GMO-free natural ham, organic Acacia honey, locally-sourced organic vegetables, and cage-free eggs. Given its top culinary heritage, strong environmental values, and purity of ingredients, we couldn't wait to sink our teeth into their burgers and other dishes.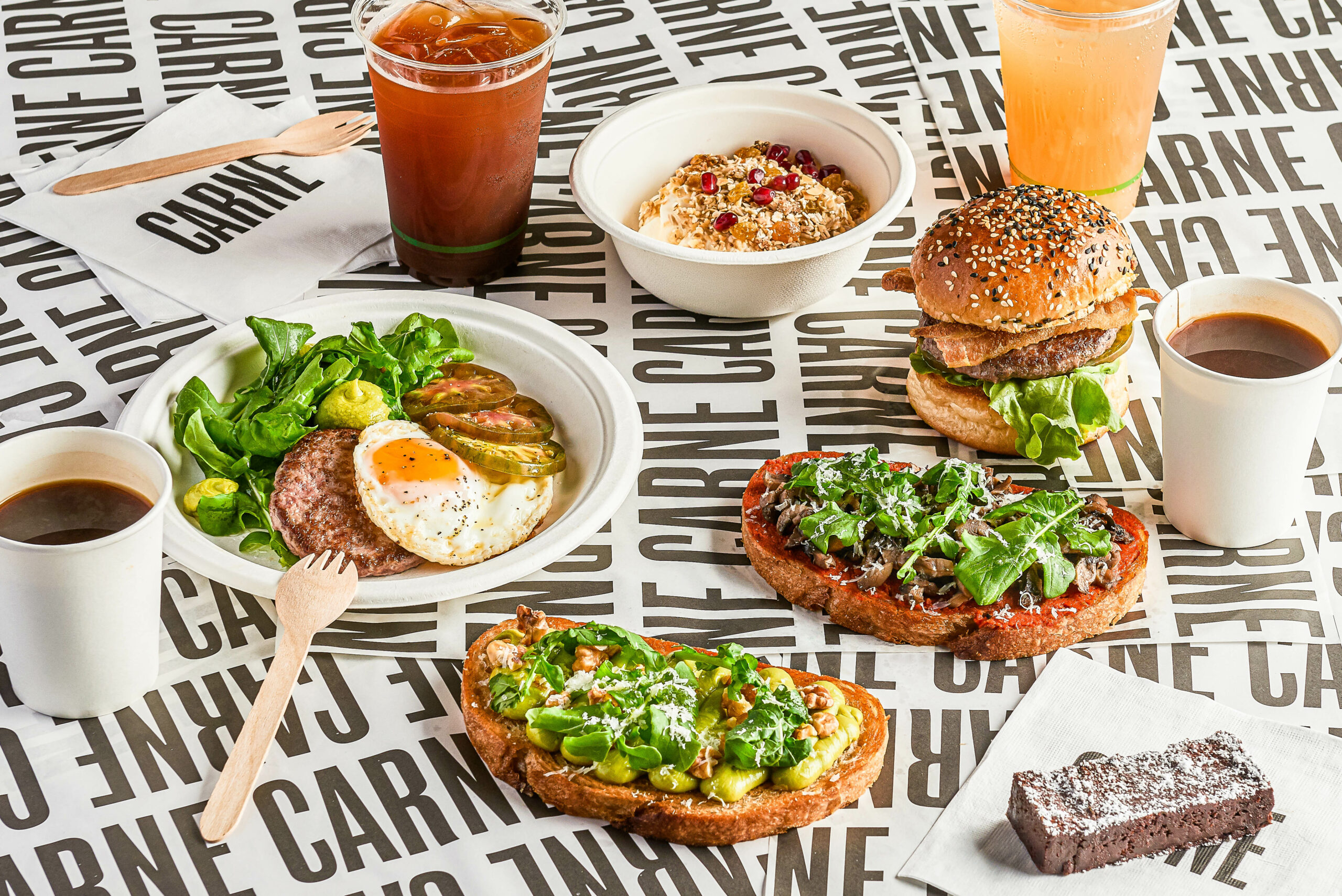 We decided to start the day with a tasting of the breakfast menu, while also sneaking in a burger or two. We had to think hard before ordering as everything looked delicious. Should we try the enticing Keto breakfast ($12.80), with grass-fed beef sausage, fried egg, local tomato, avocado, and rocket salad? Or the Avocado Toast ($8.50), a perfectly toasted sourdough bread topped with avo, lemon, walnuts, and parmigiano. Perhaps the Mushroom toast ($8.20), Sourdough, roasted shitakes, mushroom duxelles, rosemary and tomato tapenade. So tempting!
In the end we couldn't go past two of their breakfast sandwiches: the Bacon, Cheese and Egg sandwich ($9.90) – a buttery bun with local cage-free fried eggs, cheddar cheese, and hormone-free bacon and the Beef Sausage BLT ($12.80), a nicely toasted butter bun with a juicy grass-fed sausage, hormone-free bacon, oak lettuce, and local tomato. The combination of the grilled texture of the sausage, the crunchiness of the fresh lettuce, and tangy tomato was a definite winner. I could wake up to any of these sandwiches every day.
Along with our sandwiches, we had the Yogurt Bowl with granola, pomegranate, chia, sesame, and sunflower seeds ($8.50). This gut-friendly, healthy choice impersonated a dessert but it was light, luscious and tasty.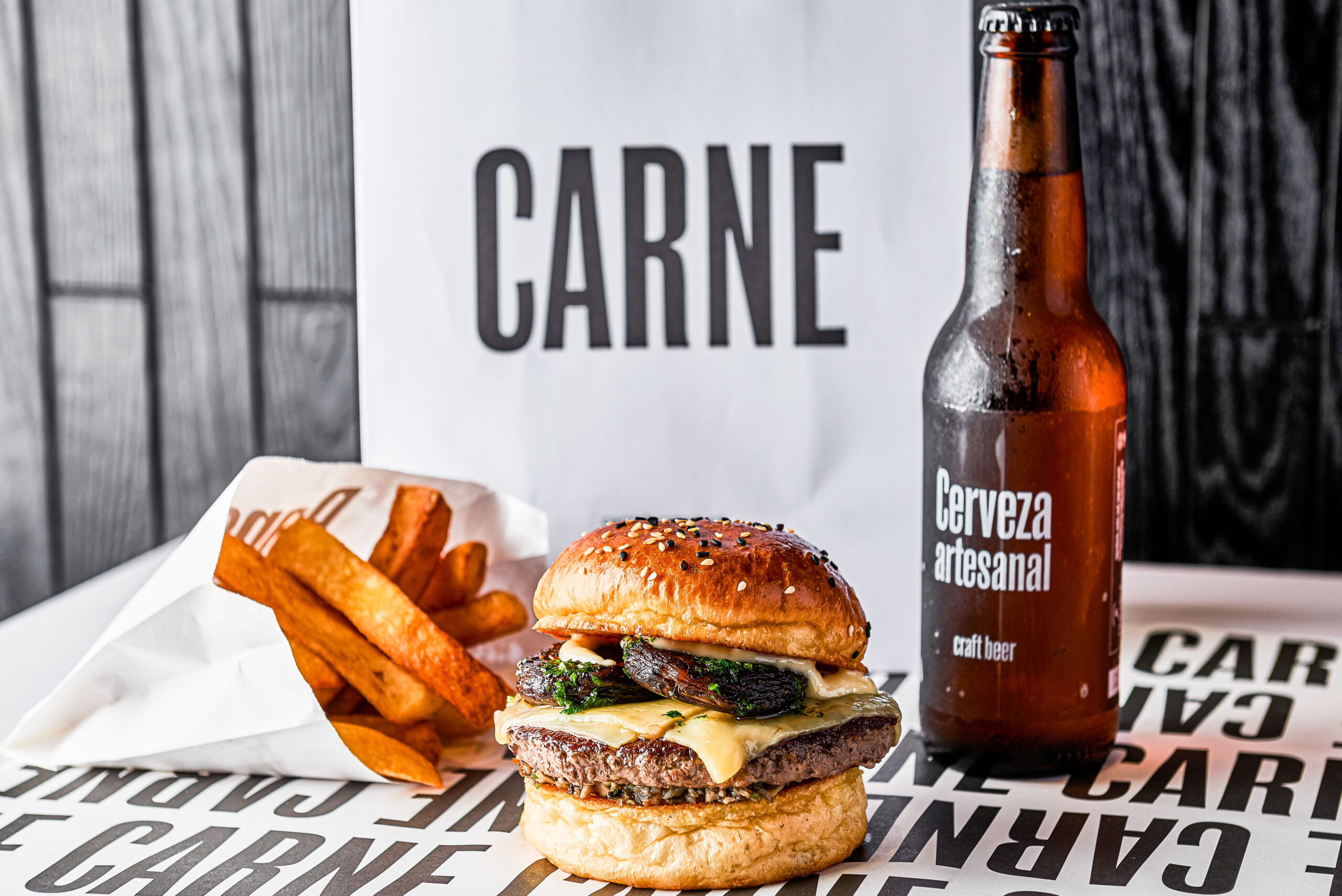 Given its Argentinean roots, we had to try one of the much-applauded CARNE burgers. We indulged on the Grilled Beef and Double Mushroom burger ($23), served on a doughy butter bun, perfect to absorb the patty juices of the mouth-watering grass-fed Argentinean beef, local shitake mushrooms, duxelles, pickled onions, natural cheese, and garlic mayo. Keep the napkins close, this is one juicy patty!
No burger meal is complete without a side of fries, so we ordered the Triple Cooked Agria Fries ($8.90).  World-class cooking techniques meet the humble potato, and the result is top notch fries. Get your own order, you won't want to share!
In Spanish countries, churros are a breakfast food, so we followed tradition and finished our meal with an order of Cinnamon Churros ($6.80). Five pieces of perfectly crisp golden-brown churros with dips of classic dark chocolate, vanilla Chantilly cream, lemon curd and in a nod to Carne's Argentinean origins, dulce de leche.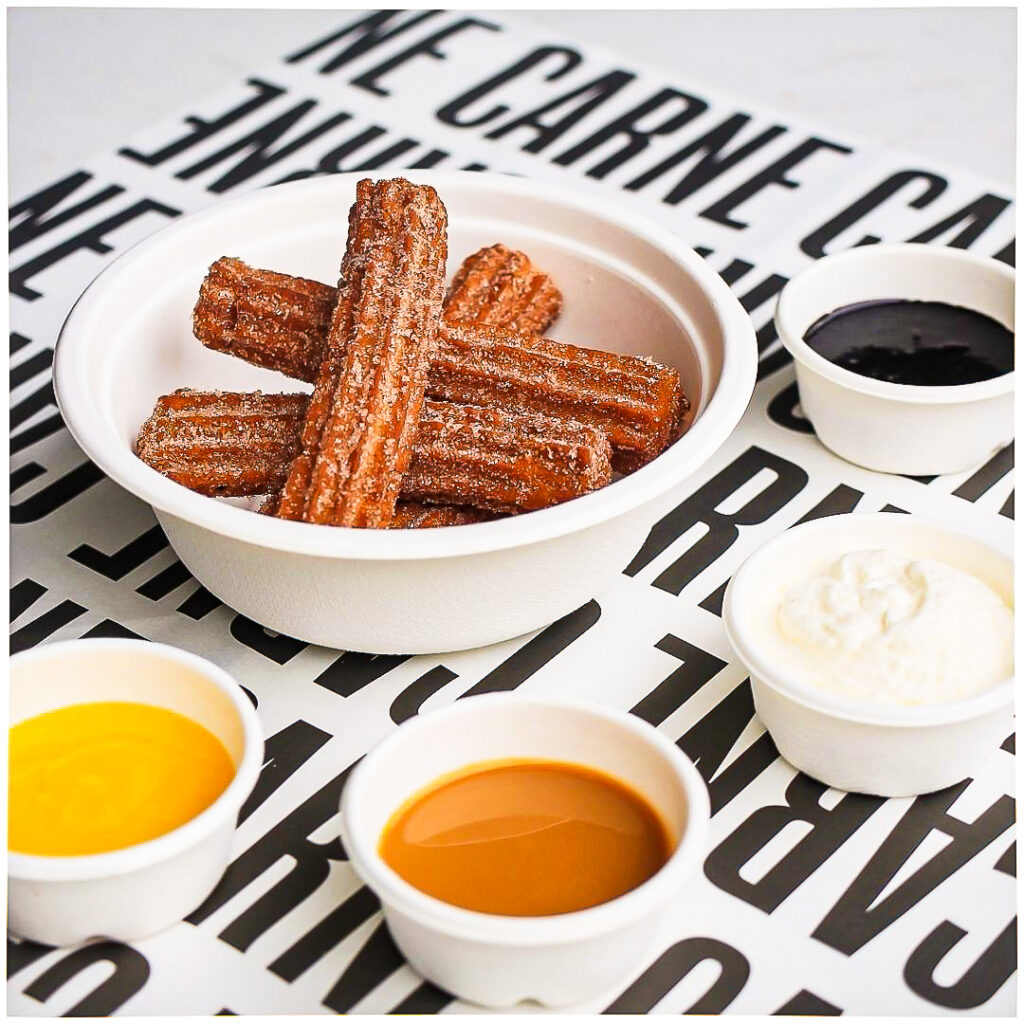 We didn't make it to the milkshake menu, but they look sinfully good – perhaps next visit. Instead, we tried the artisanal beer, Cerveza Artesanal ($10), a nice light beer with deep flavours, and the Argentinean-inspired Grapefruit Mate iced tea ($5.50), a very refreshing combination of citrus and grassy flavours.
The name CARNE means beef; but do not despair, for the non-beef eaters there are many enticing alternatives: chicken and fish burgers, and veggie burgers looked very appetising with an ingredient list that promises a feast of flavours.
Verdict: Got a craving for a healthy, and high calibre breakfast or a great burger? Add CARNE to the top of your list. They've recently extended breakfast hours to noon daily, so you can order breakfast/ brunch and the all-day burger menu.
CARNE operates daily for dine-in and islandwide delivery from 8am to 10:30pm.