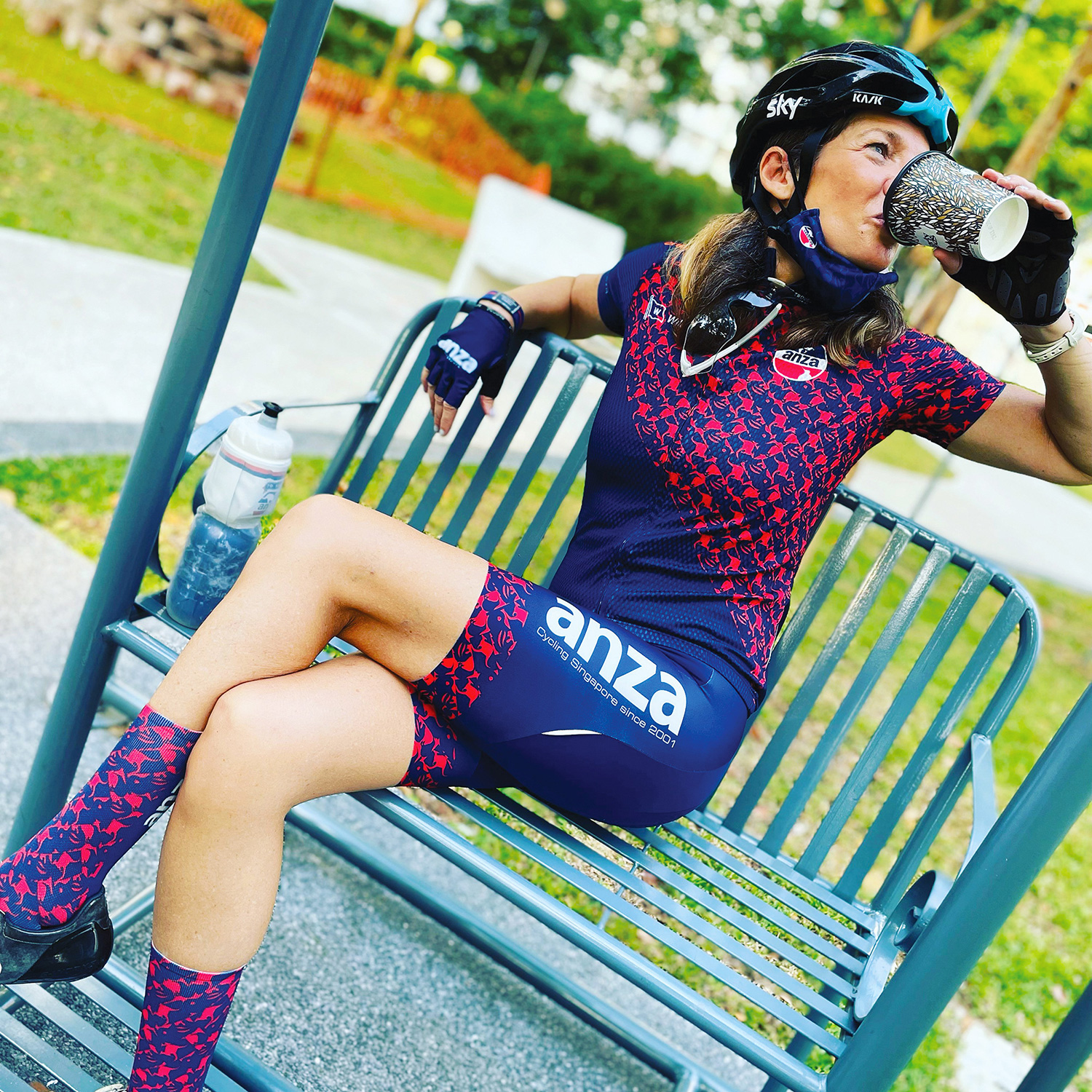 Gutter Coffee
Mixing it up
Hopefully by the time this article goes to print, an easing of restrictions will allow for more than two people to ride together. Keeping up with the constantly changing group size requirements over the last year has placed an enormous administrative burden on organisations, and particularly clubs such as ours that place a strong focus on the social elements around the sport. 
While we've managed to offer our famous free Club Brekkies throughout most of the last 12 months, (in different formats and in line with the prevailing conditions), we can't wait to see more than a couple of socially distanced 'MaxN' groups together in one location. The latest round of Covid restrictions did spawn "2-Up Rides" and "Gutter Coffee", with pairs outdoing each other to find the most exotic locations to enjoy their takeaway brews!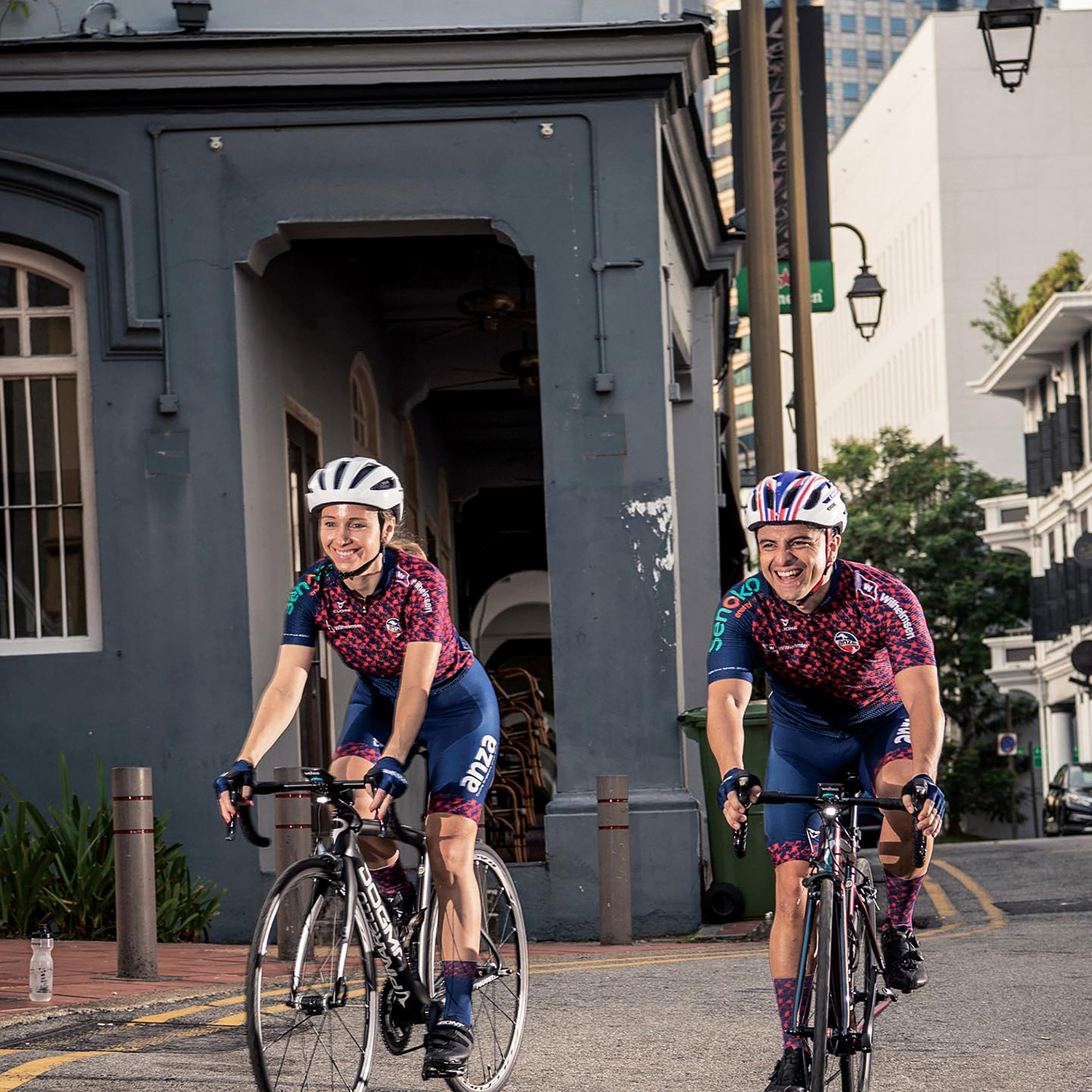 Photo courtesy of David Lau
To encourage a bit of the random partnering of old and give some of our members a chance to meet up with a new ride companion, several ANZA Chix threw their names into a hat from which a "Blind Date" ride partner was drawn. The opportunity to ride with someone less known offered a little diversion from the same-same everyone has been living in recent months and may have sparked a few closer friendships from within the group.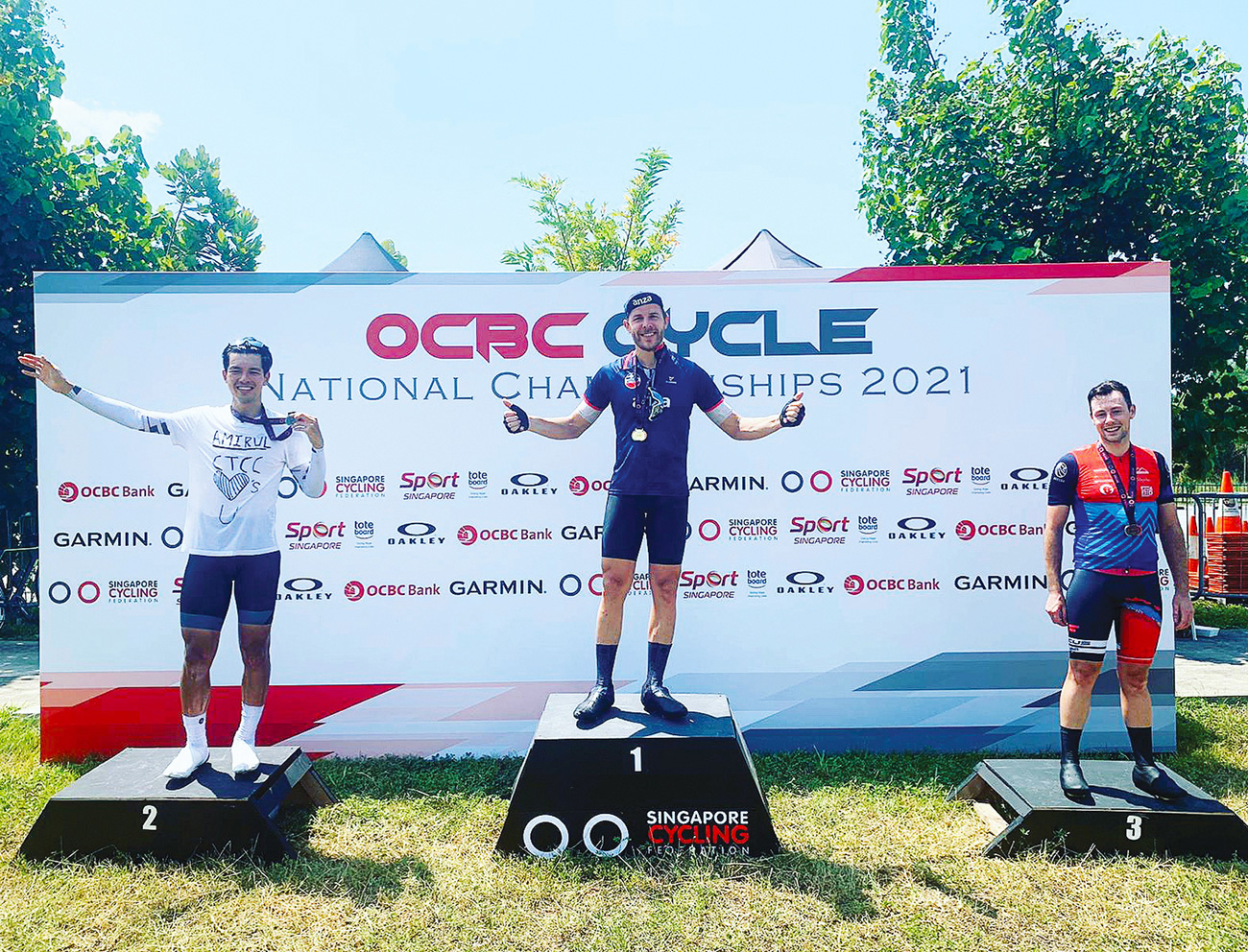 Joel Liebi on the top podium step
Racing – 2021 OCBC Singapore Nationals Individual Time Trial
Against all odds, the OCBC Singapore Nationals ITT went ahead in July. SCF, the body responsible for running the event, faced quite a bit of heat in the lead up to the competition, due to the limitations placed on participant numbers which meant that many clubs had difficulty securing entries. Due to a mix of quick fingers, strong relationships, and lucky ballot draws, we ended up with ANZA members competing across both Men's and Women's Elite and Masters categories, with some amazing results across the board!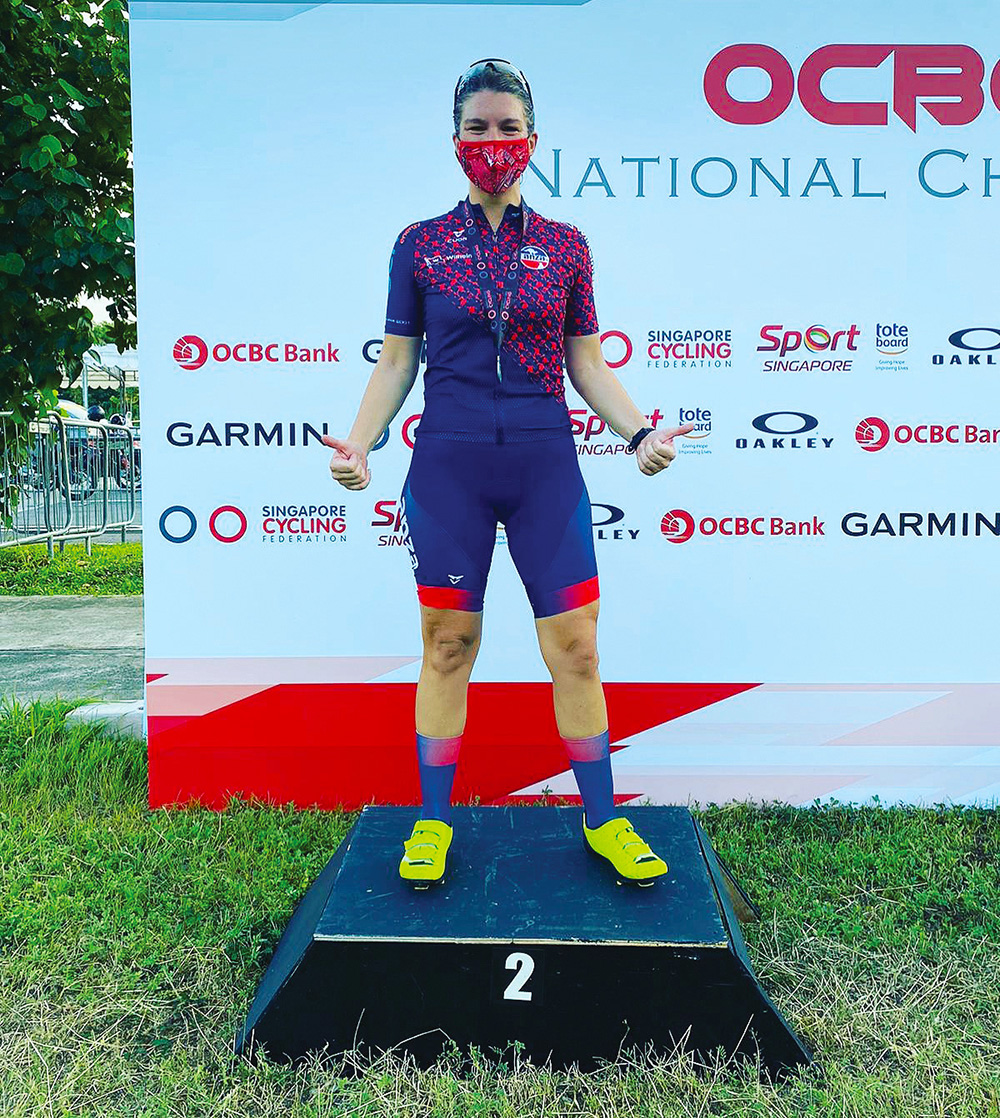 Christina Tubb in 2nd position
Completely dominating the competition was Joel Liebi who secured first place in the Men's Elite Category, with a 46 second lead over the field. Also performing strongly in this category were Reuben Bakker (representing Allied World) and Saikat Banerjee, who finished seventh and 13th respectively. Bart Piestrzynski (rep 4T2) was third on the podium with Stephen Robinson (Allied World) two spots behind in fifth position in the Men's Masters'. Christina Tubb and Melanie Speet did us extremely proud, both racing resplendently in Club colours, with Christina securing an amazing second position and Melanie fifth position in the Women's Masters.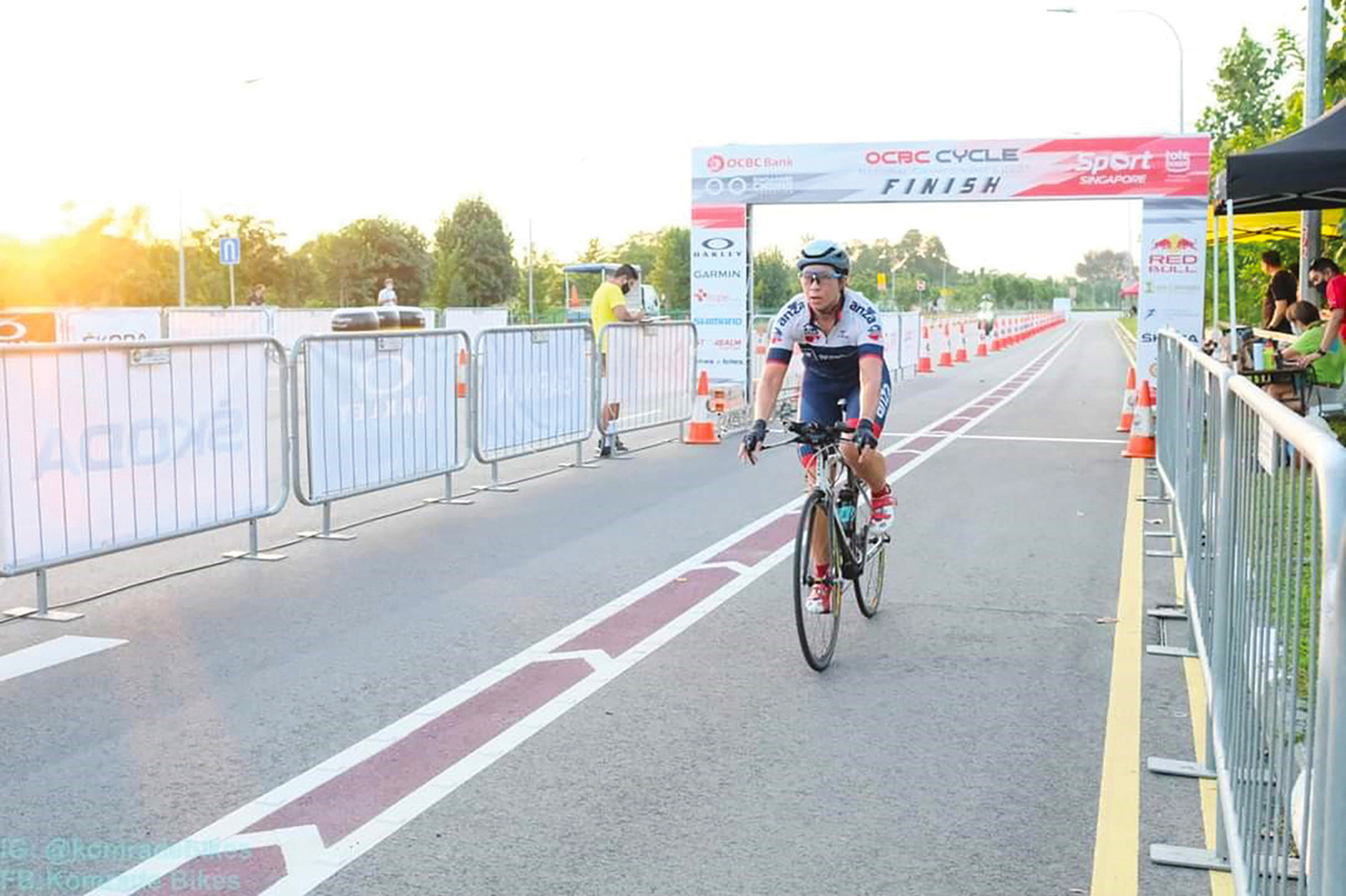 Melanie Speet starting off in the ITT
Introducing Mel Speet as ANZA's new Triathlon Director
We are excited to welcome Melanie Speet to the role of Triathlon Director on the ANZA Cycling Committee. Hailing from Sydney, Mel previously served as a long-term committee member and President of the North Sydney Swim Club. Now with six years under her belt in Singapore, and having recently added more cycling to her repertoire, Mel has taken the plunge and joined the committee to help ANZA cyclists discover their inner triathlete. 
Tell us about yourself Mel…
My real passion is open water swimming and I saw a lot of success over the years in ocean races across Sydney. I swam with North Sydney Masters Swim Club, competing at State, National and World Championship swim meets. I was one of the thousands of people who started cycling during last year's CB. I joined a few Women's Cycling Project rides, where I met some lovely ANZA Chix who encouraged me to join. All the ANZA cyclists I met were really welcoming and encouraging to newbies like me. Having Megan as my Induction Ride leader sealed the deal! 
I work in media marketing, so there's not a lot of cross-over between sport and my career, aside from my time at Network Ten in Australia where I worked on the Melbourne F1 GP and Sochi Winter Olympics. Here in Singapore, I work at NBCUniversal, looking after marketing for the DreamWorks channel and CNBC. I'm lucky enough to have the flexibility to balance work and training.
Your best sporting moments?
My best sporting moment was my 4th place in the open water swim at the 2019 Fina World Masters Championships in Korea. I'd been through a lot of challenges in the previous 18 months, and my daughter had just turned one. It felt like a huge personal achievement and even nicer to be able to share it with her. 
Recently, on a whim, I entered the Singapore National Championships ITT (Individual Time Trial) – Masters category. I'd just inherited an old TT bike and had a foot injury that was preventing me from running, so I thought, why not? I've always wanted to do a bike race, and it certainly didn't disappoint. I see more bike races in my future! 
Thoughts on ANZA Triathlon?
I love building communities and bringing people together, and that's what I'd like to do with the triathletes in the club. With races disrupted due to COVID, I'm keen to find challenges for our experienced triathletes to take part in together, as well as provide opportunities for people interested in giving triathlon a go. 
I really enjoy the Saturday Bartley-Changi rides with the ANZA crew. I may have only started cycling a year ago, but my bike collection is already a bit out of control. Between my daughter and me, we have five bikes. That's fine, right?