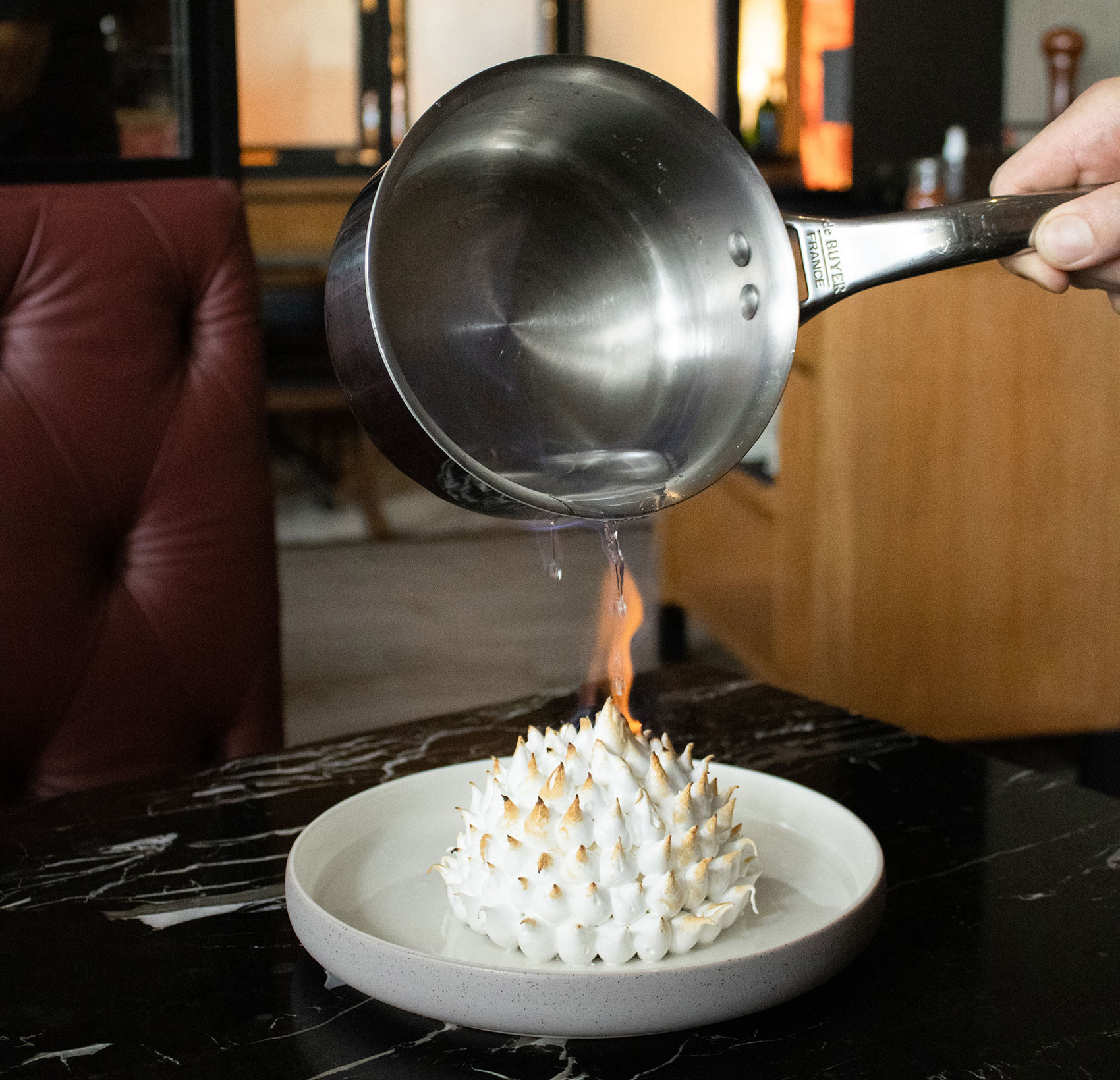 Italian Meringue
200gm Sugar
125ml Water
100gm Egg Whites
Boil sugar syrup to 121c, pour into the egg white mixture and continue to whisk until peaks form.
Limoncello Cream Cheese Mix
250ml Cream
200gm Cream Cheese
75gm Sugar
10gm Vanilla Bean Paste
50ml Limoncello Liquor
Whip using paddle until soft peaks form, (keep an eye because it can spilt easily).
Lemon Curd

4 Eggs
4gm Lemon Zest
200ml Lemon Juice
240gm Sugar
80gm Butter
Zest the lemon before juicing it
Mix eggs, sugar, lemon juice
Heat to 82c using bain-marie.
Strain and cool to 45c-50c on an ice bath
Add in the butter and zest
Chill for 6 hours
Smooth the mixture using a spatula before use
Yuzu Sorbet
300ml Unsalted Yuzu Juice
700ml Water
320gm Trimoline
8gm Super Neutrose
Blend the mixture until well dissolved
Heat up to 85c
Chill the mixture for a day
Churn the mixture using a spatula
Note: Can substitute this component with store bought sorbet.
Nutella Feuilletine Disk
250gm Feuilletine
100gm White Chocolate
125gm Nutella
Melt White Chocolate & Nutella
Fold in Feuilletine
Using round mould, mould a flat disk
METHOD
Spray canola oil on a dome shape silicone mold and freeze it.
Pipe a layer of Limoncello Cream Cheese Mix to the frozen mold, form a cup (do not leave any empty holes) and freeze it.
Fill the mold with 1 tbsp of Yuzu Sorbet and tap the mold to distribute evenly and freeze.
Fill the mold with another layer of Lemon Curd, leaving around 1.5cm empty and freeze.
Fill the empty space with remaining Limoncello Cream Cheese Mix. Freeze for a day.
Plate the Nutella Feuilletine Disk followed by the Frozen Dome. Pipe the Italian Meringue around the dome.
Warm 80ml Triple Sec liquor, flame it and gently pour around the Meringue to caramelise it.
Enjoy!